Shopping for a homecoming dress is already a significantly difficult task for a traditional body type –so many homecoming fashions seem to be geared towards fully proportional women that it seems petite girls are often left out of the mix. Photo above Mikey Whyte for Design Scene, dress from Celeste Tetesoriero.
It is not entirely unheard of for petite high school students to seek out kids sizes in homecoming dresses because the "normal" sizes just don't seem to fit. However dress modifications are never too far behind for ladies that are forced to choose different sizes because of availability. This article is for girls who wish it was easier to find a petite homecoming dress and are looking for ways to find the right dress.
Find below our five tips easing you into a stress-free homecoming dress shopping.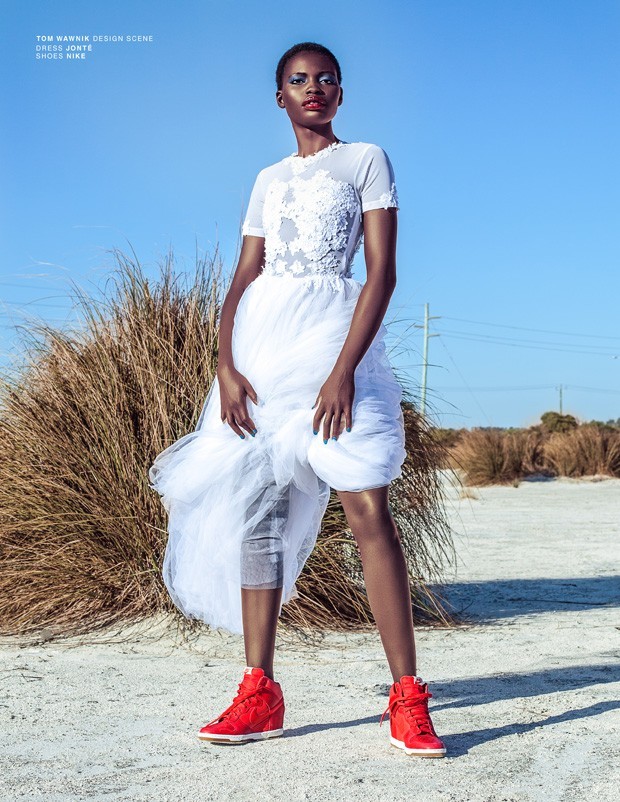 #1 What to Look For
First off, the petite homecoming dress wearer should know what it is they are looking for. Trends dictate that for those body types that are more petite, it is important to focus on making your body type work for you. Shorter builds will likely benefit from showing off some stems and perhaps a little around the neck line. Photo above Tom Wawnik for Design Scene, dress from Jonte.
Petite sizes usually begin around 5 feet and 3 inches in height, and an asymmetrical hem line that emphasises your legs will have the effect of making the wearer appear taller.
#2 What Not to Wear
Petite girls should probably avoid dresses that hang down to the floor and cover your best asset: your legs. A floor-length gown will likely overwhelm your body frame, so keep it feminine, lacy, and delicate to enhance the presentation of height.
Avoid dresses that bury you in fabric –break free from bulky dresses that dominate your figure. Make sure that you have your dress sewn up and tailored right just for you; anything that isn't hemmed to your specific height can run the risk of making you appear too short –or be a safety hazard for tripping!
#3 Work with your Height
Generally speaking, dresses are the best look for a petite homecoming girl –and a solid colour as opposed to shimmering shades of colour will also work the eyes into seeing height that may not otherwise be there. Just because you're a little on the petite side, it does not mean you necessarily need to avoid all of the other dress types; it simply means you might want to focus on your legs and neck line. Photo above Daniel Rodrigues for Design Scene dress from Keepsake.
#4 Neck Lines
There are a number of neck lines that will look great on a petite girl; the sweetheart, straight across, asymmetric, off-shoulder, halter strap, scoop, and illusion neck treatments for starters. These open cuts around the neck will help to mirror the reveal of leg length and balance out the look over all. If you're going to show a little bit of stem to counter your petite frame, you'll also have to show a little more around the neck.
#5 Custom Logic
When you're petite and you're reviewing the available huge selection of homecoming dresses available, it might seem like custom dresses are your only option –but fret not, there are retailers out there who get it.
Keep your cool and don't give up the first time –but don't shy away from a little tailoring either. It's perfectly normal for a woman to have to get her wardrobe tailored from time to time. We didn't all just arrive to the world in the same way, after all!