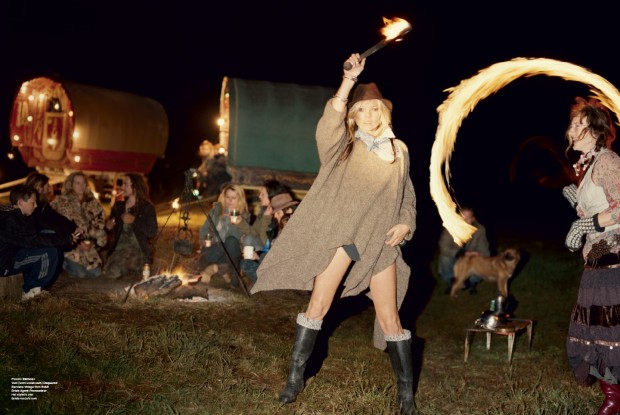 So, you get to go to a music festival! Get ready to have some fun, listen to the tunes, watch the crowd, and dance to the bands. In order to be comfortable, confident, not to mention jazzy looking, you'll want to dress appropriately. There are some outfits that just seem to work well with the vibe at a gathering of music-lovers.
Basic Music Festival Outfit
A great basic look that always works for an outdoor musical event includes:
• Black tank top
• Denim shorts with rolled cuffs
• Moto black boots, ankle high, with buckles
• Fringe purse with shoulder strap ones from clothing giants such as H&M
• Plaid Shirt to wrap around your waist during the day, and wear for warmth at night
• Metal aviator sunglasses
Image above supermodel Kate Moss by Ian McKell for V channeling the festival mood, see more here.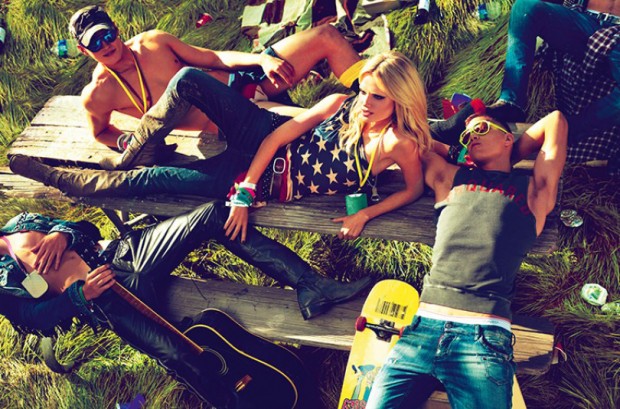 California-Sunshine Look
If you want to look cool and California-like, here are some great pieces to make up your festival outfit:
• Eyelet top in a bright color such as sunshine-yellow
• Fringed desert-tan ankle boots
• Aviator shades, like these mirrored one from Sunglass Warehouse
• Leather bag with cross strap, fringe trim
• Brown mesh belt
• Cut-off denim shorts
Bohemian Outfit
To look like a modern-day hippie, don a bohemian maxi-dress for your day at the festival. With this long comfy dress, wear:
• Slip-on sandals
• A floppy-brimmed hat
• Bracelets and rings
• Animal-print sunglasses.
• Flirty maxi skirt
Check out Naturallife.com for some boho inspiration. Look above coming from Grazia Magazine shoot by Christopher Ferguson.
Little Summer Dress
To a summer music festival, wear the warm-weather version of the little black dress: a little white dress! When you wear one made from lacy eyelet fabric, you will make a statement strolling across the lawns by the bands. With this dress, wear:
• A denim vest
• Brown strappy sandals
• Animal-print sunglasses
• Leather tote bag
Floral Midi Dress
Instead of a mini or a maxi, wear a midi. This mid-calf length is perfect for attending music festivals. Floral fabric will make a statement, especially if it's swirly and sheer. With your midi dress, wear:
• Suede ankle boots
• Pink leather zipper purse
• Gold bracelet and rings
Overall Cut-Offs
Denim is always just right at a summer music festival, and overalls are back in style this year. You can wear cut-offs or long overalls, depending on the weather and your preference. With your bibbed jeans, wear:
• Low-top sneakers
• Bikini top
• Colorful bracelets
• Twisted bandeau head wrap
•  If you want to be eco-friendly too, get an ocean bracelet.
Other Supplies to Bring
In addition to your cool outfits, don't forget to bring a few supplies to the festival, especially if you will be staying all day or even camping out:
• Portable phone charger
• Shower wipes
• Money belt
• First aid kit
• Water
• Snacks
• Sunscreen
• Blanket or rug to sit on/sleep on
Once you have your adorable music-festival outfits and other supplies packed, you'll be ready to rock. All you have to do is relax, look gorgeous, and enjoy the tunes.