D'SCENE'S Fashion Director CHRISTOPHER MAUL heads to Dallas with DAISY LOWE and chats Vogue Italia, tubby men and her future in acting…
It's early morning and bang on the call time. Our cover star's arrival isn't announced by the click-clack of heels but by the pitter-patter of paws. Intrigued, I leave the studio and discover a small, but very excitable, dog. I should have known – the canine, whose name is Monty, rarely leaves Daisy's side. Seconds later I see the model walking down the corridor in a plain white tee and stonewashed jeans. Despite the early hour, her smile is warm and welcoming. Her first words are simple and unassuming: "Hi, I'm Daisy."
Daisy Lowe's break came at 17, when Steven Klein requested to shoot her for a single girl story in Vogue Italia. "It all took off from there. Then Steven Meisel wanted to shoot me."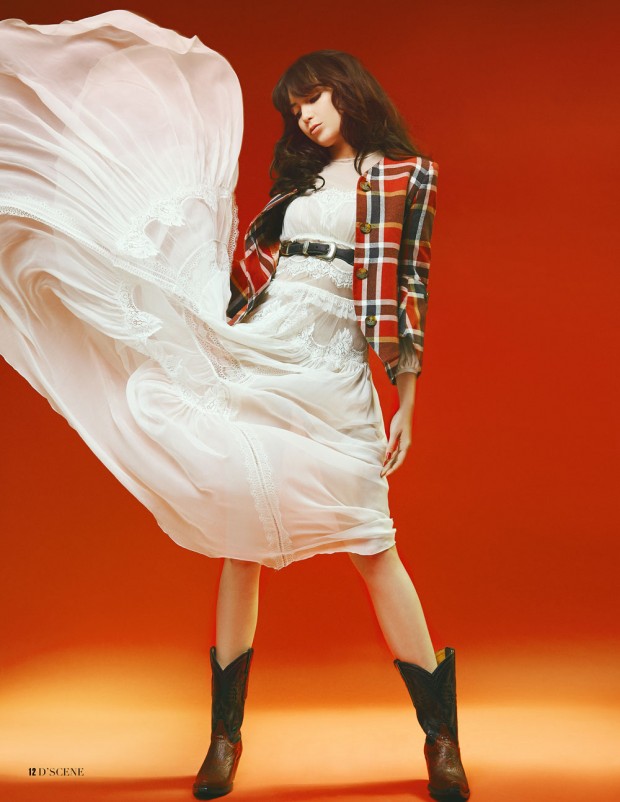 It all just went kinda mad," she says. "I was in an airport when I got the call. I had just been out in New York to do the castings and it was literally when I landed home that I got this call. I was like, 'Me? Really?'. I was so over excited. Then I had to get shipped straight back out to New York." She has since modelled for Burberry Prorsum, Chanel, Vivienne Westwood, Tommy Hilfiger, Mango, Agent Provocateur Ana Sui, DKNY Jeans and Marc by Marc Jacobs – in the process, she has become an It Girl.
Daisy takes her seat and the transformation begins. Three people flitter about, adding their take on Dallas glamour, as hair, makeup and nails are tackled in unison. She checks her Instagram account and uploads a backstage shot of Monty for her 270,000 followers. Her account shows different facets of her busy life – as a model, socialite and dog lover- but who stands out in Lowe's newsfeed? "I recently started following this model, Amber Anderson. I just can't get enough of her face. She's, like, ridiculous," she says. "Her beautiful face makes me so happy. It's quite odd, I can't stop! I want to keep looking at her. She's so pretty!"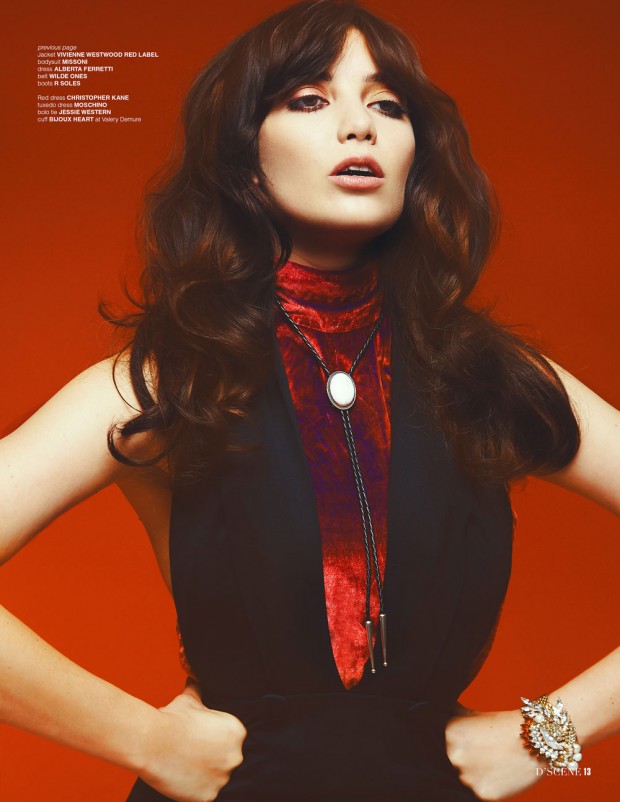 Lowe knows the value of social media. "The thing with social media is that you can always build upon it so it's not inaccessible at all, because its something that you can decide to work on. Unfortunately, it's just another thing to add to the list that you have to try and improve – which obviously isn't easy, but its definitely is possible," she says, scrolling through various photos. "It's actually quite an amazing tool, because if you've got personality then that shines through."
All dolled up, it's time to change. I lead her into the dressing room for the first time and she glimpses the clothes she's due to model. By the way her eyes explore the rail and her hands examine the textures, it's clear Daisy has a keen interest in fashion. "I became very interested in fashion because my mum [fashion designer and former singer-songwriter Pearl Lowe] is obsessed with clothes and obviously always has been and so her wardrobe was like a treasure chest. Of course, I wasn't always old enough to fit into things, but I think at age ten or eleven I really started playing in there and that was when I really started to get interested in it. I was scouted when I was fifteen by Sarah Leon at Select and I said I'd join because my mum told me I had to get a Saturday job and I just said, 'Well I've just been scouted. Can I just model?'" she explains.
I stumble at the first hurdle. Dressing Daisy in the opening ensemble, I forget the correct way to fasten a belt. "The man goes into the woman and the man is always right," I mutter under my breath, still confused over the simplest of tasks. It's not long before Daisy cottons on to what I'm saying and she cheers when I suss out the puzzle. I don't feel stupid for long – others have their own methods for cracking life's biggest conundrums. "I always come back to that awful one of, 'Your left hand makes an L'. That has been something that has been a crutch, that actually prevented me from learning my left from my right," she laughs, reassuring me with a bashful smile. "I do actually know my left from my right now but it's a helpful tool when I forget."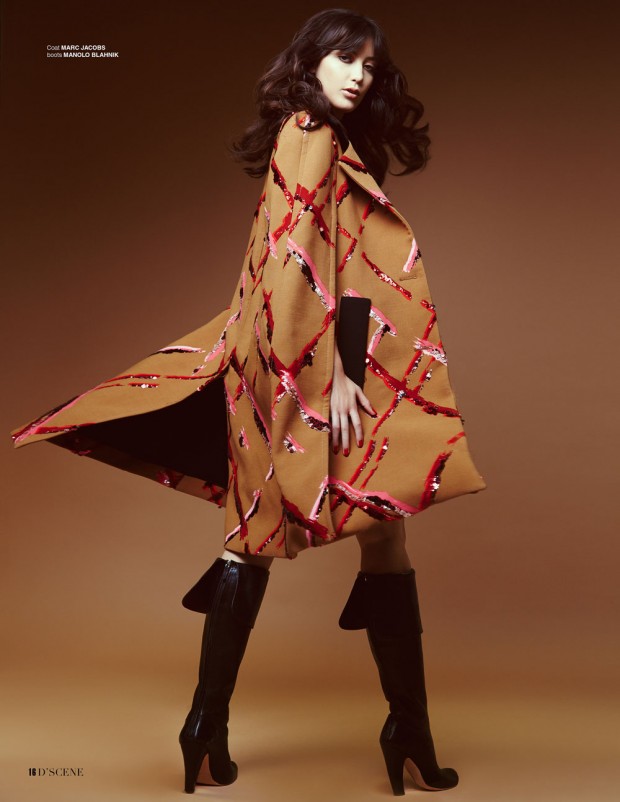 We're doing well for time. After scoring the shot in a few frames, Daisy saunters to the dressing room with Monty and me in tow. She unclips her earrings and returns them in between sips from her soya coffee, smiling a thank you and cooing at the dog at her heels. Without breaking her stride, she begins unbuttoning the Philosophy di Lorenzo Serafini dress and comments on the efficiency of the team. "I love Louie [Banks, our photographer]. I just love his vibe. I think he is so much fun to be around and he makes me laugh so much. But he really gets the job done," she says, "Even though I like whipping him with fake flowers, I know I love the direction he gives me because on the most part photographers just let me do my thing, whereas he really tells me."
She pauses mid-flow. Her bouffant hair ensures the Markus Lupfer turtleneck won't come off without a fight – she can thank Eamonn Hughes [our hairstylist] for that. Two assistants and a lot of careful manoeuvring later, Daisy shrugs it off with a husky giggle and her hair bounces back. She runs fingers through her mane before continuing, apparently unaware of the ordeal that took place. "Most of the time I really hate being told what to do but it's really fun with him. He gets all into being whoever he is shooting, posing as them, and then runs out of the shot."
Louie isn't the only one. Throughout her ten years in the industry, Daisy has grown close to a band of creatives affectionately referred to as her 'Glamour Squad'. This team of hair stylists, makeup artists and nail technicians are a comforting presence on set and are a second family to the model. The matriarch of this troupe is makeup artist Sarah Reygate. "She is a very powerful influence, that one. She is just always amazing," Daisy explains, "What's lovely about having someone like that on set is that she will always be brutally honest with me. Even though I have been doing this for a very long time, you don't always have a mirror in front of you, so it's good to have that person to ask if my body positioning is right, or about the lighting. It's nice to have someone who helps make you look the best you can look."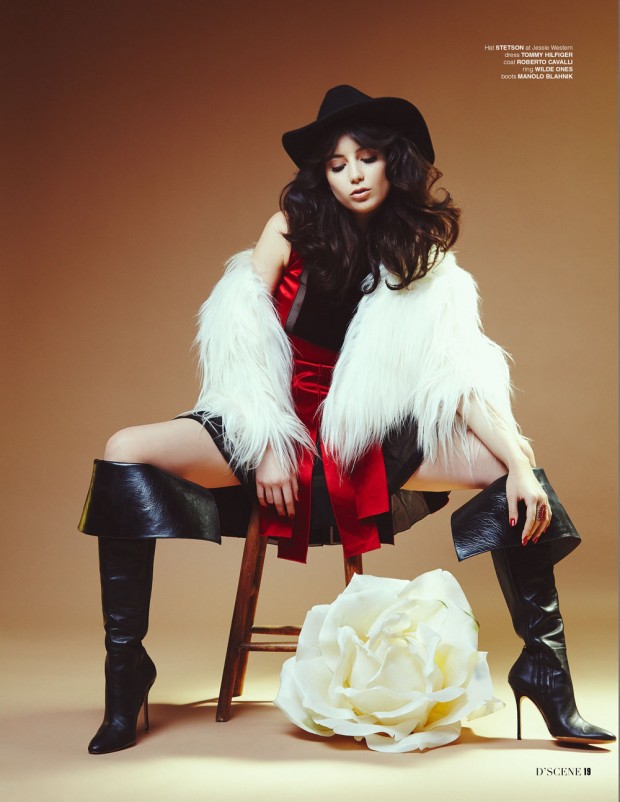 Next up is the cover look. Courtesy of Roberto Cavalli, the floor length gown is met with an approving smile. Daisy admires the intricate handiwork before noticing something on my person. Taking my arm, she tenderly untwists the Glastonbury Festival wristband until it lies flat against my skin. I'm not alone in my need for neatness – she says her friends call her OC-Daisy and now I see why. "I've been going since I was sixteen," she says, "But last year was the first time I ever watched the sun come up on the Monday morning from the stone circle. It was a very special moment and I was with the people I love. I did it again this year and it was great."
Her Glastonbury highlight is a sentimental one. "I was so proud watching Florence [Florence Welch of Florence and the Machine] headline after watching her seven years ago in a tiny tent playing to not that many people," she says, lifting her hand and showing me a tattoo. "She's got a crucifix with a daisy in the middle for me and I have my lightning bolt on my hand for her. I don't know why – I think she said she wanted to get a daisy on her hand for me and I decided it was both our years of power because the first few years we had been working towards this year being really great. Now she's only gone ahead and got her number one album. I'm think I'm still doing alright with my year, even though I don't have a number one album," she laughs.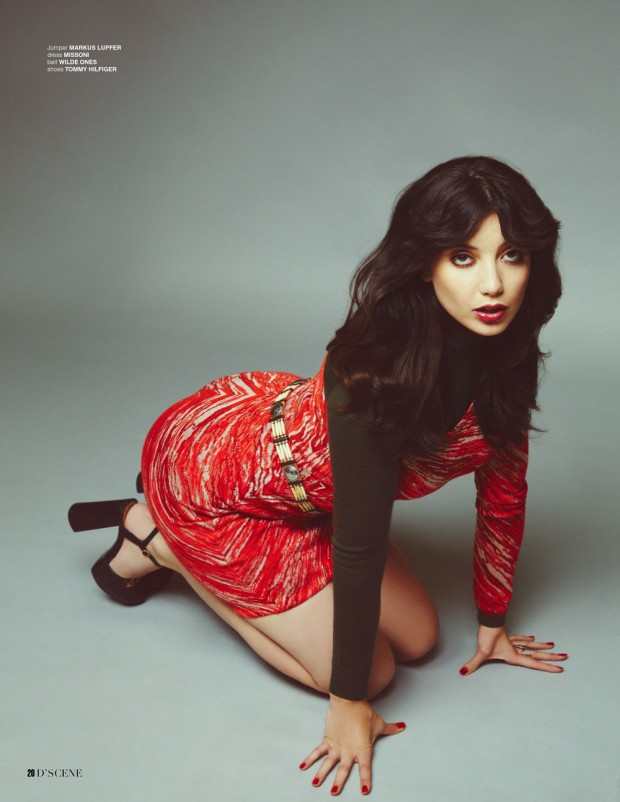 We make our way back on set. She tiptoes barefoot along the dusty studio floor – she prefers it this way, moving freely without heels hindering her. Appropriately, she picks up a giant daisy from a pile of flowers as she passes by and it's soon held between her teeth. There will be no doubt that this is Daisy Lowe's cover.
"As a model, what I've always found the most fun is when I get to play a character," she says, waving flowers and throwing them in the air. "Now for instance, I love that I get to be this Dallas girl. This is when I enjoy modelling the most, when I get to play dress up." This comes as no surprise. Recently Lowe tried her hand at acting and is set to appear in films Pressure and Tulip Fever, where she plays a wench alongside Cara Delevingne. "It was amazing being on a massive movie set," she says, "It was a big learning curve, just losing all inhibitions and deciding right then and there that I was going to have to be 100% fearless, which wasn't easy."
"It's something that I really enjoy doing. As a result, the acting stuff has always felt like another part of modelling and so when people have approached me to do auditions and stuff I have always welcomed it. I adore it, it's so much fun," she says. I start taking behind-the-scenes photos and she stops in her tracks. Staring down my lens with a coy grin, she flips the v sign and throws her head back in hearty laughter. The moment is lost on me – I only notice the gesture once I return home this evening. "There is a short film [The Place We Go To Hide] I did with Zawe Ashton – it's doing the festivals at the moment and it just came out on iTunes. It's really fun and I'm really proud of it. It's me and Tom Ellis and we play two sleepwalkers. When we are awake life is very monotonous and when we fall asleep everything turns into technicolour. It's only like 15 minutes long but it's a cheerful watch."
Not just a pretty face, Daisy won't shy from stunts. "Hell yeah! I love that. I can do the splits, I can ride a horse and I can do good somersaults and cartwheels," she laughs. Her mind goes blank as she recalls additional talents. "I'm sure there's room for more. I can do some rock climbing. What else can I do? I can swim!" Her skills may fall short of acrobatic but her enthusiasm is undoubtedly infectious.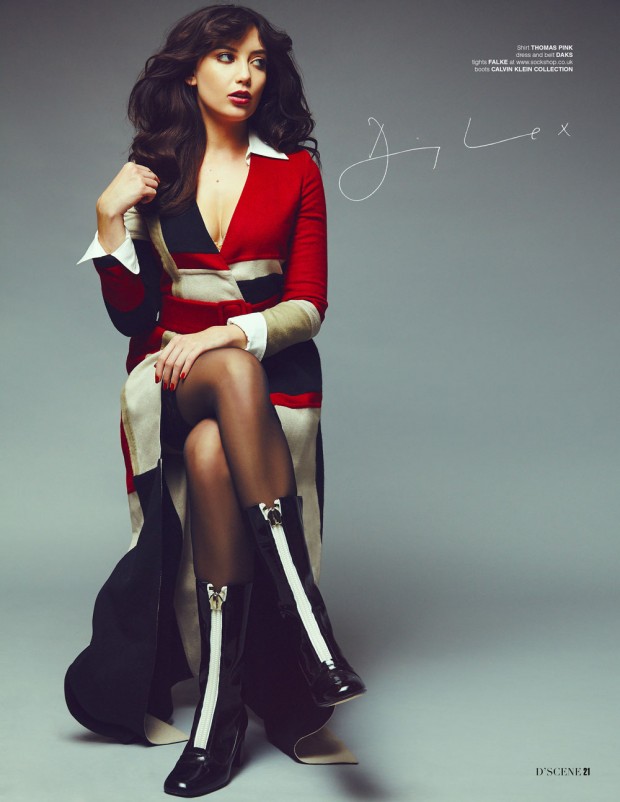 Daisy has never been conventional. "I'm not you average model in terms of my shape and my size but also I've always tried to keep my fingers in lots of pies and tried different creative things that have given me a wider berth – no pun intended – than a normal model," she laughs. She slips into the Alberta Ferretti number and pirouettes like an erratic ballerina atop a jewellery box, the dress floating a half turn behind her. "I think that has added different facets to my career and therefore it makes me slightly more relatable than maybe your average woman who doesn't eat, when I clearly do." Daisy isn't a size zero and she's not apologetic about it.
Body confidence is close to her heart. She has always been vocal on the size zero debate; today is no exception. "I think there will always be a space for size zero models because they're clothes hangers. It's a known fact that thin women look great in clothes, but I think there is definitely space for other shapes to come in. I think the industry has been changing, certainly in the past ten years I've been doing this. There is room for beauty of all different shapes and sizes. This is a really positive thing," she explains, her passion evident in her voice. "I think that femininity, and masculinity in whatever form it comes in, is beautiful in its own way. I just hope there's more of it. Ultimately the average size of a man or a woman is not a size zero, so it's important to cater to those shapes and sizes when selling clothes to make people feel good about what they want to wear in their personal everyday lives."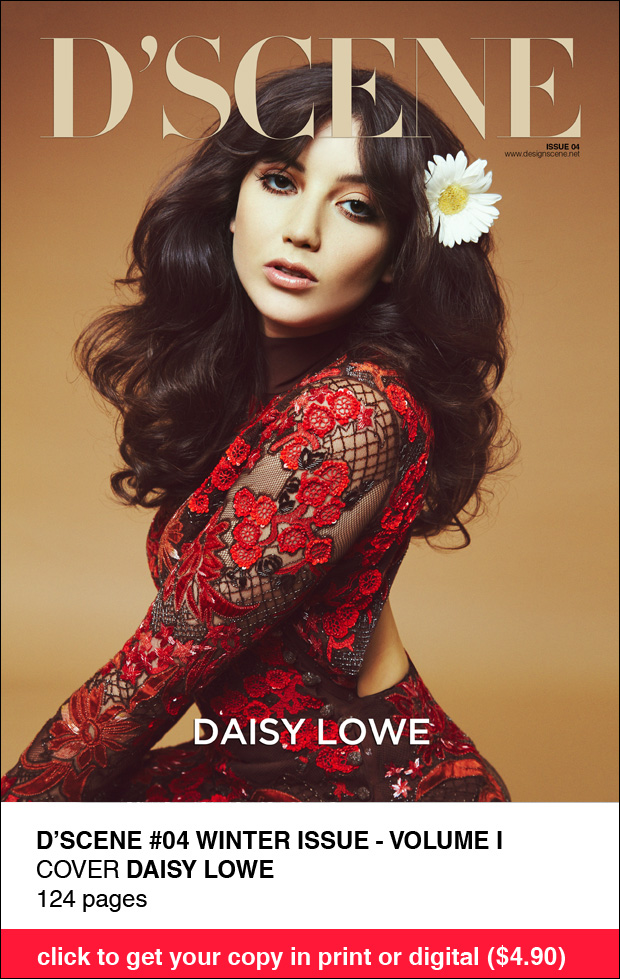 We stumbled across an oversight. Plus size women are making waves in the industry but nobody is lighting the way for men yet. "No, there really isn't! It's an odd one isn't it," she giggles. "It would be great if it did. I think it's really cute when boys have a little bit more weight on them." She sits next to me on the sofa as Louie changes the backdrop from brown to red, a task that captures both our attentions. A handful of grapes briefly stems the flow of conversation as the model pauses to eat, one fruit at a time between sentences. "But yeah, the important thing is that when I started, men's fashion wasn't nearly as much of a thing as it is now. Men's fashion has grown in such a massive way over the past ten years. You have LC:M now, which is huge, and there is much bigger interest in it. Maybe that is the next step?!"
The day draws to a close. Before leaving Daisy pulls me in for a hug – a genuine squeeze, not an awkward formality. She scoops Monty up and shares her final goodbyes, waving and blowing kisses as the car pulls away. Her last words for the D'SCENE reader? "Be yourself. Be present, kind and be happy."
Photographer: Louie Banks – www.louiebanks.com
Fashion Director: Christopher Maul @styleofmaul
Hair: Eamonn Hughes at Premier
Makeup: Sarah Reygate at My Management
Nails: Kelly Shenton
Fashion Assistants: Samm Bate, Nida Ehsan and Nisa Yang
Keep up with Daisy @daisylowe