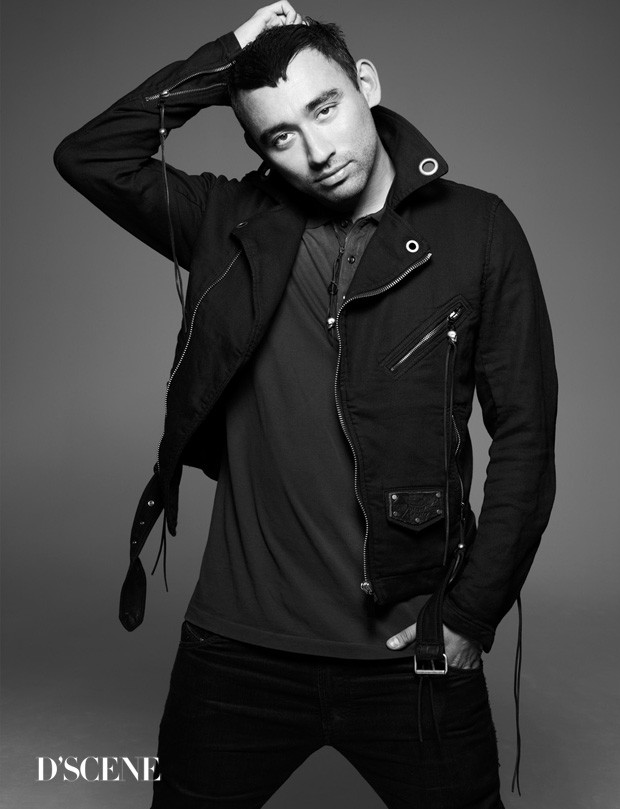 D'SCENE's Fashion Director CHRISTOPHER MAUL is invited into the studio of Diesel's Creative Director NICOLA FORMICHETTI for a chat published in our Winter edition, out now both in print and digital.
Nicola Formichetti is the brains behind fashion powerhouses Diesel and Uniqlo. Recently he has built upon his repertoire by beginning a new venture with the label Nicopanda. Not just a designer, Formacetti has styled for every title worth shooting for and he is reverred for his fun, high to low aesthetic that infuses streetwear with fantasy. He joins me to talk Lady Gaga, nicknames and his thirst for emerging talent. 
You're half Japanese and half Italian and spent your childhood in both countries. How does each culture influence or inspire you differently in your work?
I always get inspired by the mixture and contrast between cultures rather than the actual culture itself. It's the transition process between culture that interests me, the way they mix to become something new and extra-ordinary. Of course I love Japan and Italy, the street culture of Japan and the historical culture of Italy but what I like most is when Japan goes Italian and when Italy goes Japanese. Culture clash !
How would you compare the fashion scene in London to the one in Tokyo?
The fashion scene in London I feel is related to music a lot; there is inspiration from subculture and club and nightlife culture that really defines the London style. Tokyo is more about the different areas of Tokyo, like Harajuku or Shibuya, so it's more like a street style inspiration linked to the exuberant looks from the streets of Tokyo.
You owe a lot to Katy England. In 2005, when working at The Pineal Eye, you were discovered by the editor and offered a monthly page at Dazed & Confused called "Eye Spy". Is there anybody you've spotted and helped launched the career of?
Yes I owe my life to Katy and Alister Mackie, they discovered me and gave my first gig at Dazed! I love spotting new talents – my career is based on that – from the young designers I have collaborated with like Gareth Pugh and Kim Jones and the designer I got [Lady] Gaga to wear Like Nasir Mazhar. It's amazing to be able to give back !
An alumus of the MA Fashion course at Central Saint Martins, I shadowed designer Sean McGirr in his final year when making his graduate collection. You supported him during that year and provided all the denim for his line and he later began working at Uniqlo, where you are creative director. How important it is for you to nurture design talent and what do you look for in students when hiring?
I love supporting students and talents in whatever way I can, giving materials or supporting with financial help even. I was also a struggling young creative and got so much from my mentors back in the days so I want to give back. I love working with creatives who have their own world and I fall in love with their world and add to it to create something new, so yes, spotting talent is one of my priorities.
Your work at Dazed & Confused led to projects at other titles, such as Arena Homme+, Another Man and V. What do you feel is a better fit for you creatively, youth orientated titles such as i-D and Dazed & Confused or high-end publications such as Harper's Bazaar and Vogue Homme?
Well I love both – street culture and high fashion fantasy, they are both very me. I love playing and disrupting between the high and low , doing a high fantasy shoot for Dazed and a street referenced one for Vogue, this what I do best.
You've recently launched a new title called Free Magazine. What's in store for readers and who is your audience? 
It's me continuing what I do, a lot of great content and a platform for new talents to be able to express themselves !
Not just a magazine editor, you're a stylist to the stars. In 2009 you began working with Lady Gaga as her fashion director and you helped to cement her fashion icon status. What was it like working with her in the early days and were you aware of how big the moment was for the both of you?
For me it was really about her as performer and I wanted to do whatever I was doing before in fashion magazines and translate it with her into a live performance, turning glossy paper into something alive and 3D. She took my work to another level.
What was the favourite ensemble you styled her in? 
I have to say I love the meat dress and the egg for the VMAs was also quite amazing. All the music videos were also really fun to work on, it really captured that moment in time that fuses music fashion and pop culture together.
Your career has seen you collaborate with the big guns of the photography world, including Nick Knight, Terry Richardson, Heidi Slimane and Steven Klein. If you had to choose a single highlight, what would it be?
This is a really hard question because I'm already so lucky to be working with those masters of photography. Nick [Knight] was one of the biggest photographers I worked with, so open minded! Terry [Richardson] is super fun and amazingingly spontaneous. Hedi [Slimane], we did a lot for Vogue Homme Japan and created amazing timeless photos. I learned so much from him. Steven [Meisel] is fantastic at creating his own world. I love all of them and can't pick one! I also love Ines and Vinhood, they are so special !
In 2010 you were announced as the creative director of Thierry Mugler. Can you talk us through your reasons for renaming the label to Mugler?
I think the idea was to be respectful to the legacy of Thierry and also to bring the brand into a more global digital era world.
Your career has seen you channel your creativity in many different outlets. How do you draw a line between the creative and the commercial and how do you incorporate both in such a diverse work history? 
Diesel has been and continues to be a great project for me, it's where I can put together all that I have learned so far. Diesel is a big global brand and creativity and commercial awareness needs to go hand in hand so it's a great platform for me to do stores, advertising, marketing, collections, everything! Now we will focus more on digital and we just launched our new website. There is a lot of crazy stuff I'm preparing for the future because I want to take over the world with Diesel!
You've worked on various labels but with Nicopanda you launched your own venture. What appealed to you about starting your own label and what freedoms does this give you compared to working in an established fashion house?
It's a different process but it also gives me the opportunity to work with amazing young talents and help them do their thing. I'm really happy with what we've achieved together on Nicopanda. My first presentation during NYFW was better than I ever hoped for.

Where did the idea of Nicopanda come from?
Nicopanda comes from my nickname. I'm a bit of a bear and I'm Asian so panda –nicola becomes nico-panda!
You're now at the helm of the Italian fashion house Diesel. What do you think you've brought to the label since being appointed as artistic director?
I want to make Diesel the coolest brand on the planet. Diesel is an amazing platform and has a history that allows you to play around without being out of context.
What do you hope will be your legacy to the fashion industry?
I'm really not sure, maybe more about the people I supported and helped than myself…