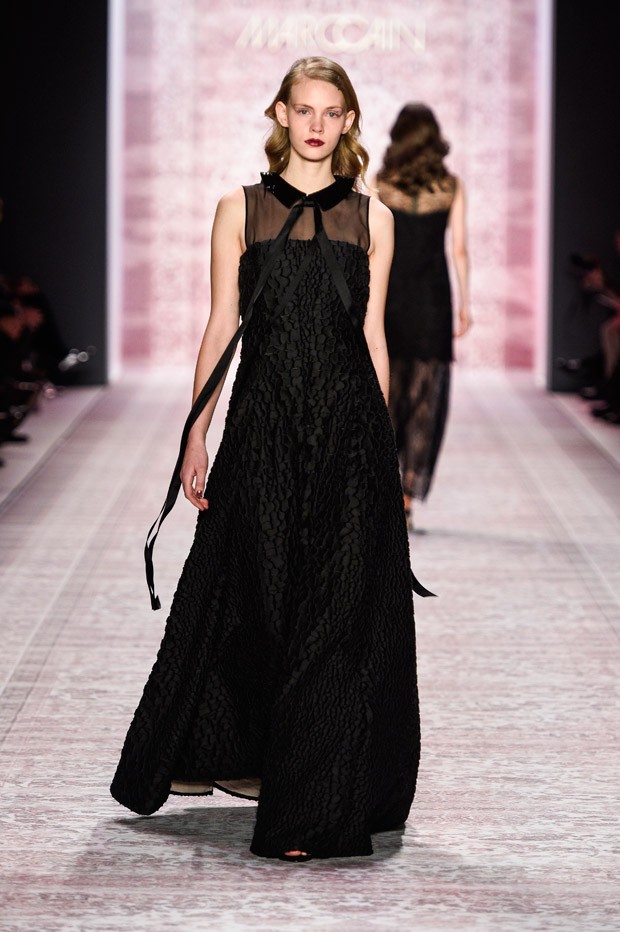 "She wore Blue Velvet
Bluer than velvet was the night
Softer than satin was the light
From the stars
She wore blue velvet
Bluer than velvet were her eyes
Warmer than May her tender sighs
Love was ours"
Lana Del Rey – Blue Velvet
German traditional brand Marc Cain, which has been founded 1973 by Helmut Schlotterer and counts since then as one of the most renowned names in German fashion business, presented its A/W 2016 collection "Velvet Affairs" consisting of exclusive showcased looks on the 19th of January 2016, the first show day of Mercedes- Benz Fashion Week Berlin. As always, tickets were highly sought after and Marc Cain presented anew a very prominent front row packed with high- profile personalities: Topmodel and actress Iryna Shayk, Tigerlily Taylor, Lena Gercke, Bettina Zimmermann, Jasmin Gerat, Jessica Schwarz were front row guests- to name only a few because the list was sheer endless.
RELATED: FIND MORE FW16-17 COLLECTIONS FROM BERLIN FASHION WEEK
The whole collection reflected this adorable contemporary edge or, to say it more precisely, it united business look and lady chic. How to dress like a business woman, and still stay a lady? We wondered how to master that, Marc Cain knows it! Karin Veit, the creative spirit behind the designs of the traditional brand, interpreted business looks in a new, refreshing way: flower patterns, animal prints, chequers and dots were the perfect addition for the modern womans' business wardrobe. Even though androgynous elements (look at those exquisite suits!) could be noticed, it always stayed feminine. Absolutely adorable! In addition to those business looks, horn- rimmed glasses, a vivid mix and match of patterns, endlessly elegant suits, tassel earrings, ties, faux fur coats and headgears were added. It made us dream of injecting those pieces into our wardrobe and wear them each day in office, but also afterwards. The looks consistently stayed wearable but likewise unique, with just the right amount of each. Completely compelling! The hair of the models was worn with side- parting and slightly wavy, reminding us of past times. Very Lauren Bacall! The make- up was focused on deep red lips, a double eye- liner gave the looks its special flair.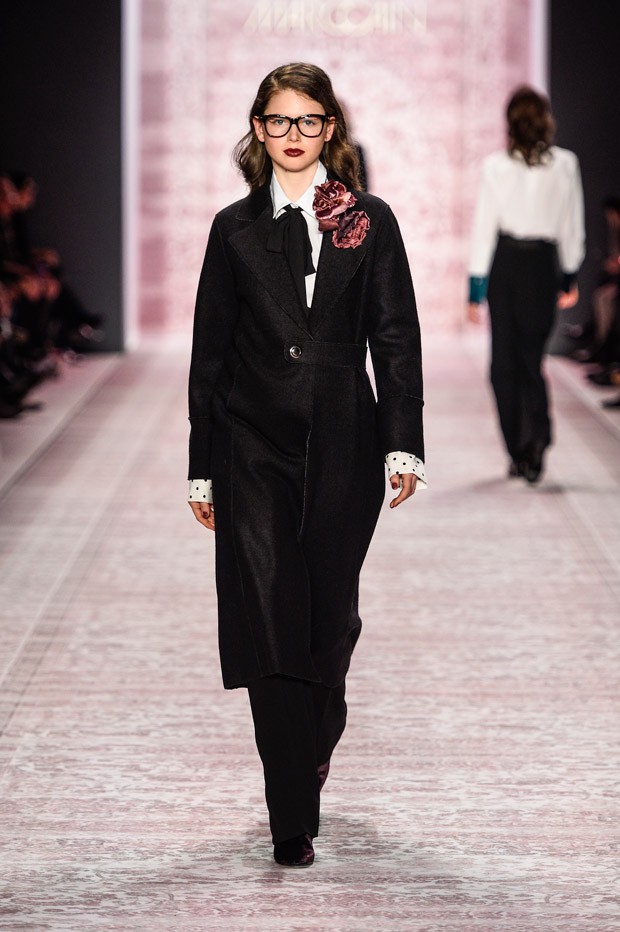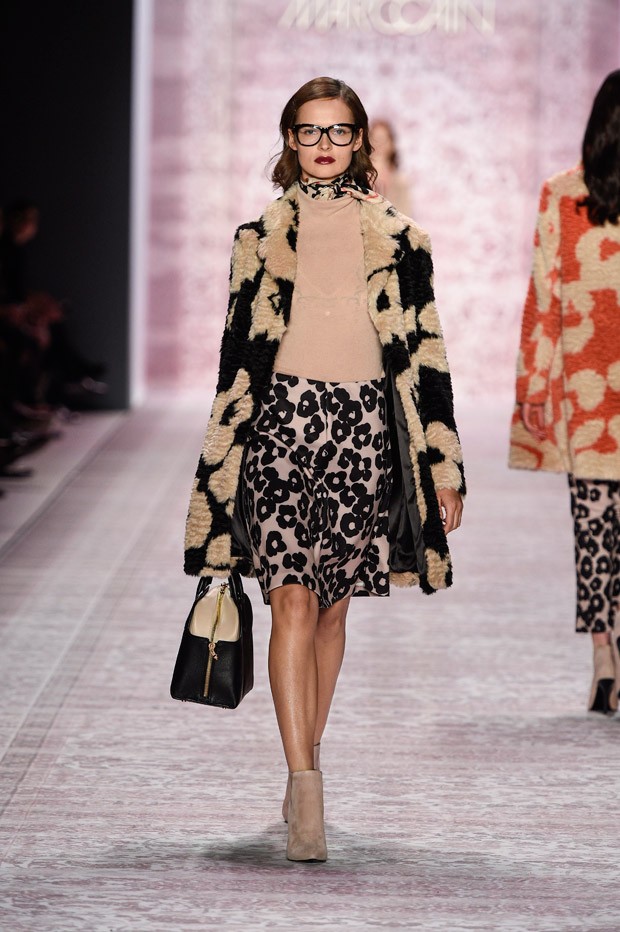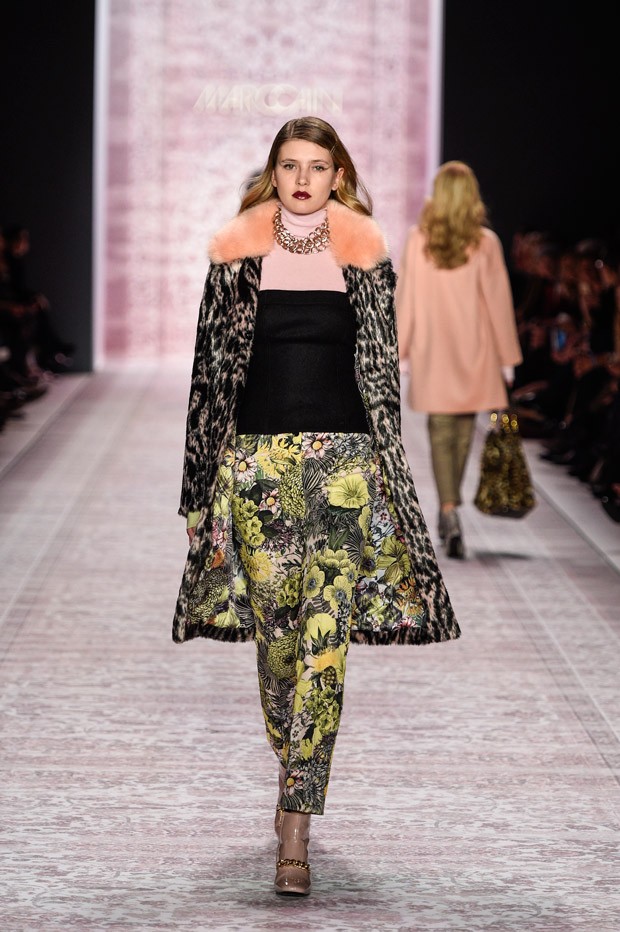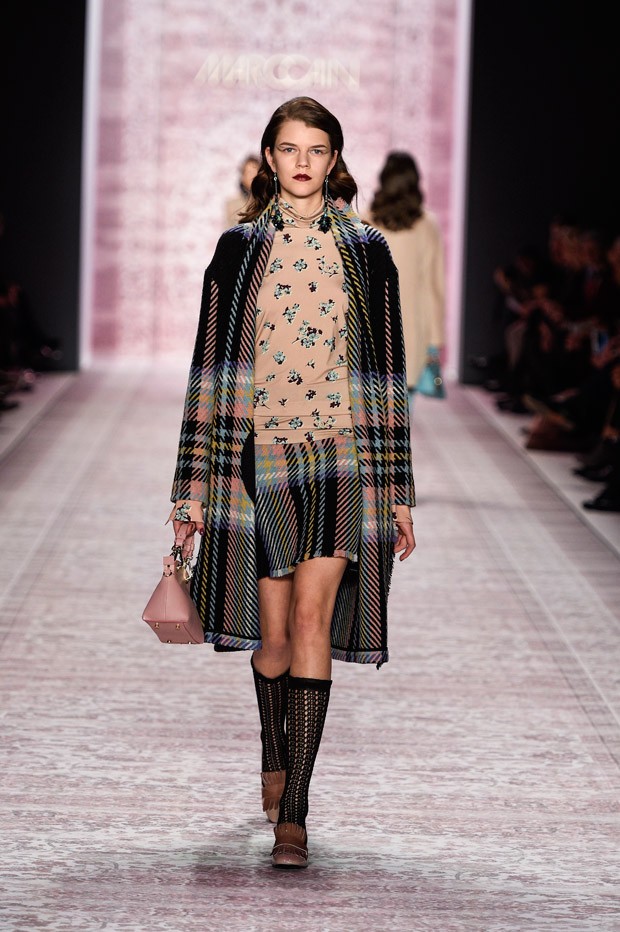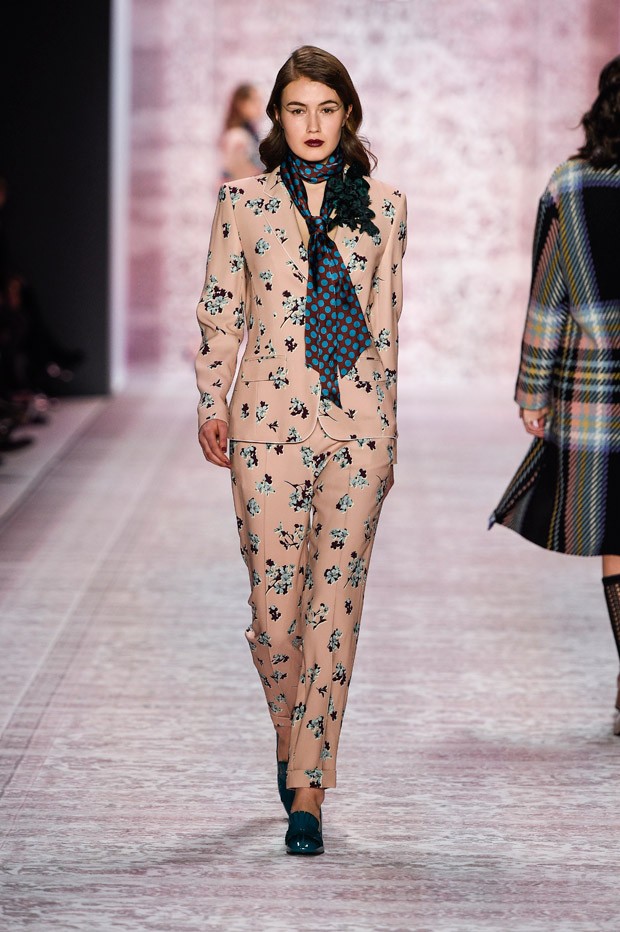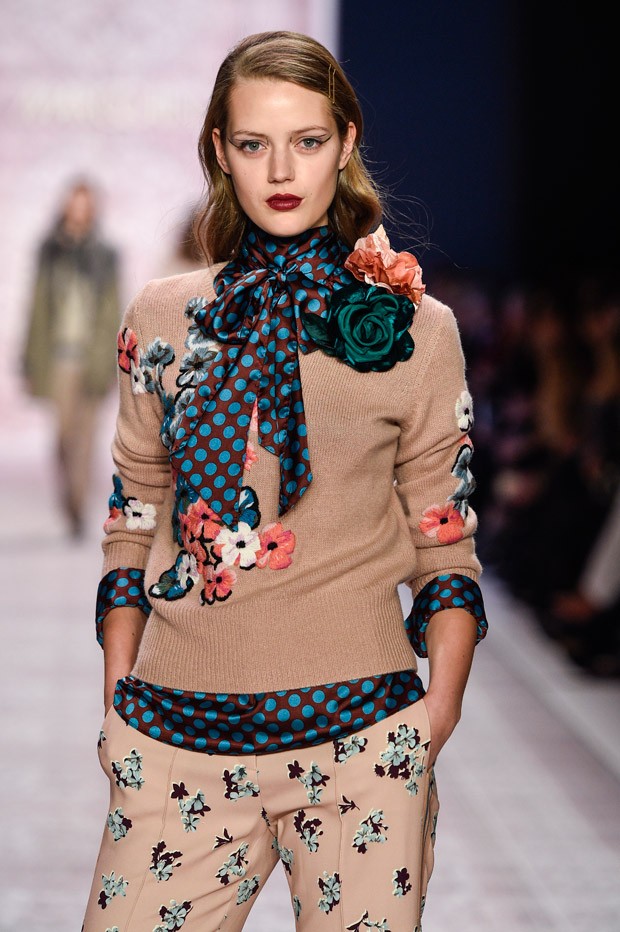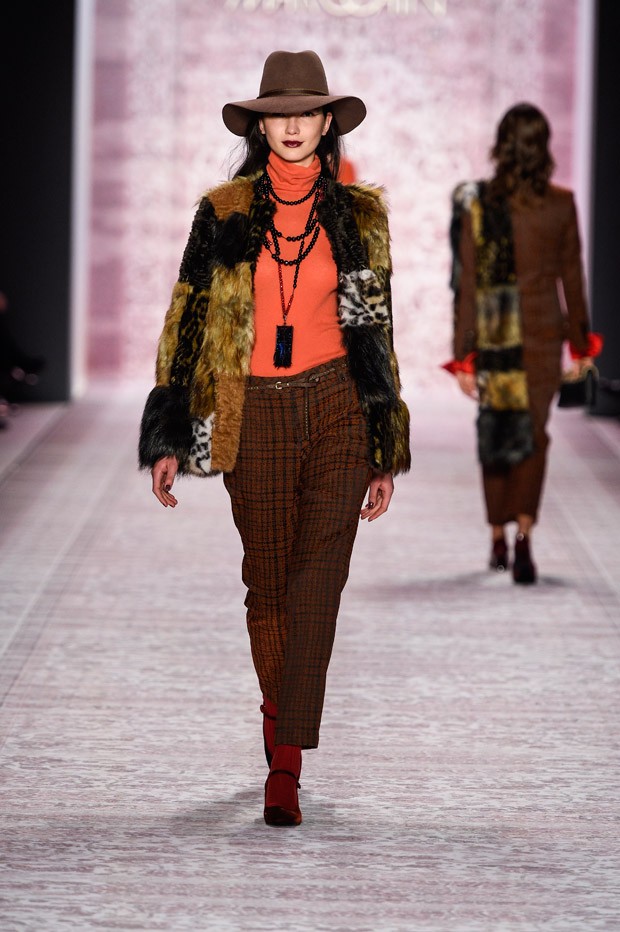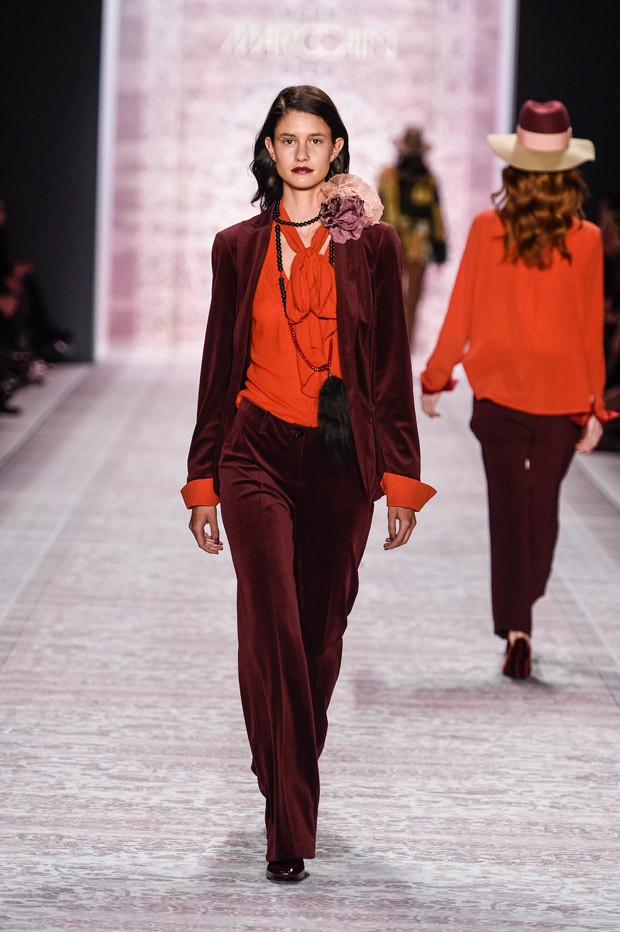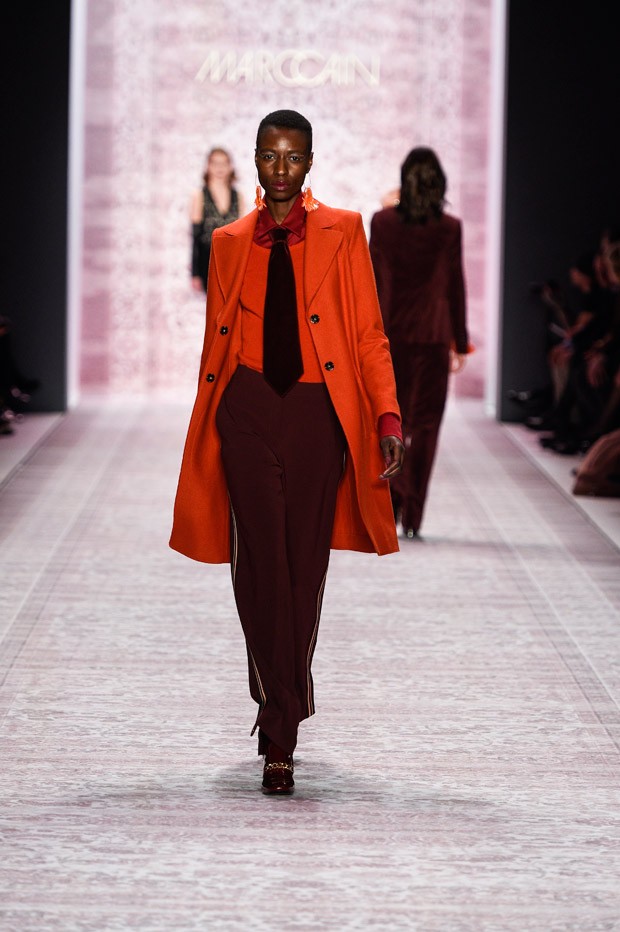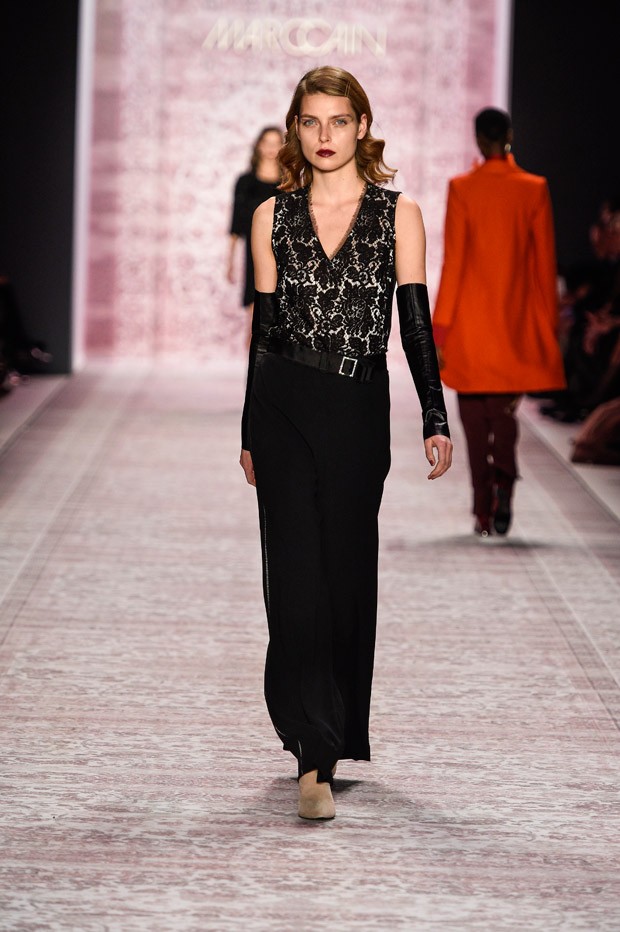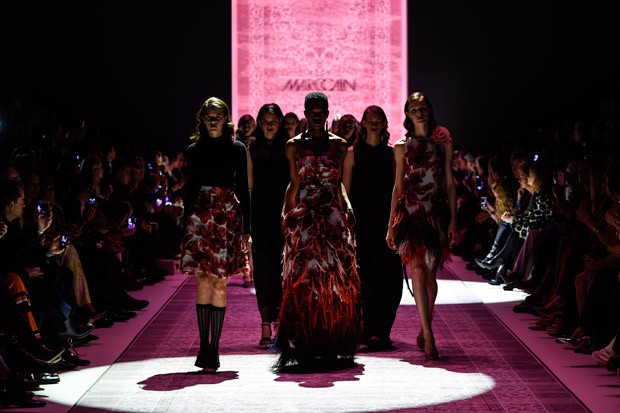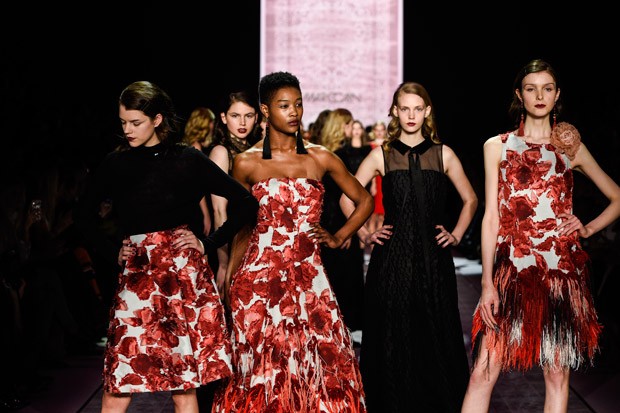 The color palette contained of more restrained and classy hues, for instance night black, soft grey, misty rose, creme- white and camel, but further striking bright tones were often used, such as tangerine, mikado yellow, scarlet, petrol, mint green and electric blue. Different colours were often paired in one look which underlined the unique mood of this collection. It was never too feminine, never too bright- it felt just right.
Accessory- wise this collection expressed pure joie de vivre and had a playful character: furry backpacks (faux fur, of course!) came along with tassel earrings and brogues.
Marc Cains' winter coats deserve devotion. They appeared both in restrained and bright colours, our favourite piece was a coat with animal print that was combined with a fluffy faux fur collar in pastell hues. Irina Shayk added: "I love all the coats in the collection, especially since they're faux fur. Adn of course the classic black pieces. That's very me."
Worth of mentioning is also Marc Cains' very special detail- awareness: breath- taking chandeliers embellished the ceiling, the songs were highly well chosen and underlined the charming character of this collection.
We will keep an eye on Marc Cains' upcoming collections, "Velvet Affairs" deserves devotion and makes us dream of injecting those adorable pieces into our A/W 2016 wardrobe.
"Ours a love I held tightly
Feeling the rapture grow
Like a flame burning brightly
But when she left gone was the glow of
Blue Velvet
But in my heart there'll always be
Precious and warm a memory through the years
And I still can see Blue Velvet through my tears"
Lana Del Rey – Blue Velvet
Review by Sussan Zeck for D'SCENE Magazine
Picture Credit: Marc Cain / Mercedes- Benz Fashion Week Berlin
Official Website: www.marc-cain.com