Renowned Austrian designer Lena Hoschek presented her A/W 2016 collection "The Brits" on the 19th of January 2016, the first show day of Mercedes-Benz Fashion Week Berlin. With menswear lines being shown before, it was the first womenswear line to kick off our busy week packed with shows. As you might assume by the title, this collection took its inspiration from celebrated icons, for instance the young Queen, quirky Miss Marple and british hunting parties of previous decades. The mood of the collection felt like an ode to Britain and a travel through this interesting country. What made this collection utterly special and unique were its various inspirational sources: we witnessed '40s dresses like young Queen Elizabeth was wearing them once, Miss Marples' Granny Chic, pieces inspired by Sherlock Holmes and traditional british menswear.
Pattern- wise, Lena Hoschek showed a vivid mix and match that expressed pure joie de vivre: flowers reminded us of picturesque English rose gardens, moreover delightful cross stitch motifes which depicted foresters, for instance squirrels and foxes, could be noticed. Completely charming! With that motif choice, the designer expressed her love of nature. It was brilliantly blooming on many of the collections' pieces. We dreamt of injecting those pieces and wear them for our next tea party.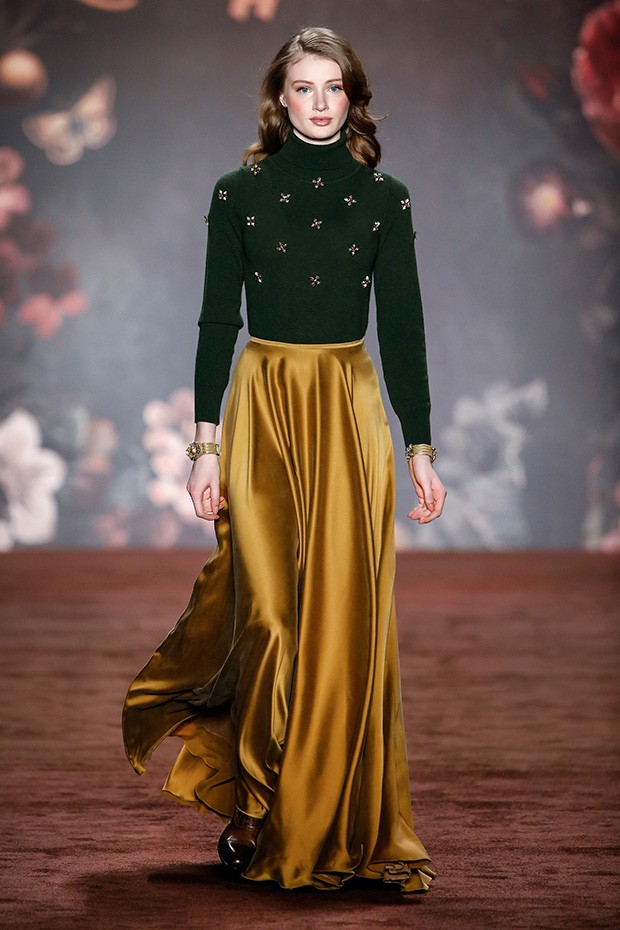 In addition to this aristocratic, graceful style of the British Country Heritage, dresses and ensembles made of finest fabrics could be noticed. On top of that, those precious pieces were embellished with botanic prints and golden accents. In our hectic time, that collection felt like an homage to down-to-earthness. The nature could be seen as symbol of an oasis of peace and as the perfect place to recharge ones' energies.
Worth of mentioning is likewise the fact the models were bejewelled with exquisite vintage pieces plus couture jewellery. Our favourite piece that an emerald green sweater was adorned with numerous brooches.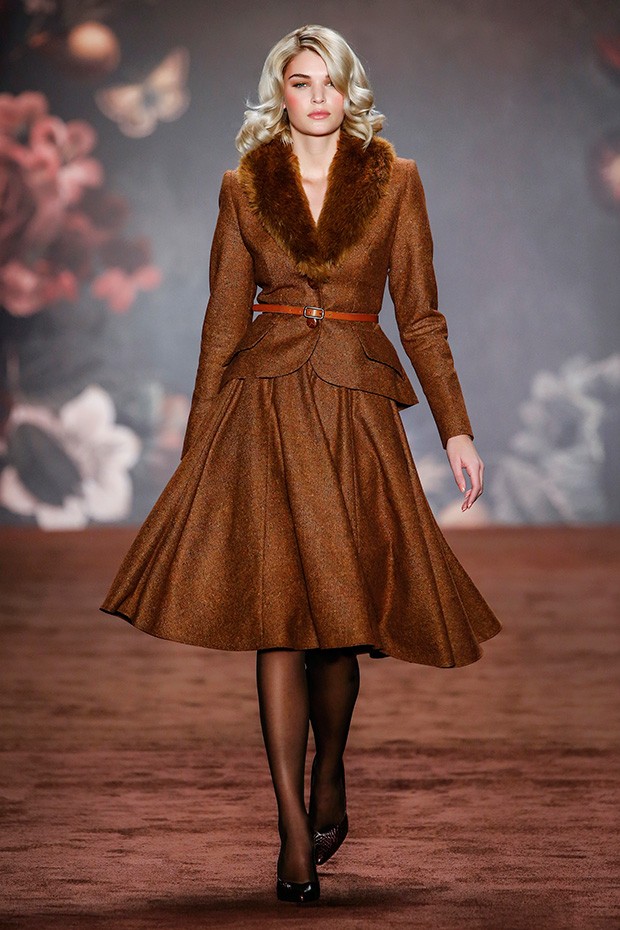 The mood of "The Brits" can be described as "put the fun into the formal"- looks that can be seen with a wink and are meant to spread positive vibes.
Contrary elements were often paired in one look, i.e. mellow dresses met polo boots. Expect the unexpected! The message behind this creative mix and match could be understood as: have fun, do not take yourself or your outfits too seriously. Masculine elements were often paired with feminine ones and that exciting mix created the look of the hour that could be understood as slightly nerd, slightly preppy, even a bit dandy. In one look braces and a bow tie were creatively paired with a pretty blouse and a high- waisted skirt. Smooth!
Cut- wise, sundry of the collections' pieces were focused on the waist which gave the looks an ultra- feminine touch. Once more, Lena Hoschek celebrated the feminine silhouette.  The whole collection was a vivid mix and match with british influences that always considered Hoscheks' very skillful craftsmanship.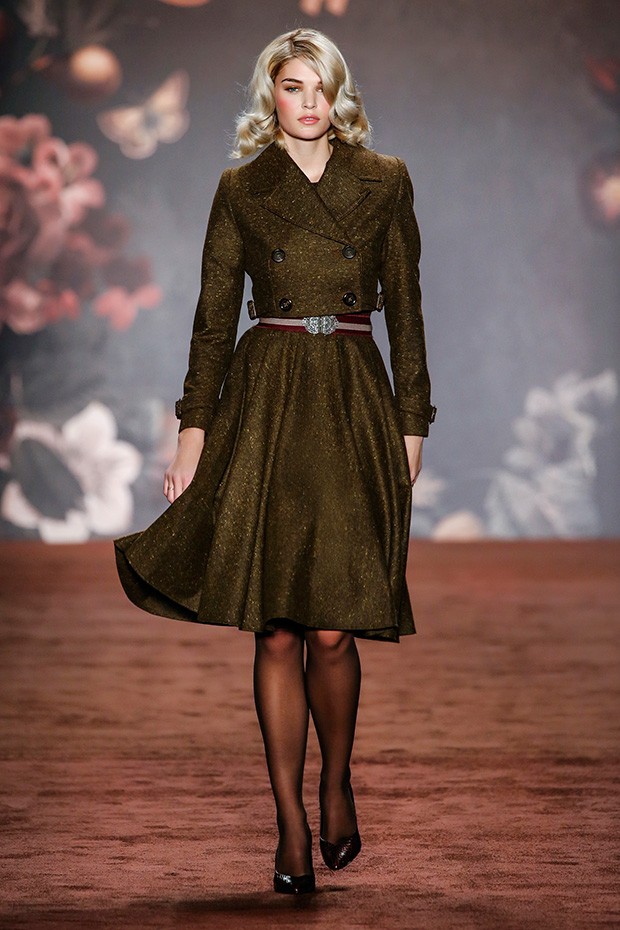 Her choice of only finest fabrics produced by traditional manufacturers deserved devotion, her tweed came from Harris Tweed. Furthermore Brittish Millerain Waxed Cotton was used. Her shoes and shirts were the result of collaborations with Italian master firms. Lace added an ultra- feminine touch. Simply seductive!
Our highlight of the collection was, next to two couture robes, a high- necked bridal gown inspired by Wallis Simpson. Simply stunning!
The range of colors is dominated by autumn hues, such as emerald green, soft grey, cognac, russet and night black. It felt like a walk through autumn leaves. Metallic hues, such as silver and rich gold, were used as special highlights.
Accessory- wise, Tweed Caps produced by Olney, gloves by Munich- based traditional brand Roeckl, Aigle Boots, polo boots and pumps made by Italian traditional manufacture Silvano Sassetti combined with tights and socks by Falke rounded off the outfits.
The hair of the models was worn slightly wavy and open, with side- parting, the make- up was kept natural and fresh, with a soft blush on the cheeks. It underlined the light- hearted mood of this collection.
"She comes in colors everwhere
She combs her hair
She's like a rainbow
Coming, colors in the air
Oh, everywhere
She comes in colors
Have you seen her dressed in blue?
See the sky in front of you
And her face is like a sail
Speck of white so fair and pale
Have you seen a lady fairer?
She's like a rainbow
Coming, colors in the air
Oh, everywhere
She comes in colors"
Rolling Stones- She's a Rainbow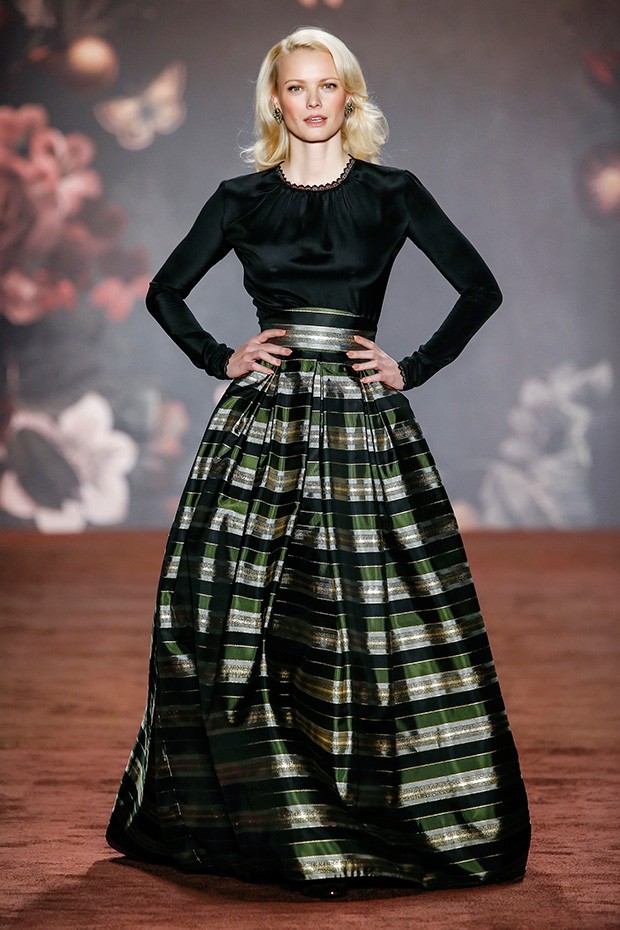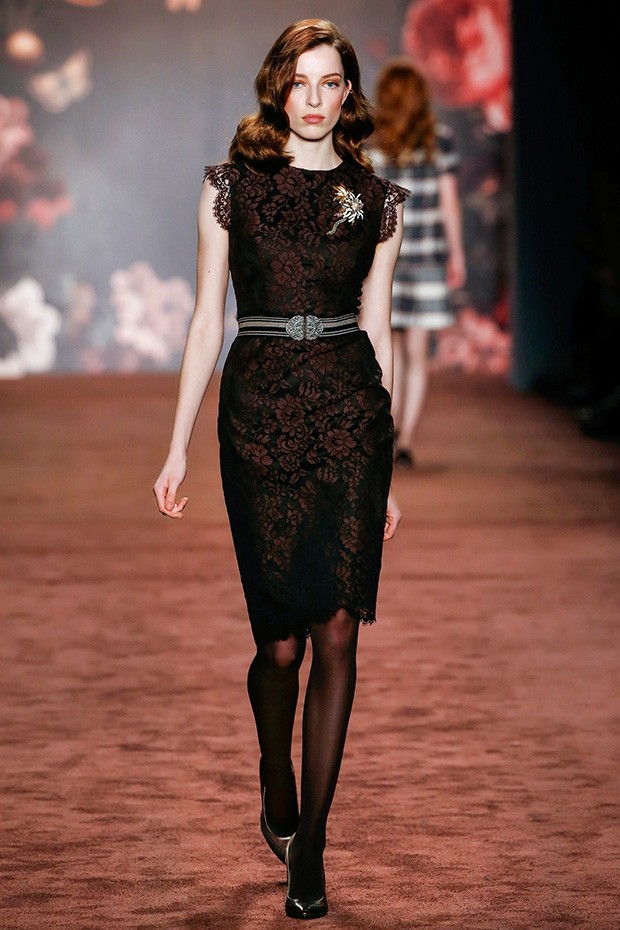 Review by Sussan Zeck for D'SCENE Magazine
All Images Courtesy of Lena Hoschek