For our D'SCENE Magazine's Winter (Out Now) issue SARAH WALDRON walks us through the ages and raids the wardrobes of fashion's most rebellious outcasts.
The first bad bad girl wasn't Eve, who chomped down on the forbidden fruit despite her venerable creator's stern warnings. She might have been Lilith – the lesser-known first wife of Adam, who was banished from the Garden of Eden when she got sick of her husband bossing her around. Like any good woman scorned, Lilith became a demon who roamed the Earth as a symbol of promiscuity and disobedience and she's been scaring good little girls ever since.
Lilith was the product of an age. While, thousands of years ago, she might have been stoned in the town square, today she'd probably be getting stoned on a yacht with Rihanna, racking up tens of thousands of Instagram likes. Today, no woman is treated with a begrudging respect quite like the girl with the IDGAF attitude. She wears her heart on her sleeve, emotes with abandon, infuriates without concern and wear clothes like a total badass.
There aren't any historical sources for what Lilith would have worn (fig leaves are so declassé) but there are a raft of historical bad girls from whom to draw inspiration, sartorial or otherwise. Join us, won't you, on a tour of modern history's baddest bitches. They're excellent guides – as the saying goes: Good girls go to heaven, but bad girls go everywhere.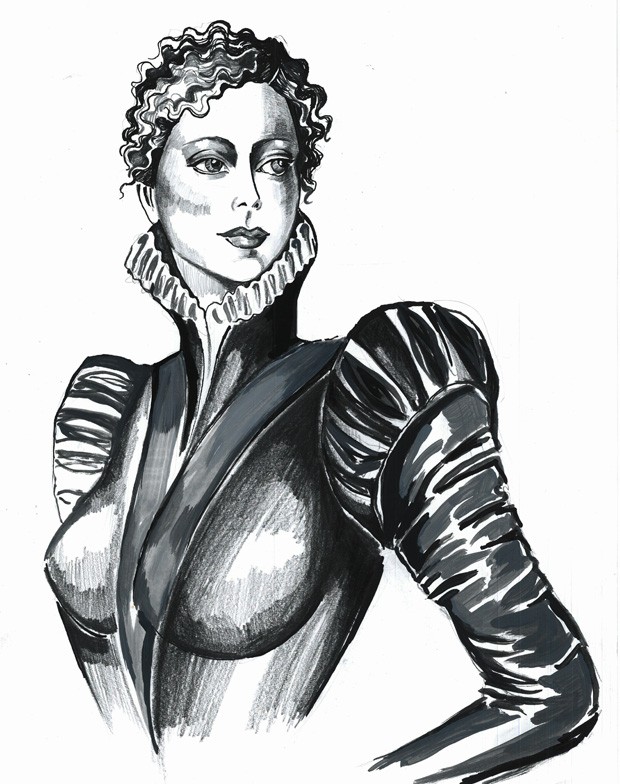 Caroline Lamb – The Lovesick Bad Girl
Imagine being so intelligent and so hyperactive as a child that your parents give you laudanum to keep you quiet. That's what happened to Caroline Lamb. Born in 1793 to aristocratic parents, Caroline was brought up in a family full of wayward women, with both her mother and her aunt carrying on affairs (and having children) with other men throughout the course of their marriages.
Caroline believed ardently in love, so it was either a matter of luck or her blithe lack of self-awareness that she happened to instantly fall for the Hon. William Lamb, who was the approved parental choice. The pair had two children and Lamb would later become Prime Minister of Britain. But Caroline didn't get to enjoy the elevation in status, because in 1812 she started an extremely public affair with poet and notorious playboy, Lord Byron.
It was a brief dalliance, but her obsession would last a lifetime. Influenced by her own family history and the reckless passion of fashionable Romantic poetry, Caroline started to dress more and more scandalously – and all the other women followed suit. Necklines were as low as possible to accommodate the dramatic heaving of bosoms. Dresses were worn in muslins so thin that they were almost transparent, and daring women like Caroline would dampen the fabric to make dresses even more sheer and clingy. At the balls where she would wear the upscale version of a wet t-shirt, she would publicly decry Bryon, then scramble over chairs to get to him when he entered the room. She sent him letters containing locks of hair – pubic hair.
People began to talk. Byron lost interest. But she wasn't done. She would follow him, first as a lover, later as an antagonist. She wrote her own poetry in his style, thinly veiled tributes. By that time, Byron had moved on – to his own half sister. But that didn't matter. Caroline believed in love, and didn't care what anyone else thought about it.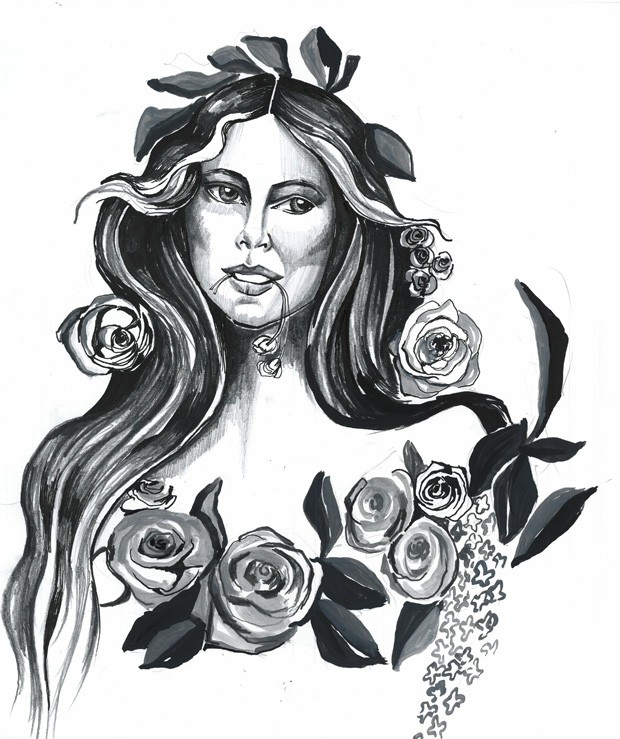 Evelyn Nesbit – A Bad Girl Is Not A Victim
Evelyn Nesbit wasn't born a bad girl – she was made to be that way. Born on Christmas Day, 1884 to an adoring father who died when she was a child, and a steel-backed mother who realised that she needed to capitalise on her daughter's beauty to keep the family at the level of comfort she was used to. At fourteen, Evelyn became an artist's model and after that, a cultural phenomenon; her face was everywhere. Capitalising on her fame, and acting at her mother's urging, she became a showgirl.
At sometime between fourteen and sixteen, Evelyn was effectively seduced (some biographers say raped) by architect Stanford White, who kept an opulent apartment, one room kitted out only with a red velvet swing. Evelyn's mother was out of town, a visit precipitated by White. He would be a warped paternal presence in her life even after she married the extremely rich and extremely unstable Harry K. Thaw. Thaw pursued Nesbit aggressively for years. Convinced that Shaw had somehow ruined his perfect, pristine wife, on June 25th 1906, he took a gun and shot Stanford white three times in the back of the head.
The murder trial was equal parts fiasco and sensation. The rape and the red velvet swing was gleefully dissected in the press. Evelyn's life was picked apart; she has to go on the stand and deny the she had an affair with the actor John Barrymore that ended in an abortion – something that some family members maintain actually happened. But Evelyn was a trouper, not a victim. She rose above.
As the first real pin-up girl, Evelyn's style was demure by modern standards. Postcards and illustrations show her with hair half-up, half down, her virginal white dresses perpetually on the brink of slipping off her shoulders. Her look was a menagerie of mixed signals.
You know you're a bad girl when a young Joan Collins plays you in your biopic. In 1955, The Girl in the Red Velvet Swing told a fictionalised story of the Stanford White murder. Evelyn, entitled to her cut, served as a technical supervisor.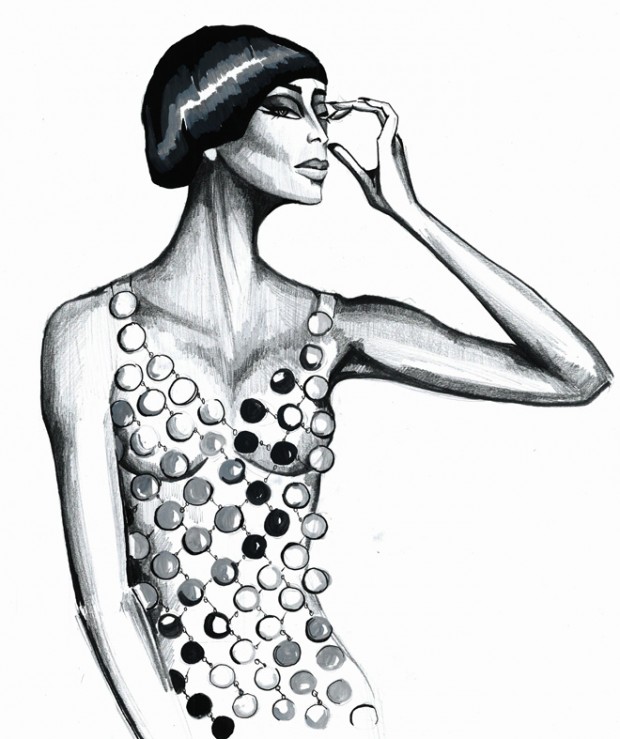 Donyale Luna – The Give No F*cks Bad Girl
A fashion primer: In 1966, Donyale Luna became the first black woman on the cover of Vogue – any edition of Vogue. She was also the first black woman to cover Harper's Bazaar – also any edition. But as far as Donyale was concerned (civilian name: Peggy Ann Freeman), she might as well have been from from Mars.
Donyale was aware of the waves she was causing as a black women in an overwhelmingly whitewashed fashion industry while her contemporaries were battling it out in the throes of the American Civil Rights Movement, but her reaction to the forward strides was nonchalant at best. "If it brings about more jobs for Mexicans, Chinese, Indians, negroes, groovy," she is quoted as saying in an interview. "It could be good, it could be bad. I couldn't care less."
Donyale was a mass of contradictions, a woman who didn't want to be judged by her appearance, yet was aware of her beauty and status as one of the world's most popular models. She was ethereal and otherworldly; impossibly tall and thin, a possessor of a slightly askew balletic elegance.
She was the perfect space oddity for '60s designers, whether that be in her metallic Paco Rabanne and abstract chandelier earrings, or literal sheets of hammered metal in cult fashion film Qui êtes-vous, Polly Maggoo?
Donyale never wore shoes. She took LSD and spoke openly about it in interviews, never fearing any backlash. Donyale defied easy categorisation. She just didn't care what people thought about her.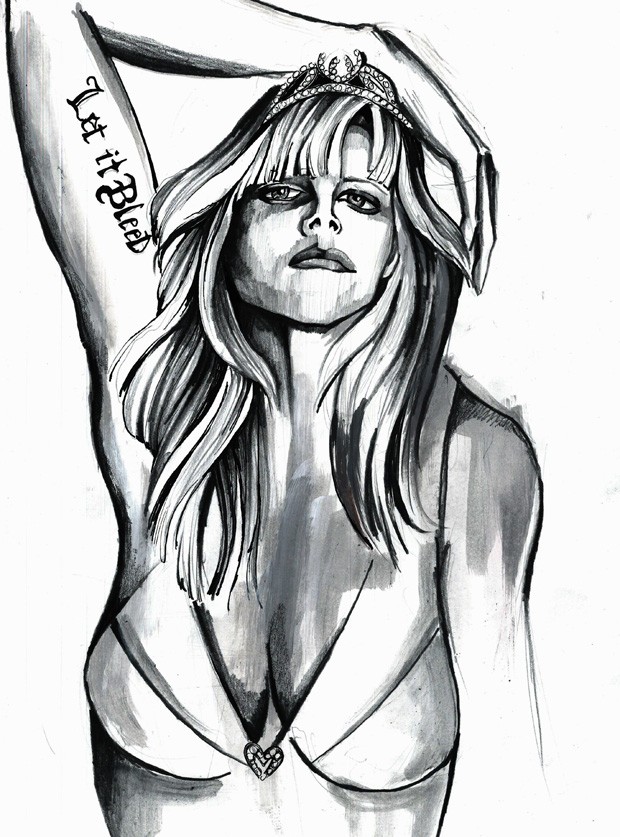 Courtney Love – The Angry Bad Girl
We know the bare bones of the story – Courtney Love was married to Kurt Cobain, was a heroin addict, struggled with abuse. We know those spare details, and we think we can fill in the blanks. We think that we know her. ("She killed Kurt!" we hear a million conspiracy theorists cry.) But here are some more facts about Courtney Love: She's an autodidact, self-taught and insightful on matters of philosophy, art and religion. She's a talented musician (because even twenty years after the initial success of her band Hole, some people still need reminding).
And Courtney Love is painfully emotive. Specifically, she is angry. She is rage embodied, her songs poking holes and creating large wounds in our collective psyche.
While she's a lot sleeker now, the wardrobe of Love's angry period is a perfect capsule of wearable rage. Her babydoll dresses, once a symbol of perfect, untainted innocence, are worn indecently short, ripped and stained as if worn through a monumental physical struggle. Her tights are ripped, her bra exposed. She wears nubby faux-fur coats in virginal white and cheap, breakable plastic homecoming queen tiaras during photoshoots. Her hair is a tangled mass, a zebra stripe of bleached ends and dark roots; her pale face offsetting a smear, a slash of impasto red lipstick – sometimes smudged beyond the lip line. It's a vision of female sexuality not constructed for the eyes of men, who see this funhouse mirror version of sanitised American womanhood and turn away, as if they see their own shame.
Courtney isn't a bad girl because she's angry – all women get angry sometimes. Courtney Love is a bad girl because she doesn't try to hide it. Not in her attitude, not in her words, and certainly not in her clothing.
Written by SARAH WALDRON follow on Twitter @Sarah___Waldron
Illustration by Illustrator and Fashion Designer Marko Marosiuk – www.markomarosiuk.com