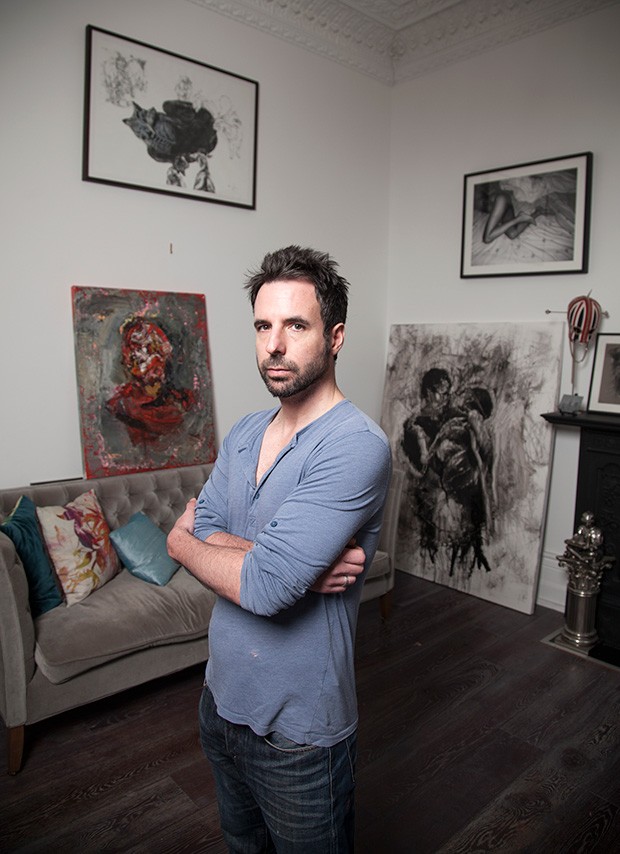 A week after opening of his exhibition RAW INTENT in Hong Kong our editor KATARINA DJORIC sits down for an interview with artist ANTONY MICALLEF. His work has proved the art scene unlike other creative industries is here to withstand the test of time.

Katarina and Antony talk about his creative process, inspiration, the selfie, celebrity collectors and future plans.
Read more after the jump:

How do you feel being compared with Francis Bacon?
I think if one distorts the face in anyway people always refer to Francis Bacon as he's so popular. I'm really flattered that people use that comparison as he's a magnificent painter.The London school was incredibly influential to me and I was taught by John Virtue who in turn was taught by Frank Aurebach. When David Bailey visited my studio to take some portraits of me he said he hadn't seen a placelike this since visiting Bacons studio, which made me smile.
What is your state of mind while you are painting?
It depends on what I'm painting. My new body of work demands a lot of attention and is really physical and has to be painted with a lot of energy. When you work in this way you don't really think of anything but its like trying to constantly solve a puzzle at a very fast pace. A combination of line, structures, colours and marks are moving around the canvas at a an extremely fast pace and you have to solve how they are going to sit together while dealing with the gravity of the huge amounts of paint I use as they slide off the canvas.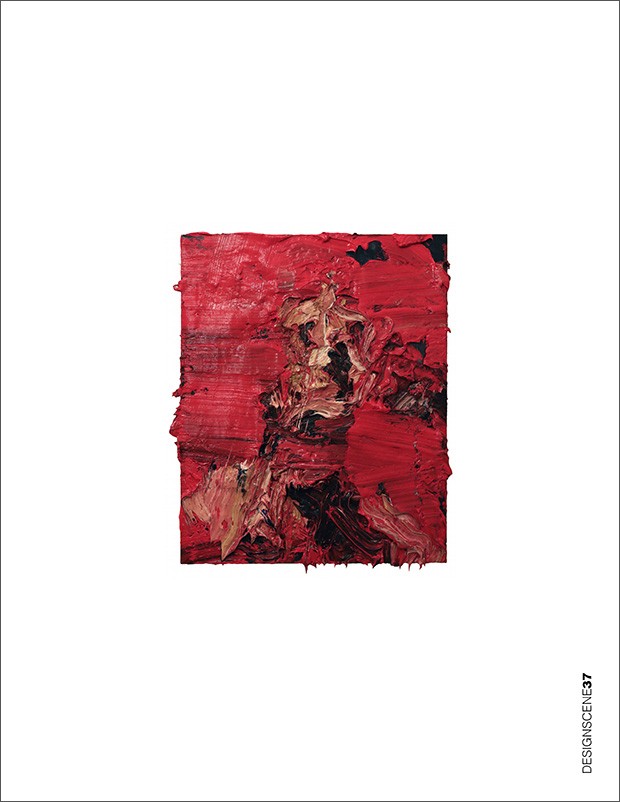 Do you draw inspiration from other art forms such as film, music or literature?
I find, as I get older my inspirations comes from everywhere. I think it's just about being open to different things and the way of perceiving them. All forms of artistic creations, people, nature and our social environment. It's a spinning melting pot where you try and pick out things that create a spark in your head that will hopefully translate into something else. 
How does your path from an idea to final artwork look like?
There isn't any set path to making a piece of art. It really varies from piece to piece. Ideas normally fall into my head like a slide falls into a projector. It's a very exciting moment when it happens and you want to drop what you're doing and begin to create straight away. These current series of works are very visceral so there isn't a lot of planning in that sense of how they look. I never know what they are going to look like or what the finished piece will be saying. All I know that it's more like trying to excavate something that's already there. It's a very organic way of working. Making art is like climbing a tall tree. You're constantly making decisions about your next move to the next branch. Every time you move you're constantly faced with new choices of the best route to take and so on and so on until you reach that point where you want to sit. It's a series of changing choices that you have to navigate and have a dialogue with until the piece says what you want it to say.
You noted the trouble with pop imagery is in the fact it doesn't really go deeper than the surface. How important is the deeper meaning of an artwork for you?
I think art has to move you in some way otherwise it's just decoration.
It has to emote or get you thinking in some way. I always want to engage with art in the same way as I engage with a person. What I mean by that is that I want it to meet me half way, communicate with me and open up a dialogue with how I'm responding to it. Art can have many functions but essentially it's a language where if used in the right way can get us to view or hear things and sense them with pure emotion instead of thoughts.
Certain aspects of your work examine the effect of consumerism in our every day life. What do you think is the primary role of an artist intoday's society?
Art helps us to understand and feel what it is to be human. It's a reflection of how we think and feel. I don't think there is one specific role for an artist but the best art ever made questions the ideas of our beliefs, our behaviors, our humanity and who we are.
Is your series of paintings "Self" a direct critique of the popular selfie trend?
I don't think it's a direct critique but it does open up the discussion of what an actual selfie is in comparison to a self portrait. I think when you compare the two together the vacuous disposable nature of a selfie becomes self evident. Even though you can argue they both deal with elements of narcissism the depth at to which they can be compared and the purpose and function they share are limited.
How did your art evolve from pop imagery to figurative self-portraits?
I've been painting my self portrait for the last 30 years. It's something that I've always done even since I was very young. I've always painted myself no matter what else I was working on. I never could afford any models and I could do what ever to my own face as I wasn't precious about the way I looked in them. It was never about capturing a likeness but always about trying to capture something visceral. Now they have completely morphed into their own beings and I don't even see them as me at all. I'm just a conduit to the finished piece.
Collectors of your work include a whole list of Hollywood celebrities. Did such names on your client list bring a new spotlight on your work?
I'd like to think it was the work it self that attracts the attention. I'm always really flattered when anyone buys my work, celebrity or not as they allow me to keep painting and to do the things I love.
What is next for you? How would you like to see your work evolve in the future?
That's a very hard thing to answer. I'm not sure what it will change into but I do know I feel I've hit on something that has a lot more to offer up before I move on to something else. I feel really excited by what's happening at the moment, which is a nice feeling to have. I just want to be in my studio.
Keep up with Antony's work online antonymicallef.com + @antonymicaellef
See Antony's latest exhibition Raw Intent 'till 30th June 2016 at Pearl Lam Galleries Hong Kong