Are you all set to start with kitchen remodeling project? If yes, then one of the most important decisions you need to make is what the new countertops will be made of. Countertops have a huge impact on the overall look and feel of your kitchen.
They are available in different kinds based on its weight, durability, aesthetics, upkeep and cost. With varied options to choose from, you might find it a bit difficult to select the right one for your need. Check out some tips that will help you choose the best material for your new countertops for kitchen.
Read more after the jump:

Countertops for kitchen by caesarstone
Purpose of your cooking space
The first thing to consider is the right purpose for which the kitchen will be used, keep aside where you prepare delicious food and store your dishes, there is much more to it than just good looking interior design. Is this the place where the family sits together for dinner? If yes, then you would like to choose durable stone like granite. Well, granite is bacteria resistant and stain resistant which mean they will not get damaged easily. Besides, it is also an excellent choice no matter how big your family may be or for what purpose the kitchen will be used.
Choose granite or quartz countertops
Although granite is believed to be a good choice for your kitchen countertops, do consider quartz for almost the same reason. The actual difference between granite and quartz are the aesthetics and this is what makes the buyer purchase them based on their taste. No two slabs of granite look the same and as such, if you want consistent look to all the kitchen counters, then you may go with quartz.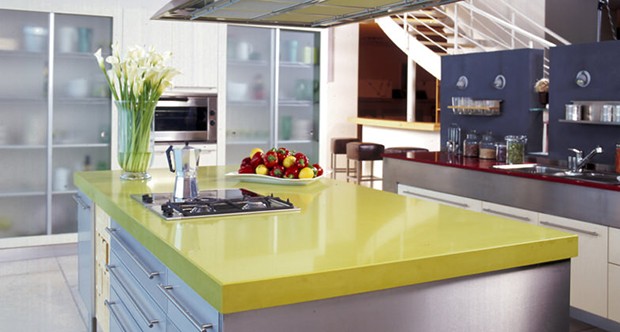 Consider the overall look of the kitchen
Another thing to consider is the overall look of the cooking space. Your new countertops for kitchen should provide the same look and feel of your unique style and taste. Both granite and quartz countertops are available in a wide range of colors, patterns and styles and as such, you may find it difficult to understand the best purchase for your kitchen. You may bring samples from the showroom before installing them. This is a great way to know if you have made the perfect choice for the cooking area where your stove along with other cooking appliances like ultimate grill suitable for cooking, microwave etc would be kept..
Consider the estimated budget for countertops
Whether you purchase countertops for one room of several, you should consider the budget before hand. This will help you narrow down your options and know if the countertops you have chosen are worth the purchase. In case these countertops hurt you budget, feel free to look for other options that aren't too expensive and yet will offer the same benefit like the pricey ones. This will make the kitchen look more attractive and gorgeous.


With a little research work and thorough planning on your part, you are surely going to find the perfect countertops for kitchen. It is advisable that you choose and install luxury materials only where you really need for saving your money.
Otherwise, it makes no sense investing your bucks in buying expensive materials. If you aren't sure as to which countertops will be suitable, hire a professional who deals with such kind of work and will help you make the best choice for your home.