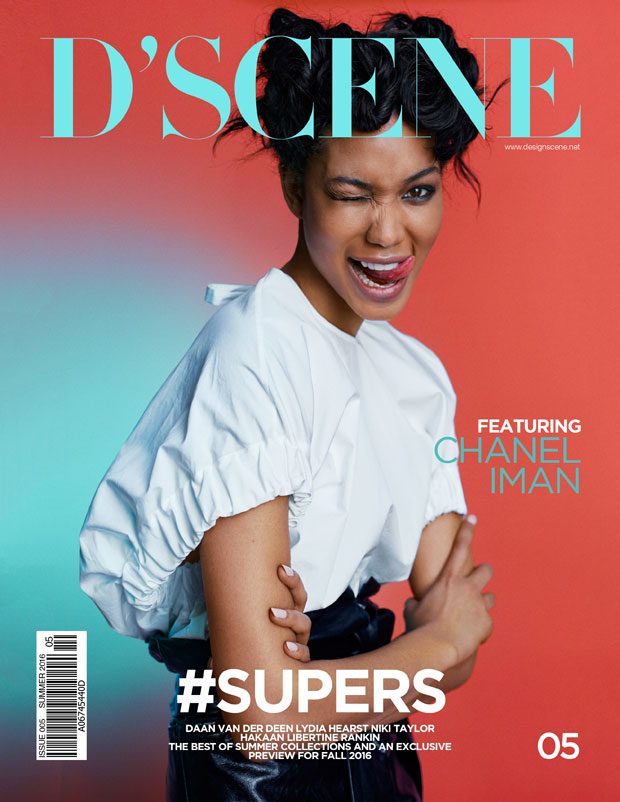 For D'SCENE Magazines #SUPERS issue CHRISTINA CACOURIS catches up with our cover star CHANEL IMAN to talk all things Dope, Pharrell Williams and her mother's proudest moment. 
It's hard to describe a famous face. Supermodel Chanel Iman has been represented thousands of times, adorning glossy covers and billboards around the world. The metamorphic nature of modelling, with models appearing in so many different incarnations, leaves it difficult to pinpoint what makes her beautiful. Like Virgil wrote in his epic Aeneid, "varium et mutabile semper / femina" – woman is an ever fickle and changeable thing, and Chanel Iman is no exception. There's that golden brown skin, those wide set almond eyes with a slight upwards curve, hinting at her mixed heritage, and, of course: that long limbed curvaceous figure which put her on the runway for the famous Victoria's Secret Show.
With over one million followers on Instagram [@chaneliman], Iman has reached an elite level that many models dream of and few achieve. As the fashion industry twists and turns and social media "it-girls" are taking reign, models like Iman are establishing themselves in their own right, without a name or nepotism behind her. "It's important to have a social media presence," she says, encouraging models starting out to begin building a following. "It gives a platform to have a voice and it's important to connect, engage, and relate with my fans."
Previously, supermodels appeared and vanished, flitting from cover to cover and runway to runway, while staying aloof and mysterious. Now, in an age where overexposure is de rigueur, Iman has managed to strike a balance between becoming a social media star and keeping her private life secretive. She was in a widely publicized relationship with rapper A$AP Rocky for two years, yet neither spoke publicly about their romance.
Last year, Iman made her film debut in Dope, the stylish, star-studded Sundance favourite about modern drug trafficking set to the beat of 90's hip hop as interpreted by music superstar Pharrell Williams. The movie depicts Malcolm, a high school student trying to get out of "the bottoms" of Inglewood, California, and into Harvard, but gets caught up in the drug trade; along the way, he meets Lily, played by Iman, the sultry seductress whose incarnation as a meme becomes the face of his drug, an apropos inversion of Iman's real life work.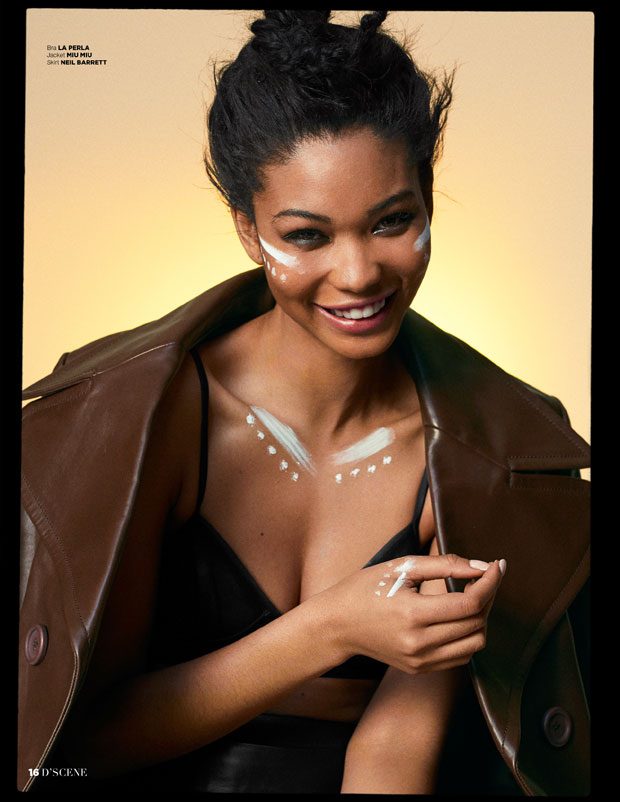 Talking about the film, Iman lights up. "I loved shooting Dope," she says. "It was a great experience for me. I've always wanted to get into film and television, and when the opportunity came my way, I went into that audition and gave it my all."
And Dope introduced her to a new world: "Travelling to Sundance and Cannes for the premiere, that experience was amazing. I definitely want to do more film and work on my craft as an actress," she says, citing Halle Berry and Charlize Theron as her main inspirations. When I speak with her, she's just getting ready to jet back off to Cannes in a few days – so perhaps something is on the horizon.
She's been described as having a "ballroom-gown aesthetic"; while it's true that Iman's physique is suitable for couture, she has a versatility that allows her to look equally striking both next to Tom Ford at the Met Ball wearing one of his creations, and in the low slung jeans and sweater she shows up in to the set.
Settling into her makeup chair, Iman tells me about the halcyon days of L.A. living, where she was raised by her mother until she moved herself to New York at age 15 to pursue modelling. Her mother, who is part Korean, has said that Iman's Vogue Korea cover with the title "Black Beauties" is her proudest moment, a momentous celebration of Iman's mixed heritage. One of her biggest supporters, Iman also credits her mother with helping her develop the faith that carries her through her career: "I pray every night and talk to God all day," she says. "I live off of hope and faith."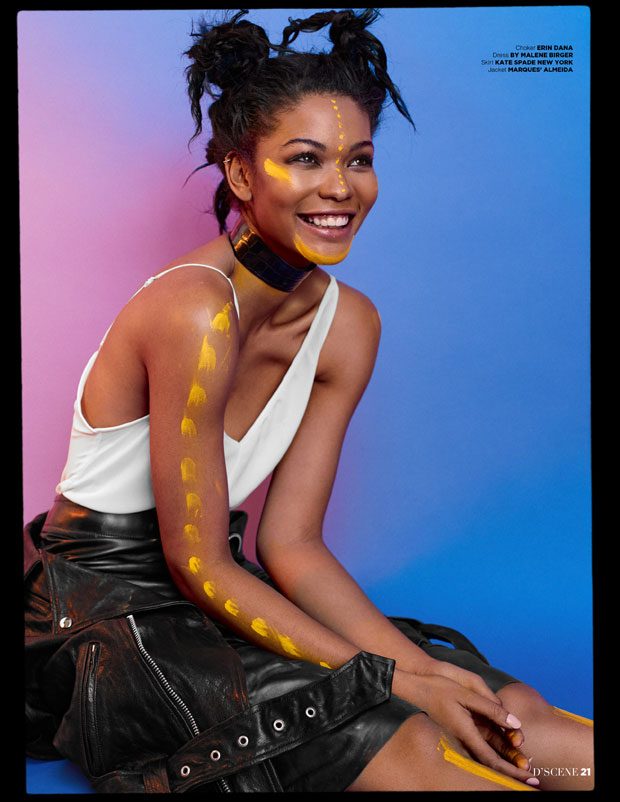 Along with her faith, it's music, she says, that always sustains her. Fashion is a tough industry to be in, and the superficiality of the job can be wearing. "Music really uplifts me," she says. "It makes me feel better no matter what I'm going through." Her makeup complete, she hops out of her chair and ambles in front of the camera, then pauses.
"Music! I need music!" she calls frantically.
An assistant appears and Iman hands him her phone. Moments later, Late Registration-era Kanye West is blasting off her Spotify account, and almost instantly, Iman adopts a laser sharp focus and begins to vogue as the camera clicks away, lights popping with each shot. Watching her move and twist, it's no wonder Beyonce herself picked the model to slither and strut alongside her and two other supers, Joan Smalls and Jourdan Dunn, in the music video for "Yonce": a surreal experience for Iman, given that she counts Beyonce as one of her favourite artists.
They've got the shot, so she settles back into the chair for the next look as she muses about her future. "I would love to go back to school," she says, her plans to further her education suspended with the meteoric success of her modelling career. "It's definitely a goal of mine. I probably would take business classes." Her range of interests include doing some designing of her own, having already experimented by designing a backpack to raise money for Obama's 2012 presidential campaign. "Creativity, to me, means an expression of yourself," she says. "Having your own ideas, and your own vision, and bringing it to life."
So what's next for Iman? She says she's working on some exciting projects, but remains secretive: "There's a lot to look forward to at the end of the year!" she laughs.
A few hours and twelve final shots later, Iman slips back into her jeans and glides out the door: another day down, another character played.
Photographer Hunter & Gatti – hunterandgatti.com
Fashion Director Christopher Maul – styleofmaul.com
Model Chanel Iman at IMG Models
Hair Stylist Felix Fischer at Factory Downtown using Rich Hair Care
Makeup Artist Ingeborg at Opus Beauty using Kevyn Aucoin Cosmetics
Photo Assistant Joan Vitores
Lighting Assistant Joseph Dean Daly
Lighting Assistant Juan Carlos Zorrilla
Stylist Assistant Christopher Daniels
Stylist Assistant Brianna Solo
D'SCENE Production Anna Kozyakova
Hunter&Gatti Production Rebecca Watson
Interview & words by Christina Cacouris