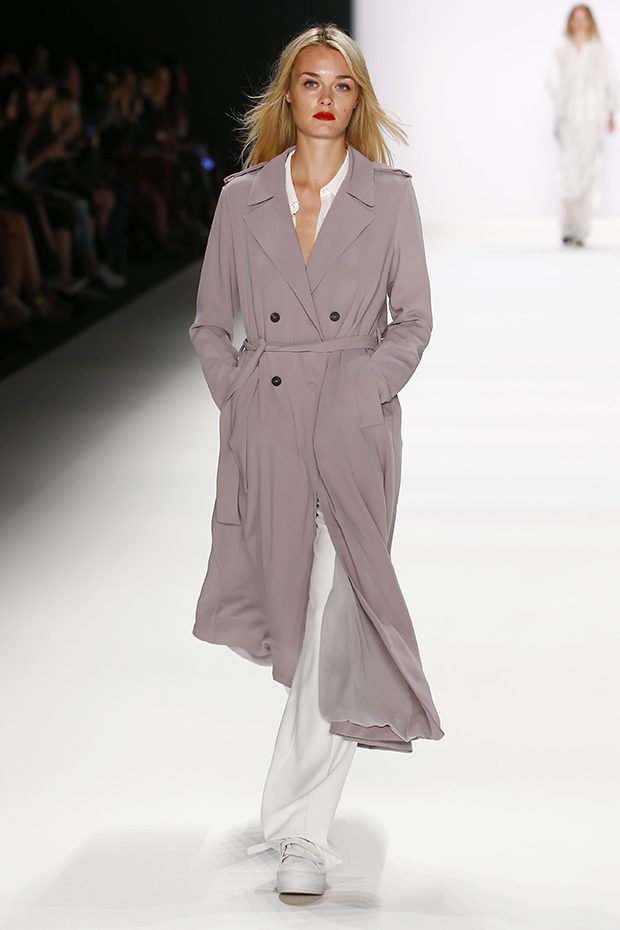 Dutch luxury designer brand Avelon kicked of Mercedes-Benz Fashion Week Berlin presenting their Resort Collection 2017. After his graduation, Erik Frenken was awarded with many prestigious awards, for instance the Elle Style Award for best young designer in the Netherlands, the Central Saint Martins/ Lancome Innovation Award in London and the Its- One Award in Trieste, Italy. In 2008, the dutch designer started as Design Director for Avelon and just two years later he took over the label to develop and extend both the Womens- and Menswear collections. With several sales points such as Galleries Lafayette Berlin, Maat in Leipzig, Fashion Clinic in Dusseldorf and Baerck in Berlin, Avelon is progressively building its brand awareness in Germany. During the opening show on June 28th, Avelon has shown its Resort 2017 collection extended with exclusive pieces made especially for this show. Being significant for this collection is its rather effortless style, combined with a vivid play with various silhouettes, transparencies and patterns. The scandinavian influences of the label clearly shine through.
The range of colours is kept timeless and classy, it contains of dark blue, taupe, sheer white, black and cherry red. In addition to that classy colour palette, metallics are added. Ruffles are used frequently and give the pieces their unique touch. Influences of the Victorian Era are interpreted in a new, refreshing way.
Read more after the jump: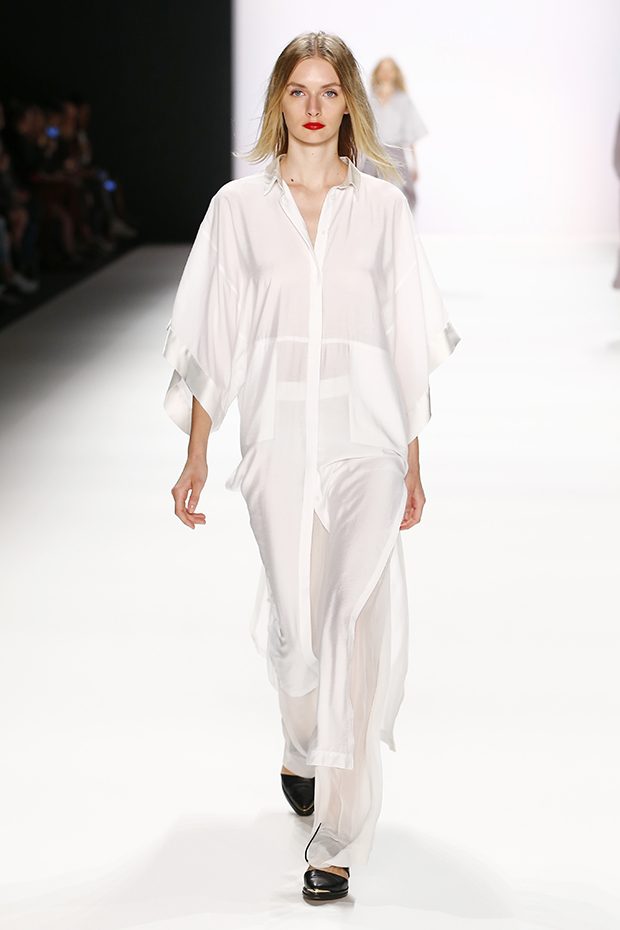 Our favourite statement piece? An eye- catching, multicoloured striped leather skirt which is paired with an arty, white blouse. Completely charming!
"It's a great honor to receive the recognition and appreciation from Mercedes-Benz Fashion Week, it's very cool to be invited to open the fashion week!", Designer Erik Frenken says, who was working for Viktor & Rolf before. "For this collection I wanted to capture a time where details and craftsmanship where a part of daily life. In wanted to freeze it, that's why the collection is called freezing time. These elements I mainly found in the Victorian era. Detailing such as ruffles, pleating, stripes but also the use of color, I translated to a modern look. Everything had to have a casual couture feel. Besides the statement color red I used grey variations to give the collection an effortless pajama look", Frenken added.
In addition to those clean looks, the make- up is kept natural with focus on cherry red lips. Simply sensual!
We will definitely keep an eye on Avelon and on all upcoming collections!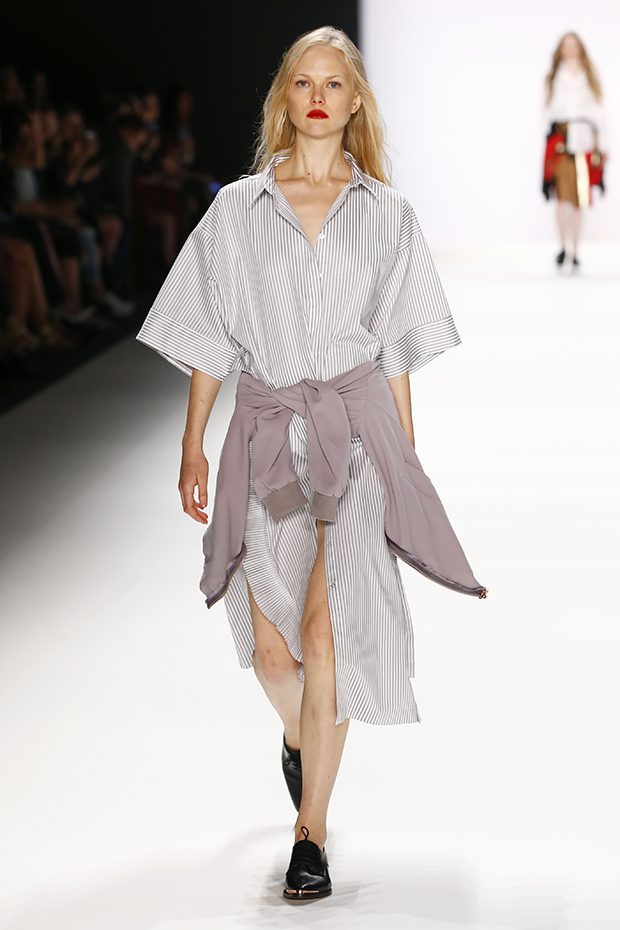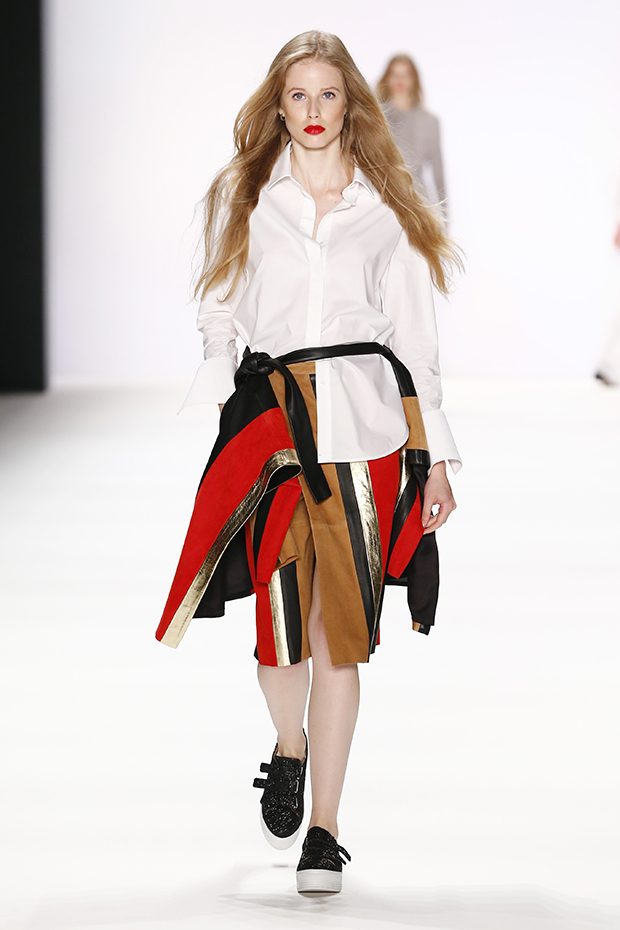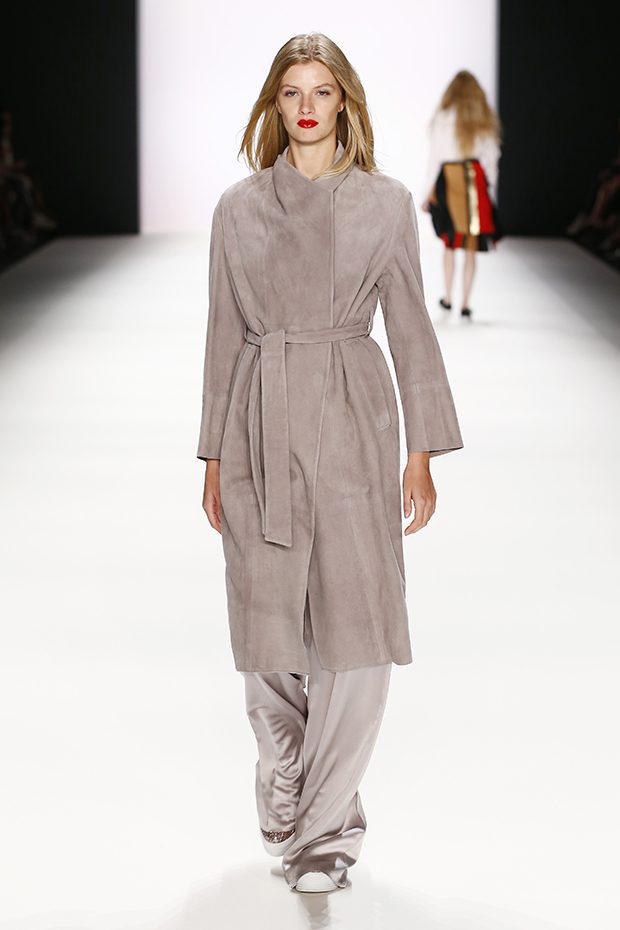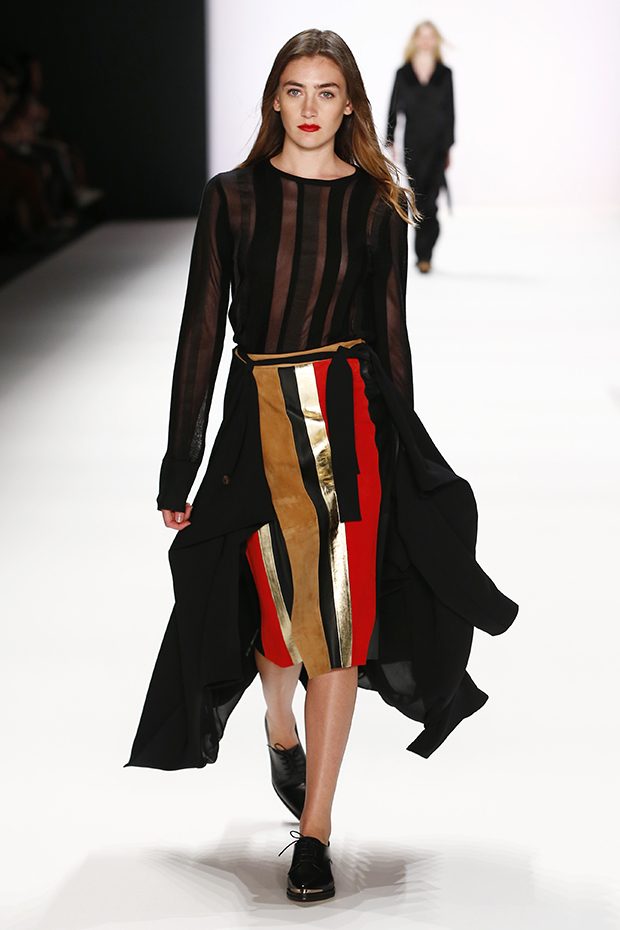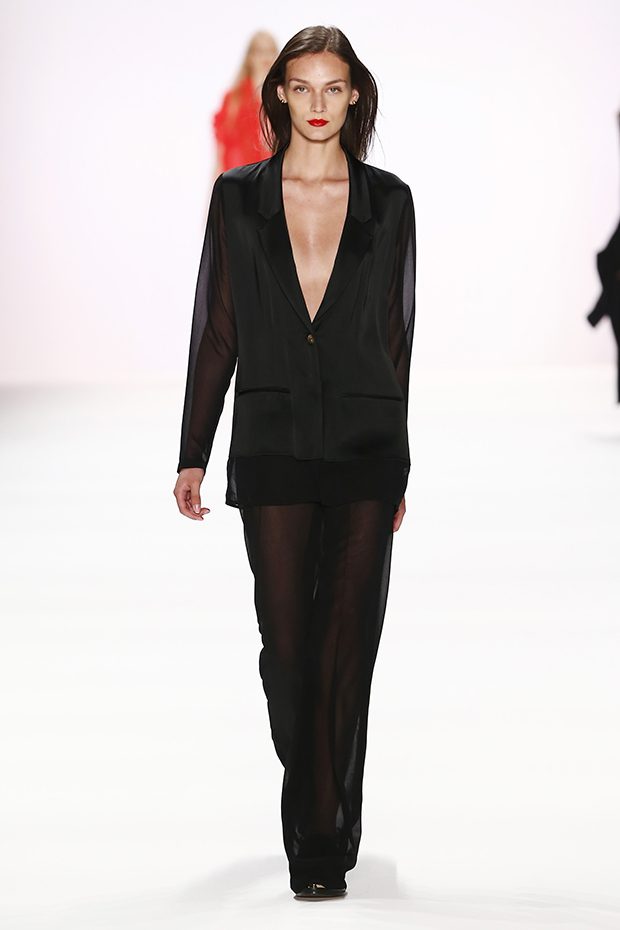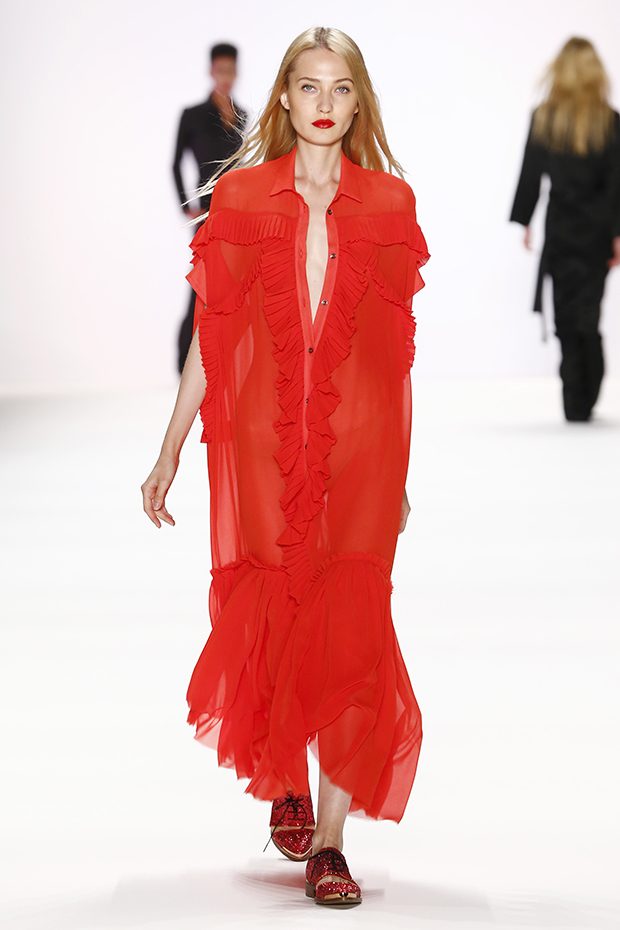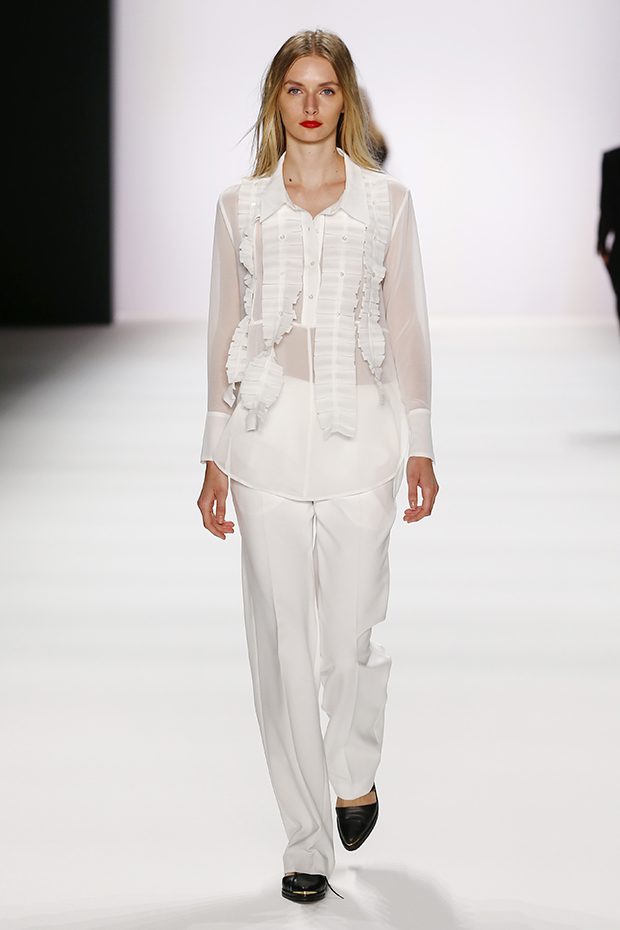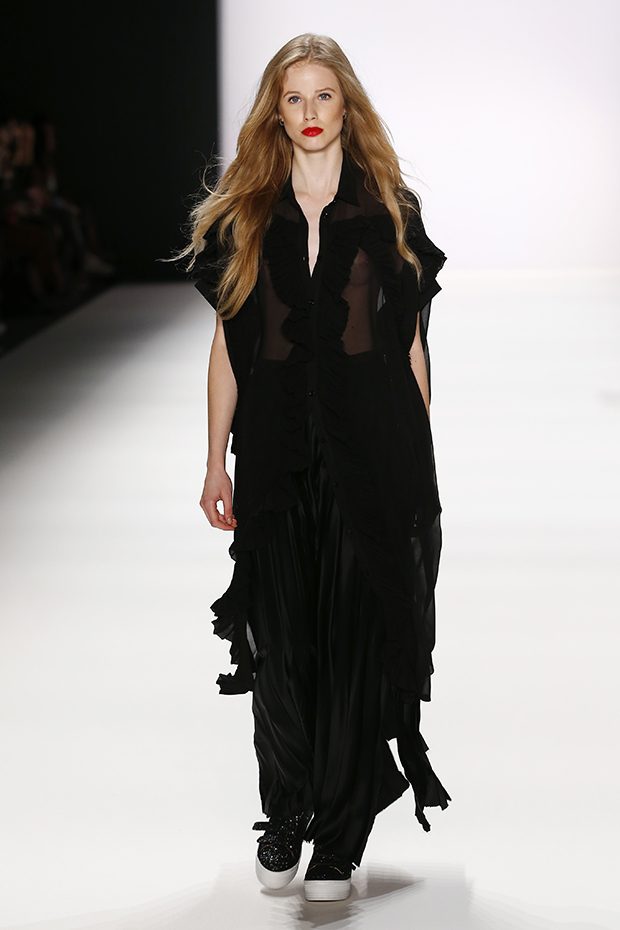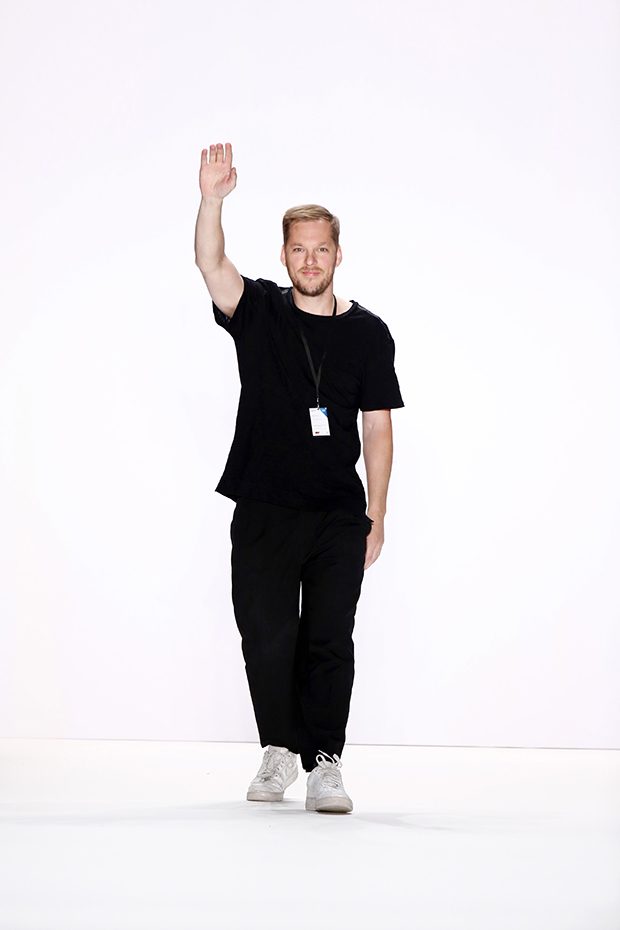 Photo by Frazer Harrison/Getty Images for Avelon