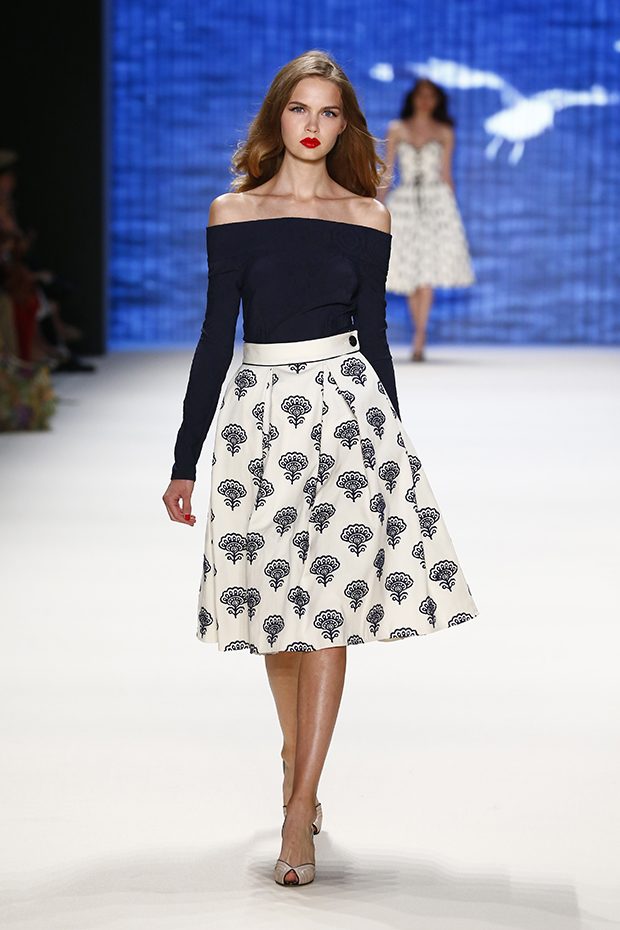 Lena Hoschek presented her Spring Summer 2017 collection "Ahoy" on the 30th of June 2016, the third show day of Mercedes- Benz Fashion Week Berlin. With that collection, the Austrian designer took her audience to a journey to the Baltic Sea coast. With her romantically playful, even slightly coquettish and utterly charming designs, she delivered a refreshing sea breeze, numerous maritime looks and influences underline that impression. Being guided by the sound of seagulls and a rather relaxed, blithe soundtrack, the models were presenting her creations walking down a sand- coloured carpet. Summer time, and the living is easy.
The collection takes its inspiration from the bathing culture which first emerged around 1900. It was exactly in this decade, or, to say it more precisely, from the 1920s to the 1940s, when swimwear made revolutionary transformations and turned into those cuts we appreciate today. Due to that new openness of beachwear, this decade stands for a very special flair and celebrates femininity. The island of "Rügen" was one of those places that celebrated that new freedom. All of those influences inspired Lena Hoscheks' creations for this collection.
Read more after the jump: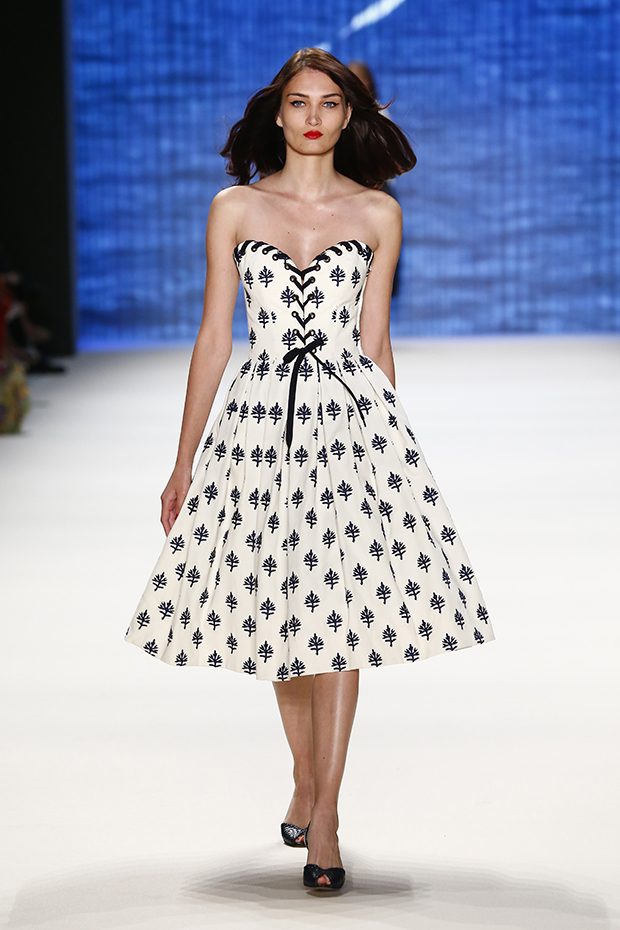 As a consequence, the colour palette was a highly maritime one: it consisted of seasalt white, coral, navy blue and sundry pastel hues. The dressmaker did not pair too many colours in one look and therefore underlined the relaxed, easy- going character of this collection. The overall image of her looks stayed very clear. The maritime theme of this collection obviously inspired her print choice: we noticed corals, lobsters, sailing boats and anchors. Stripes were used in many outfits. Completely charming!
The range of materials was multifarious, for instance jersey and seersucker teamed up with eyelets and cords, while lacework met sturdy cotton. If you observe it clearly, it is a vivid mix and match of contrary elements that underlines the playful character of this collection. Cut- wise, Lena Hoschek stayed true to her significant style, consisting of a lot of A-lines. Albeit she also played with various cuts.
"I so enjoyed literally diving into the maritime world, losing myself in the research and becoming addicted to the clichés. I'm already looking forward to a summer full of pleasure and zest for life and to the little sailor dress becoming impossible to navigate around!", explained the Austrian designer after the show.
The make- up of the models was focused on flaming red lips, with a black eye liner and rosy cheeks. The slighly wavy hair which was worn open and with middle parting underlined the sensual yet seductive sailor girls look. In addition to that, elegant pumps and peep- toe heels were shown.
We left this show feeling refreshed and inspired and will definitely keep an eye on Lena Hoschek and on all upcoming collections. Keep on keeping on!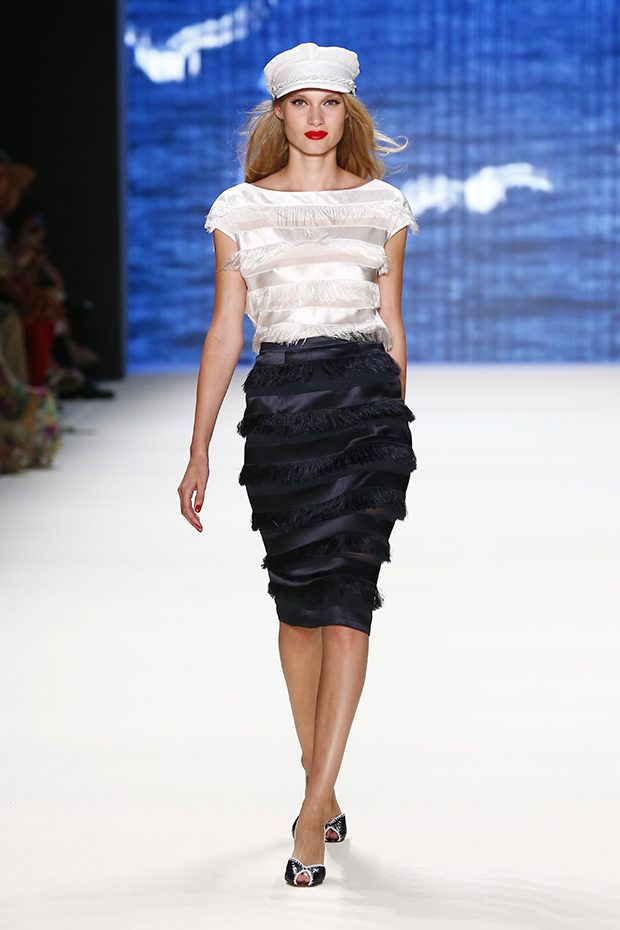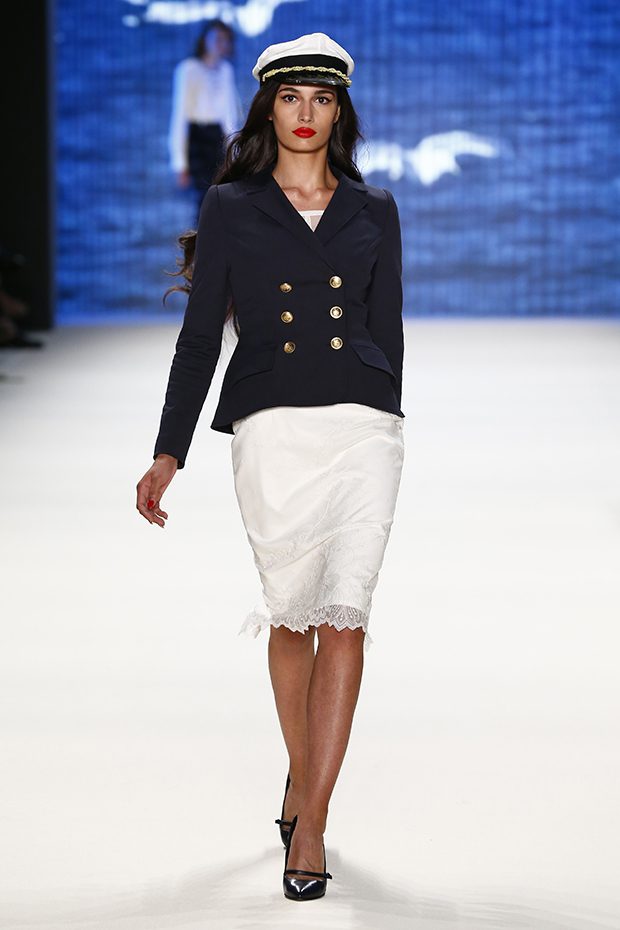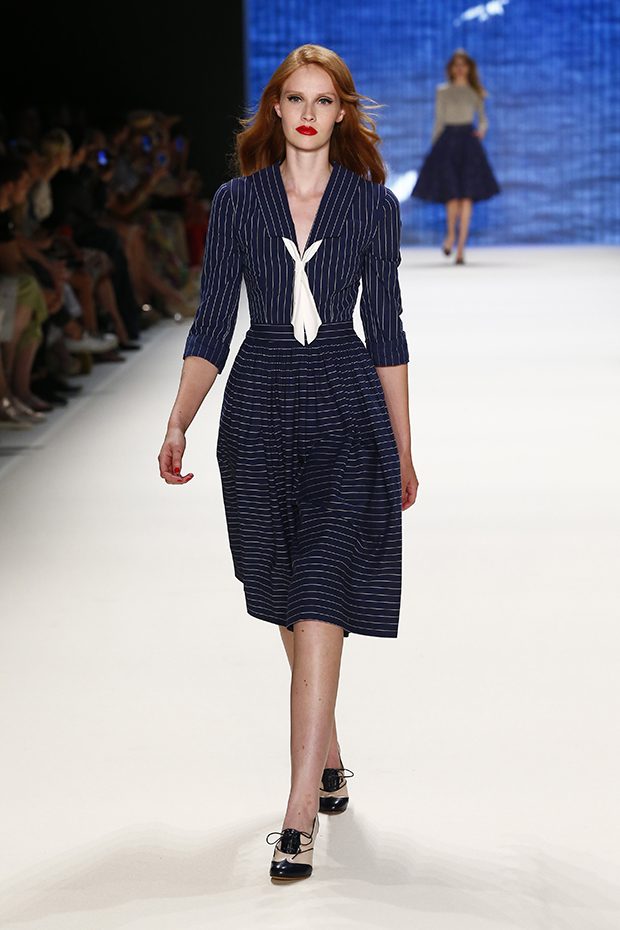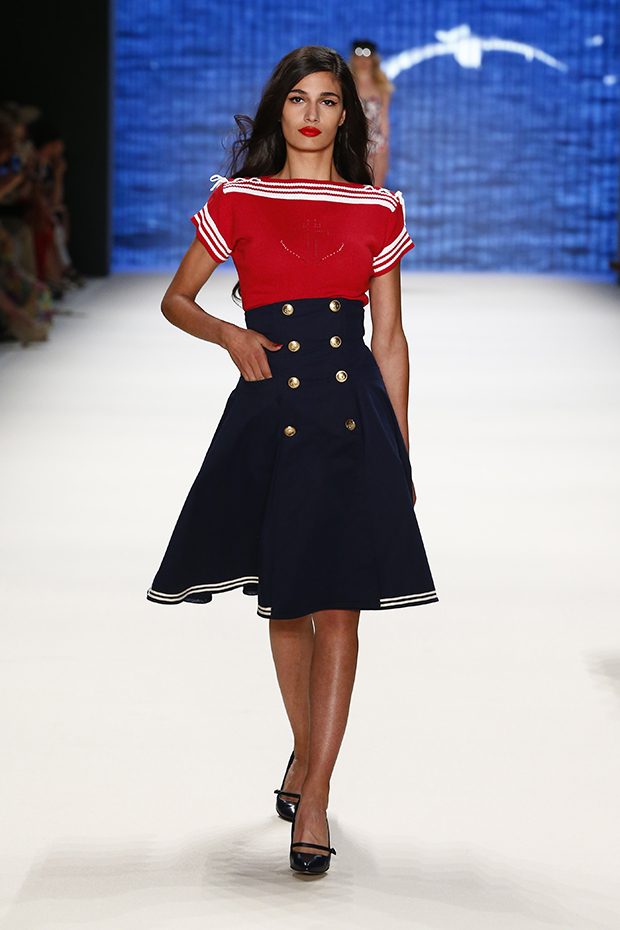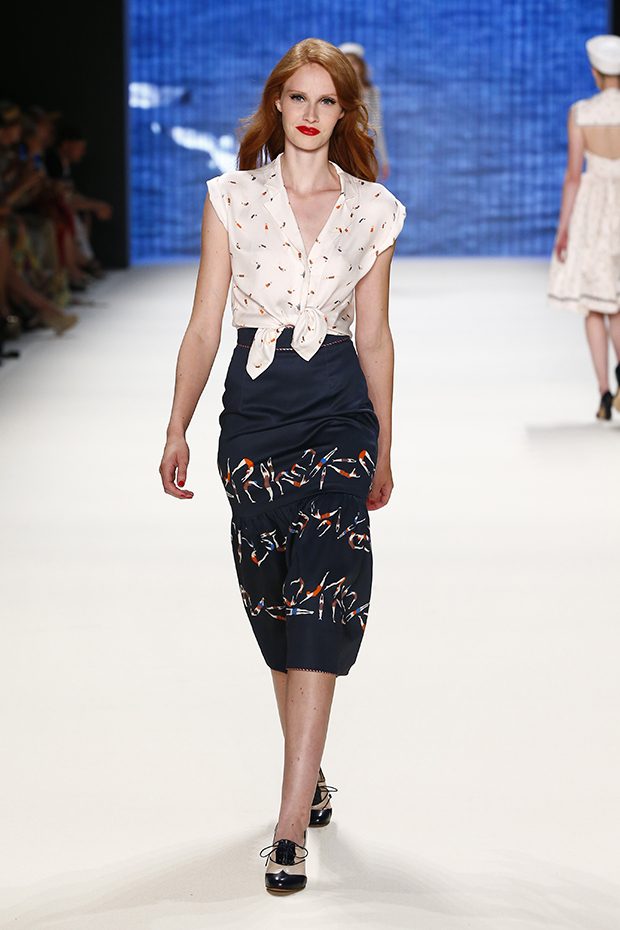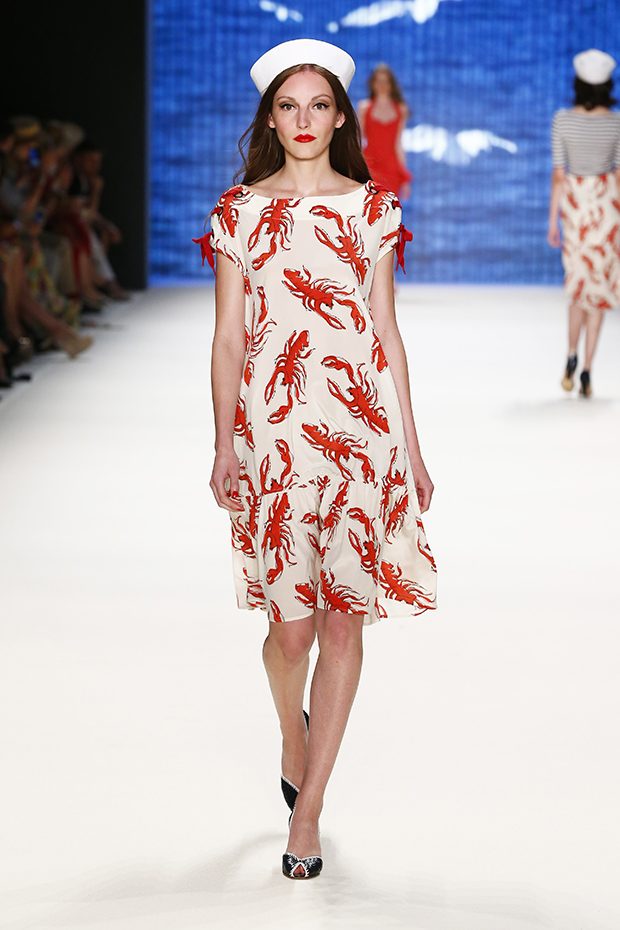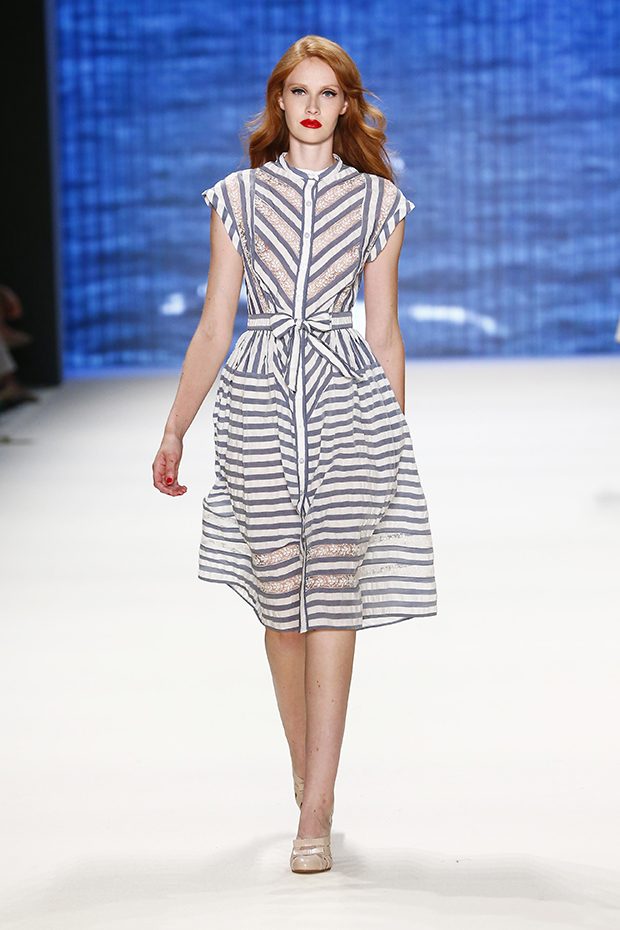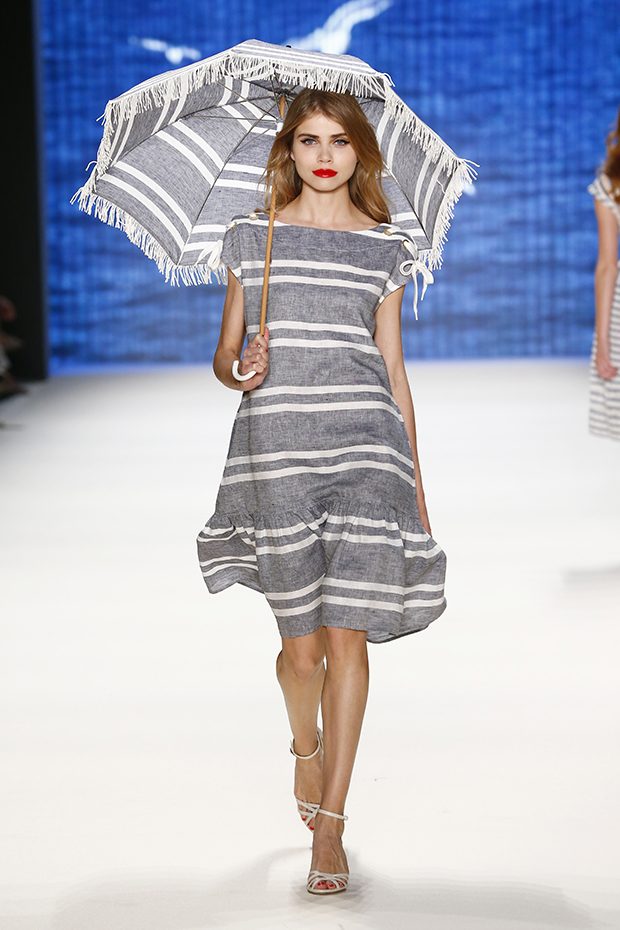 Photo by Frazer Harrison/Getty Images for Lena Hoschek
Review by Sussan Zeck for D'SCENE Magazine