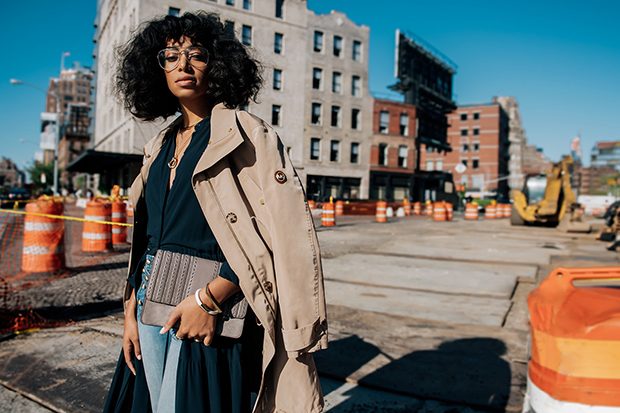 Michael Kors launched its first ever street style campaign, The Walk, featuring a diverse group of trendsetters: singer/songwriter, Solange Knowles; models Soo Joo Park and Nina Agdal; and Princess Olympia of Greece, captured by renowned street style photographer Tommy Ton in downtown New York.

Fashion is a celebration of individual style, and I've always thought of New York City as the ultimate runway. The Walk was a great opportunity for us to see our favorite new fall handbags through different filters. Style is so subjective. There's nothing more exciting to me than seeing my designs brought to life by different personalities. – says Michael Kors of the new campaign.
Fans can engage with the campaign by posting street style photos of themselves wearing Michael Kors on Instagram and Twitter with #SidewalkSpotted, and a selection of user posts will be featured on the Michael Kors The Walk platform, MichaelKors.com/TheWalk.
See more images and read the interviews after the jump: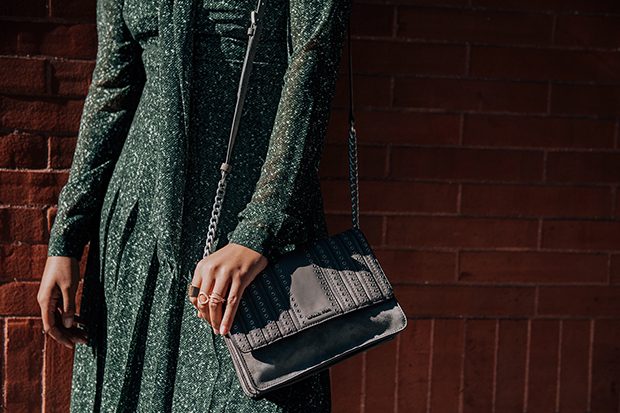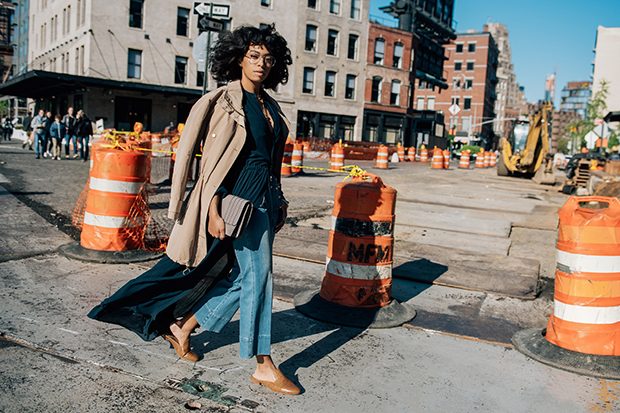 SOLANGE KNOWLES
Favorite place to visit in West Village?
Miss Lily's, hands down…When I was 13 I visited Jamaica, and I've been back every year since, sometimes two or three times a year. The culture really left a mark on my soul, so much so that when I was in my teens I studied a lot of Rastafarianism philosophies and became a vegetarian for four years. I also adopted a lot of the stylistic components in my first album. Miss Lily's reminds me of that time, and of the paradise Jamaica is…It's a little slice of it right in Manhattan. The energy and music and vibes there are always right on.
Favorite book you've read in the past year?
Claudia Rankine's "Citizen" really blew my mind. A friend of mine in Marfa, Texas, who owns the bookstore there gave it to me as an anniversary present and it is truly a beautiful, honest, and poignant book of poetry about black existence. I just lent it to a friend actually, but it's the kind of book you want to read a few times to really let the words resonate…
You take your style cues from…
So many people, places and experiences…some of my style icons are Erykah Badu, Bjork, Kate Bush, Lauryn Hill, but I'm also inspired just as much by my friends. My friend Melina (a video director) and Armina Mussa (an artist and project manager for Saint Heron) have incredible style. It's truly about the woman and what they reflect and represent and the magic they possess that inspires me stylistically.
Artist who most inspires you?
I'm extremely inspired by the colors and textiles of Mark Rothko, Donald Judd, Toyin Odutola, Lynette Yiadom-Boakye, the textures of Nick Cave sculptures—and the list goes on and on and on. Contemporary art shapes the way I see the world so much.
Favorite place you've ever travelled to?
That's impossible to answer! Each trip has such distinctive memories that are sketched into who I am and have become today. Some of my favorite trips were my honeymoon in Bahia, my 30th birthday in White Sands, New Mexico, Dakar Senegal, and sailing in Croatia. Travel is truly my passion. I grew up on the road dancing as a dancer for Destiny's Child, which really cultivated a nomadic spirit in me.
THE BROOKLYN CROSSBODY ON SOLANGE
Inspired by the iconic style of Warhol-era factory girls, the Brooklyn Crossbody epitomizes downtown cool with its glamorous grommet hardware and appliquéd strips of leather. The brand's logo charm is scaled back to subtle proportions for a refined nod to our signature glamour. – from Michael Kors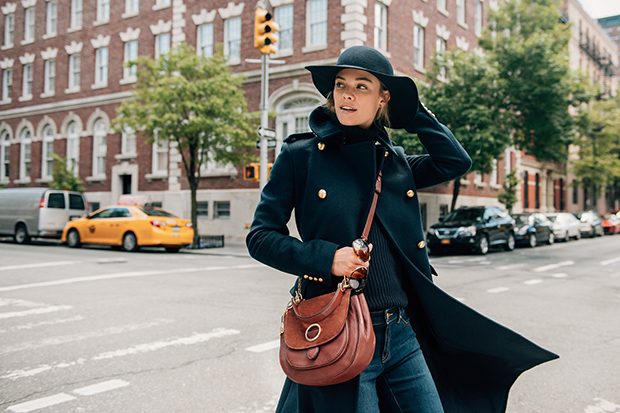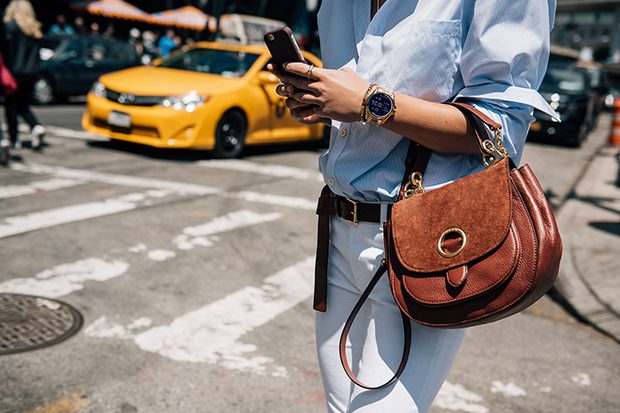 NINA AGDAL
Favorite place on or near Bleecker Street?
Carbone restaurant.
What spa in New York would you recommend to your bestie?
Red by Remedy.
What are you currently binge-watching?
"Californication."
Who is the model who most inspires you?
Helena Christensen.
What's your favorite workout?
Love mixing it up with Y7 Yoga, SLT & personal training with Andy Speer.
THE ISADORE SATCHEL ON NINA
Dreamed up as a polished answer to the season's music festival sensibility, the Isadore Satchel is equal parts functional and fabulous with a refined nod to bohemia. Enriched by an oversized grommet fastening, this elevated shape is designed with a gathered gusset and chic, brushed hardware. Tonal suede and leather workmanship render it the luxe way to do '70s accessorizing. – from Michael Kors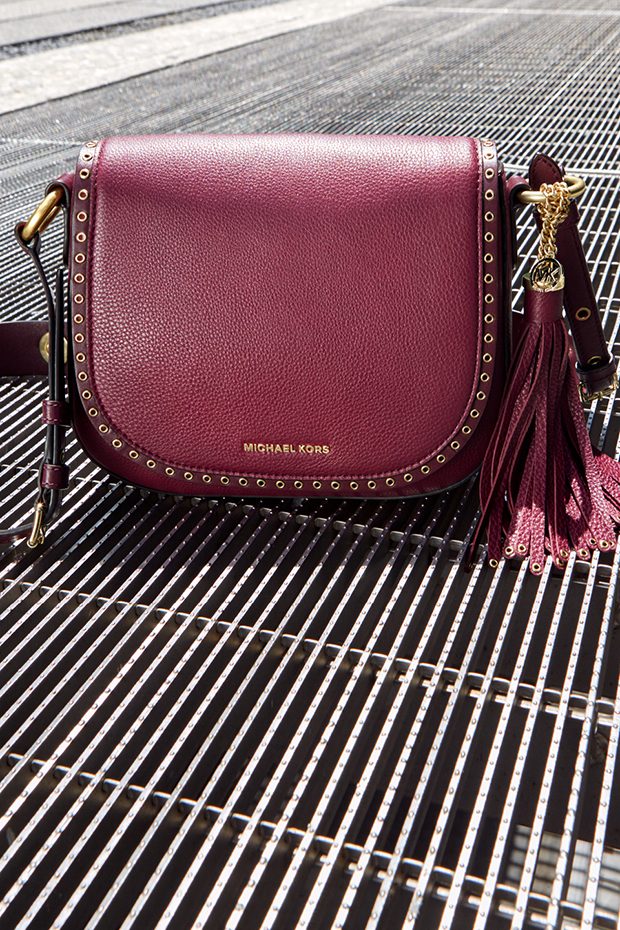 PRINCESS OLYMPIA
Favorite place in Soho?
I love the vintage shop What Goes Around Comes Around and my favorite place to eat is La Esquina – it's the best Mexican food.
One personality trait of your star sign that's completely true for you?
Stubborn but passionate.
One thing you've learnt since moving to NYC?
To be more independent and to love all the walking.
You take your style cues from…
My mother.
Favorite place you've ever travelled to?
Porto Heli in Greece. I've been going there since I was a little girl and love it more and more each time.
THE BROOKLYN SADDLEBAG ON PRINCESS OLYMPIA
Michael drew inspiration from the famed free spirit of Penny Lane in designing the Brooklyn Saddlebag. This modern, elevated rethink of the equestrian essential showcases mini grommet hardware, an oversized tassel and a rich mix of suede and leather. Fashioned after a guitar strap the wider, statement strap finishes it with festival-ready appeal. – from Michael Kors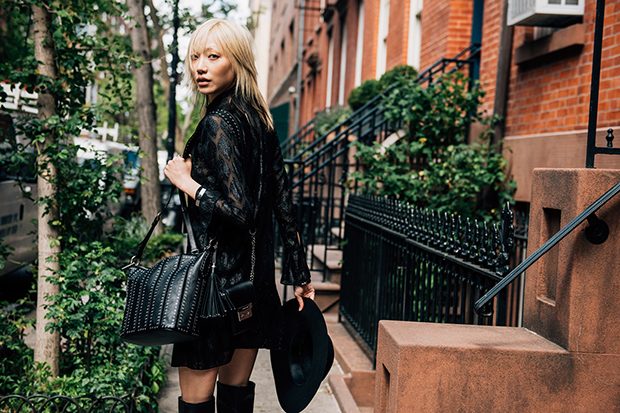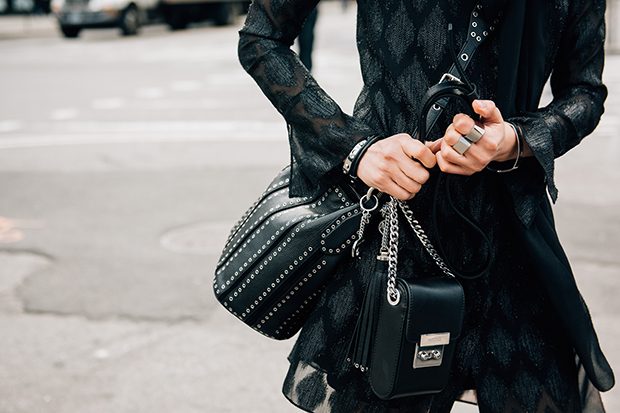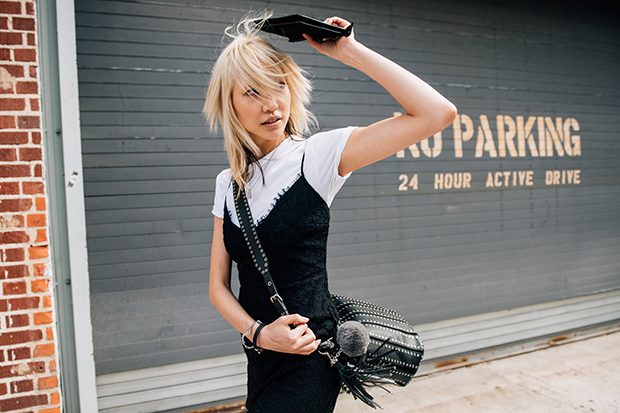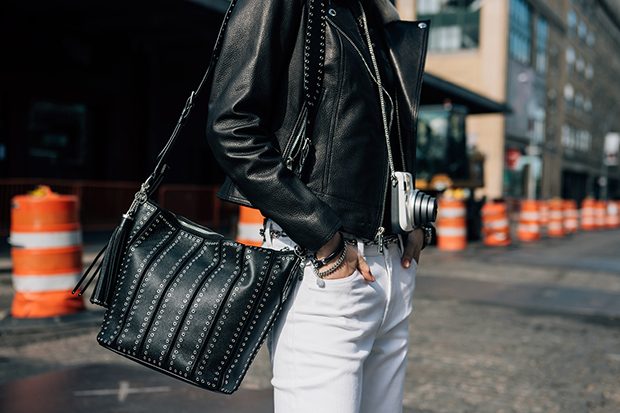 SOO JOO PARK
Favorite place in the Meatpacking district?
There's nothing quite like strolling through the High Line—it's one of the best
examples of beautifying and restoring historic relics to provide an interactive public space.
Most delicious Korean food in NYC?
I love going to Do Hwa in the West Village because I like the vibe and the neighborhood. If you're feeling a little non-traditional and different, Hangawi serves impressive vegan Korean food.
Thoughts on astrology?
I'm huge on reading my astrology horoscope every month from Susan Miller. I even get tarot card readings every so often. I'm not sure if I'd say these are accurate readings, but I find it fascinating. In a way I see it as a tool to be introspective and analyze what kind of person you are. And self-awareness gives me a sense of comfort and confidence.
You take your style cues from…
Everything around me. Movies, films, friends, magazines…I absorb everything like a sponge.
What would you wear for a day in Seoul vs NYC?
I dress pretty much the same in both cities. Skinny leather pants and an oversized t-shirt, or a crop top with high-waisted skirt or pants. The one critical difference is that in NYC, I wear comfy shoes because I like to walk, whereas I fancy it up more for Seoul in heels and boots because I cab mostly
THE BROOKLYN FEED BAG ON SOOJOO
Designed to mimic an equestrian staple that held grain for horses, the Brooklyn Feed Bag takes a music festival turn for fall, thanks to a wider, guitar-inspired strap. An oversized tassel and suede craftsmanship lend tactile richness to the slouchy silhouette. Scaled back to subtle proportions, the brand's logo charm offers a refined nod to our signature glamour. – from Michael Kors

Photography by Tommy Ton, Courtesy of Michael Kors