If there is one certainty in life, it is that fashion never stand still. But when we talk of fashions, we are not just talking about clothing, but anything that can be worn or styled to deliver a particular look or statement. Despite financial crises, the fashion industry, and in particular the jewellery industry, shows no signs of vulnerability, providing that is that the different industries are ready to respond to consumer demands and are prepared to change. (Photo above Kater Moss for David Yurman by Mert & Marcus)

Why jewellery especially?
When most people hear the word 'fashion' it is clothing that springs to mind, but jewellery is not to be underestimated when it comes to fashion. Many looks are only completed when jewellery comes into play, and the reason jewellery is as important to the industry as clothes and cosmetics is that unlike them, jewellery holds its value due to its use of highly-prized and valuable materials, such as metal and stones. Therefore, it is extremely likely jewellery will soon eclipse the other sectors and present excellent investment opportunities.
Recent research has identified several key areas in which jewellery is becoming a dominant industry. For example, many clothing brands have a worldwide appeal, being available to buy in internationally and having global name recognition. Until recently, jewellery makers were more likely to be national brands, only known in their country of origin, with only a few having success on a global scale, such as Swarovski, Tiffany and Cartier. This appears to be changing; it's predicted more big jewellery makers will go global, while small and medium-sized makes will become bigger nationally.
Kate Moss by Peter Lindbergh for David Yurman Jewelry
Branded jewellery is also becoming big. At present, the global market share for branded jewellery is around 20%, but even this demonstrates a doubling of growth since 2003. Consumers are attracted by well-known and designer names, so experts predict that branded jewellery will increase to around 30-40% of the market share by the year 2020.
Consumers are driving many of the changes in the fashion sector at present and the same goes for jewellery. The primary consumer demand is the desire for items to be available for purchase online. Although the majority of people do still buy their clothing from high street stores, increasingly people are buying clothing online, and it is expected that consumers will be doing the same for jewellery.
At present, online jewellery sales make up no more than five per cent of the market, but experts predict this will double by 2020, not a huge increase, but substantial nevertheless. However, fine jewellery sales are not expected to make up much of this percentage, as it is believed that bricks-and-mortar shops are still in demand by consumers who want to see and touch the expensive jewellery item they are thinking of purchasing.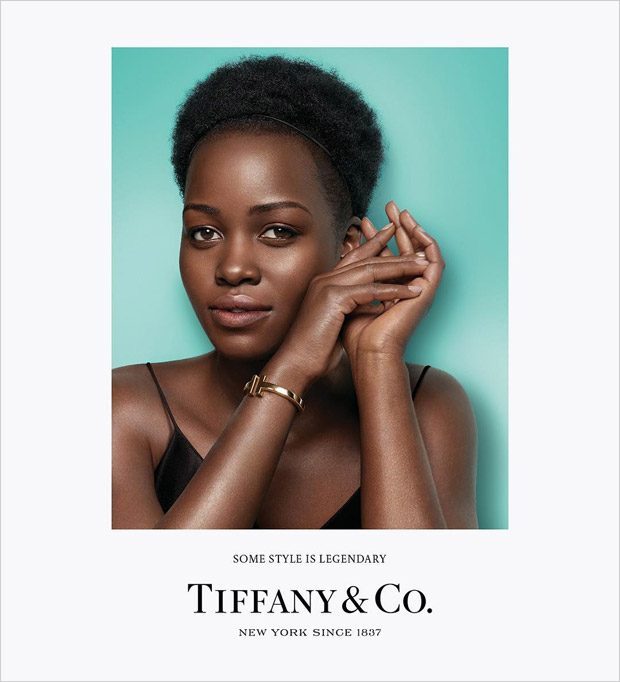 Lupita Nyong'o for Tiffany & Co. by photographer David Sims
It is thought, though, that all kinds of jewellery groups will use the online world to their best advantage, such as using websites to demonstrate the manufacturing process, shaping brand identities, engaging with customers and ultimately conveying information about the goods they produce.
The way jewellery is made available to consumers is also changing and is pushing the industry ahead of other sectors. Not only can diamonds be artificially manufactured these days, which is bringing the cost of these exquisite gems down, but jewellery can be enhanced using other processing methods, such as those used by Jatin Mehta and his India-based company Winsome Diamonds and Jewellery Limited.
Here, the latest techniques are employed, such as state-of-the-art casting machines and laser engraving, as well as rapid prototyping machines for model making, all backed up by the artisanal knowledge and experience of jewellery professionals.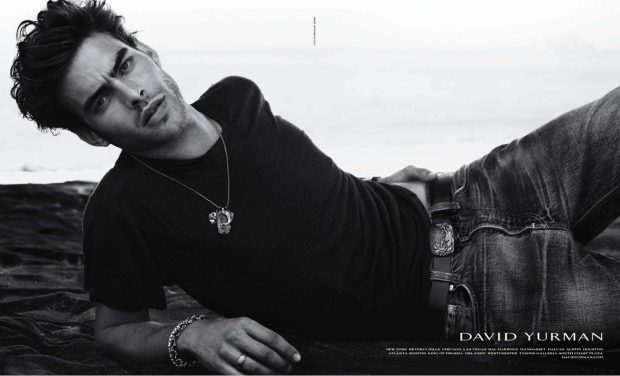 Jon Kortajarena for David Yurman by Peter Lindbergh
Consumers are also driving change in the types of jewellery being bought. High end jewellery was once almost exclusively bought as presents for others, and as such, were infrequent, albeit expensive,purchases. Nowadays, however, more people are treating themselves to fine jewellery, preferring to spend a little bit extra to be able to wear quality pieces.
But the line between costume and fine jewellery is also becoming blurred, with some fine jewellery selling relatively cheaply and some costume jewellery bearing medium to high end price tags. This leads experts to believe that price will ultimately determine sales rather than consumers making big purchases based on special occasions.
The jewellery industry is embracing change in the form of new processes amid consumer demand to keep up with, and perhaps even ahead of, their counterparts in the fashion industry.