SHANINA SHAIK is fashion's it girl. The Victoria's Secret Angel, budding actress and feminist who has the world's attention sits down for an interview with DESIGN SCENE contributing writer MATTI BYGOD…so what's a girl to do? Read the exclusive interview and see the cover story of DESIGN SCENE print magazine OCTOBER 2016 issue. 
It was in the mid nineties is when Victoria's Secret launched its first ever televised runway show. The lingerie brand grew from an idea back in the late seventies. Evolving from a shop men would feel comfortable purchasing lingerie,into an international chain of stores offering affordable high fashion inspired lingerie for women. Twenty one years later from its first runway show being a Victoria's Secret Angel is still a highly coveted honour. No other lingerie brand has risen to the heights of Victoria's Secret with a legacy often defining a model's career. The girls are fit like athletes and more diverse racially and culturally than ever before. Shanina Shaik is one of the newest Angel inductees making her mark.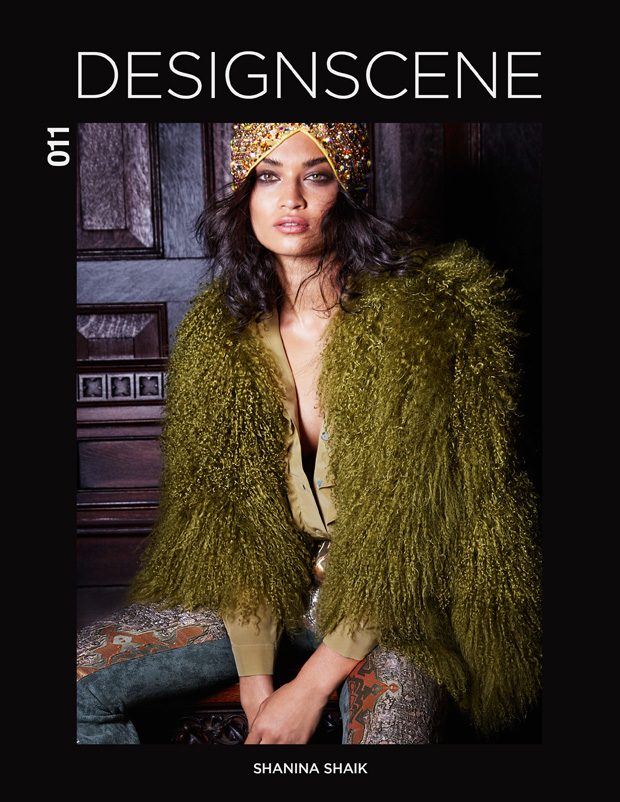 The brand found much success in the 80's and 90's with its mail order catalogue that let women discreetly shop from the convenience of their home but the catalogues were just as much of a success with men. The catalogues were unique, they were sexy and they were provocative! Images of women you wanted to look like or wanted to know. I even had a catalogue hidden under my mattress. I had never seen women like them before. The catalogue was my first memory of seeing women in lingerie. It had no effect on the development of my sexuality but the memory is vivid. When the popularity of the catalogues was gearing down in the mid 90's the brand needed to evolve. Victoria's secret aired its first ever televised fashion show in 1995 in hopes to relaunch its image and the brand exploded into mainstream entertainment. The first runway shows launched its Angels into stardom. Tyra Banks, Heidi Klum and Stephanie Seymour were rock stars of the modeling world. Supermodels with careers crowned by the mantel of Angel.

Shanina has the type of beauty that can't easily be defined and a mixed heritage that might not be so easy to guess at. Her mother is Lithuanian and her father Pakistani. She was born and raised in Australia and moved to NYC to start her modelling career. Shanina's look is unquestionably versatile, she has the body for lingerie, the face for high fashion editorials and really piercing hazel eyes. Wearing a combination of morose jewel tones and warm metals I wanted to know more about what it's like being an Angel and more about the personality underneath her beauty.
What does it feel like to walk that runway? "It's an exhilarating moment! I try to enjoy every moment when I walk down the runway. I love that I can smile and show my personality. It's an honor to walk the VS show."
It looks exhilarating. Strutting down a runway past Rihanna or Taylor Swift with the world's eyes on you must fill you with adrenaline. The show was so popular in the early 2000's that the web stream garnered so many viewers it crashed the website. Victoria's Secret was breaking the internet long before Kim Kardashian did, so does being an Angel add any level of pressure to stay fit? "I workout consistently but when the Victoria's Secret show does come around I like to hit the gym a bit more. I also become more strict with my eating regime. I cut out more carbs and sugar."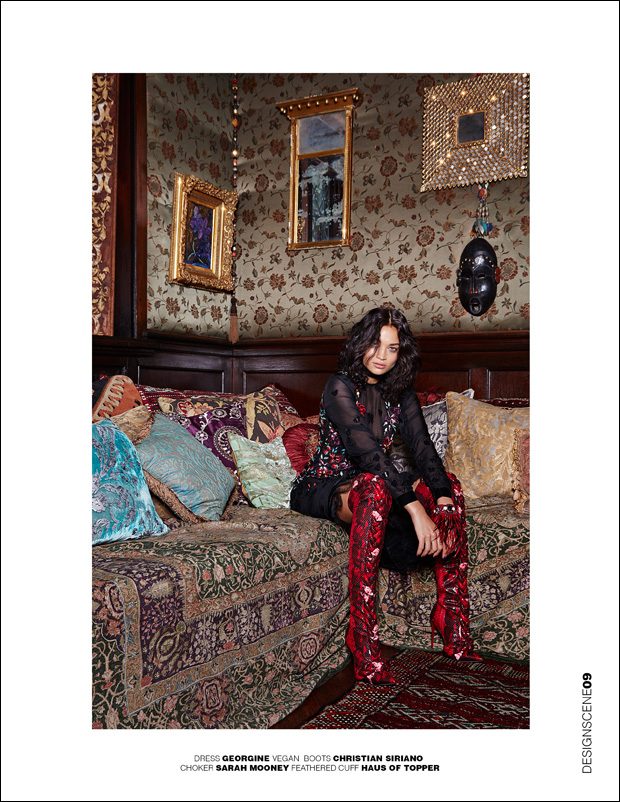 I've seen googled images of Shanina working out, this girl is strong and her skin is luminous. I just have to know what you're doing, is it witchcraft? Some kind of glamour? "I cleanse, tone, exfoliate twice a week and moisturize my skin everyday. I like to get a microdermabrasion facial once a month too."
I suspect it's secretly still witchcraft but It's nice to hear that you work to have beautiful skin like rest of us. I would die a little inside if you just woke up looking dewy without pores. I never know what to expect from interviewing models. Sometimes a model's fame can create some preconceived ideas about their personality. Shanina's name has made its way onto TMZ and Page Six a few times so she's starting to understand how exposure is in itself might affect how people think of you. What misconceptions do you think people have about models? "That we are "divas" and have no personality! It can be frustrating that people will judge models because of the type of work we do. I think that's why I like the idea of social media. I'm able to show my personality through snap chat, Instagram and Twitter."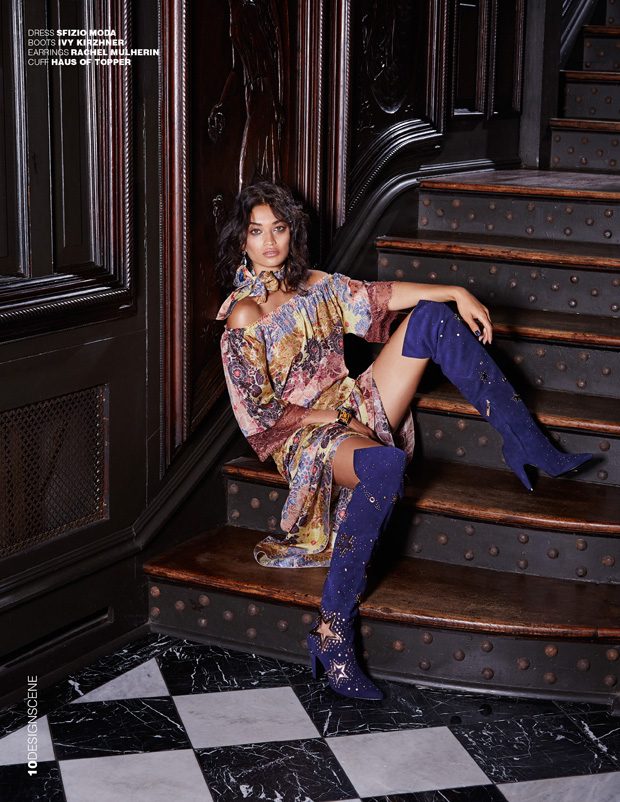 Like it or not social media is a powerful tool. Many models have used Instagram and snap chat to get discovered but women like Shanina that have already established their name in the industry, it gives them a platform to show who they are in way editorials and the media doesn't. Shanina's first break into modeling was competing on a modeling reality show in Australia. She placed runner up but like most reality competitions the runner up usually is the breakout star. Social media and reality tv are the tools models are using to be discovered in this generation. If you're not one of the lucky few to stumble upon a scout or agent at the gas station you can bring the scouts and agents to you. The right place and time is replaced with the right look and followers. Victoria's Secret has even used social media votes to hire on angels in the past.
The setting of today's shoot is in a old Victorian style mansion. The walls and floors are dark rich wood and the walls are lined with paper that looks like painted silk. The wardrobe Shanina is in looks like it was designed for living in this space. Rich ruby red velvet and shiny champagne toned neutrals compliment her skin tone. The makeup looks nude and bronzy; Shanina's eyes are slightly smoked out for depth but it looks natural… she looks like a star.
Next summer Shanina is rumoured to be appearing in a summer blockbuster. The transition from model to actor isn't uncommon in Hollywood but it's challenging for models to establish themselves as actors. What have you learned transitioning from modeling into acting? "Models are acting and performing every time we shoot an editorial or walk in a runway show. Although acting is more difficult than modeling. You have to really concentrate on the character you are playing . Every movement and blink is important when you read your character's lines." What actors have inspired this transition? "Abbey Lee inspired me to transition into acting. She expanded her brand and became more than "just a model". I'm still learning and very new to the acting world."
The right role can send your career onto a new trajectory. Milla Jovovich, Cameron Diaz and most recently Cara Delevingne successfully made the leap. Have you consciously started to guide your career to meet specific goals? "I like to write down all my dreams and goals and create dream boards.This guides me to my goals. It's an amazing feeling when you can look back on past notebooks and see you accomplished your dreams and made them a reality."
Shanina is lounging on a creamy leather diamond tufted couch. Sitting just beneath a floor to ceiling stained glass window she's relaxing, seemingly inconscient to the chaos around her. What do you imagine for yourself ten years into the future? "To have my own business, working in another movie, looking after my two children and husband to be." She imagines a career and family, something a lot of women can relate to. Shanina's engaged and understandably not excited to talk about the details of her relationship but the topic isn't off limits. How does your fiance make you feel? "Like a QUEEN!! I feel so loved and respected by him. He is my best friend and my protector. We are goof balls together and always laughing. I'm so very lucky to have him."
Has fame affected your relationships? "It hasn't really affected any of my relationships. I surround myself with beautiful and loving friends. They are always there for me and have supported me from day one." Has it inspired you to take more risks with your career or style? "I don't even think I'm famous at times! I have learned more about myself with age. I have developed more confidence over the years and I think that's why I like to take more risks and try new things. My hair has been long since I was young girl and I just cut it above my shoulders and I love it!" How would you describe your personal style? "Boho, cool and sophisticated."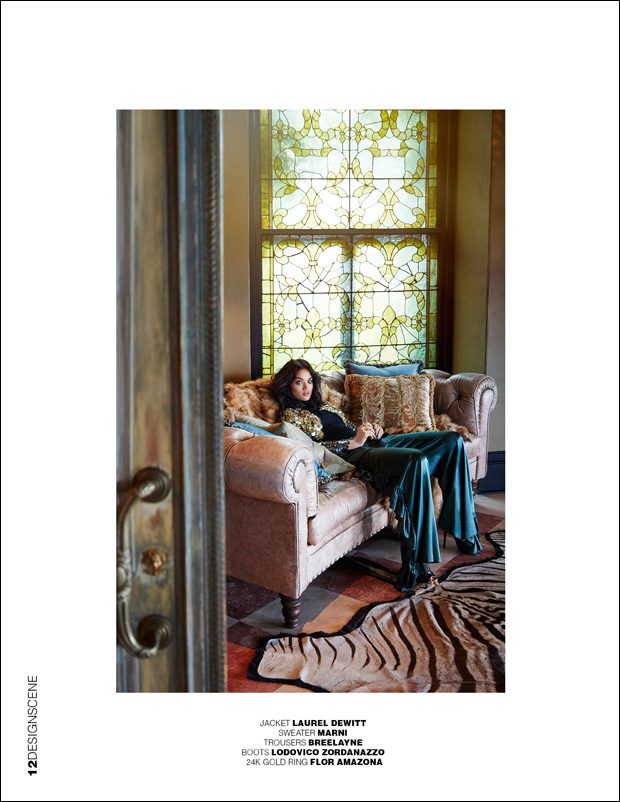 Shanina is a modern woman and feminist, "I Definitely am!! One of my role models is Beyonce and she's a feminist. All women should support one another and be equal to men." Do you have any advice for other women? "Women should encourage, support and empower one another. Allow another woman's success inspire you to work harder." There are so many misconceptions about people who identify as feminists and Shanina seems to understand the message is equality. It's exciting for me to hear models promote their support of feminism. Equal rights and equal opportunity between all genders shouldn't be a topic that confuses people. I'm glad she's an ally.
Shanina's in her last look of the day. Still full of energy and really rocking a golden beaded turban. What was it like growing up in Australia? "Aussies are chill, happy and overall just nice people. We are all about a good time. This has imprinted on my personality." So what kind of hidden talents do you have? "I can play basketball and I'm known for making ice cream disappear." Well now you're just showing off. Before we end chit chatting today, who's your all time favourite super model? "Adriana Lima! She has been my role model since I was a young girl. She is the reason I wanted to do Victoria's Secret."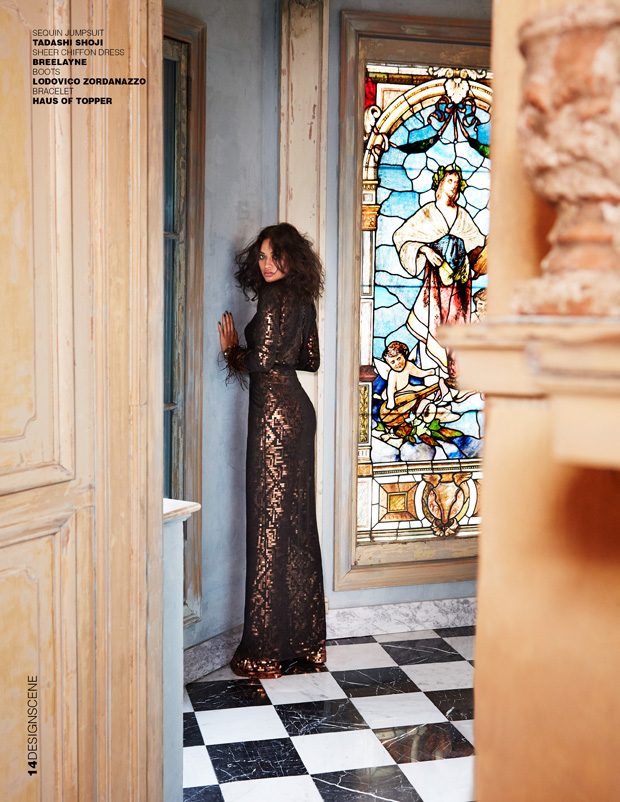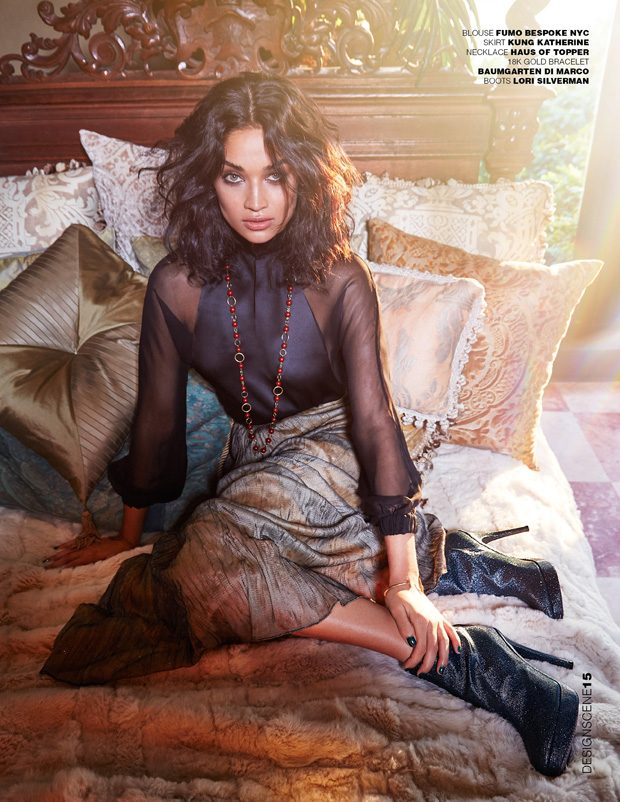 Victoria's Secret transformed the concept of lingerie and inspired Shanina Shaik to follow in Adriana Lima's footsteps. The legacy of being an Angel garners her the exposure to carve out her own path and follow her own destiny. We're excited to watch Shanina's fashion and film career take off and inspire a new generation of Angels… but just keep an eye on her if she's around your ice-cream, you've been warned!
PHOTOGRAPHER Olivia Graham (www.oliviagraham.com) at UTOPIA NYC – www.utopianyc.com
FASHION EDITOR & PRODUCER Ursula M. Agurto – www.umastyles.com
MAKEUP ARTIST Jas Doyle using NARS Cosmetics
HAIR STYLIST Osmane Da Cunha using R+Co for Kramer+Kramer
MANICURIST Michelle Matthews using MAC Nail Lacquer MODEL Shanina Shaik with IMG NY
FASHION ASSISTANTS Bryan Salvadore & Jasmin Rahman
INTERVIEW & WORDS by Matti Bygod – @mattibygod