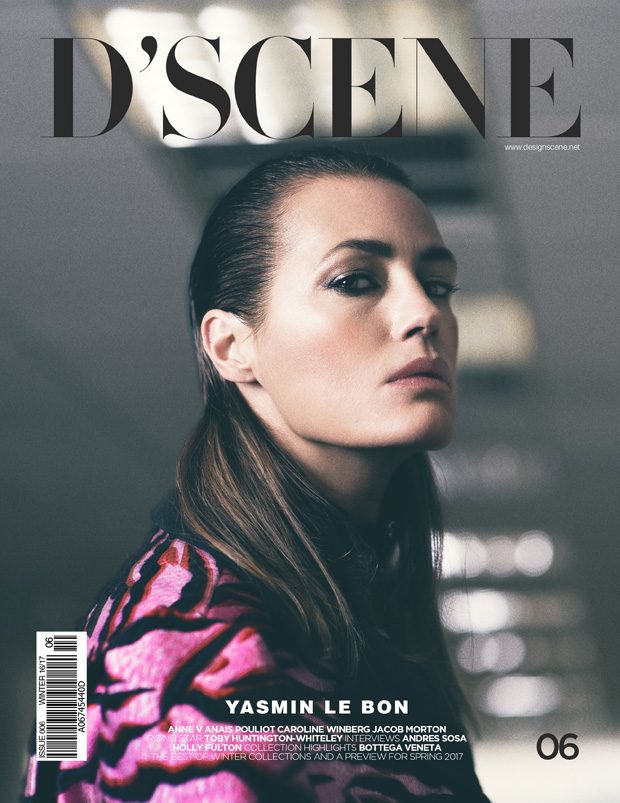 For the latest edition of D'SCENE Magazine, MAX WILLIAMS catches up with our iconic cover girl YASMIN LE BON to talk beginnings, feminism and Donald Trump.
Ask Yasmin Le Bon would she'd have been if she weren't a supermodel and she replies, "A big pain in the ass!"
In an industry which – fairly or otherwise – isn't always renowned for its sense of humour, Le Bon's obvious joie de vivre and ability to laugh at herself (along with everything else) are a pretty irresistible combination. No wonder she remains in demand after three decades in the industry – people must just want to hang out with her.
Of course, she has another explanation for her success: "I just didn't give up! No, really, I probably should have, but no-one had the balls to tell me. And…ok, I really need to dress up and play out. I think I may have some exhibitionist tendencies, which is why I can't ever stop working."
As you can see from her stunning photoshoot, Le Bon, 52, is not only still working but very much pushing the creative boundaries. It seems pretty clear she has no wish to be typecast?
"I absolutely love playing different characters, but without any dodgy dialogue. The thought of looking exactly the same every day honestly makes me want to shoot myself. I know that sounds dramatic, but I have a sneaking suspicion that I may be."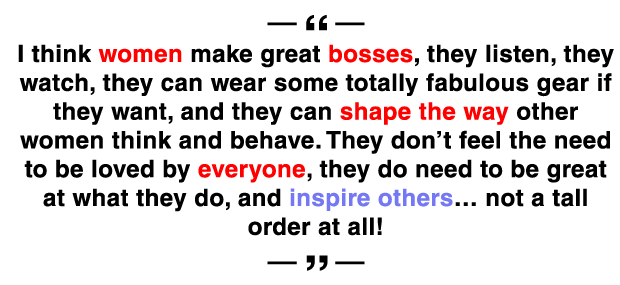 A world famous supermodel with a pop star husband (Duran Duran frontman Simon Le Bon) and three beautiful daughters, the notion of shooting Yasmin as a female boss figure is rather a brilliant one.
"I think women make great bosses," she enthuses. "They listen, they watch, they can wear some totally fabulous gear if they want, and they can shape the way other women think and behave. They don't feel the need to be loved by everyone, they do need to be great at what they do, and inspire others… not a tall order at all!"
On the subject of female bosses, it's hard to think of the recent Presidential election – as it happens, Le Bon is signed with Trump Models in New York. "At least we'll all have an impression we can do," she says of the President-elect. "He is the easiest person to impersonate. I think the thing to take away is…'well, if Donald can do it, anyone can do it!'"
Well, not Hillary, but one gets her meaning.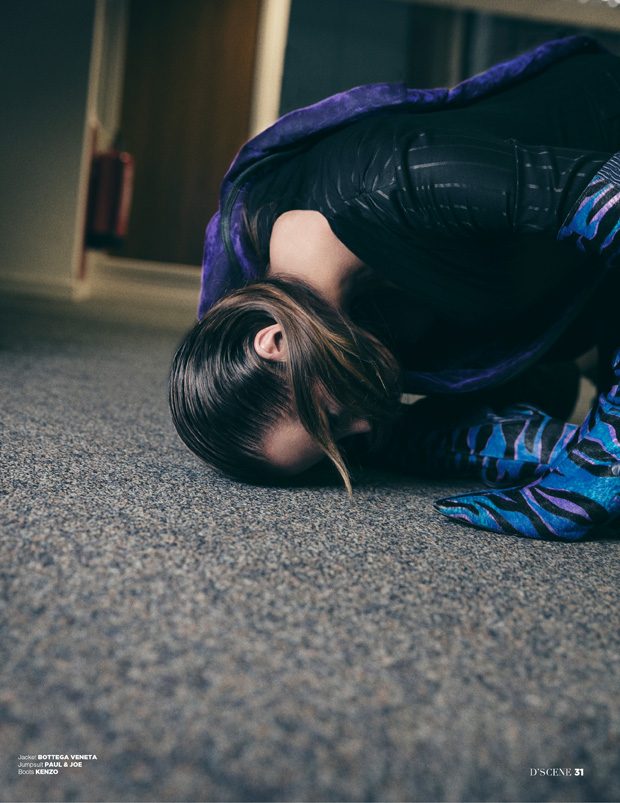 Onto more upbeat topics – such as Le Bon's love of classic cars. In 2013 she drove in the Mille Miglia, the legendary Italian endurance rally, sharing a Jaguar with David Gandy.
"David and I had a real laugh," she recalls. "It was pretty gruelling, and I did have the most tremendous headache by the end of it through dehydration. He lost so many hats, because we had an open-topped car. I still don't know why he was wearing them he has really great hair. It was also hysterical to be yet again with a man who gets much more attention than me!"

Despite being pushed off the road, the pair recovered to finish 158th out of 415 cars. Le Bon is phlegmatic about the incident.
"Listen, 'shit happens' as they say. I actually think that without the "off" we could have placed really well, but out of over 400 entries it was respectable for a first time."
Any classic car she particularly covets?
"I covet so many classic cars that this could get really boring really quickly! But if you're gonna hand me one, I'll take a Figoni & Falaschi bodied Talbot Lago….thank you very much!"
At least Simon has the Christmas present sorted.
The Le Bons have been married for over 30 years; an impressive period of nuptial bliss. "I think Simon's been spiking my drinks," jokes Yasmin.
"No really, I have no idea why we are together, or why I find him so funny, I'm probably not all there, if you know what I mean! Plus, he's been away a lot. I think marriages between pop stars and models are more likely to stay together than any other combination. A model will never cite travelling or time apart as a reason to split up."

In an age which so celebrates cynicism, Le Bon's evident passion for her work is refreshing. "To be good at anything you have to love what you do and who you are surrounded by. I love fashion, I love design, I adore photography, and the whole image-creating industry: it is all about stories, fantasy and reality."
She notes modern fashion has limited the performative aspect of modelling: "We spent much more time in front of a camera rather than a screen. It used to just be me and the photographer who nailed the shot, but now, just sometimes, there are too many voices and opinions. I, of course, would love a little more time flouncing than is genuinely necessary…"
What advice would she give a model starting out today?
"Wow, I have no idea," she begins, before reeling off litany of solid life lessons. "Have fun. Learn as much as you can from absolutely everyone around you: what you put into life and people you get back twofold. Get a decent accountant and keep your eye on everything – just because someone tells you they are an expert in their field doesn't mean they won't make mistakes, we all do. And, in this day and age, I would say keep learning, do courses. So few models have done what I have done, just be prepared to shift."
Even today Le Bon continues to shift: she recently designed a collection for Winser London. She describes it as "A very small capsule collection that stems not only from my love of classic cars but also great fabrics." Her inspirations are eclectic: "Adidas and Puma have inspired me as much as Vionnet and Alaia… [Also] iron railings and beetles, music, artists…gosh, no wonder I feel overwhelmed most of the time! There is just so much out there."

As well as the work, Le Bon has found time for a fair amount of play – "I had rather a lot of fun…and I'm still going!" – although she concedes, "everything seemed cheaper and I needed less of it in the 80s.
"Ha….very funny," she responds when asked if she can spill any stories of parties and famous faces. "My memory is like a conveyor belt at a fast food joint: if I don't grab the story it's gone until next time around… And that can be a long time, it's a big conveyor belt!"
Unsurprisingly, she considers her family to her greatest achievement, adding the caveat, "It's not having kids that is the achievement, it's keeping them! Mine won't let go of me! Only joking, I won't let go of them."
It's fair to say life has been good. What of the future? She's modelled, she's designed, she's driven a vintage Jaguar through Italy – does Yasmin Le Bon have any further ambitions?
"Trying to remember my name, my address, where I left the car and to put my own pants on in the morning. The rest of life is futile without these basics."
It's classic Le Bon: sharp, funny, and utterly fabulous. Long may she grace these pages.
Photographer OLIVIER YOAN – www.olivieryoan.com
Fashion Director CHRISTOPHER MAUL @STYLEOFMAUL
Hair Stylist PHILIPPE THOLIMET at Streeters
Makeup Artist YIN LEE using Studio 10
Manicurist KATE CUTLER at Premier Hair and Makeup
Originally published in D'SCENE Magazine 06 – OUT NOW