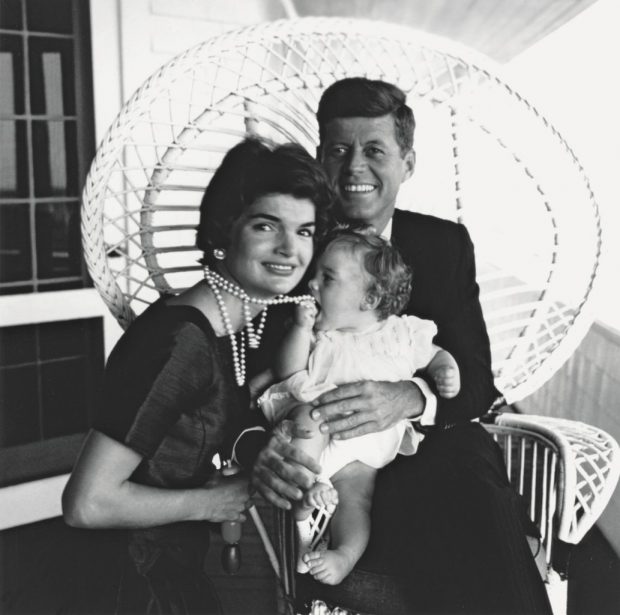 There was a time when a strand of pearls was synonymous with the proper elegant lady, from the quintessential 50s housewife vacuuming in her heels to the iconic fashion influencer, Jackie Kennedy. This timeless accessory has never really gone out of style, but in 2017 pearls are taking on a decidedly more modern twist. Forget what you know about pearls and read on to find out how to add them into your wardrobe without looking the least bit dated. [ABOVE: Image of Jacqueline and John F. Kennedy with daughter]
Accessorize your hair
One of the best ways to wear pearls in a modern way is to add them to your hair. From clips to headbands to stylized crowns, adding pearls to your hair can be a beautiful way to top off your crowning glory. If you're getting married, adding a pearl headpiece can be a lovely way to top off your look, especially for a seaside inspired wedding.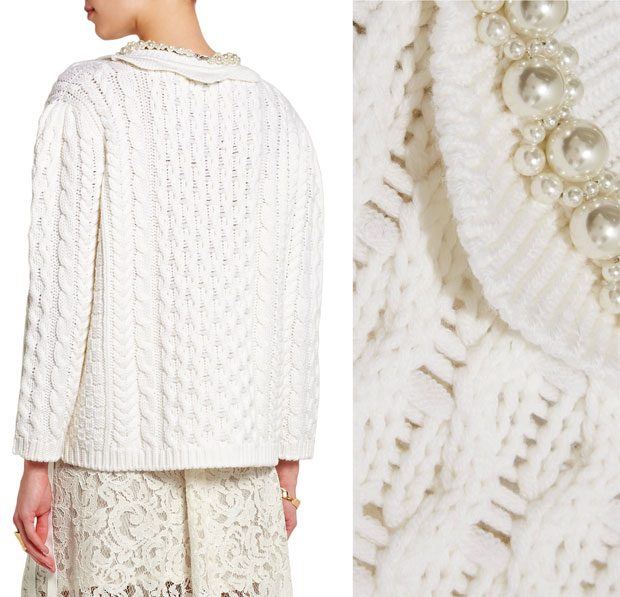 Pearl details
With pearls making their way into fashion in new ways all the time, many designers are incorporating pearl details into their pieces. Choosing pieces with subtle pearl details such as buttons can be a pretty way to wear pearls in a subtle-yet- interesting way. Pearl details are cropping up on lots of accessories, too. One of the most popular of these are sunglasses. If you aren't ready to dive head-first into the pearl trend, pearl sunglasses can be a way to dip your toe into the trend without going full throttle.
Above, British designer to watch Simone Rocha has created for the Fall Winter 2016 collection Faux pearl-embellished cable-knit wool sweater.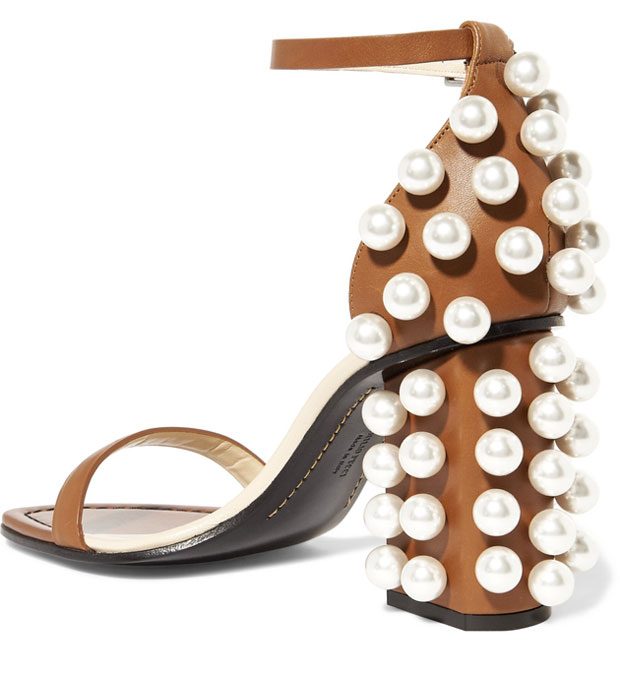 Pearls on your shoes
Yes, shoes! Designers are adding pearl details to shoes, such as on the heels. These subtle details can take an outfit to the next level! Above, we have Emilio Pucci Faux pearl-embellished leather sandals from the Spring Summer 2016 collection. Pucci sandals designed by the label's creative director Massimo Giorgetti are not a sole example, also fashion houses such as Miu Miu, Nicholas Kirkwood, Gucci and famed shoe designer René Caovilla have used the embellishment.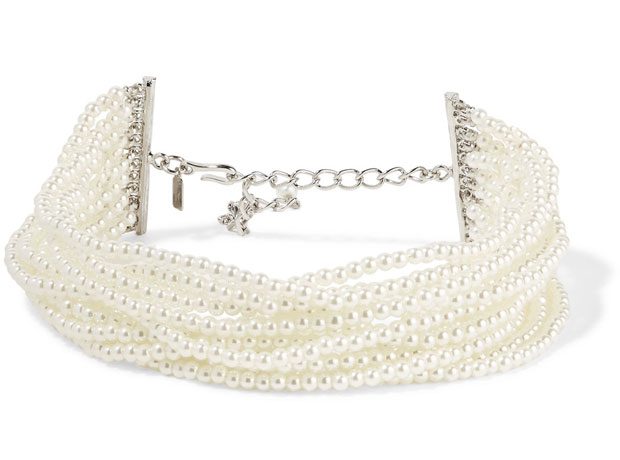 Beyond the single strand
There's nothing wrong with wearing a single strand of pearls – they are timeless for a reason. But if you want a modern modern twist on the single strand of pearls, opt for multiple strands at once. You can layer up several strands of pearls or look for a single piece that is comprised of many strands looped or twisted together.
Above, Kenneth Jay Lane Silver-tone faux pearl necklace.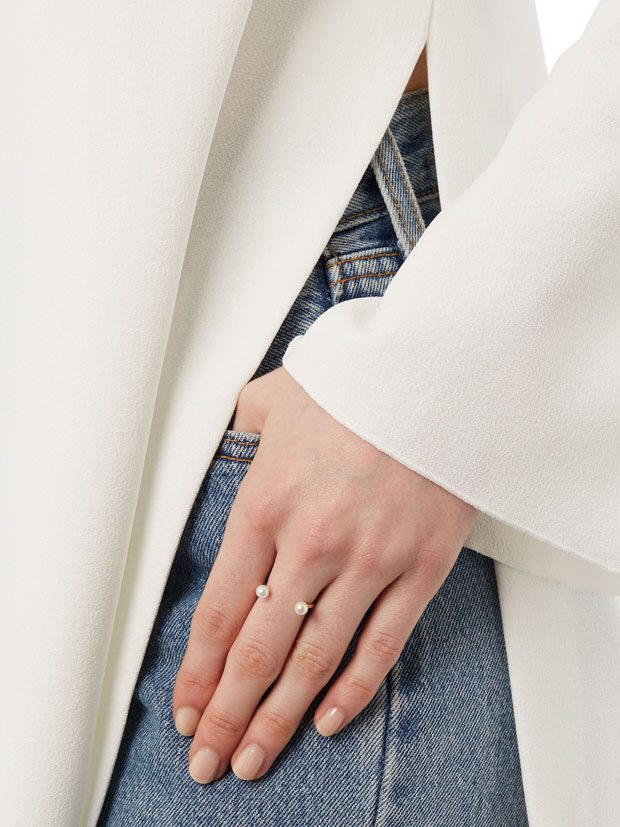 A subtle ring or bracelet
A subtle ring featuring pearls can be the perfect statement and a way to accessorize any outfit. A simple little black dress can go from drab to fab with the right accessories. Choose a attention-grabbing pearl ring and/or a pearl bracelet, as these accessories will accent virtually any outfit.

Above you can see a double pearl 9kt gold ring from fashion designer Delfina Delettrez showing minimalist fine jewellery in it's best light. The open top gives it a contemporary edge, but it still feels timeless, wear it stacked with similar styles for a chic way to accent new-season looks.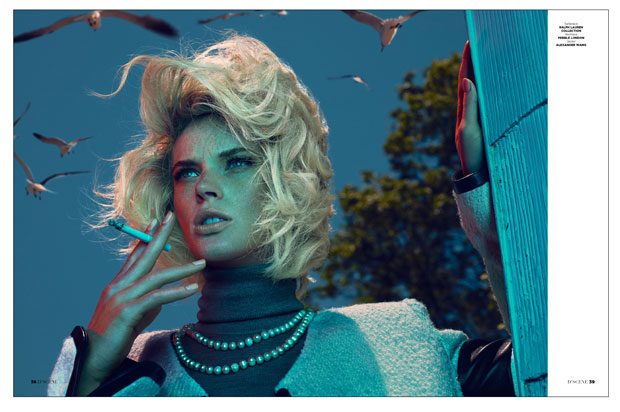 Wear your pearls every day!
There's no reason to wait for a formal occasion to wear your pearls! Break the rules! There's no reason you can't wear pearls with your favourite jeans and a plain white t-shirt. Why not?
Even in our print magazine's D'SCENE 6th issue supermodel Anne Vyalitsina took the style of 1950's prepared by our fashion director Christopher Maul for shoot  by Chuando & Frey. Anne is wearing pearls from Pebble London.
Opt for different colours
Although off-white is by far the most popular colour for pearls, they come in a rainbow of other colours, too. For a modern twist, choose pearls in golden, chocolate, pink, lavender – or mix it up with a combination of these!
Designer Ileana Makri for the necklace pendent payed tribute to her Aegean heritage designing this 18kt yellow gold necklace. The pendant is drawn like an evil eye comprises blue apatite, turquoise and pearl trims with an eye catching crescent moon shaped centre. It's elegant and well designed to wear any time of day.
The next time someone tells you pearls are old-fashioned, don't listen to them. Pearls have a timeless quality about them that allows them to morph into new incarnations year after year. However you choose to wear your pearls, the important thing is to own it!