Marina Hoermanseder showed her Spring/ Summer 2018 collection in the evening of the 7th of July 2017, our last day of a busy week packed with shows. As location, one of the most charming offsite venues was chosen: Humboldt- Box at Humboldt Forum in the heart of Berlin Mitte. It is part of an opulent palace which will be built in form of a centre for arts, culture and science with international flair. From 2019 on, exhibitions will be hosted in this impressive building. This location perfectly underlined the international, graceful flair of the Austrian designers' collection. Various cultures have been harmoniously united in this compelling collection and thus, it can be understood as an ode to celebrate female diversity. Look at those lovish looks inspired by hand- painted Russian nestling dolls, iconic 1990 looks and New York street style- to name only a few. Under pouring rain, the show started with '90s beats of legendary Austrian musician Falco.
Marina Hoermanseder stayed true to her significant style consisting of leather "strap skirts", her beloved "Kasper bags" and a huge variety of corsages and buckles but added some incredibly inspiring innovative ideas into her looks. Simply smooth! The whole collection felt like a pure jollification and felt like an ode to celebrate life. Our highlight piece of this collection was a multi- coloured strap skirt embellished with glitter and sparkling in rainbow hues. We cannot wait injecting that precious piece into our Spring/ Summer 2018 wardrobe. Worth of mentioning is also the fact lace appliqué and floral fabrics which were exclusively produced for this collection, rounded off the feminine, blithe looks.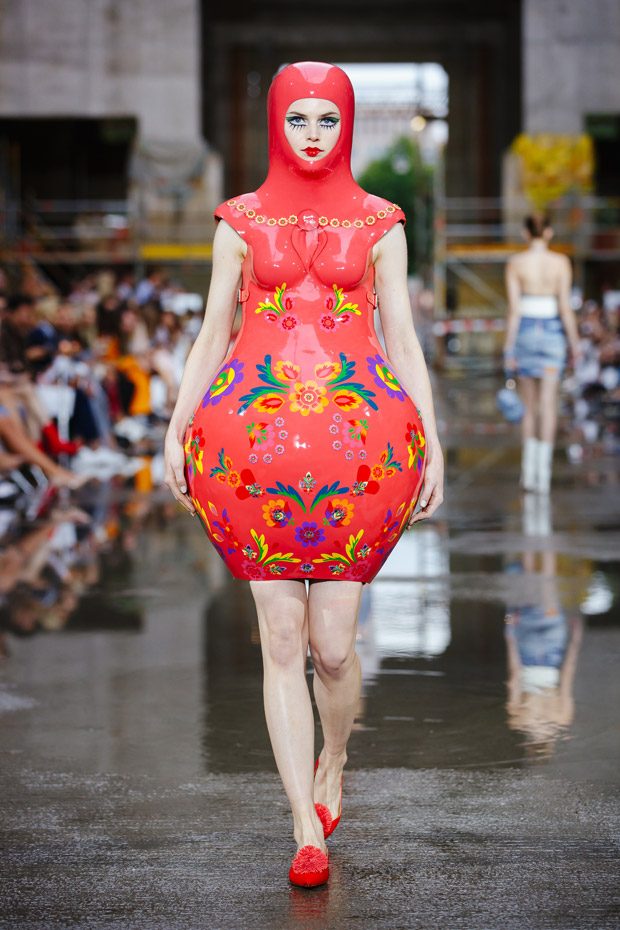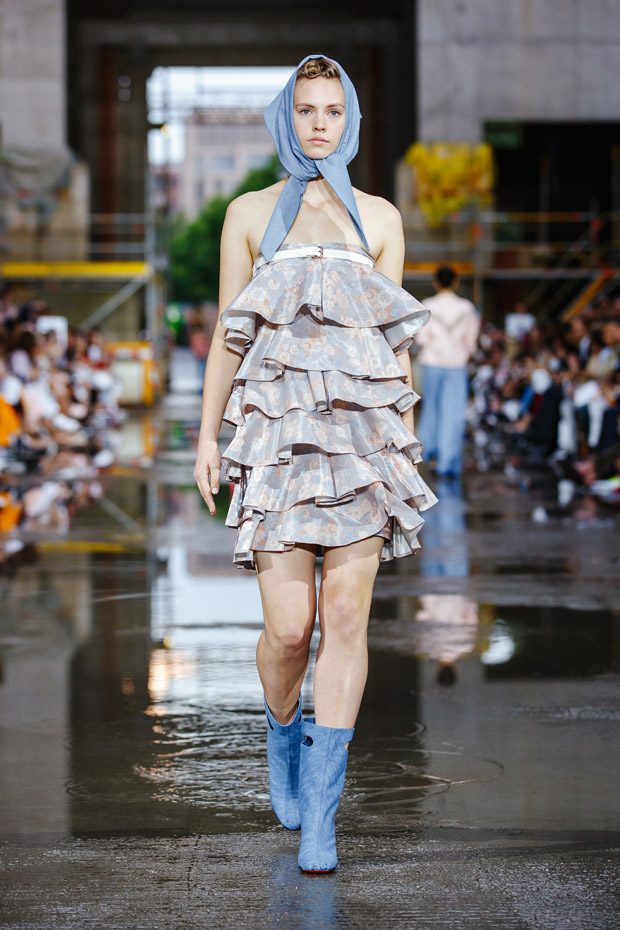 The range of colours contains of a huge variety of bright, striking, eye- popping tones, such as scarlet, shamrock, raspberry rose, purple amethyst and lemon. Additionally, candy colours play a central part in this collection, for example rose, sky blue and mint. This strong colour choice underlines the vivid character of this collection.
But also the oversized buckle motifs that can be found in various looks of this collection, deserve devotion. Those brightly painted leather key pieces, which took their inspiration from orthopedics and sculptural shapes, certainly stay in mind. Contrary elements are often paired in one look, for instance athleisure meets couture, tough elements are teamed up with soft ones. Sporty elements are another big topic in this collection, they appear several times. Each single look embodies strength. It is a collection that is made for cosmopolitan women that know what they want in life and master their own life.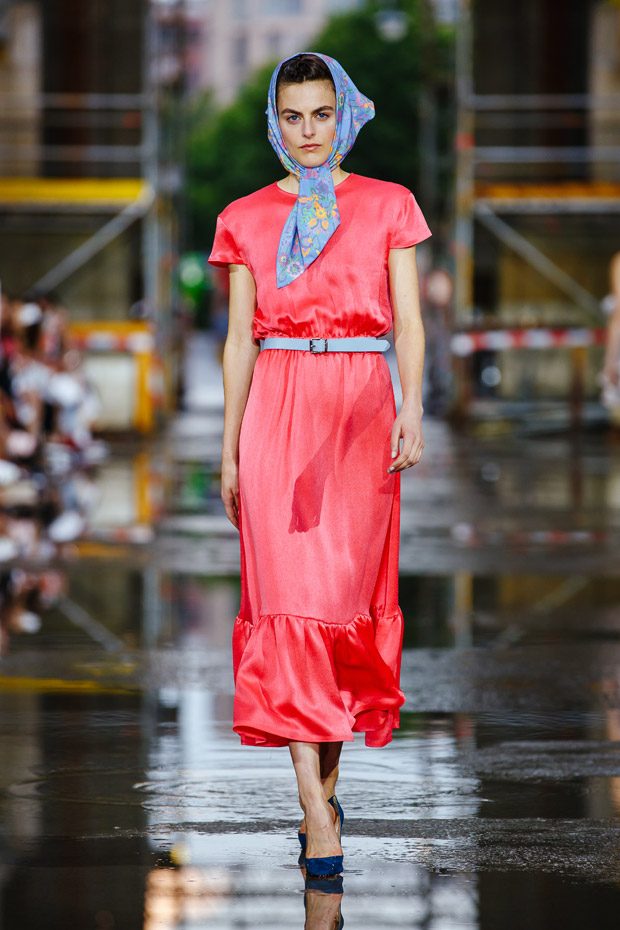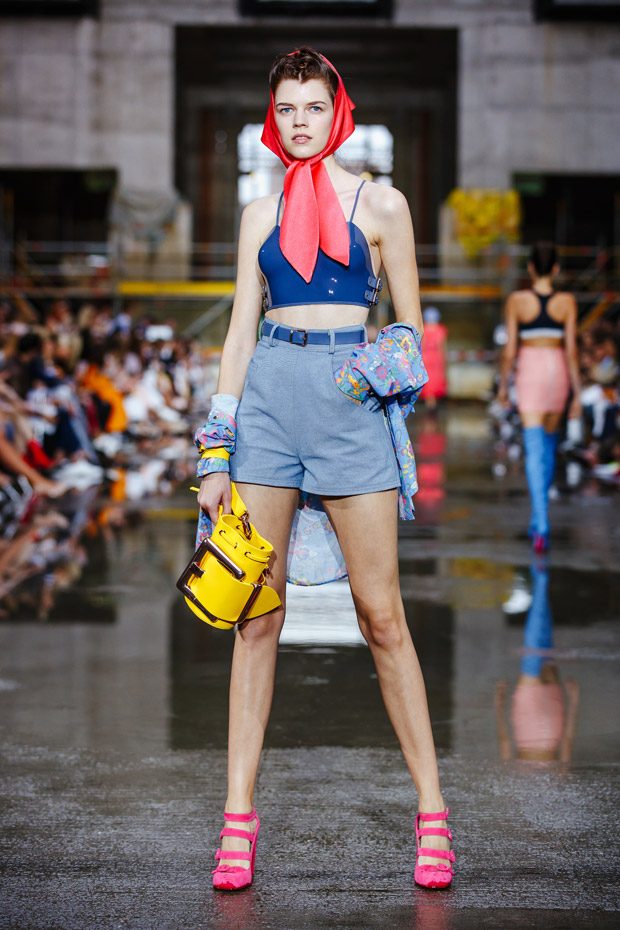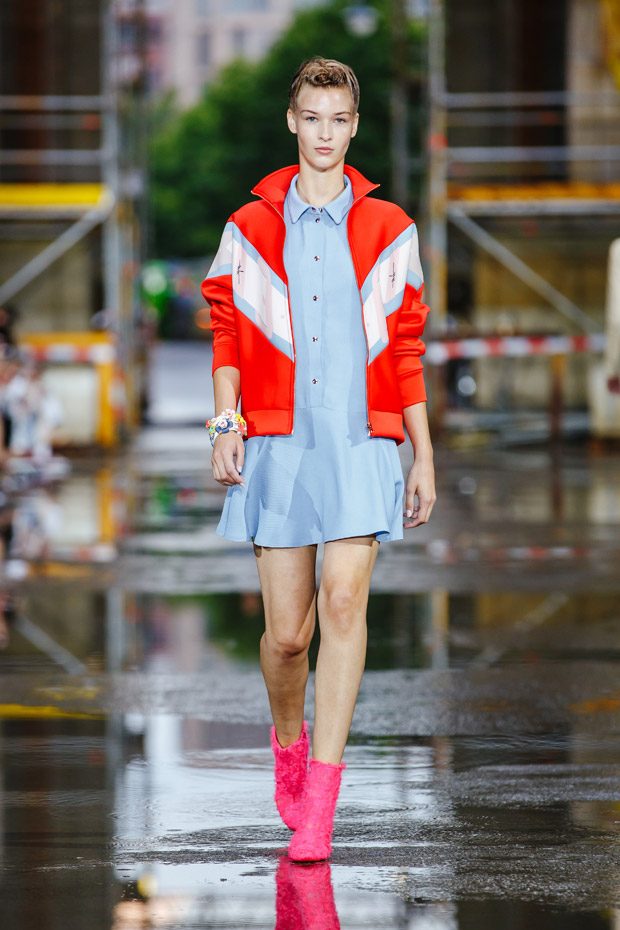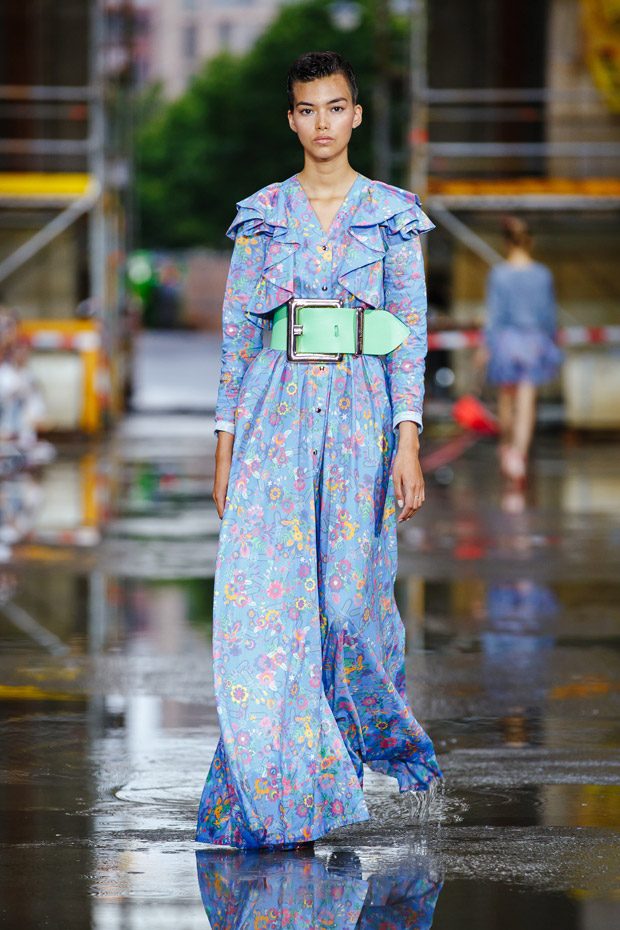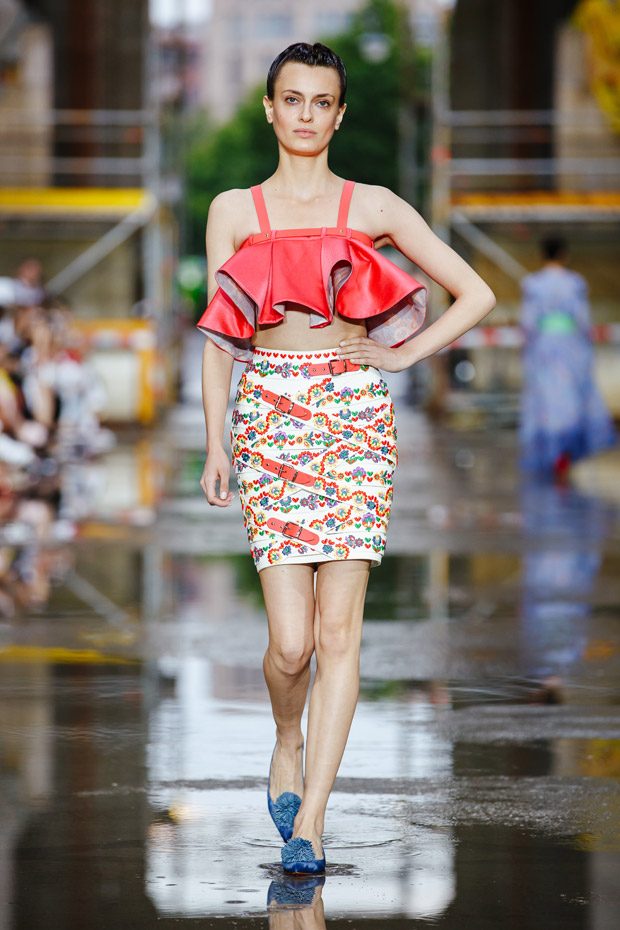 The make- up of the models was kept natural, with a soft glow on the cheeks and dark lashes. Only one look in form of a Russian nestling doll had a very opulent make- up look, it reminded us of a porcellain doll with a pale foundation, dramatic black cat- eyes and cherry red lips. The hair of the models was worn straight gelled back. For the fifth season, Christian Louboutin supported the shoe choice of this collection. His endlessly elegant, daring pieces perfectly underlined the feminine, extraordinary character of those outfits.
We were literally enchanted by this charming collection. We will definitely keep an eye on her new collections and upcoming projects!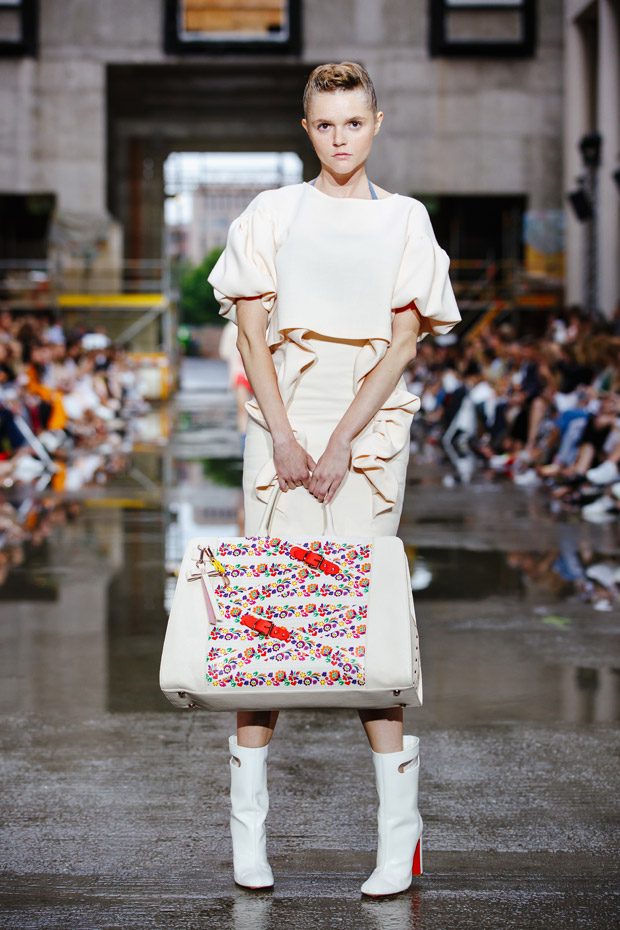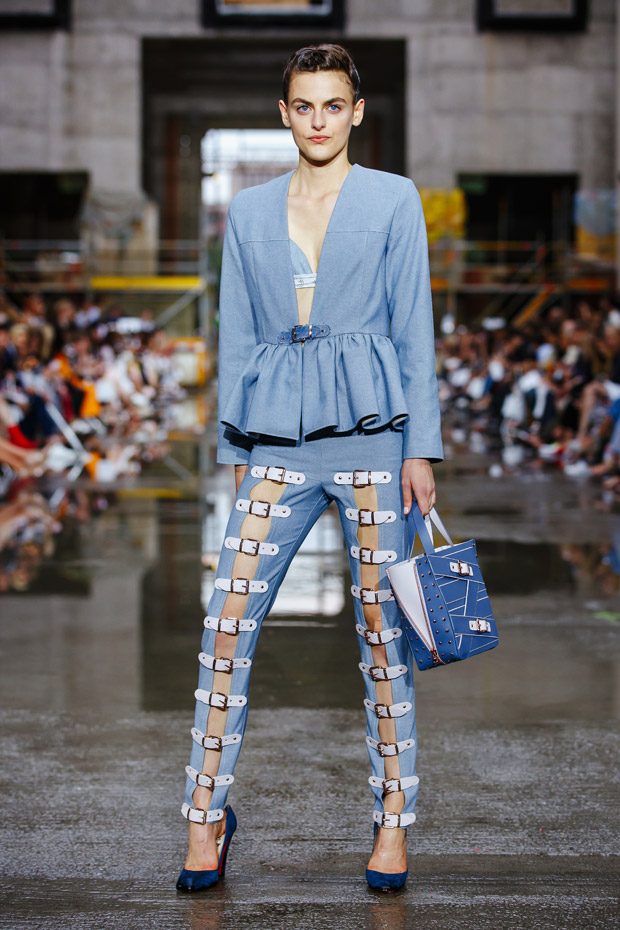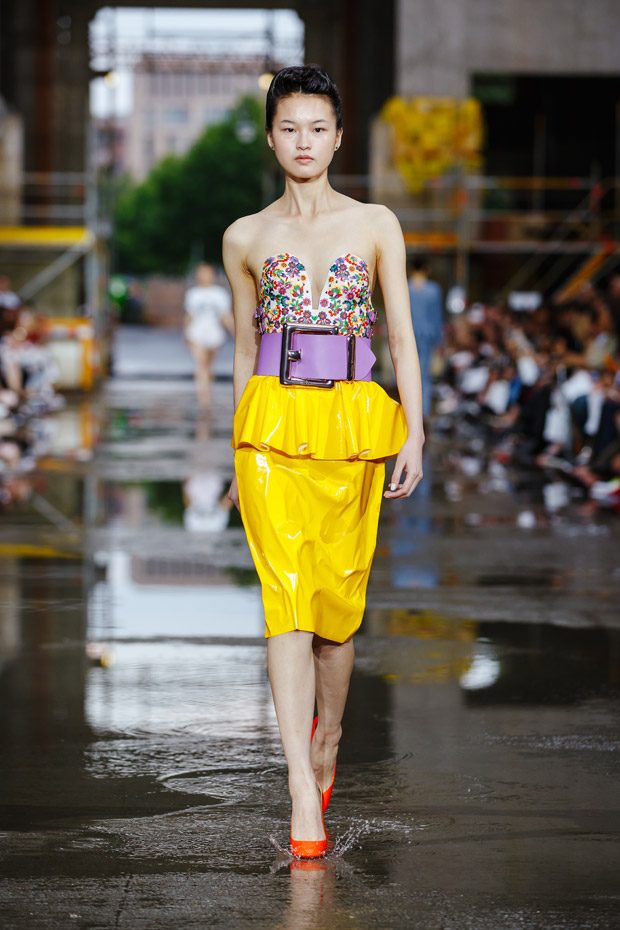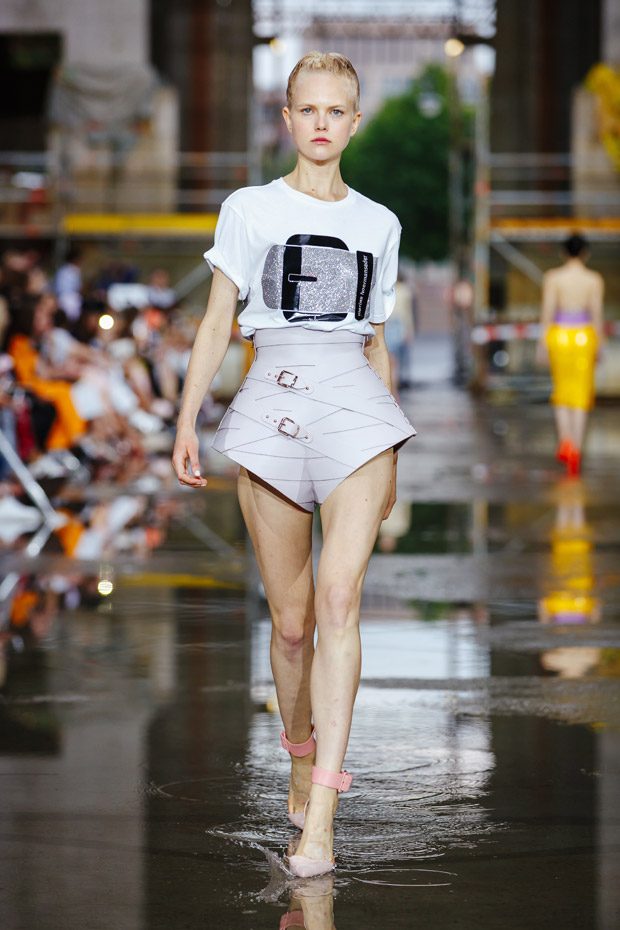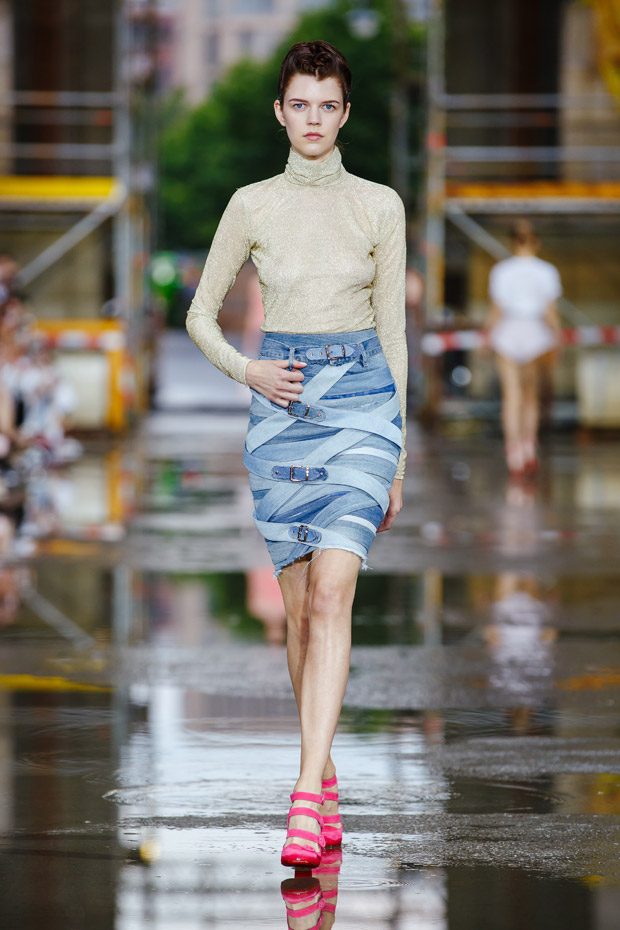 Picture Credit: Stefan Kraul
Review by Sussan Zeck for D'SCENE Magazine