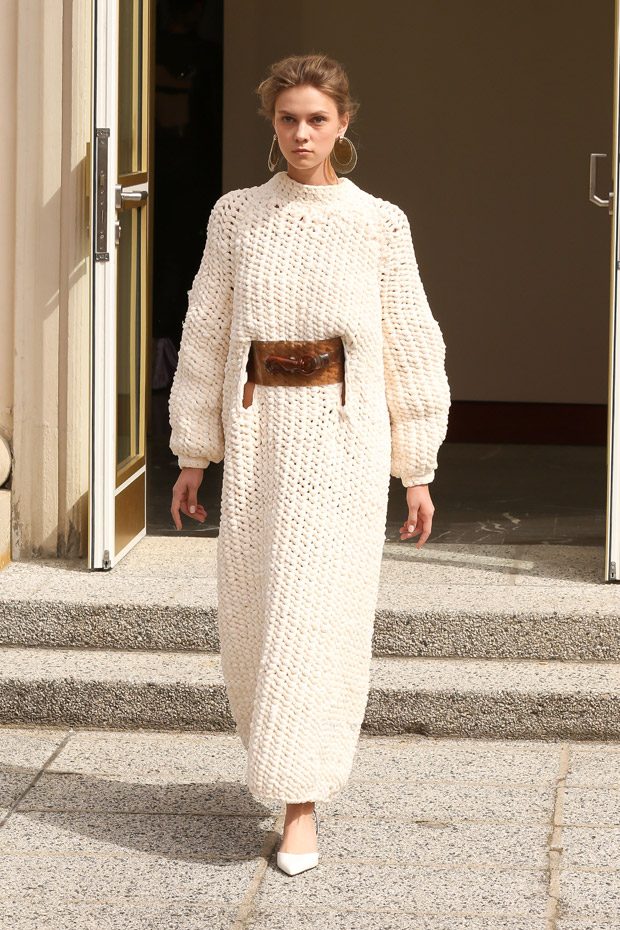 Mercedes- Benz and ELLE presented the show of Swiss designer Vanessa Schindler, a (HEAD) master graduate of the Geneva University of Art and Design, during Mercedes- Benz Fashion Week Berlin. As location, the charming Crowne Prince's Palace in the heart of Berlin Mitte, was chosen. Surrounded by a picturesque garden, this was without any doubt one of the most impressive offsite venues we became aquainted with during our busy week packed with shows. The young designer, who got awarded with the this year's Hyéres Festival main price, convinced the jury with her creative play with innovative fabrics. Expect the unexpected! In her Spring/ Summer 2018 collection, various influences and inspirations are vividly mixed and matched. Thus, the overall image is a highly exceptional one.
It is the perfect addition for any contemporary womens' wardrobe that prefers to dress in a highly unique, nonchalantly way. Among plenty of other celebrities and designers, we spied Hollywood star Susan Sarandon attending the show front row. In Berlin, Vanessa Schindler got the chance to present the looks she had shown in Hyéres, but also sundry innovative ideas. It is the 14th time Mercedes- Benz and ELLE support and promote an exceptional talent and give the designer the chance, to present the collection to the general public and important editors in Berlin. Being significant for this collection is its refreshing, innovative approach and its very special detail- awareness.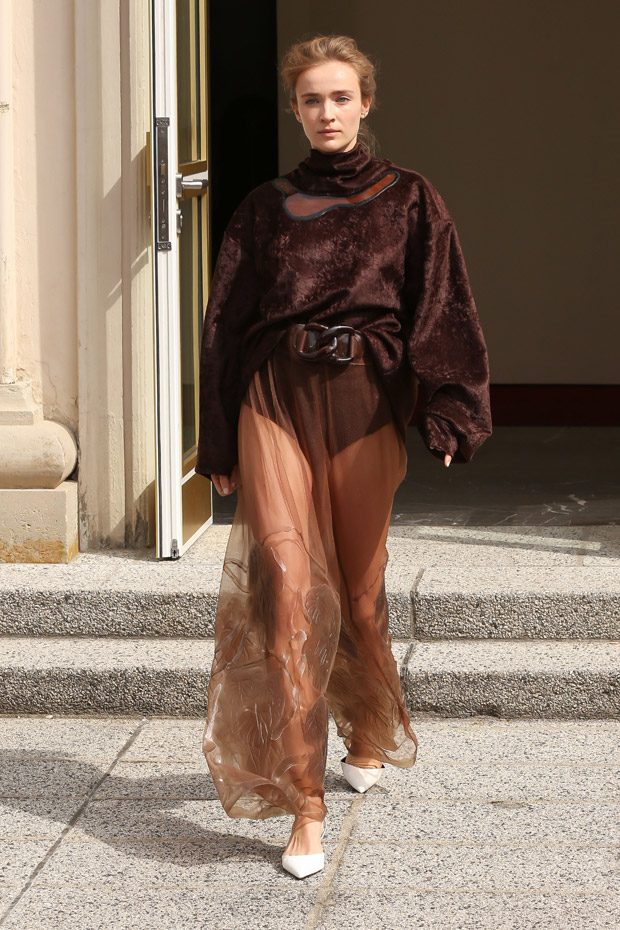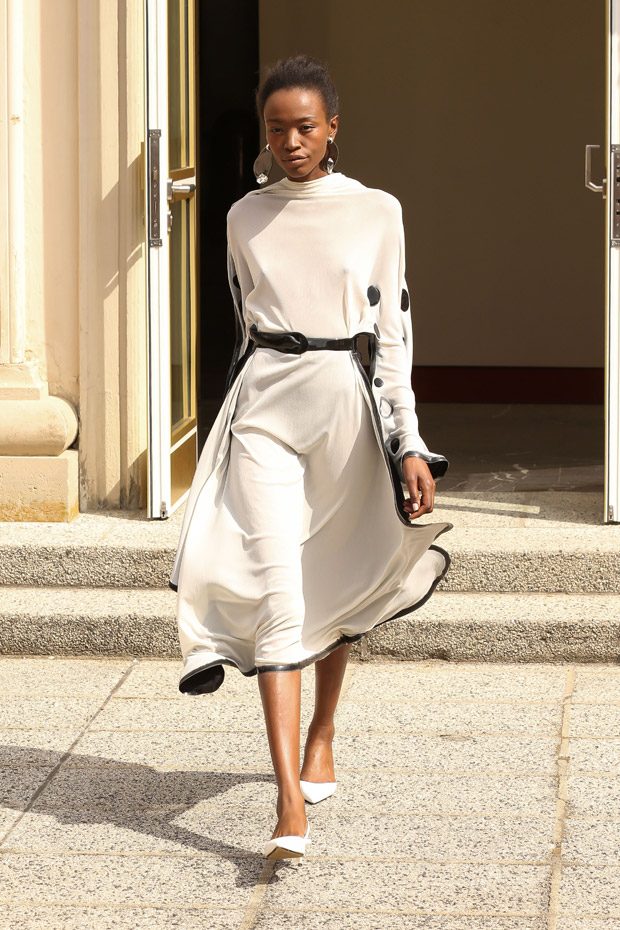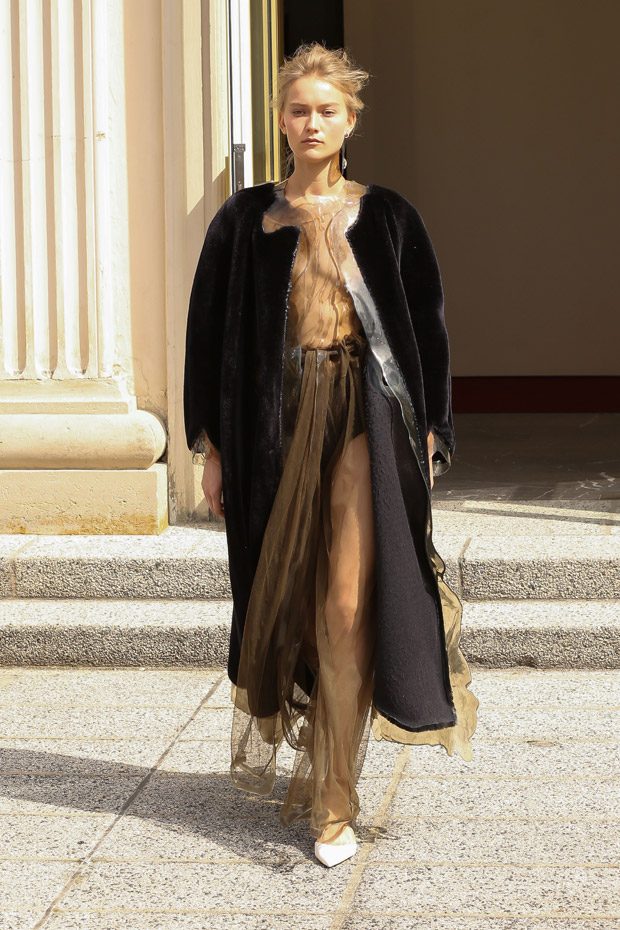 In this collection, contrary elements are harmoniously united in one look. Transparencies play a central role and can be noticed in numerous of her creations. They are often embellished with glittering transparent ornaments which underlines the extraordinary character of those lavish looks. Furthermore a lot of velvet is shown and plenty of volume. In that compelling collection, Vanessa Schindler experiments with fluid polymer urethane which transforms after a long drying process into a transparent, rubber- like substance. Thus, it creates fabrics we did not witness in any other collection before. The creative spirit behind her own brand even found out that fabrics can be harmoniously united seamlessly with uretane and that polymer can bond cut edges. "In the beginning I wanted to master the material, but over the course of time I began to accept its qualities and see the distortions that were created from a new perspective. That allowed me to begin playing around with functionality and ornamentation," Vanessa Schindler explained the creative process behind her collection. Incredibly interesting!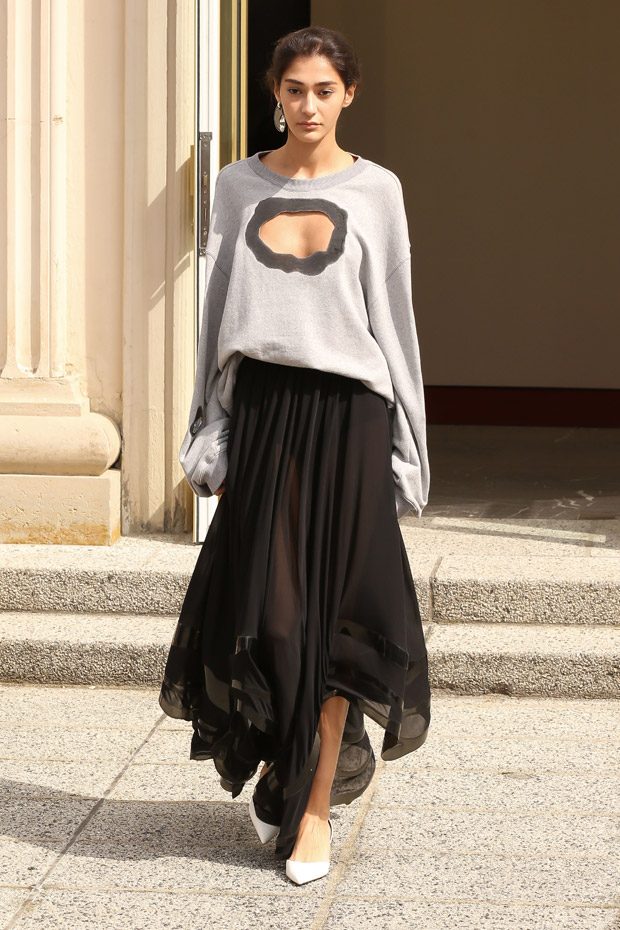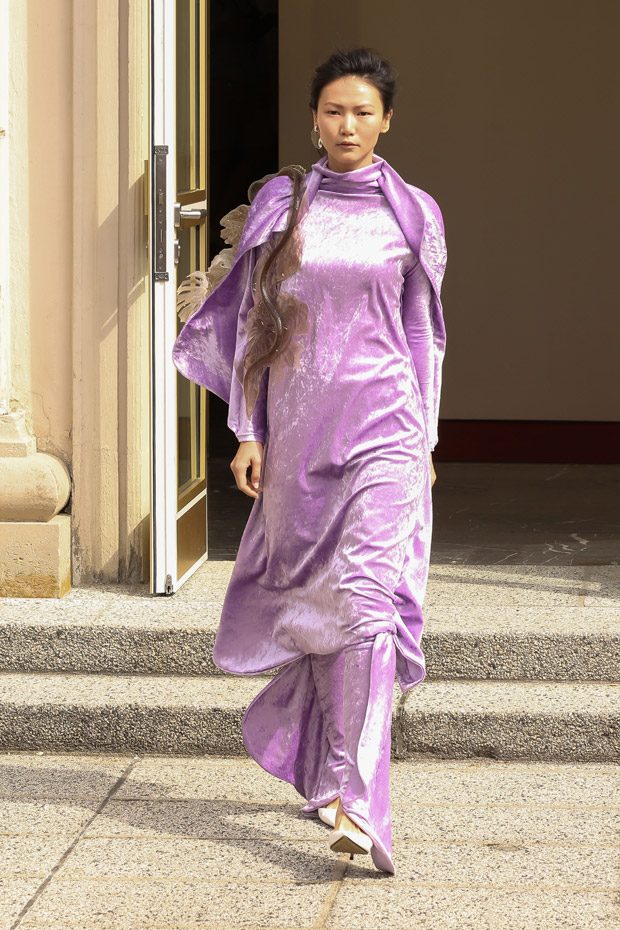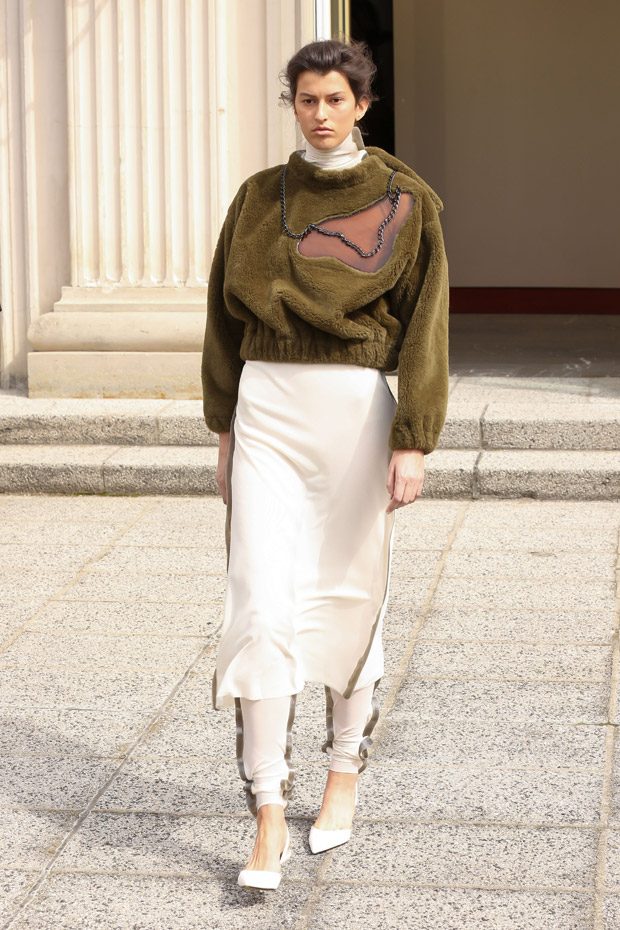 The range of colours is dominated by timeless, classy hues, for instance almond, pewter, mocha, sheer white, pearly purple and seewead. She never pairs too many tones in one look and therefore the overall image stays very clearly.
"Our collaboration with ELLE is an important part of the 'International Designer Exchange Program' and I'm delighted that we were able to bring Vanessa Schindler, another creative, emerging designer, to Berlin," stated Michael Bock, Head of Sport & Lifestyle Marketing at Mercedes -Benz Cars. "Her approach, experimenting with a material such as urethane, shows once again the innovative capacity that can be discovered in this generation of young designers. This is exactly why helping to promote them is the strategic mainstay both of our fashion activities and of the development of our own next generation in the world of car design."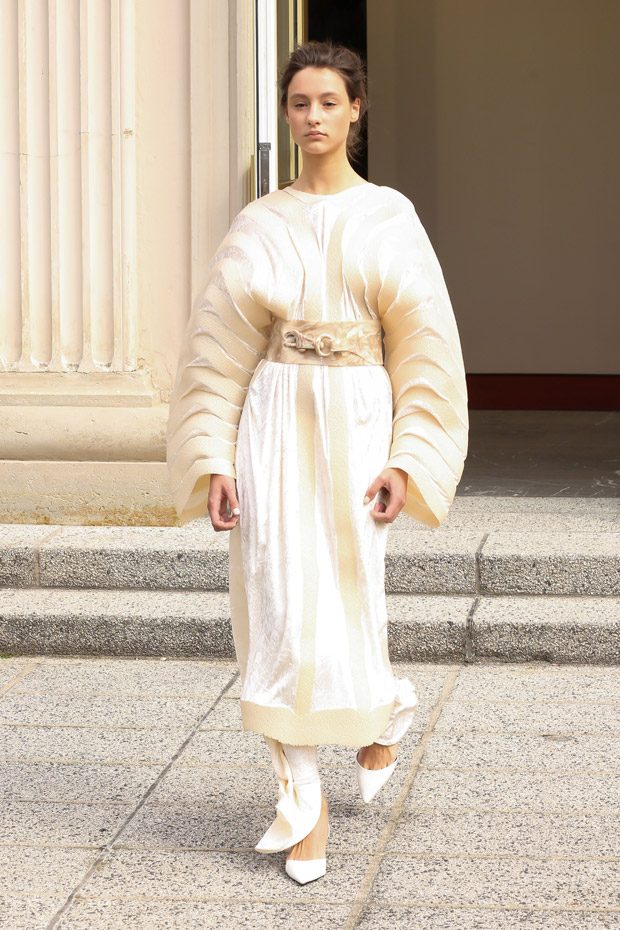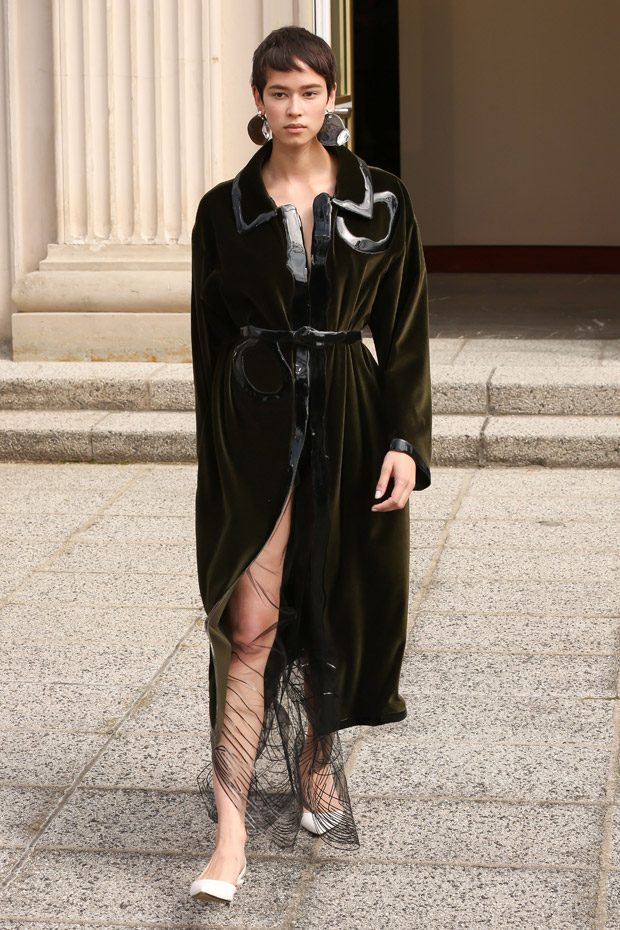 The chignon hairstyle of the models underlined the endlessly elegant, sophisticated approach of the looks. Additionally, the make- up was kept rather natural. Another highlight that literally let our heart beat some seconds faster were large, round earrings that were embellished with small stones that were sparkling in the sun. Mesmerizing! The shoe choice, consisting of pointed pumps in sheer white, rounded off the sophisticated impression of this collections' outfits.
Vanessa Schindlers' range of innovative ideas was sheer endless. We will curiously follow her way and upcoming projects.
Picture Credit: BrauerPhotos/ Nass fuer Mercedes- Benz
Review by Sussan Zeck for D'SCENE Magazine