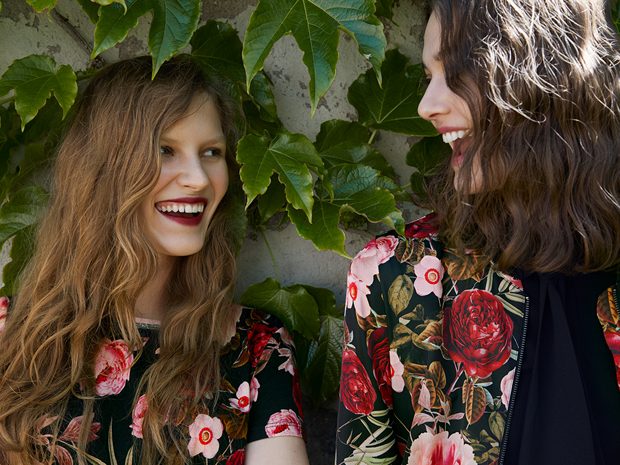 Munich-based fashion label Hallhuber presented its Fall Winter 2017/18 Collection, combining an elegant, contemporary approach with an excellent craftsmanship.
FALL WINTER 2018/18 WOMENSWEAR COLLECTION
Read more after the jump: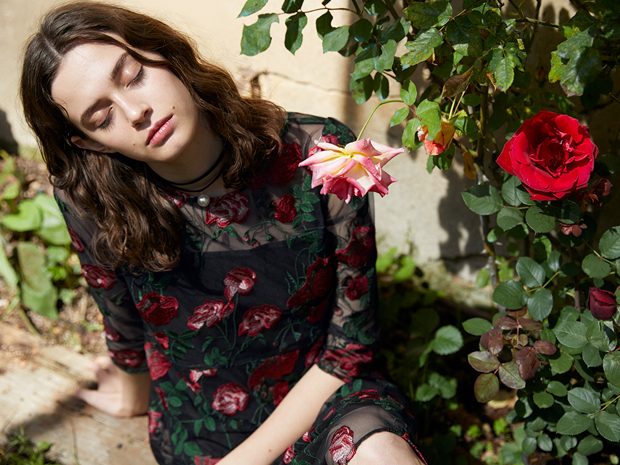 Wild Rose
Being significant for Hallhubers' Autumn/ Winter 2017/18 collection is a highly interesting trend mix of grunge elements and rose motifs. Roses can be found in various of this collections' pieces, they underline the feminine, graceful yet elegant approach of this collection. In addition to timeless night black and offwhite, striking red hues bring out the main points. The rose theme can be found as pattern, embroidery but also as front print on t- shirts. Delicate fabrics, such as tulle and lace in deep red underline the graceful, feminine approach of those looks. Lavish ruffles and subtle pearl details round off the collection. Biker jackets and sweater can be understood as an interpretation of a contemporary grunge look. That inspiration can be noticed in plenty of other creations of this collection as well, for instance in its blousons. They even contain streetwear and Hip Hop elements of that decade. Our favourite key item of this collection is a boyfriend jeans with rose embroidery. That jeans is the perfect addition for any Autumn/ Winter 2017 wardrobe. It can be worn to various occasion and is, thanks to its very special detail- awareness, a true eye catcher.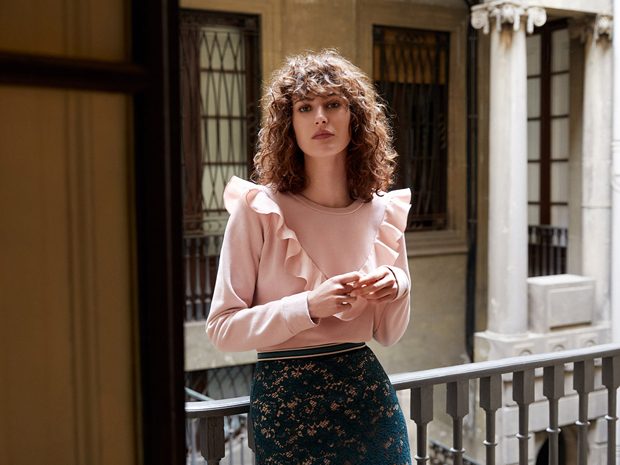 Ruffle Mania
As you may assume by the title of this collection, it is all about ruffles. Due to the use of a huge variety of different materials, such as wool, silk, lace and crushed velvet, this collection is a highly diverse one with a rather opulent character. It is a collection that you may want to wear for special occasions, invitations or cosy tea parties in Autumn. The overall image of those looks is easened by flower prints on crinkle satin and smooth velvet. In this charming collection, contrary colour choices are often paired in one look: for example vibrant petrol teams up with soft rosé, whereas timeless black complements the colour palette. But also the very special detail- awareness of this collection deserves devotion, look at those glittering cuffs and ringlets.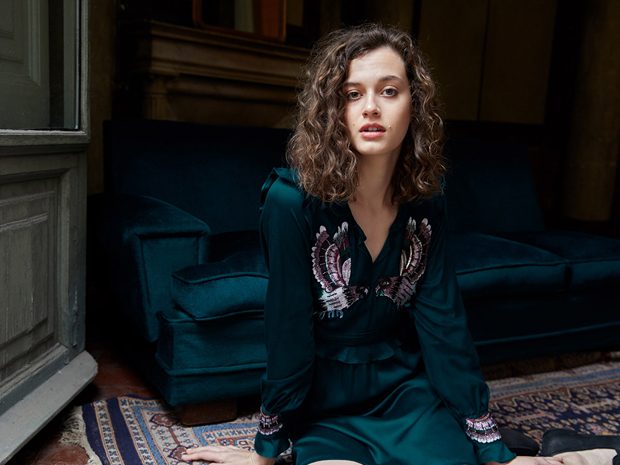 Sartorial Glamour
Sartorial Glamour is a rather maverick, young and edgy collection. A bit of Brit Chic, checked- and leopard pattern- stay wild seems to be the slogan of those looks. Chequers are worn in various variants, but most of the time under capes. Additionally, pearls are presented as stylistic elements, in scattered looks on knitwear, or as highlight on collars. Leopard pattern rounds off the collection. Key items of this collection are a sweater that is embellished with pearls and made of Milano Knit, and a dress with checked pattern and emphasized sleeves. All of those precious pieces definitely stay in mind and convince us due to their very special detail- awareness.

Perfectly Preppy
As the title says, this collection takes its inspiration from the American Preppy Style with feminine, playful inconsistencies. Classy checked patterns, metal buttons and zippers take their inspiration from traditional elements and uniforms. Georgette, velvet, pearls and lurex underline the feminine approach of those outfits and build a fascinating contrast. The coats and jackets which are made of finest fabrics play a central role in this collection. Merlot and deep blue are repeatedly used. Another colourful highlight is soft sky blue, which appears on both blouses and coats- hello, Sixties! Needless to mention, there is also a remarkable range of chemises and embroidered blouses to complete the outfits. Key items of this collection are its college blouson with lurex details, a striped pants and a jacket with fringe details and eye- catching statement brooch. Completely charming!

Lounge Deluxe
Being significant for Lounge Deluxe is its soft, clayey colour topic which impresses us with its diverse structures and surfaces. Light silver and dove grey are harmoniously united with feminine rosé. The feel good factor plays a central role in this collection and that can be noticed in its fabric choice: cashmere, floating satin, wool mixes- wear whatever makes you feel good! The knitted jumpers and cosy coats of this collection are the perfect addition for cold, rainy Autumn/ Winter days. Cocooning at its best.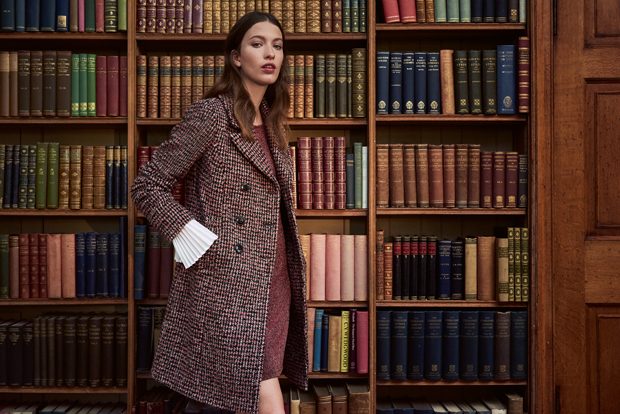 Feminine Form
"Feminine Form" is an autumnal mix of feminine and graphic stylistic elements. It is a very wearable collection for your daily Autumn/ Winter wardrobe. The classy black/ offwhite color contrast is extended by soft rosé. Material- wise, contrary elements are often paired in one look, for instance traditional patterns like checked pattern meet feminine bouclé yarns. As important stylistic elements ruffles and pearls are used anew, they embody lightness and playfulness. Our highlight of this collection is a stunning silk dress with cloverleaf print.

Shine On
"Shine On" is a rather opulent collection that consists of a rich colour palette with off white, fuchsia, emerald green and black. Winter flowers, striped lurex cuffs and lace give the looks their very special note that stays in mind. Our favourite piece of this collection is a floating golden dress with flower motif.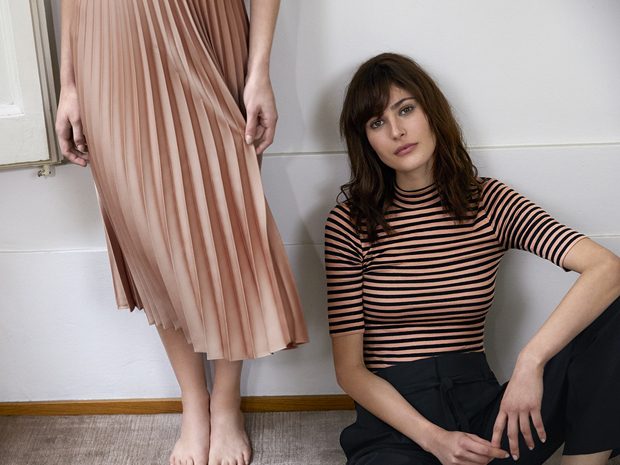 Ski De Luxe
"Ski Deluxe" is characterized by sporty elements with a touch of '90s style that are paired with feminine silhouettes. The range of colours is dominated by off white, red and black. Stripes play a central role in this collection and can be found repeatedly. Furthermore many sweaters and outdoor jackets are provided with hoods, another feature which is significant for this wintery collection.
Navy Nights
"Navy Nights" is a glamorous collection which contains all you need to celebrate New Year's Evening. The range of colours contains of mysterious, sophisticated tones such as deep blue and diamond black. Rhinestones and metallic embroideries underline the glamorous approach of those pieces. The star motif makes you dream and lifts you to another galaxy. Our highlight piece of this collection? Definitely a jumpsuit made of velvet that is provided with star embroideries. Simply stunning!
We will definitely keep an eye on Hallhuber and on all upcoming collections, www.hallhuber.com
Picture Credit: Hallhuber, www.hallhuber.com
Text by Sussan Zeck for D'SCENE Magazine