Planning a new outbuilding for your property? No matter what use you have in store for your finished structure-to-be, you can preside over a project that's simultaneously attractive and economical. The trick is having a clear vision before you begin work.
While these five design ideas aren't quite universal, they're appropriate for a variety of building types and settings:

Converted Shipping Container
Living in a converted shipping container isn't as bad as it sounds. Professional conversions transform boring metal boxes into stunning homes that retain few if any traces of their original uses.
Depending on your outbuilding's use, your container's conversion doesn't have to be as thorough. Many homeowners use converted shipping containers as cost-effective substitutes for traditional wooden sheds, as they're more spacious and sturdy. While storage sheds obviously don't have to be climate-controlled, containers are amenable to passive heating and cooling.
Functional Half-Dome
Looking for a sturdy structure like steel frame buildings that you can put up almost overnight? Look into a steel Quonset hut or Nissen hut for your shed, workshop, or vehicle storage needs. Companies selling these buildings are usually happy to assemble your structure on site, and the entire process can take just a day or two. You may not even need a foundation — a huge benefit over most other building types.
Dual-Use Garage (Accessory Dwelling Unit)
This wooden or metal structure is part traditional garage, part studio apartment (accessory dwelling unit). Cars drive onto the first-level concrete slab through a typical garage door, with optional storage space on three sides. Above is a one-bedroom apartment with a full (if small) kitchen and bath. This is a perfect arrangement for homeowners who want rental income, but don't want roommates in their homes.
Gazebo
If you're all set on storage, build a functional outdoor structure that you actually want to spend time in. In mild climates, an open-air gazebo is usable throughout the year. In locales with sharper seasonal variation, walls, screened windows, and a safe source of heat prolong "gazebo season." Where local codes permit, consider a fire pit a safe distance from the structure.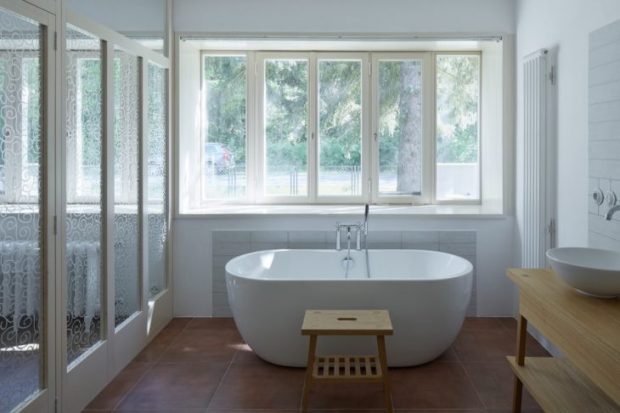 Mini-Spa
Like to relax? Complement your pool or hot tub with a mini-spa, complete with a sauna, massage table, daybed, and whatever else you need to chill out. If you don't already have a pool, build your mini-spa anyway — it's a lot cheaper than an in-ground swimming hole.
What's the Use?
Outbuildings are almost as varied as the homes they accompany. So, before you sink a great deal of time, energy, and money into fleshing yours out, ask a simple question: What do you plan to use it for?
Your outbuilding might be a storage shed, a garage, a pool or garden house, or a detached accessory unit for live-in relatives, renters, or short-term visitors.
Your building's primary use will determine which of these design elements, if any at all, you decide to deploy. If you're still not sure how to proceed, reach out to an architect or designer for ideas. Just remember that it's your property — and you're the boss.
Images from House by the Forrest by kaa-studio on archiscene.net