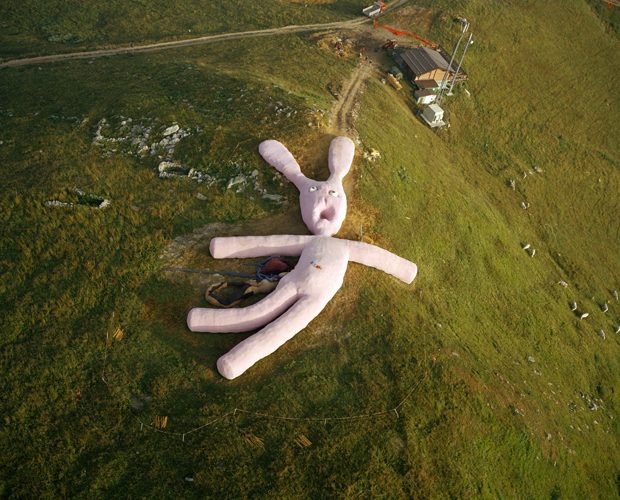 Gelitin Coniglio, 2005 Artesina, Italy
Photo Gelitin (2005) Courtesy Gelitin and Massimo De Carlo Copyright Gelitin
Fondazione Prada will present "Slight Agitation 3/4 : Gelitin" from 20 October 2017 to 26 February 2018; the third chapter of the exhibition project developed by Fondazione Prada Thought Council, whose members are Shumon Basar, Cédric Libert, Elvira Dyangani Ose, and Dieter Roelstraete. "Slight Agitation", a four part project will present the third installment by the Austrian collective Gelitin. Their work follows on from Tobias Putrih (Slovenia, 1972) and Pamela Rosenkranz (Switzerland, 1979), while Laura Lima (Brazil, 1971) will produce the final chapter.
Following Tobias Putrih's installation which engaged with ideas of play, politics and emancipation and Pamela Rosenkranz's intervention that offered visitors a multi-sensory immersion into a new perception of embodiment and collectivity, Gelitin present a project titled POKALYPSEA-APOKALYPSE-OKALYPSEAP. Three large sculptures explicitly address classical architectural archetypes (the triumphal arch, the obelisk and the amphitheater), subverting their rhetoric and monumental components. Symbols as much as structures conceived for everyday inhabitation, these sculptures draw an arc from the insular and individual to the open-ended and collective, from the overtly erotic to the sublimated joy of togetherness. This intervention is indicative of the group's artistic practice which, since the 90's, has experimented with the reinterpretation of totalitarian art and performance, developing a radical attitude towards institutions. Their work has anticipated the codes of relational aesthetics and invented a sculptural language and approach to installation that are anarchic and irreverent.
Scroll down to see all the images: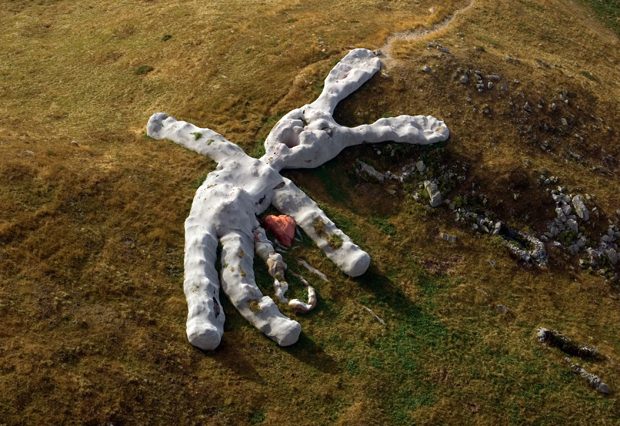 Gelitin Coniglio, 2005 Artesina, Italy
Photo Gelitin (2008) Courtesy Gelitin and Massimo De Carlo Copyright Gelitin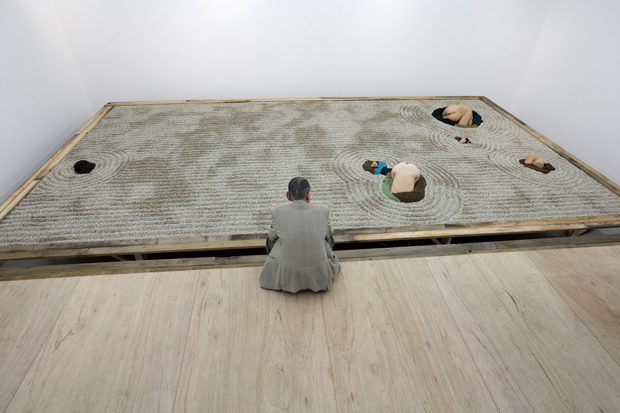 Gelitin Klunk Garden, 2009 Tomio Koyama Gallery, Tokyo
Photo Kei Okano Copyright Gelitin
Gelitin  Nase, 2014 Rossatz, Austria
Photo Olga Wukounig Copyright Gelitin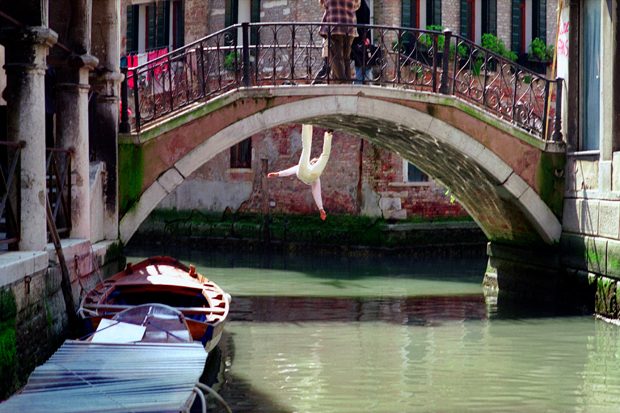 Gelitin Nella Nutella, 2001 Venezia, Italy
Photo Lucien Samaha Courtesy Gelitin and Galerie Meyer Kainer Copyright Gelitin