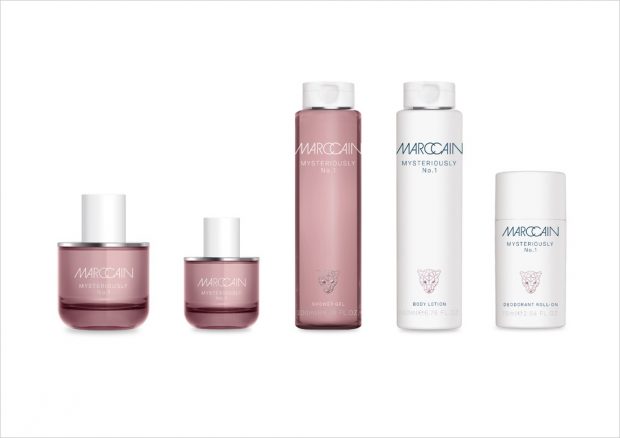 Exciting news from German traditional brand Marc Cain: the renowned fashion label is launching its first fragrance line which adds an innovative, sensual dimensions to its existing labels. With "Marc Cain Beauty", the first scent line "Marc Cain Mysteriously" was born. As you might assume by its name, get ready for a sensual, sophisticated yet mysterious adventure.
Being significant for the three different mysteriously smelling fragrances is the reflection of the Marc Cain DNA in their very unique way. The target group of those scents is the Marc Cain customer who has already developed an affinity for the brand and its values. Additionally, the aim of the brand is to attract new customers by opening up new segments.
Helmut Schlotterer, founder, owner and Chairman of the Management Board, stated: "With this exclusive range of fragrances, we are now looking to extend our large portfolio on the one hand and also appeal to our target groups on the other. Just like with our fashion collections, the focus is on the development of high- quality products that surprise and inspire."
Three perfumers were responsible for creating those compelling creations: Corinne Cachen, Maarte Schoute and Michel Almairac. "Mysteriously" takes its inspiration from the confident, strong woman that stands with both feet on the ground and masters her own life independently. "It is a homage to women surrounded by an aura of mystery and who, driven by passion, can achieve anything they set out to," declares Michael Förster, Chief Creative Officer of the fragrance manufacturer Lyrique Parfums from Switzerland, as well underlining the company philosophy of Marc Cain GmbH.
Worth of mentioning is also the delicate design in which those fresh fragrances appear, look at those sleek, minimalistic bottles. It is exactly this experimenting with unusual designs which we know from Marc Cain's fashion collections as well.
But now let us have a closer look at the three different scents:
Marc Cain Mysteriously No.1
Fragrance note: Fruity- oriental
Fragrance intensity: Freshly- intense
"A mysterious woman is somebody who does not reveal herself, she does not expose everything about her life, and she does it consciousley; with subtlety."- Corinne Chachen, creator "Mysterious No.1"
That fragrance was composed by Corinne Cachen who was inspired by oriental notes. Thus, the overall impression is mysterious yet energetic with just the right amount of each. It contains Sicilian bergamot which radiates a refreshing citrus scent. Additionally, sweet mandarin, apple and a hint of marigold round off the ensemble. Its flowery heart note which is created by sensual jasmine and graceful rose is lifted to another level by a touch of spicy cinnamon and liquore. Due to the choice of very well chosen ingredients, such as benzoin, incense, tonka bean, vanilla and mask the full aroma blossoms.
But how to wear your perfect scent? As Corinne Cachen suggests, the best tip is to spray it on your hair as you perfectly smell the flavour whenever you move. Due to its structure, perfume lasts very long when being worn on your hair. Otherwise, you can also provide your scarf with a bit of perfume or spray it on heart pulses, for instance on your wrist, behind your ears, neck or belly button. Good to know, isn't it?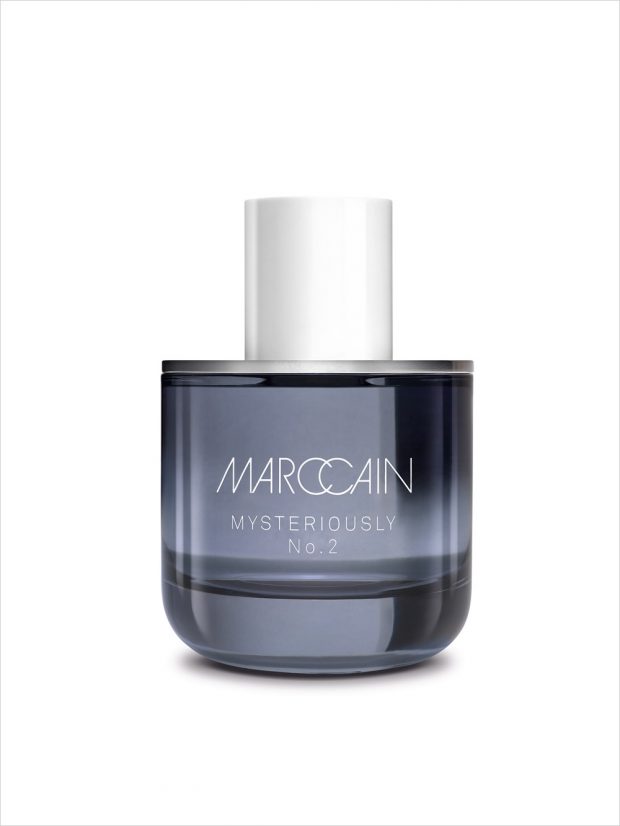 Marc Cain Mysteriously No.2
Fragrance note: Floral- oriental
Fragrance intensity: Powdery intense
"It's not so much appearance, but character that makes a woman mysterious. A woman who doesn't instantly reveal everything about herself, keeps her little secrets and has that extra special something. For me, that's the definition of mysterious." Maarten Schoute, creator of Marc Cain Mysteriously No.2
The basic ingredients of Marc Cain Mysteriously No.2 are tonka bean, a very warm powdery vanilla and luxurious musk. In virtue of the usage of bergmot, clove and cinnamon the fragrance opens up in an irresistible way. Floral aromas such as jasmine, rose, heliotropin and and lily of the valley build the heart note. Due to that very special mix, the fragrance stays harmonious yet mysterious with just the right amount of each. Warm sandalwood makes this fragrance so mysterious and seductive.
But how to wear your perfect scent? "Less is more" suggests Maarten Schoute.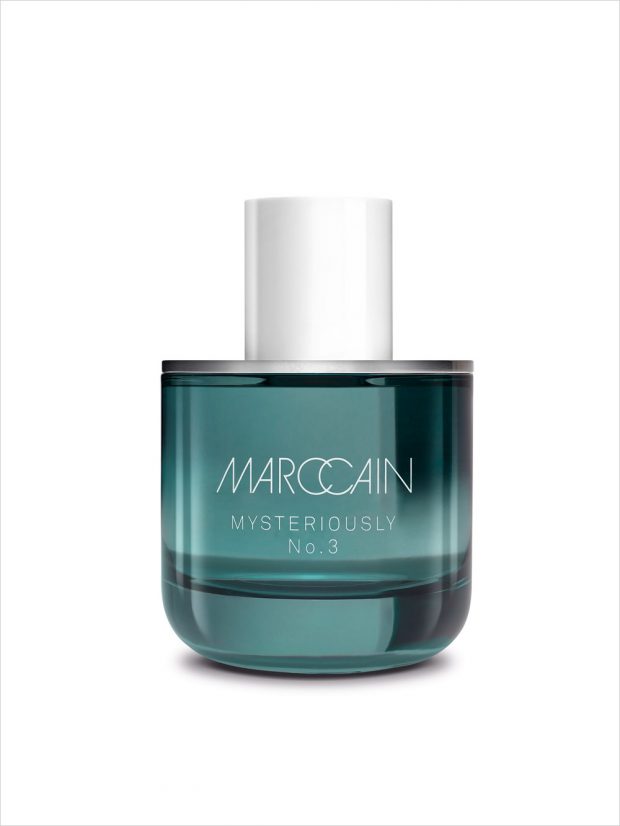 Marc Cain Mysteriously No.3
Fragrance note: Woody- spicy
Fragrance intensity: Voluminously intense
"Mysteriously No.3, quintessence of sensuality, is a voluptous fragrance which combines an overdose of warm sandalwood with an addictive sillage. That's why this fragrance fits definitely with the philosophy of Marc Cain." Michel Almairac, creator of Marc Cain Mysteriously No.3
The duo of seductive sandalwood and cedarwood make this fragrance so special. As top note, fresh grapefruit nuances were chosen, as well as incense, the rare tree resin and elemi. The base note impresses us with its sensual approach that is created with musk, tonka bean, and vanilla bourbon. Simply sensual!
Those three mysterious fragrance are available from October on in Marc Cain stores plus retail spaces. Moreover you can purchase them online in the regions of Europe, Asia and North America.
Picture Credit: Marc Cain GmbH, www.marc-cain.com
Review by Sussan Zeck for D'SCENE Magazine