It's a completely fresh season in front of us, and thus our Fashion Features Director Katarina Djoric explores the best moment for fresh beginnings.
Never easy to forget, no doubt, is the wonderful anticipation of Spring, and that waiting game is even more exciting if you are a fashion fan. After countless times of hearing once again 'All I Want For Christmas' on the radio followed by the New Year's Eve the real changing on the season comes with the Valentine's Day. If you are a fashion lover, that is the right moment to enjoy the latest spring summer collections.  Above – ACNE Studios has a mod influenced colour block inspiration for it's striking take on the maxi dress. 
To get you in the mood, after the lazy days of the holiday spirit domination (and overeating), we selected some of our favourite Spring Summer 2018 dresses. 
FASHON AND THE JANUARY THRILL OF THE FRESH SEASON
January is the start of the show season, that non-stop eight week super storm of the latest collections with a few days off lasting all the way into the last days of February. It all starts with London Fashion Week Men's in January, all the way to the Haute Couture week in Paris wrapping up the 1st phase of the fashion week month, closing into the women's show unraveling already in February with hardly a week of a break.
This is the time to vamp up your wardrobe, it's daring you to wear heels after two months in boots, or at least to shop for the same. But it's also a great moment for the sweater weather, it's layering, it's working into your outfit that new spring dress. Nevertheless it is also the time for that new hair and new lipstick prepared to go with the new clothes. And just then when you realize your wardrobe is complete, you notice your handbag seems now not seasons but decades old, and a new one must be bought without any room for debating the thought.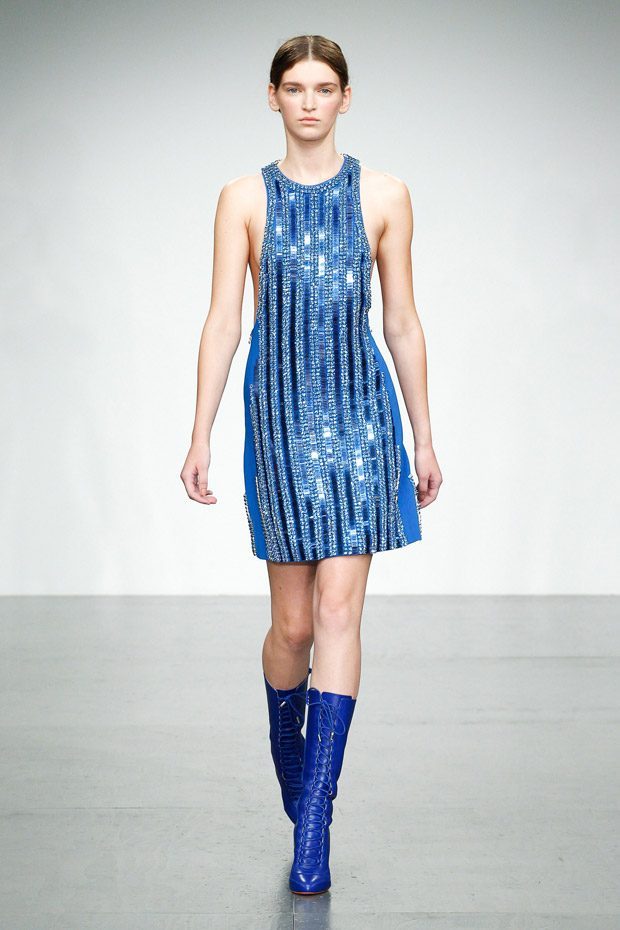 David Koma is one of the best contemporary designers to follow, his indie approach makes him a trend setter not a follower. Blue is the colour to watch for Koma's Spring summer 2018 collection.
THE FRESH SEASON 's BIGGEST JOYS
Finding shiny new spring pieces is one of the fresh season 's most important splendors, but to shop successfully at high street shops like Zara, the method always needs to prevail over the categorically impulsive mania. As a fashion editor with two months of fashion shows ahead of me, I am in a constant training of packing for almost a full month away from home. And while buying shiny holiday and new year's eve inspired pieces, brings me all the joy in December, I am working hard on implementing a successful shopping plan. The key is to leave aside any impulsive shopping urges, no matter how hard that is. So during the incredibly shop-seductive days of December, with less than a few weeks to go before London Fashion Week, my mind is still obsessed with the glitz of holiday windows, and no doubt some wine.
Still, no matter how hard I try, there will be at least a day where you'll see me running around H&M and ZARA battling for those soon to be gone discounted pieces in that first post Christmas sale. Of course, completely ignoring the fact most of those are to actually stay on the shelves even in February, with a far more appealing discount. But better safe than sorry, right?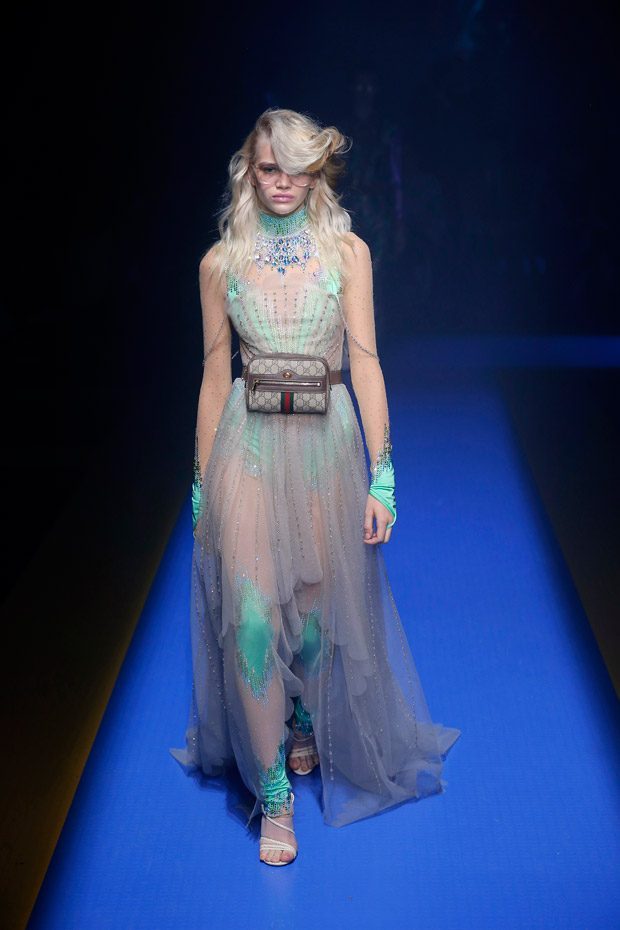 Alessandro Michele and GUCCI are definitely the trend setters to go, this look is perfect for a spring evening.  Plus with smart styling it can go from a party to a formal reception dress.
BUY ONLY PIECES YOU TRULY LIKE!
This whole fascination with the SALE signs in the January windows, would always diminish my best efforts to save up and buy the pieces I only (truly) need. It's no problem to say you need only a classic white shirt and a well designed pair of trousers from the comfort of your holiday cheer. But moment's later I will find myself on the pages of ASOS planning my night out on the town look, as well as a daytime power outfit for the office to be warn on that first warmer day.
I am the girl who is upset over those Off-White trousers from a web page I follow that were sold out before they even hit the store shelves, just 'cause I wanted to wear them to the office the first day of March. Just praying to see them one day again on eBay or Outnet!
While trying to save up it's always on the plus side, saving for an investment piece is a good strategy as well. A classic dress from a well known designer can last you for season's to come, it is quite possibly to stay on trend as well. Also if you are bored of it one day, you can always sell it online, a good designer name is to hold the price for a long time. Also, no matter how fast and on the pulse the high street is, the ready-to-wear designers are still the ones delivering the new trends. Quite often for a trend to settle down into the fast fashion shops, it takes a few seasons. Till then, you are to own a one of a kind dress (or at least be one of the few thousand first owners). That is why this time, I went through Spring Summer 2018 collections, spotting trend setting dresses from the likes of ACNE Studios, Gucci, David Koma and Lanvin to name a few.
Lanvin itself is in reinvention mode, going with the new design team for a more edgy and contemporary look. This delicately cut mini-dress is perfect for an office to evening on the town transition.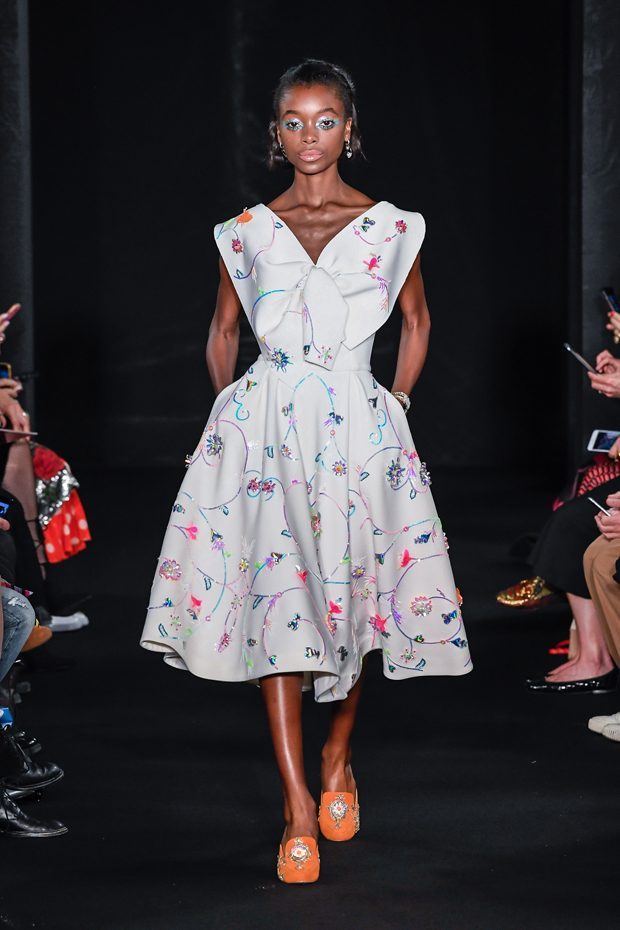 Manish Arora is a synonym for bright and upbeat, yet this dress from his spring collection embodies the feminine silhouette with delicate yet colourful floral elements. 
PRESSURE TO REINVENT YOUR WARDROBE
I often wonder why is the pressure to change my wardrobe always so powerful, especially at this time of the year? When you start your work routine, get a job, you are already an adult with more important things to worry about. Yet there's still a moment when you worry how Vetements-like is your new jacket, and are your trousers just too skinny? After the holidays, you sure come from a period of comfort and relaxation, and back to work period in January is sure to put you in a state of shock. So no wonder you will find yourself browsing through pages such as ASOS or SSENSE for hours (even if you already maxed out your credit card).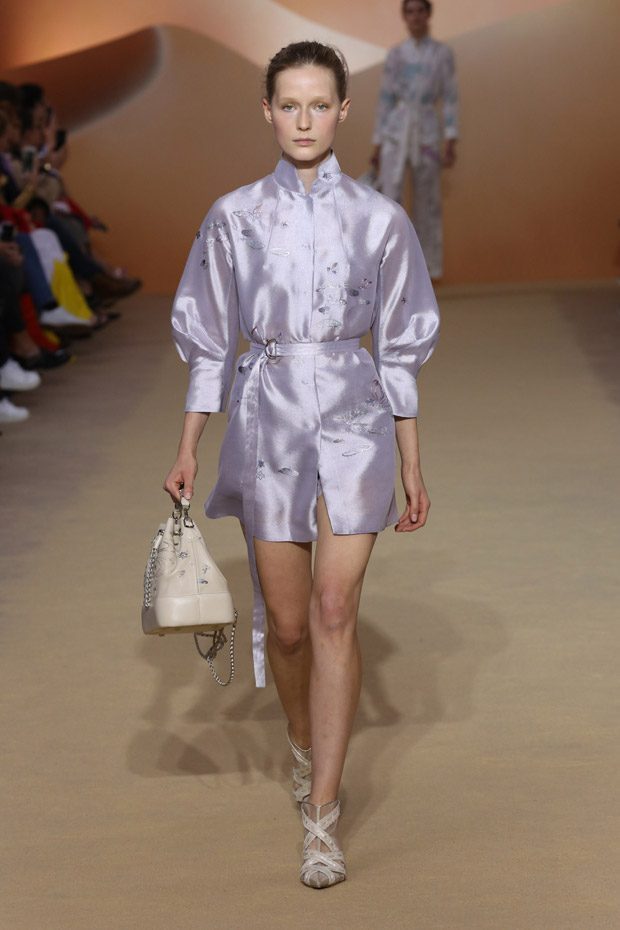 Shiatzy Chen went for light floral embroider, perfecting the utterly chic outfits for the spring summer 2018 season. Helps with Chen being one of the most talked about new designers on the scene.
Nothing much happens in December, but when the SALE sign mania takes over, in January we tend to long for a reinvention of our wardrobe. Along with our new years resolutions, this goes hand in hand, thinking in our newly assembled outfits we are to work even harder and be even more successful.
That is exactly the moment when the whole formula of looking the part becomes pivotal.
Fresh Season, Fresh Beginnings text by DESIGN SCENE Magazine Fashion Features Director Katarina Djoric @katarina.djoric