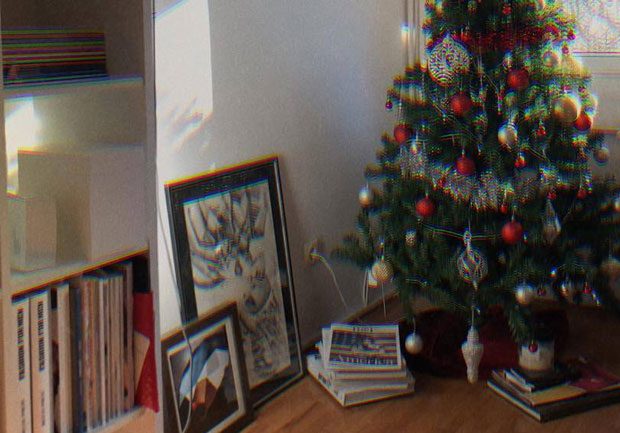 For many of us, as soon as Christmas is over, we start to feel a little cluttered. This is probably due to the abundance of gifts and the many Christmas decorations that keep falling off the tree! Now, none of us are experts on how to organise our homes from top to bottom but there are few tricks that you can put into practice at Christmas time to help us feel a little more relaxed – from storage containers to boxes to keep your Christmas decorations in without them getting ruined.
Read more after the jump:

Ornaments
Tree ornaments – every year some of them either get broken or lost. The best type of box for these is a plastic one with hard sides because they protect your items better. You can place baubles in egg boxes to keep them even safer in the box, use a plastic apple container for those bigger ones or zip them up in ziplock plastic bags. Another handy homemade trick is to make custom cardboard dividers that fit snugly into the box.
Wrapping paper
Do you also end up with numerous amounts of half-used rolls of wrapping paper? If so, get yourself an umbrella holder and place your rolls of paper in that. Keep your eyes peeled for tall planters or large vases, anything unique to hold your paper in.
Bed storage
Do you have under the bed storage? If so put all your Christmas items under there when you're done with them. This is the best way to keep everything hidden, out of the way and easily accessible for the upcoming years.
Lights
If you are constantly tired of untangling lights, wrap them around some cardboard, like shoe box tops, and store them inside a box. This way you will refrain from having them all jammed together in one ball of mess. You can write handy reminders on the cardboard as to what you using those specific lights for.
Christmas trees
If you buy an artificial Christmas tree every year then you want to use drop cloths to create some bags for the top, middle and bottom pieces of your tree. You can then store it away in a garage or in the loft without it getting dirty. For extra safety, put it inside a cardboard box too.
Garlands in water bottles
There is nothing more frustrating than your garlands being all twisted and sometimes breaking. To prevent this from happening, store your beads in plastic water bottles. Every two litres should hold three or our strings of beads.
This can be an overwhelming time of the year and if you feel like you need more organisation, check out this article by Good Housekeeping so you can already start to de stress – and fully enjoy the magical time that is Christmas.