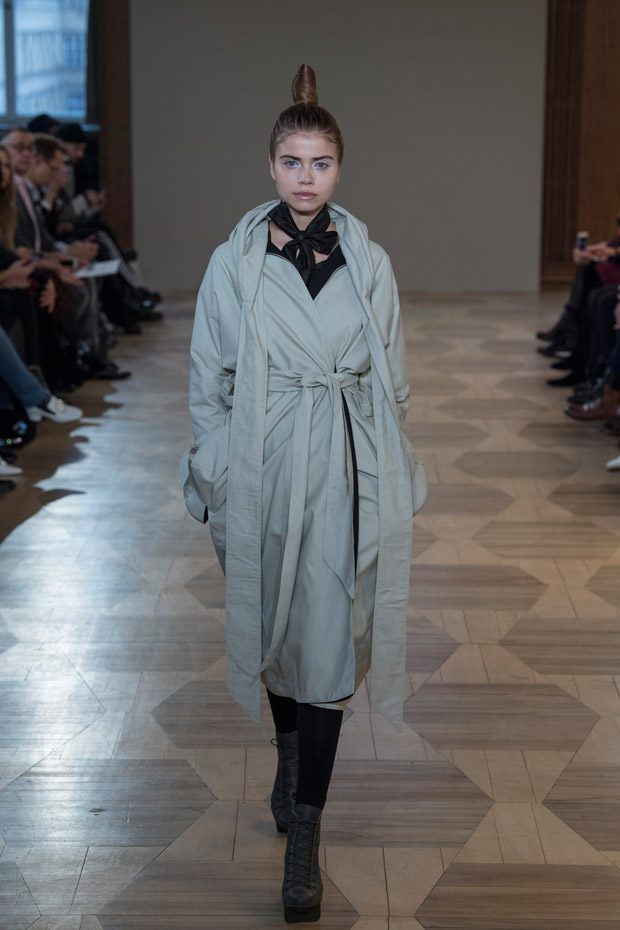 "An early morning in the tropical rain forests.
Mist blankets the rich greens of trees and plants.
A gentle fog hovers over damp russet soil.
The eyes of waking animals flicker in the undergrowth.
Slowly, the herd marches towards the dawn."
The collections' theme has a deeper message: it focuses on the conservation and protection of those peaceful giants. As location, Crowne Prince's Palace, which is a stunning Neoclassical- style building situated at the end of "Unter den Linden" in Berlin, was chosen. That sophisticated setting underlined the mood of this compelling collection.
Another aspect we appreciated very much is the fact the guest list was a rather selective one and thus, the atmosphere was a very enjoyable and private one. Being significant for Isabel Vollraths' creations were their highly creative sculptural, voluminous silhouettes with opulent sleeves and incredibly interesting crafted pocket openings.
Continue bellow to read full review by our Berlin Contributor SUSSAN ZECK: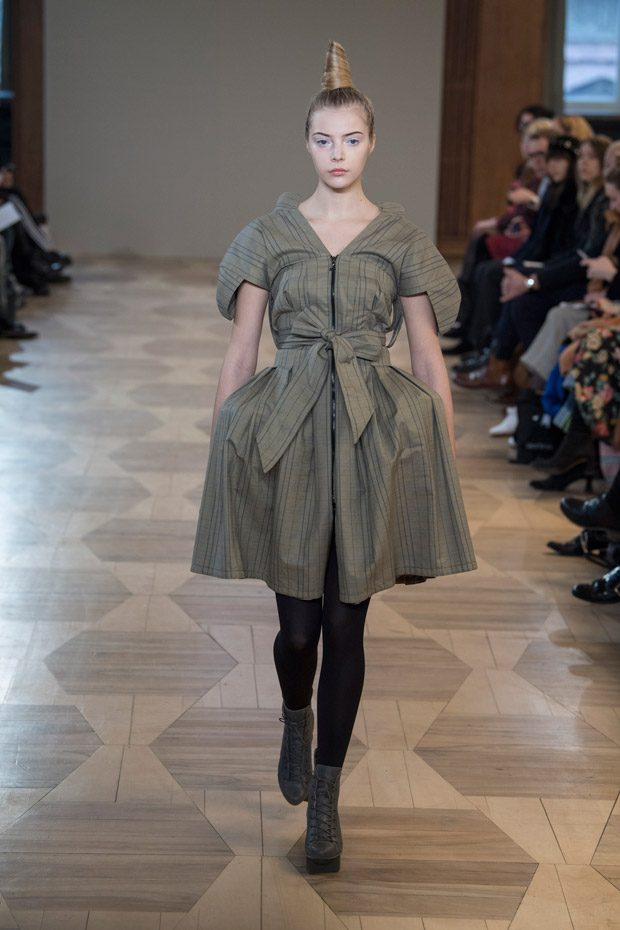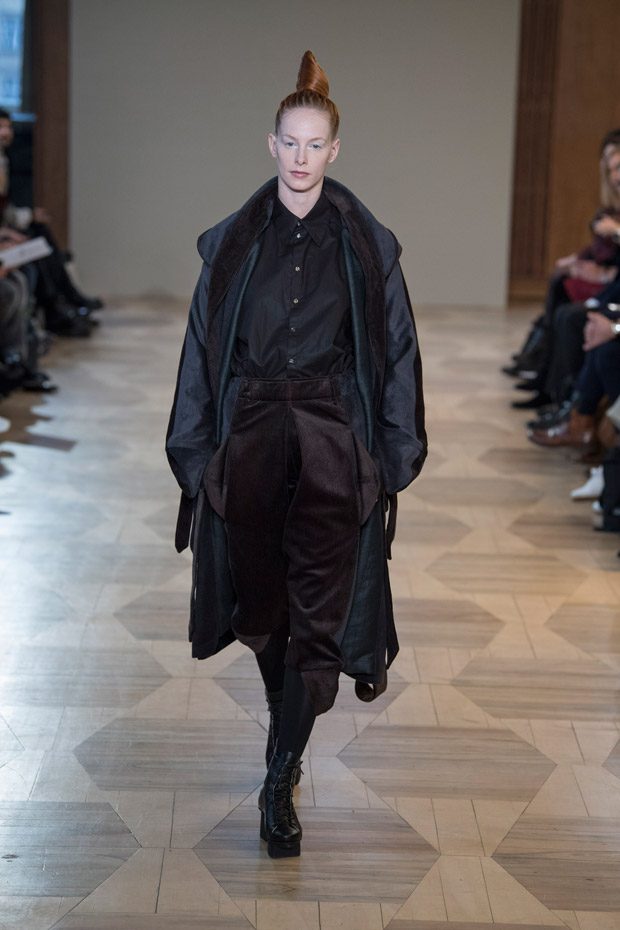 For this collection, Isabel Vollrath, who graduated from Berlin's renowned Weißensee School of Art, and afterwards has been awarded numerous times (the list of her awards is a quite long one, it includes various prices, such as the "Wilhelm Lorch Foundation Award" in 2010, the "Elsa- Neumann scholarship award" in the same year, the "Baltic Fashion Award" for "Best Innovative Visionary Concept" in 2011, the "Advancement Prize" from the "Berlin Chamber of Crafts" two years afterwards plus the "International Talent Support Award" in Trieste, Italy, in 2012), took her inspiration from a collaboration with Swedish textile artist Sofia Olander. Their friendship inspired the designer when creating this collection. If you observe the creations clearly, you will recognize Olanders' bright, eye- popping, simply striking elephant- prints that, on the one hand make those pieces appear slightly more dramatic, but also underline the shared love for those giants that are sadly often hunted and thus, need our help and protection urgently.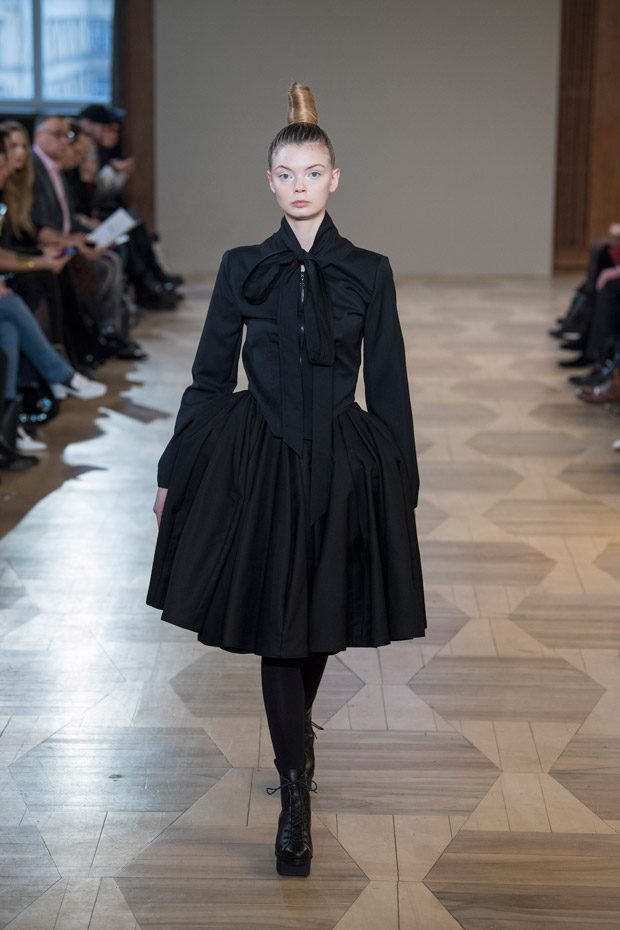 Swarovski crystal appliqués and headpieces that totally stood out, rounded off those looks and gave them an extra sparkling flair. In addition to abstract, structural shapes sharp as knifes, extraordinary garments and elaborate details made those looks extra special. The Berlin- based designer uses those techniques and fabrics to express incredibly interesting stories and even political statements through them. Worth of mentioning is also her love for poetic details, which clearly shone through in her mosaics, elegant embroidery, precious prints and pleatings. The range of colours of this collection was kept timeless, a lot of classy nuances were used various times, such as cognac and diamond black. Therefore the creations did not scream for attention, but way more convinced you due to their very special detail- awareness and the strong message behind. Strong, edgy ankle boots rounded off the outfits. The hair of the models was worn as a sassy hair knot, the make- up was kept rather natural. Hair accessoires embellished with Swarovski crystals made Isabel Vollraths' princesses sparkle and shine.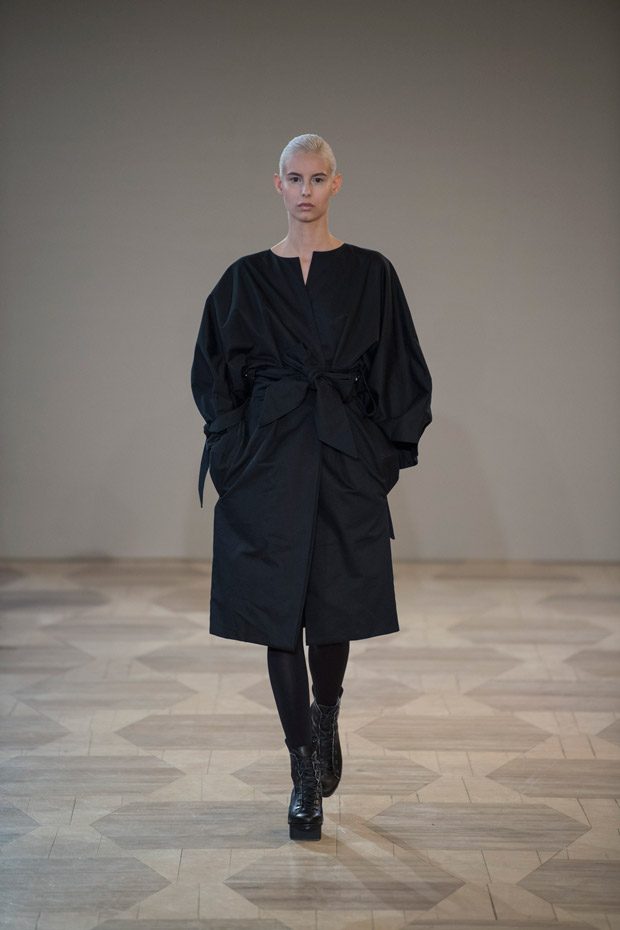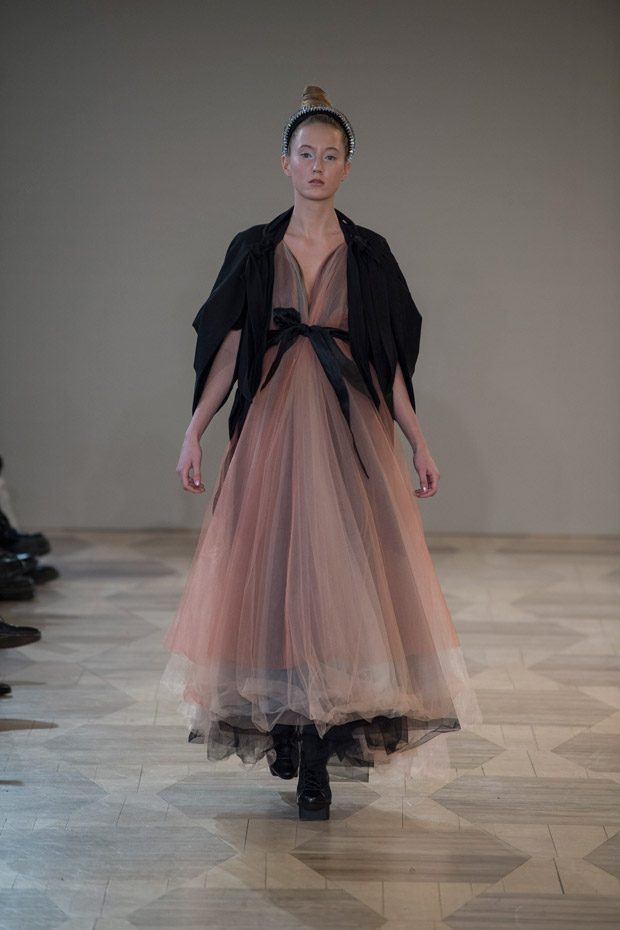 Photography by Stefan Knauer
Review by Sussan Zeck for D'SCENE Magazine