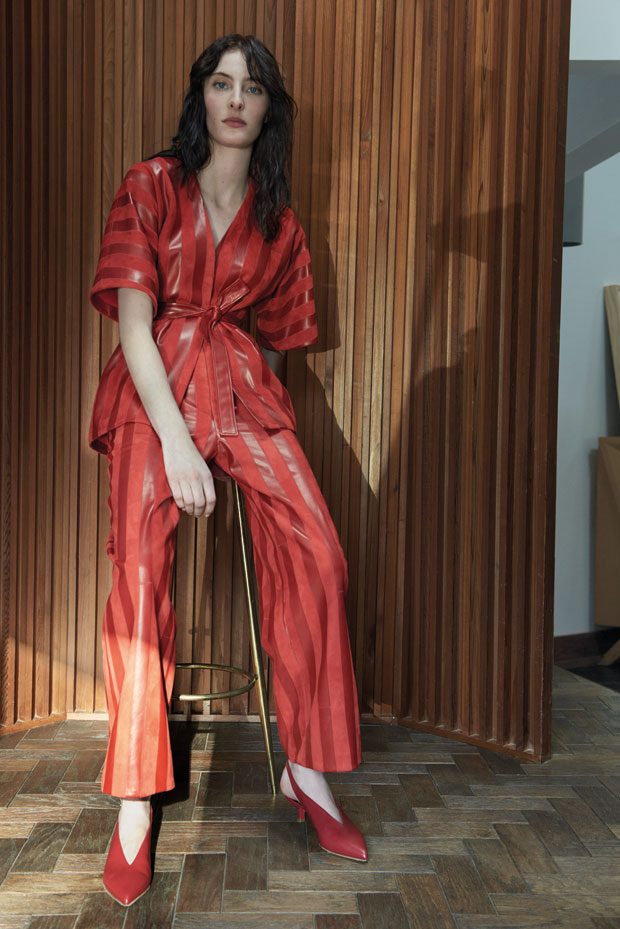 New York-based designer Alejandra Alonso Rojas takes us on a journey to Madrid's mountainous countryside with her Fall Winter 2018/19 collection.
Handcraft continues to remain at the forefront of Alejandra's designs and knitwear the backbone of her eponymous brand. Signature hand-knit pullovers, crafted in cashmere and wool, are updated this season, featuring Pointelle stitch patterns and elegant cables that serpentine gracefully across the garments. Hand-embroidered floral patterns appear on a variety of luxurious cardigans and crewnecks. A buttonless cardigan, with blouson sleeves, is crocheted with fine Japanese silk yarns in a delicate v-and-fan stitch pattern and paired with a supple leather obi belt. Particularly eye-catching, a sleeveless turtleneck and matching skirt are crocheted in v-and-fan stitching in a distinctive striping pattern composed of this season's rich color palette: blanco, malva, gris, rojo, and azul. Prints this season include a watercolor floral design, inspired by the distant memory of a vintage wallpaper that covered the walls of the countryside home of the designer's grandmother. Conceived in two colorways, a grey version invites the fantasy of a snowy, "whiteout" dreamscape, while a pink and blue version offers an optimistic and seasonless burst of color. The prints appear in billowy and asymmetrical dresses and long skirts, constructed of various pairings of satin, chiffon, and silk georgette, and in a casual, yet sophisticated hooded parka, which cinches perfectly at the waist, ever-so emphasizing the elongated, slouchy sleeves. The print also appears on Alejandra's signature, impeccably tailored silk suiting and in blousons featuring hand-smocking. – from AAR
Read our exclusive interview with the designer here.
Discover more after the jump: