While always on the lookout for up and coming architecture and design studios we come across BOUNDARY SPACE founded by Graeme Martinow and Thomas Furse-Roberts. This young studio is on top of its game by mixing disciplines such as architecture, interior design, art and graphics.
Our Editor KATARINA DJORIC sits down for exclusive interview with THOMAS FURSE-ROBERTS to talk about what inspired his career, the definition of Boundary Space and the often overlooked importance of the powder room.
Read the interview after the jump:
What is your background in architecture and interior design?
After briefly studying History of Art and a stint creating sets for touring theatre companies, I studied at the Oxford School of Architecture, becoming a Chartered Architect in 2008. I come from a family of Architects, Engineers and Artists, I grew up playing in studios and workshops, forming a very 'hands on' approach to design.
What is your passion for architecture?
Many of my contemporaries at Oxford focused on commercial buildings, but the house and home has always been a Central interest for myself, a home is the building where we spend most of our time, it forms our earliest memories, it's the setting for some of life's most important events and gives both joy and solace, given this it should be the architects prime focus.
What has inspired your career?
I grew up with dyslexia and in a house packed full of books there was one book that held a magical quality, "The House Book," by Terrance Conran. Unable to read the words, the sumptuous images covered a vast array of styles and methods of living. It transported me from rural Buckinghamshire and showed me just how varied and exciting design could be. Still to this day I can recall every page, its eclectic collection has had a lasting effect, demonstrating how broad a palette of interiors there is to explore.
What is Boundary Space's approach to design?
Our approach is perhaps best described by explaining our name. Although both Graeme and I are chartered Architects, we both hold the belief that some of the most interesting and creative endeavors happen in the 'Boundary Space' between disciplines. The formalising of boundaries between disciplines is often contrived, for instance work that sits in the 'boundary space' between art and design, architecture and sculpture is often the most innovative and interesting. We see no distinction between interiors and architecture and the two should work in sync.

How do you put this approach into practice?
We put the 'Boundary Space,' method into practice by working in the space between architecture and interior design, "if the architecture becomes dislocated from the interior design and the two are easily seen as by 'different hands' then the experience of the project is confusing, truly successful work is seamless, a single concept inside and out" Aside from carrying out our own interior design commissions, we also work with some of the worlds most well respected international interior and yacht designers. Whether we work in collaboration with another studio or alone, the goal is always the same; a single and coherent experience throughout.
Who are your clients? Typical clients?
Our typical clients understand and value the quality of both design and construction. They recognise the importance of continuity between interior design and architecture as well as craftsmanship and materials. Typically, we find our clients have a respect and enjoy the design process and become actively involved, many find the production of samples and appreciation of the 'craft' to be highly enjoyable.
How would you describe Boundary Space?
We listen to our clients and try to understand their needs and aim to find beautiful, functional and crafted solutions to give a sense of delight. Like ones clothes, a home projects our beliefs and outlook, we therefore aim for our designs to reflect our client's interests and personality.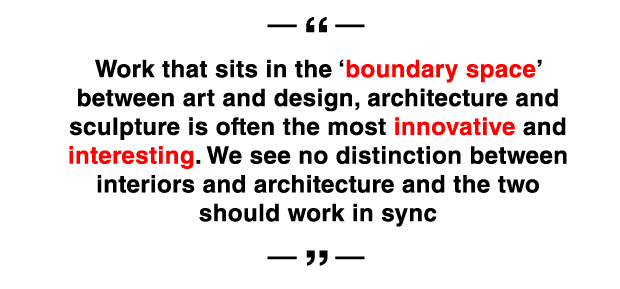 Do you have a favourite room out of a project?
Whilst each project has certain rooms which are either central or emblematic of the whole design and become favourites, there are a couple of rooms which I always have special affection for such as the guest toilet, yes, this room, often the smallest room in the house is often the most overlooked, regularly a decoration afterthought and yet it has a huge possibility to surprise and delight. If you are like me (and I hope many people are!) then a trip to any good restaurant inevitably means checking out the décor of the toilets. I think houseguests feel just the same, Restaurant designers have known for years to take advantage of that unique moment when we are alone with our thoughts. The change from public space to the most private space is the perfect pivot to make a statement with design. Whilst some people use this moment to show off their family photos or that photo of them greeting a minor Royal or a celebrity, we like to make these spaces a contrast to the design of the other rooms.
For example, whilst the house as a whole is light and airy, you can keep  the ceiling high but make the walls dark, the high space mutes dark walls and the darkness is alleviates by the oversize chandelier which gives a beautiful golden glow reflected in the antique and patinated mirror. When done right you can predict what you guest's conversation will be when they return from the 'powdering their nose', soon after all your guests will be checking it out.
For more of Boundary Space log on to their official web page www.boundaryspace.com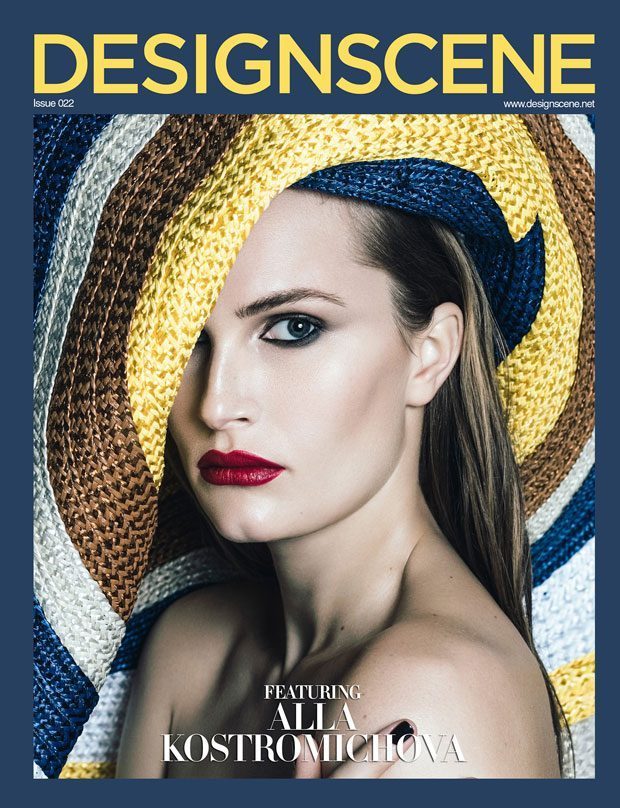 Get your copy of DESIGN SCENE in PRINT & $4.90 DIGITAL