Summer season is finally approaching, but what's the well-dressed woman wearing when on holiday? From runways to fashion shoots we are discussing the must have style tips.
Womenswear this summer is set to be influenced by the eighties, as evidenced by the catwalks at the major fashion shows this year. If Versace was thought to be the standout show of the Spring, with Donatella's breathtaking tribute to Gianni Versace's vision on the twentieth anniversary of his death reinventing the nineties, and the eighties. Indeed, everywhere the eighties were very much back, not just on catwalks in Milan. Denim on denim is even back – it's official! This is undoubtedly a hard look to pull off properly, but you can certainly have fun trying. The eighties were revisited in other ways, such as Off-White referencing Princess Diana, and Givenchy not being the only designer to play with puffball dresses, slouchy boots and boxy blouses. There's even a revival of eighties power dressing, though you may be relieved to hear that shoulder pads are strictly optional. Image above: Lilli B Poses for Arya Shirazi for DESIGN SCENE STYLE
Scroll down for a round up of the latest fashion trends coming this summer:
EMBRACE THE COMEBACK OF THE CHECK
You might think of checks as being strictly winter-only, but they're such a timeless look, we think they'll last till summer. Folksy ginghams are always great for the outdoors. Primary colours erupted, with tomato red everywhere from Preen to Victoria Beckham or Balenciaga's canary yellow dress, layered over a long-sleeved top in the same shade, with matching crocs. While many of us might associate bright colours with summer, pastels also came to the fore, delicate mauves and lemons being perfect to deflect the sunshine or loll about in the shade. You can have fun mixing and matching your own combo of shades. Image: Black and White Sea by Maria Eriksson for DESIGN SCENE STYLE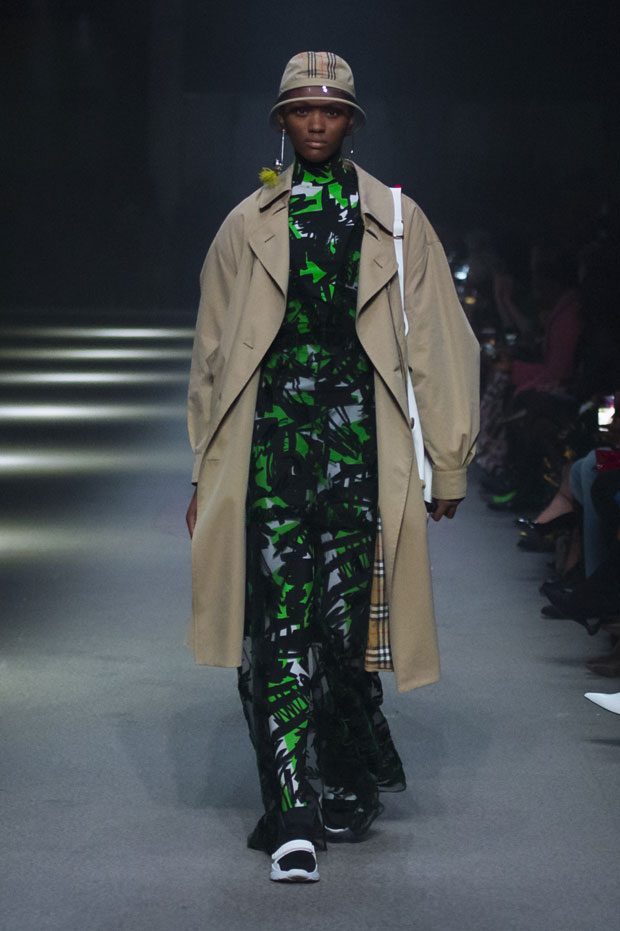 Burberry 2018 Collection
THE TRENCH COAT MANIA
Trench coats are on everybody's must have list this season, a piece so boldly connected to the British fashion house Burberry is now in various shades taking over every single fashion house. An always affordable solution is available also at high street shops such as Zara and H&M. Nevertheless, while on the expensive side, Burberry trench is treated as a timeless investment piece. The trench took the latest Burberry runway show catwalk as well earlier in February this year. The trend setting collection also marked the final collection of Burberry's Creative Director Christopher Bailey, see all the looks from the runway.
SHORTS A SUMMER NECESSITY
Shorts are a summer staple, but so often written off as being boring. This year's catwalks put that to rest, with the rise of what we can only call the Statement Short. Louis Vuitton went for a silky boxer style, Saint Laurent for high-waisted leathers, and – anew sartorial development – Shorts Suits. Tailoring this summer will extend to the knee – you heard it here first.
Supermodel Naomi Campbell returned as the face of VERSACE, in the Gianni Versace tribute campaign shot by the legendary fashion photographer Steven Meisel under Creative Directon of Donatella Versace – discover the full shoot featuring supermodels Christy Turlington , Gisele Bundchen and Kaia Gerber to name a few.
However, when on holiday, you may well prefer to chill on the beach. Marc Jacobs pushed beach wear with his wild mash-up of swirly prints, rainbow colours and even turbans. This look evolved the high fifties style of a Palm Beach socialite and pushed it to the max. Gucci presented Hawaiian-tropic print two-pieces teamed with glittery gloves and necklaces- that's quite a style statement. Swimwear demonstrated some intriguing directions at Miami Swim Week, with the front-tied bikini taking prime place. Tasselled swimsuits were big last summer and sure to continue with their popularity this season.
Fashion Photographer Steven Meisel was in charge of Marc Jacobs Spring Summer 2018 collection shoot as well, shining an enchanting spotlight on the eye-catching new designs.
As always, ladies are spoilt for choice when it comes to clothing options this summer. One great way to make up your mind and sort out your wardrobe could be with some lovely coupons for New Look, whose summer collection is inspired by the major looks on the catwalk, but at much more realistic prices.