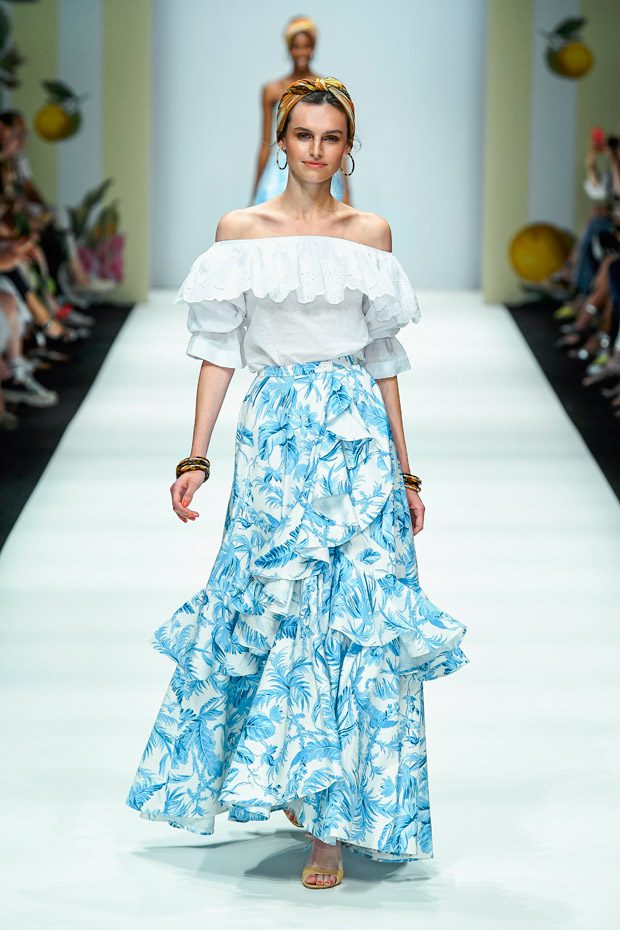 Austrian designer Lena Hoschek, a regular participant of Mercedes- Benz Fashion Week Berlin, presented her Spring Summer 2019 collection titled "Tutti frutti" on the 3rd of July 2018. This colourful collection full of bright, eye- popping hues, unique cuts and pattern (preferred fruit and tropical pattern) felt like a pure jollification and like a celebration of life in all its facets.
Continue below to read full review of Lena Hoschek's Spring Summer 2019 Collection by our Berlin Contributor SUSSAN ZECK: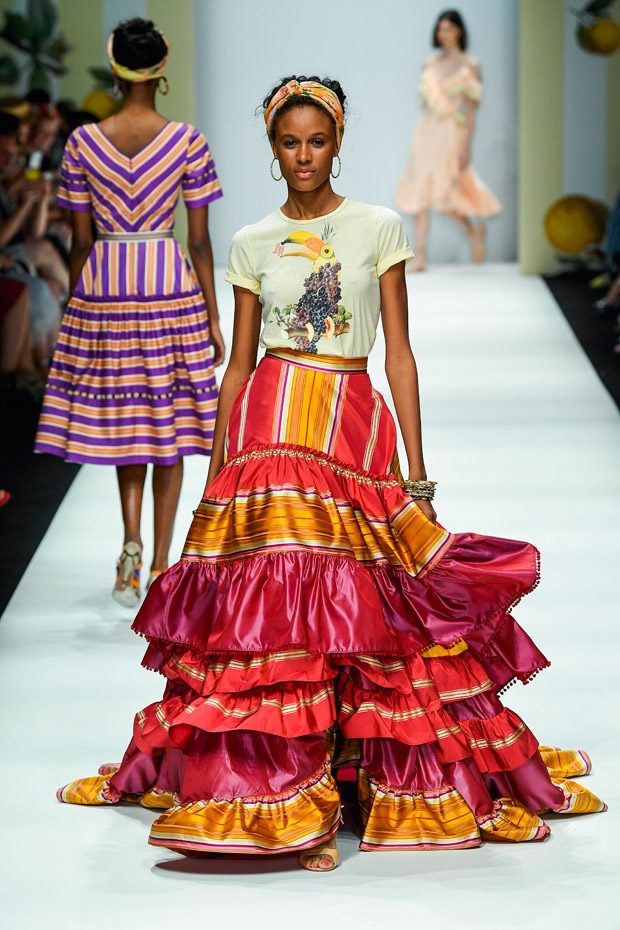 What first of all caught our attention and won our hearts were the vivid prints of this collection. That print choice felt like an energetic fruit cocktail: Lena Hoscheks' fruit market contained of pineapples that were sometimes even cut in halfs, grapes, bananas and papayas. Additionally, maritime stripes that were shown in multicoloured hues, played a central role. Palm leaves appeared in various creations as well. That pattern choice reminded us of the multicoloured striped houses of the river side houses of the portuguese Costa Nova. It was exactly this vivid mix and match of various inspirations that made those pieces so individual and adorable. When clearly observing those models, you feel like walking over a fruit market and can imagine its smells, the bustling atmosphere, the visual impressions- life with all its sensual pleasures.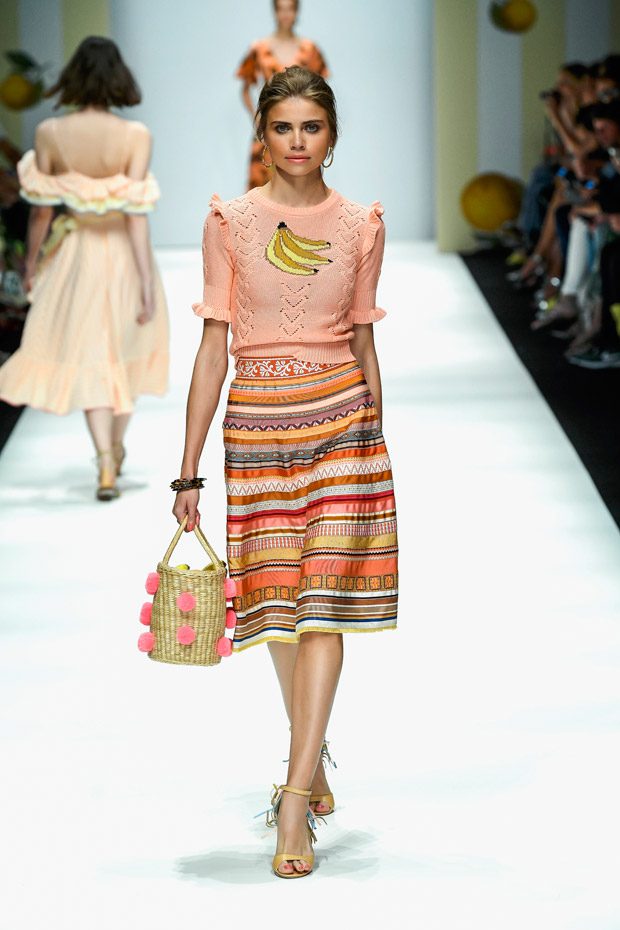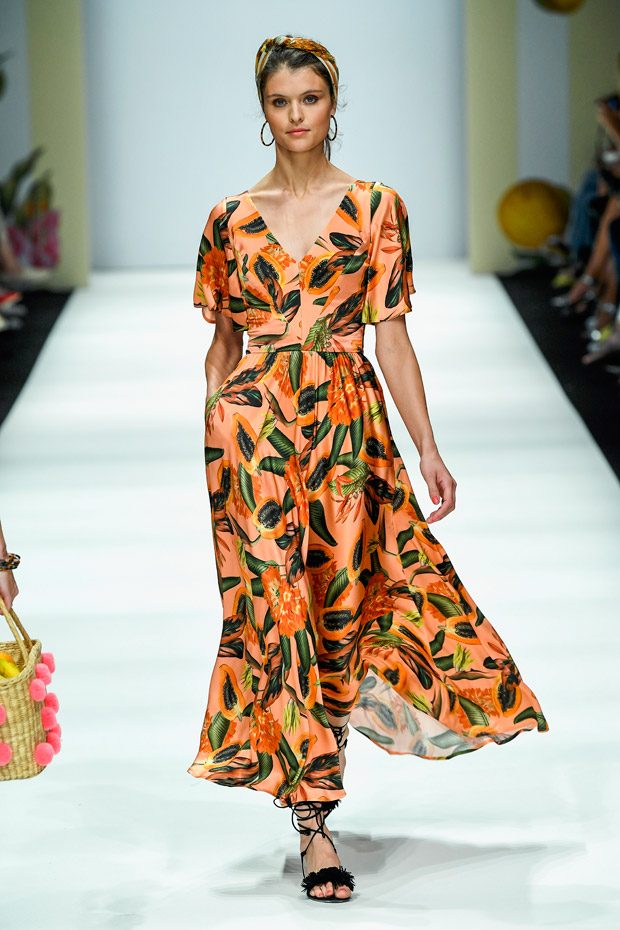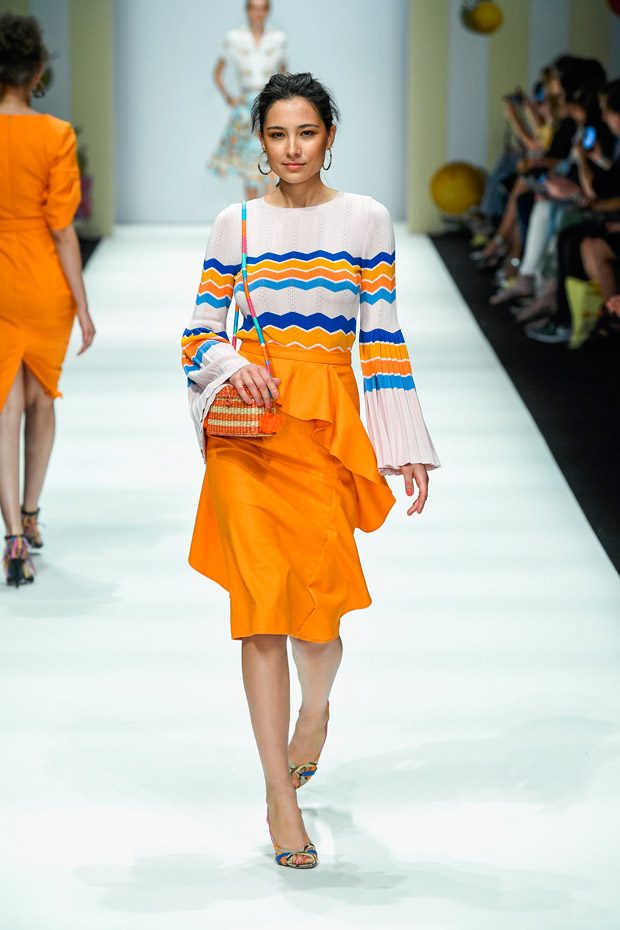 Another highlight of this collection was it playful character which clearly shone through in its creative cuts, the ruffles, flounces, trumpet sleeves, the creative play with various lengths, mermaid seams and fun cut- offs. What was used anew: a lot of A- lines, which are always a favourite of the Austrian designer. Thus, those joyful creations can be understood as a celebration to femininity in all its facets. Did we mention the creative play with various lengths so far? You find both long, floor- lengths dresses in this collection which are enduringly flattering the female silhouette, but also skirts which end over the knee.
But now let us have a look at what first of all caught our eyes: that eye- popping, bright fruit cocktail! Hot pink, lime, sunny yellow, tangerine, magenta and orange were repeatedly used and dominated the looks. Additionally, some delicate pastel colours were shown, such a sky blue and soft rose. But also some more restrained colours were used, for instance maritime blue and creme.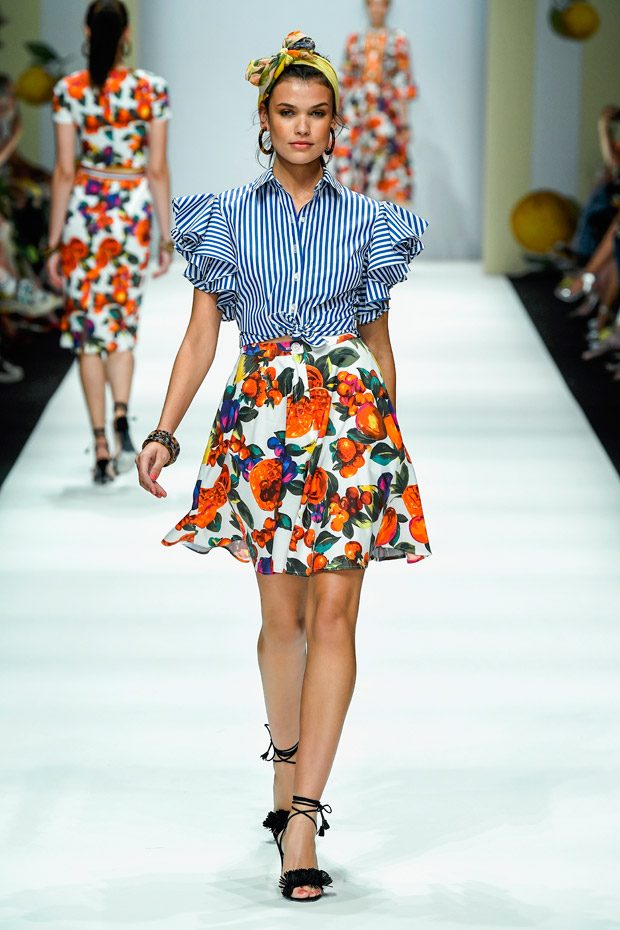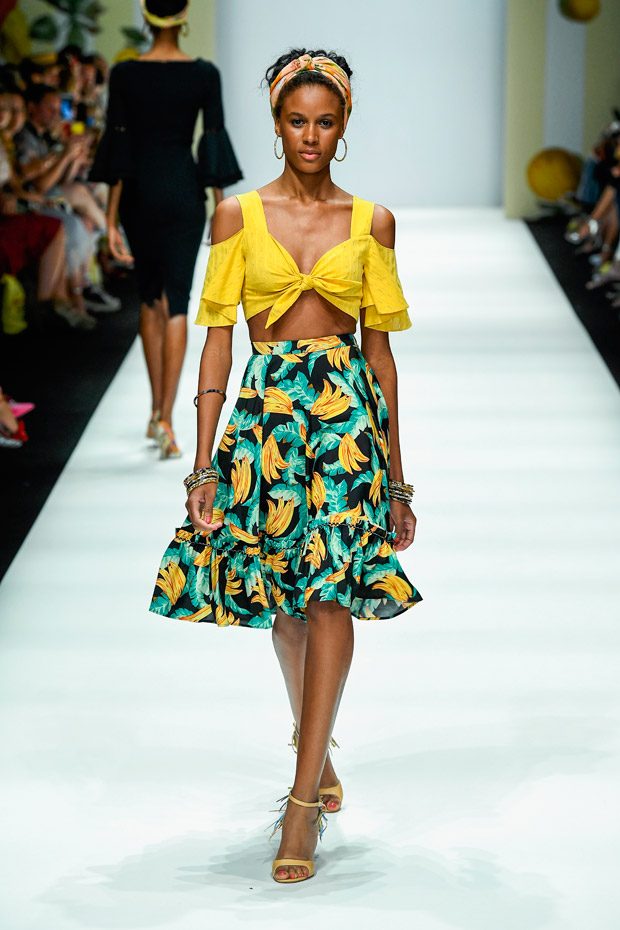 Accessory- wise, basket bags that were sometimes provided with pompoms, large creol earrings and hairbands rounded off the looks. The mood of the make- up? Sunkissed, with peachy cheeks! Summertime, and the living is easy…
The joyful, highly feminine character of this colourful, summery collection certainly stayed in mind.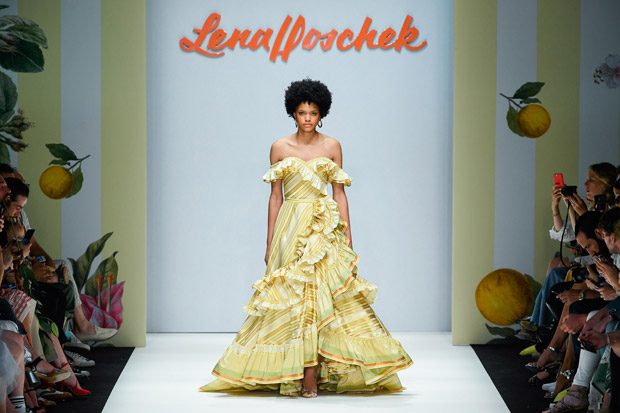 Images: Getty Images
Review by Sussan Zeck for D'SCENE Magazine