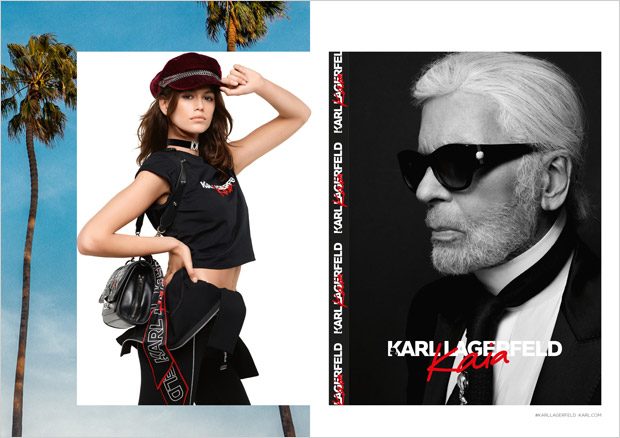 This compelling collection can be interpreted as a blending of Karl Lagerfeld's iconic, Parisian chic essentials plus Kaia's L.A. inspirations and impressions
Together with international model Kaia Gerber, who had her runway debut during New York Fashion Week SS18, where she walked a total of 18 shows, and is the daughter of '90s supermodel Cindy Crawford, Karl Lagerfeld announces a common collection: this collection, which is the first design collaboration of Karl Lagerfeld and the international model, who quickly became an "it girl" and favourite of international designers, includes a wide range of pieces: ready- to- wear, accessories, footwear, sunglasses and jewellery. As a result, the styles are a vivid mix and match of Lagerfeld's iconic essentials and Kaia's confident, youthful, contemporary visions and L.A. inspirations.
All pieces of this collection can be worn at any age and always stay utterly timeless and sophisticated. Monochrome nuances dominate this collection. In addition to this collection, "Karl Lagerfeld x Kaia" is supported by a striking campaign: it shows both Karl Lagerfeld and the young model. This campaign underlines the theme of this collection, from "Paris to L.A.". It was photographed by Karl Lagerfeld himself in his studio in Saint- Germain-des-Pres in Paris.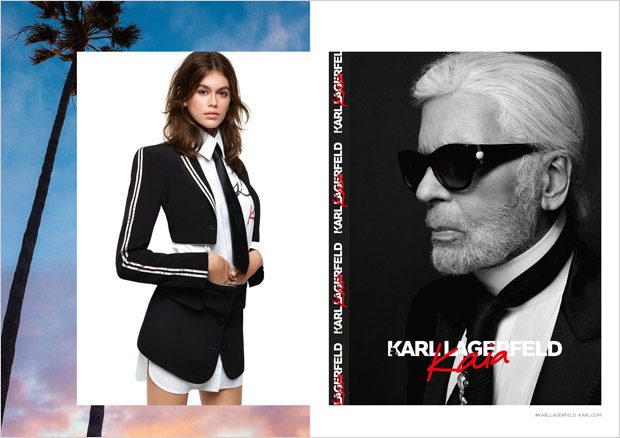 "I have loved being a part of the creative process and working with Karl is a dream," declared Kaia Gerber. "I've always thought that he's a genius, so it's amazing that he's shown me some of his trade. It has given me a new appreciation for how hard designers work, and how much creativity and thought goes into every collection."
On the other hand, the star designer described this collaboration with the following words: "Kaia has a youthful, independent attitude that is inspiring," said Karl Lagerfeld. The designs encourage mixing-and-matching, with a theme of "Paris to L.A." There is a strong athleisure aesthetic with oversized zip pulls, sporty stripes and large logos on puffer jackets, sweats and tees. Rich fabrics like silk and velvet are combined with metallic finishes and distinct "KARL LAGERFELD X KAIA" branding.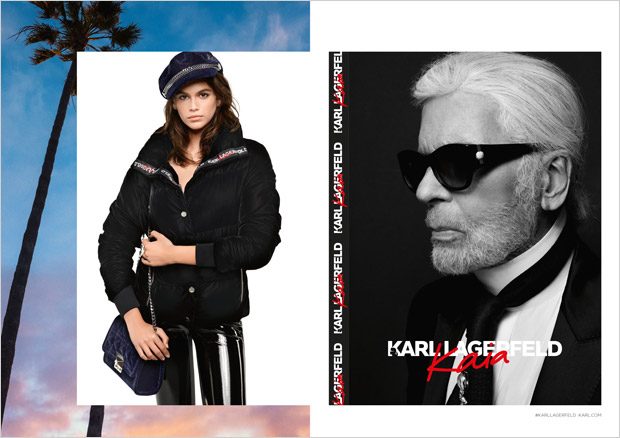 "It has been amazing to watch Kaia become an integral part of the KARL LAGERFELD family, throughout the months we've worked together on this collaboration," stated Pier Paolo Righi, CEO of KARL LAGERFELD. "Our vision was to blend KARL's Parisian DNA with Kaia's Malibu style, bringing both of their worlds together. We look forward to inspiring our fashion audience with this unique collaboration."
For those of you who are wondering where to buy the precious pieces of this collection now: from September 14 on it will be available globally through premium wholesalers and online retailers- such as Selfridges, Excelsior, Luisa Via Roma, KaDeWe, Jemoli and La Rinascente, to name only a few. It can, of course, also be purchased in Karl Lagerfeld stores worldwide. An integrated strategy including online and digital platforms, social media, press, marketing and influencer collaborations rounds off its launch.
Review by Sussan Zeck for D'SCENE Magazine