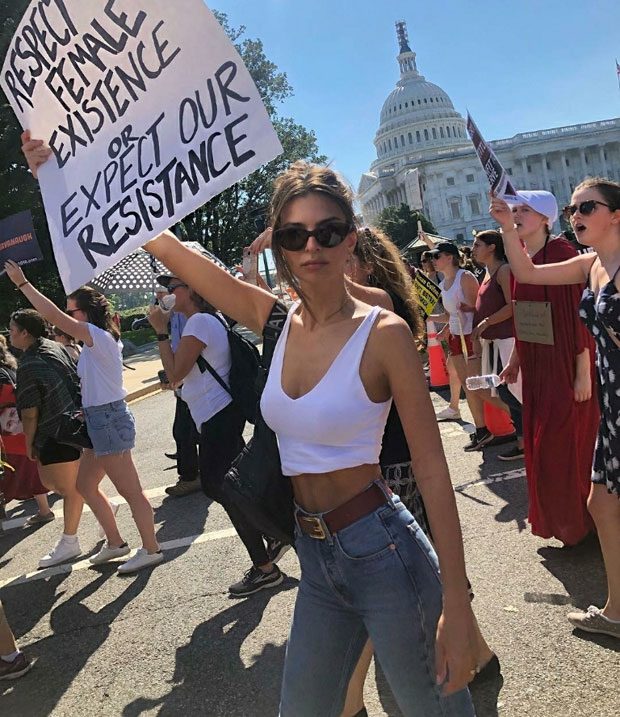 EMRATA talks Single-Payer Healthcare for VOGUE Magazine in the latest video created by an award winning by director Vincent Peone. Emily Ratajowski who was recently arrested for protesting the Supreme Court nomination of Brett Kavanaugh, never shies away from voicing her opinion and is here to explain the very complicated health care situation in the United States. [Image above – Emily Ratajkowski in Washington DC during the Brett Kavanaugh Supreme Court nomination protests –  photo ©@emrata ]
The video is inspired by the famed bathtub Margot Robbie's mortgage crisis talk in the The Big Short movie. Vincent Peone's film stars Ratajkowski in a swimsuit giving viewers an easy to understand primer on single-payer healthcare. The script was created by Vogue culture writer Bridget Read with Ratajowski adding her own adlibs to the monologue. Peone and his team worked on delivering this important message with Emrata through a dose of humour while at the same time appealing to the voters in the November midterm election.
Vincent Peone who regularly collaborates with CondéNast, Peone has worked on original films featuring celebs such as Mindy Kaling, Allison Williams, Ben Stiller and Owen Wilson. The director was recently awarded his sixth Webby Award for his VOGUE short film starring Merly Streep and VOGUE Editor In Chief Anna Wintour, who for the first time met on camera since Streep's legendary role in the Devil Wears Prada. Peone is also in charge of multiple 73 Questions videos, a true viral feast coming from the Vogue team.
Scroll down for the video 'cause Emrata HAS SOMETHING TO TELL YOU:
Vogue Credit List
Visual Director: Emily Rosser
Visual Editor: Thomas Wolfe
Supervising Producer: Kimberly Arms
Senior Producer: Dayna Camey
Associate Producer: Marina Weisburg
Producer: Anna Page Nadin
Producer: Rebecca Forteau
Production Manager: Jen Santos
Culture Writer: Bridget Read
Fashion Asst.: Alice Bell
Production Company: ArtClass
Director: Vincent Peone
Executive Producer: Geno Imbriale
Producer: ROan Bibby
DP: Rory Mulhere
Art Director: Taylor Home
Hair: Shingo Shibata
Makeup: Courtney Perkins
Manicure: Megumi Yamamoto