Coco wears total look VERSACE for DSCENE ISSUE 10 cover
Recognized as the queen of pose, tech savvy supermodel, and philanthropic mentor, Coco Rocha talks about her newest projects including the biggest one of all: being a mother. Her humble attitude paired with her desire to nurture the careers of aspiring models is what sets her apart from the rest. Coco's ability to evolve and adapt to the demands of the industry, while still keeping it real, is what truly makes her our jack-of-all-trades.
Since the last time I interviewed you in 2013, you've accomplished so much including, but not limited to, the publishing of Study of Pose, becoming owner and director of Nomad Management, and now spearheading your own model camp. There is a common thread: guiding and teaching.
Continue after the jump for Contributing Writer SHERI CHIU's interview with COCO ROCHA and our cover story photographed by IGOR CVORO with styling from DSCENE Fashion Director CHRISTOPHER MAUL: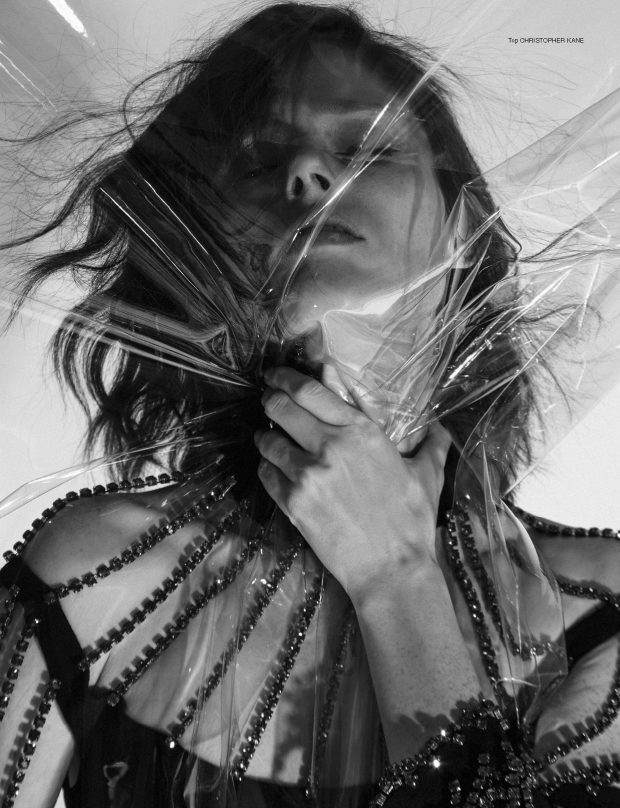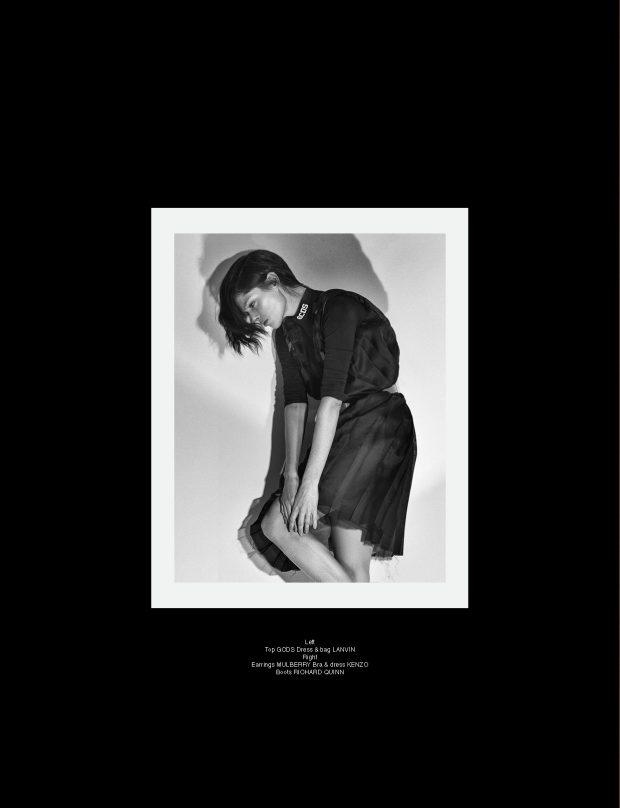 Coco wears earrings Mulberry, dress and bra Kenzo, boots Richard Quinn
How did your passion for mentoring aspiring models begin?
As a young model getting started, there didn't seem to be anyone that I could reach out to for advice. There were no older models reaching out to lend me a hand at the time. I'm not sure if that's because we as models are led to believe that the next group of models are coming to steal your jobs, but models just generally never looked out for each other. After a few years I sought out mentors like Iman and Cindy Crawford, women I respected and could talk to about the things I was going through, that they went through decades earlier. I'm so thankful that they were always willing to give me advice. After 15 years in this industry I'm now in a position to reach out to a new generation and help these girls and boys to have great careers and enjoy this industry. I also want to help guide them to avoid the negativity and the pitfalls. Being an agency owner helps me to fill that role for our Nomad talent, and now with my Coco Rocha Model Camp I'm able to be a mentor to models from all over the world. It really is a blessing and a coming full circle for me in this industry.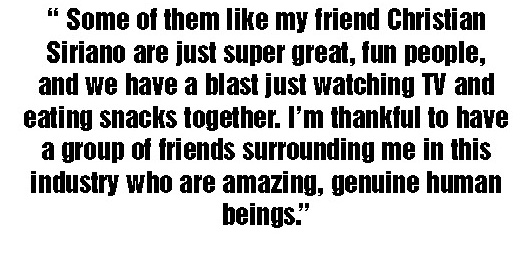 You are more than just a model: you are a businesswoman and a true artist who understands her body. You help other girls understand their own as well. How is model camp going?
It's great! When we put it together we had no idea if it would be a success, it was sort of like that movie Field Of Dreams "If you build it, they will come". We renovated this giant estate in upstate New York with the idea I could host a dozen models at a time and really pour into them all the knowledge I have over a few intense days. I guess I'm pleasantly surprised that the camp has been a huge success. We've already had eight camps and we have 10 more planned for this coming spring. It's funny, it all started with just one Instagram post of me saying, "What would you guys think about a model camp?" and it has now turned into a full-fledged business. Even on set, photographers and industry insiders are asking me about it when I work. They all want to come check it out and are all following the insta stories! It's been fascinating how people have acknowledged and embraced it.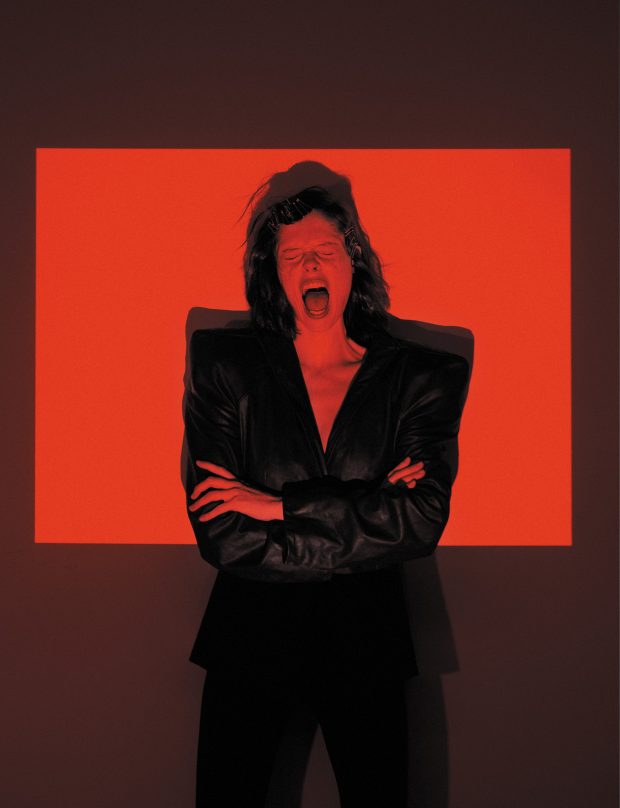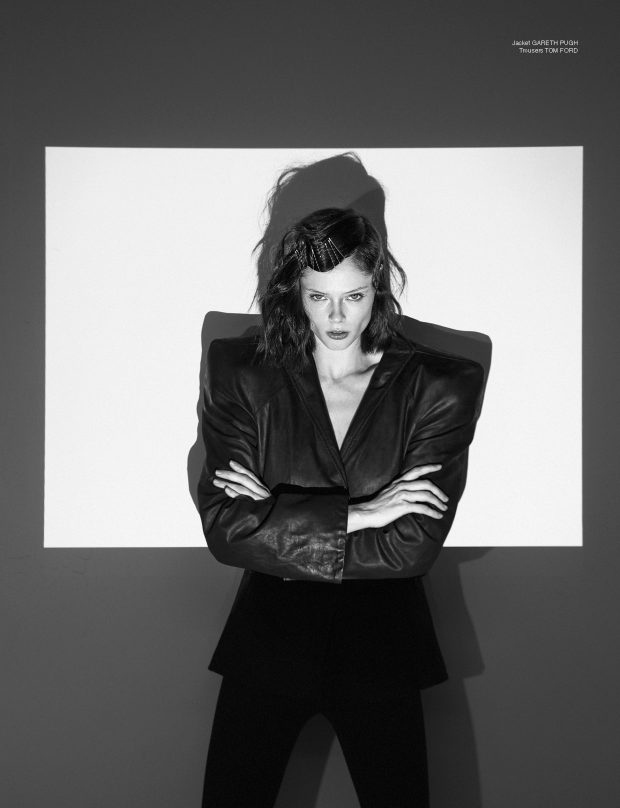 Coco wearing trousers from Tom Ford and Jacket from Gareth Pugh
At the camp the girls are of course learning how to be a model and the art of posing, but we are also getting into all the questions they have about accounting, contracts, agencies, morality and beyond. All the topics that are too often ignored until things go wrong. It has been so nice to see how the models leave with a real sense of confidence that they've never had before. A lot of them will later write posts on their Instagram that they're new women or that they have had this new beginning. They're all so positive. I'm not there telling them they're all going to be superstars, but I tell them the do's and don'ts, the good and bad of the industry. They leave with a well grounded idea of the industry and how it all works and hopefully the skill set needed to succeed if they are presented with the right opportunities. It's always easier doing anything in life if you understand the floor plan. I feel strongly it will be a lot easier for these girls to go about it and win this game. The girls leave the camp feeling super positive, and many of the girls become friends. Its funny because I've lived in model apartments, living with other models, and I've never seen girls become friends so fast. There is a real feeling of sisterhood and I think these girls leave as both better models and better people.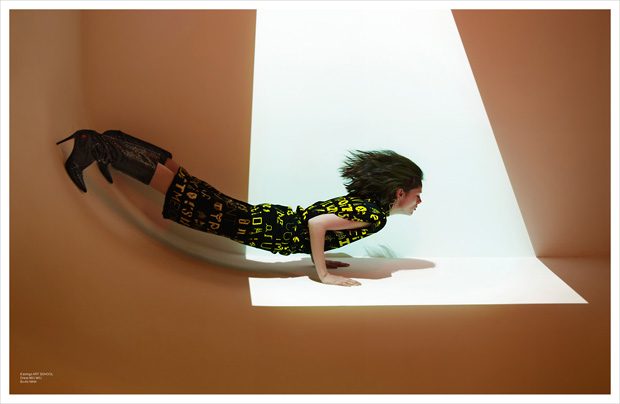 Coco wearing boots Nina, dress Miu Miu and earrings Art School
That's great you give these girls a realistic approach, yet you're still this guiding force. Why does Nomad focus particularly on Asia for model placement opportunities?Nomad had this extensive network established for many years with Asian markets. We have seen the growth and potential of models from Asia from the start. Personally, I began my career early on in Taipei and Singapore and I lived out there. We continue to explore the Asian market and expand to emerging markets out there. Some people wonder why we picked Vietnam as our Asian satellite office. They were sort of this last untouched part of Asia that didn't really have great model representation and we saw a need there. On our board in Miami and LA you will see a lot of diversity, we have a lot of Asian girls and girls going to Asia. One of of our co-owners Damon Rutland was also a male model years ago and went to Asia a lot. So its something we are familiar with and we've always had a great community that we work out there.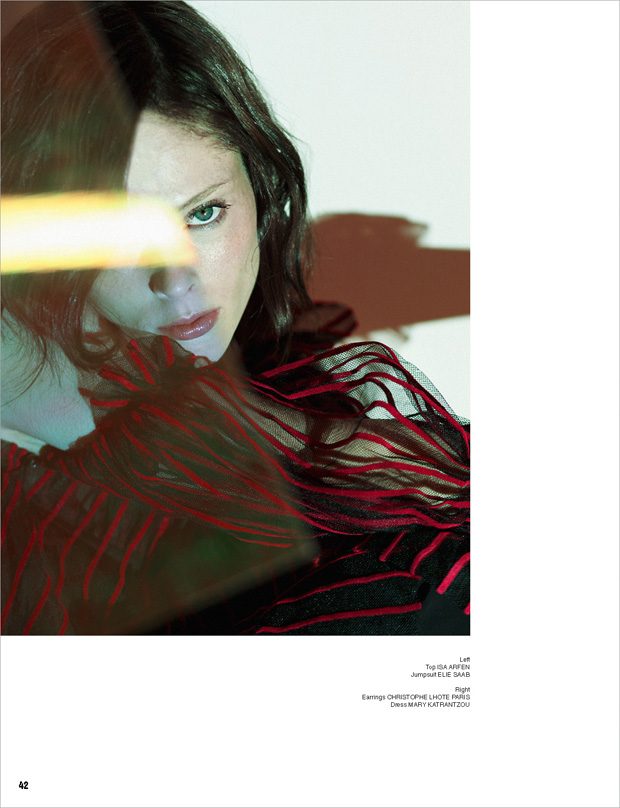 Earring Christophe Lotte Paris, Dress Mary Katrantzou
In addition to your first shoot with Steven Meisel and your catwalks for Jean Paul Gaultier, what have been some other memorable highlights of your career more recently?
I remember when we passed laws protecting underage models in 2013 that was a huge sense of accomplishment. The law states common sense things like these minor models only work certain hours, that they need chaperones and that 15 percent of their earnings go to trust funds. For some reason there was this weird loophole that underage models were not protected, even in New York, like an underage actor, dancer, singer, or performer was. I'm so proud of being able to help close that loophole for a new generation. That, for sure, was a highlight.
You did mention Gaultier, and actually at the last Gaultier couture show I got to walk down the runway with Ioni and I was pregnant with Iver. That will go down on the top of my list of runway shows. Even though I was galloping down with a 2-year-old, it was very special. Ioni still remembers it and talks about it to this day. Whenever she is near a runway or in a photo shoot, she assumes she is on it, always.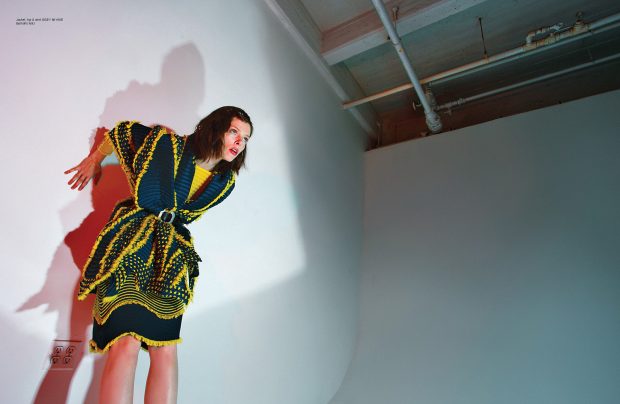 Jacket top and skirt Iseey Miyake, belt Miu Miu
I guess life is her runway now!
Exactly!
That actually leads to my next question: with whom have you created loyal and lasting relationships in the industry?
That's a good one. I think of course Gaultier who time and again has given me amazing experiences in fashion or he just calls and says "I'm in town, let's hang out." He, to me, is just one of the most precious human beings, and still so humble and kind. He, along with the likes of Steven Meisel, Pat McGrath, Anna Wintour, Zac Posen, Karl Lagerfeld, and others have had a huge impact on my career. Some of them like my friend Christian Siriano are just super great, fun people, and we have a blast just watching TV and eating snacks together. I'm thankful to have a group of friends surrounding me in this industry who are amazing, genuine human beings.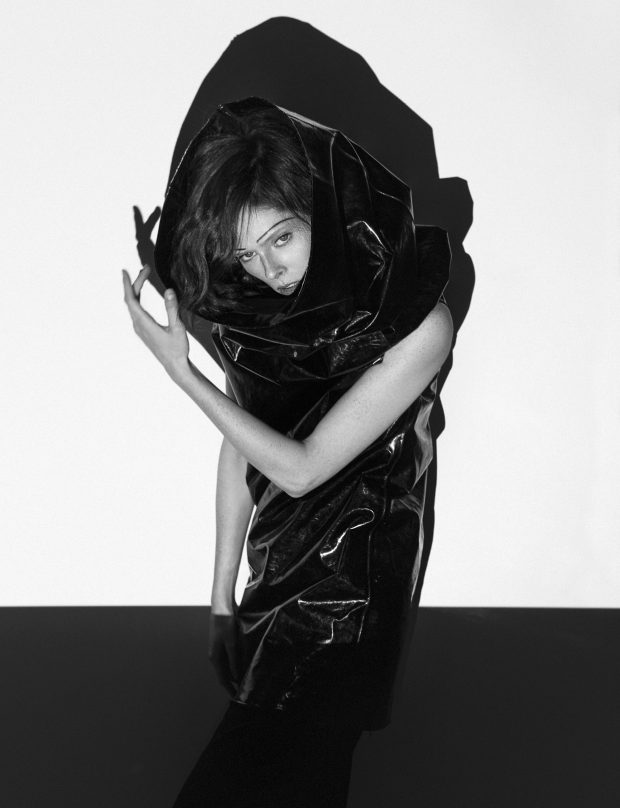 Dress Gareth Pugh trousers Emporio Armani
How has modeling changed for you now that you've taken on different roles as a business owner, teacher, and most importantly a mother?
The worlds definitely collide. Being a mother is my first priority, but I bring my kids to work with me, we travel together, so it all is just part of our life together. I feel more confident in my work these days and I would say age is the important factor there: growing up in this industry, realizing what I want out of it, what I know I can get out of it, and the voice have is something I value now. I do think it's hilarious now that I'm 30, while I don't think of myself as old, I'm often one of the "older" ones on set, whereas I always remember being one of the youngest. I almost feel like I'm the mom half the time on set, which is great because it translates perfectly for me.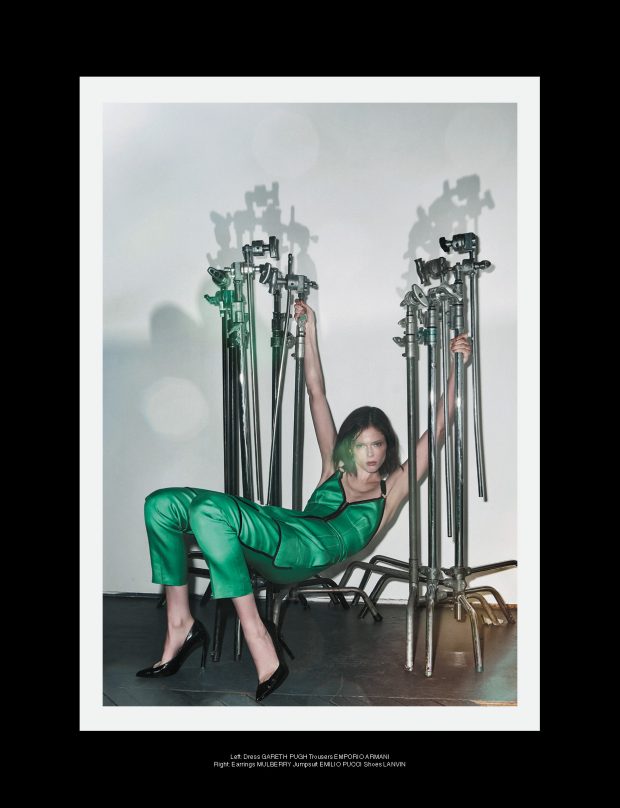 Coco wears jumpsuit Emilio Pucci, shoes Lanvin
Your husband James wears many hats too: an artist, a manager, and a father. How is it to work with your partner?
For us its the best. It has been 8 years and we wouldn't have it any other way. Sometimes people say "I could never do that." But it honestly doesn't mean you have a better relationship because you can or can't work together. It works for us. If we do fight it's rarely about work, it's more like "Why's the toilet seat up?" or "Why's your closet a mess?" It's rarely about a decision we're making in work because we really have the same brain when we work together. That's why it works perfectly. It's also great because we can make it a family affair. For example, we're leaving for Canada for work tomorrow. He travels with me as well. That means the children can usually come too. We are beyond thankful that we can work together and spend our life together in this way.
The hard part is the end of the day. It's hard to shut off work mode at the end of the day because it is part of our DNA, but we love it! It's not a hardship to be talking about work, because work is fun.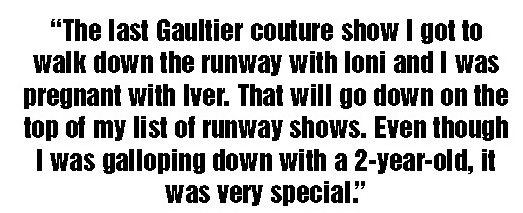 If you are passionate about your craft, it's not really work at the end of the day. What have you learned about yourself from all these projects?
Looking at my 15-year-old self when I started modeling, I wouldn't say I wasn't a passionate person and I certainly didn't have goals like I do now. At 15 it was like, "Oh I'm just going to try this modeling thing" There wasn't a drive to become a businesswoman and build brands. Now seeing what we have accomplished it amazes me: the growth of what you can become and what you can do in a matter of a few years. Just realizing that I do have it in me to get things done. PS. It's not just me. It's takes a team of people to get things done. The team I have around me and that I surround myself with is the best team out there, I think. James is me, and I am him. We need to work together in order to get all the stuff we need to do done. I don't like seeing only my name on certain things because I know for a fact it was also him, as well as the rest of the team. You know, the grandmas and grandpas taking care of the kids on the nights that we work, they're part of the team too. And it just can't be done unless we have all those people and those pieces. I do try to often acknowledge that it's not just me. It is all of us that have accomplished this together.
Total look Versace
Spoken like a true producer. You seem to really understand all aspects of the industry. Does it come from wearing all these hats?
Over the years I've been fascinated with what everyone does in this industry. I've dabbled in photography. I've worked for magazine editors. I've worked on the makeup side; I've worked on the hair side. I've dabbled in everything just to see what it is, to know what it feels like, or how the job needs to be done. I also just paid attention a lot. If you'd ask me to talk about another industry, I would not know where to start. But in fashion– it's been 15 or 16 years of constantly paying attention, you have to absorb something, right?
What are some of your skills that you take and carry over from each role?
I think that being a mother is fundamentally mentoring and taking care of people. You have to love it. You're molding this little person into becoming the future who-knows-what. The same goes into a being a part owner of Nomad as well as the model camp. We are molding; we are mentoring. We're hopefully helping building and furthering this person's career or personal goals for the better. Some of these girls will go back and say "I don't want to model. I want to be an agent or a photographer and I'm passionate about it because of the model camp." I don't expect everyone to go back and model for the rest of their lives, but they will be able to take what they learn and to apply it to into any field. I think that comes from a mothering side. Even before I was a mom, I've always wanted to be the big sister to the models around me and coming up. Now I can say I'm mom to the models.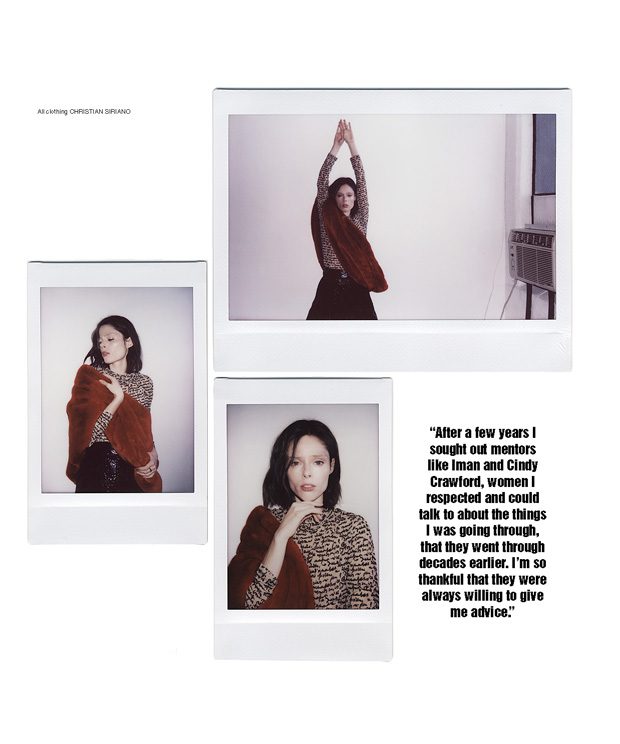 Total look Christian Siriano
Do you think your desire to help comes from your parents or the environment you were brought up in?
I grew up with my mom in Vancouver. My dad lived in Toronto, and I went back and forth in seeing them. I think my desire to help came from when I started this career. There was no one to reach out to, and not in a negative way. We didn't have social media to reach out to people. I think it stemmed from that, and then realizing I could help out younger models. As a model, you're going to be replaced. Whether you like it or not, you're going to be aged out, so why don't you help the careers of the younger generation who will hopefully help the next generation? I think it's important to note that as women we are not in competition with each other, that's just a myth. We are all in this together.
You touched on social media. When I last interviewed you, you were really one of the first supermodels to harness social media as a tool to brand yourself and connect to your audience. How is it now to raise your children in the digital age?
It's funny, I really was one of the first models to open up this world to people on social media and I remember there being a huge pushback from the industry when I did. They thought I was "ruining the fantasy". Now there is no fashion industry without social media, everything has changed. I see people who get a little worried or anxious about technology and children. The last generation always gets a little worried about the next generations. Personally, I love many aspects of being in the digital era for children. My daughter already sat down for an hour and worked on an educational app on her iPad. This kid is way smarter than I was at three. I think about the songs she's listening to thanks to being able to just say "Alexa! Play this" She can easily look up a word, read a poem, any of that. Yes, its not good to be watching YouTube videos or watching cartoons non-stop but to me its about us as parents educating ourselves on what is out there that is going to mold that little brain. I think tech can be fabulous for that.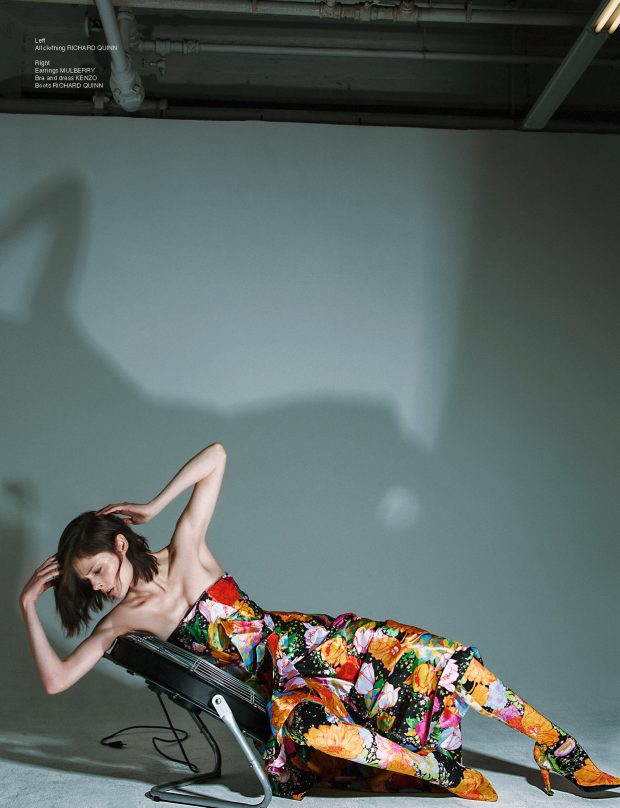 Total look Richard Quinn
Knowledge literally at your fingertips.
Don't forget that we have it there, too. We may just be browsing social media non-stop, but I mean, recipes! How easy I can now be a great chef for my children and know what I'm feeding them with the click of a button, whereas I remember my mom was constantly looking at these cards and trying to find a recipe that she had written down from a friend. It's changed completely. Ioni and I cooked muffins and made homemade soup last night. She's helping me out. We were looking at the recipe together on my phone. I love tech and I have no problem with her sitting down watching a movie on my phone. I did say I was not going to be that mom where you'd be at a restaurant and you see these kids watching a film while you eat. She doesn't do it always, but say it's a dinner after we'd been out shooting in Paris and we're out eating every night. Let her watch a video and let mommy and daddy relax for a minute. I have no problem with that.

How do you see the future of modeling?
I think that we're going to notice a change pretty soon again. Modeling is like this big giant circle. We had supermodels in the 80s, and we most likely thought that would never go away and that it would continue, yet it ended. Then came my generation and we were the backlash to the supermodels. You didn't know our faces or our names. We all looked alike, we walked the same, it was not a lot about the models. It was all about the clothes. Thankfully social media arrived and people started to take notice of models again, that's how I stuck around. Now I would say you could argue that we do have supermodels back again in the form of the Gigis and Bellas. But fashion moves on. I think we are in for another wave of models being nameless and replaceable sadly. People say, "Well that's impossible. Social media is around, therefore people have to take notice of the models." but TV was around and models still somehow disappeared in the early 2000s. I just think that's how it goes. People will lose interest in the models on the runway and designers may even get a little worried about how it's all about the models and not about their clothes, and we may shuffle back to how it was. But one thing is for sure. If you don't like how the modeling industry is, just wait, it will always change.
Dress Kenzo, boots Richard Quinn
It's clear that taking on all your projects has made you stay in the game and stay relevant. Which project will you tackle next?
It's become a real problem that James and I will have a free afternoon and sit down over a glass of wine and be like, "You know what we should do? Lets do this and take over the world!" We are constantly trying new ideas. Right now, we're just keeping up with these Model Camps which have become such a big thing in of itself. We may expand it. As of now we're trying to make sure this is a well-oiled machine and this continues because it seems like people want this to continue. We'll see from there. For sure this industry has done a lot for me, and I love it. I love the creativity of the industry. Yes, there have been times where I got frustrated with certain things, but I tried to make things better where I could, like with the laws, all of that is important to me. My future is still in this industry I think, just always expanding.
Keep up with Coco Rocha on her Instagram @cocorocha
Photographer IGOR CVORO
Fashion Director CHRISTOPHER MAUL
Hair Stylist JEROME CULTRERA at L'Atelier NYC
Makeup Artist STEVEN CANAVAN at L'Atelier NYC
Photo Assistant PHOEBE CHEONG
Fashion Assistants CHRISTOPHER DANIELS, ISMELKA GOMEZ and DAMIEN VAUGHAN
SHIPPEE
Producer and Interview by SHERI CHIU at See Management
Prop Stylist TIM FERRO at Wilhelmina Artists
Model COCO ROCHA at Nomad Management
Location Wrythe Studio, Brooklyn NYC – www.wrythestudio.com
Order your copy of DSCENE Issue 10 with Coco.