Designers Eden Loweth and Tom Barratt presented Art School's Fall Winter 2019.20 Volume Two Collection, inspired by the idea of inclusivity, on January 5th 2019, during the ongoing London Fashion Week Men's. Collection explores the body, whether cis-gendered, trans or non-binary, with designs as fluid as the body of people who surround them.
"In their debut standalone show at London Fashion Week Men's, ART SCHOOL deliver tailored jackets with both boxy and sculpted silhouettes. The new dagger dress comes in slick black silk and a fierce pink jacquard, cut on the bias, warping and welting the fabric to fall elegantly on anybody.
During construction of the gold leather safari suit, the repurposed fabric experiences five hand-crafted processes; from pleating to foiling to moulding. Hand-crocheted lace forms intentional black holes on the floor length alpaca merino wool gown, created over a period of seven weeks by Paula Loweth.
ART SCHOOL continue their collaboration with Gina Shoes; producing cobalt blue laced boots and heels lined with acid pink marabou feathers. Karen Binns consults, referencing her longtime collaborator Tori Amos, looking to the imagery taken by Cindy Palmano of the songstress.
Shiori Takahashi's hair sculptures encompass found articles interwoven with human hair. Created from disregarded, repurposed lost property from queer safe spaces across London, each work comes with a label indicating the area from which it was inspired.
Swarovski jewellery in jewel tones have been created with queer artist Dominic Myatt. As Dominic creates his own works, the jewels take on excess paint, becoming works of art as by-products of his process."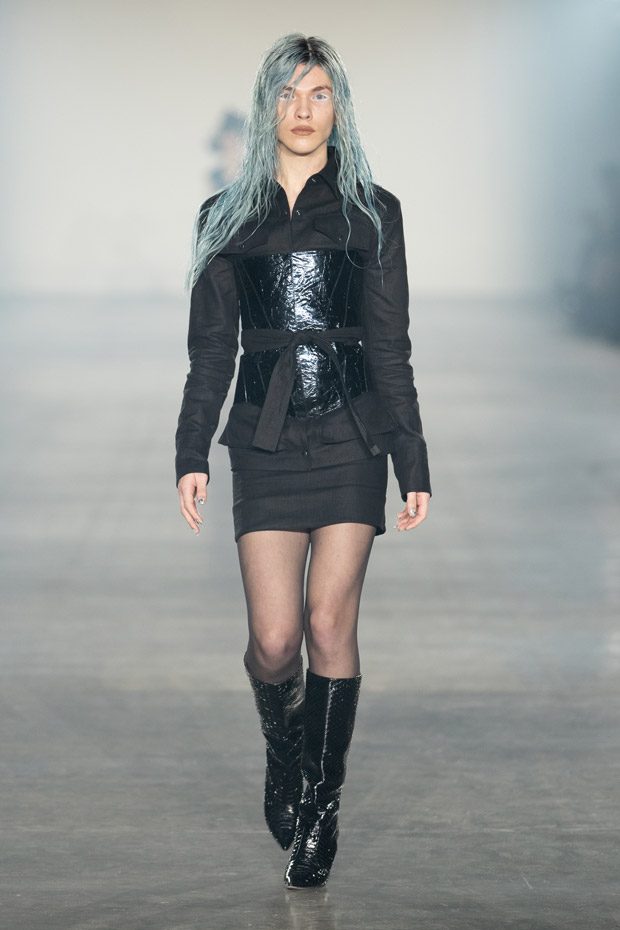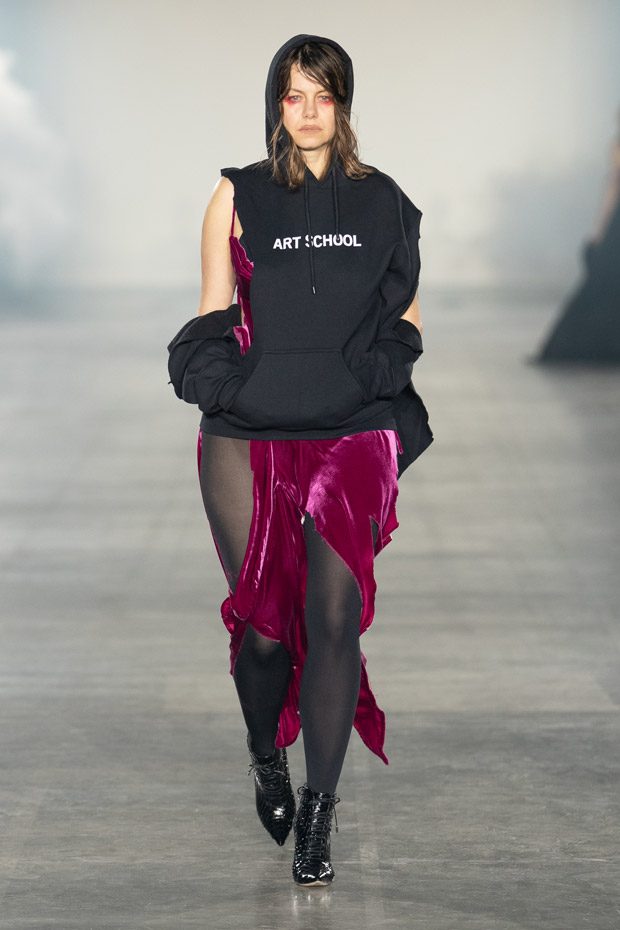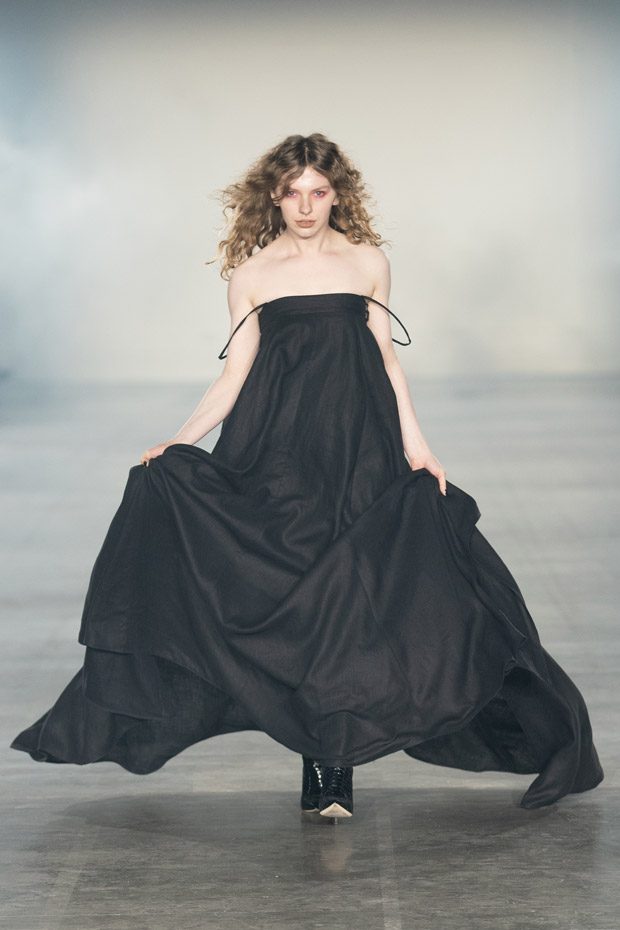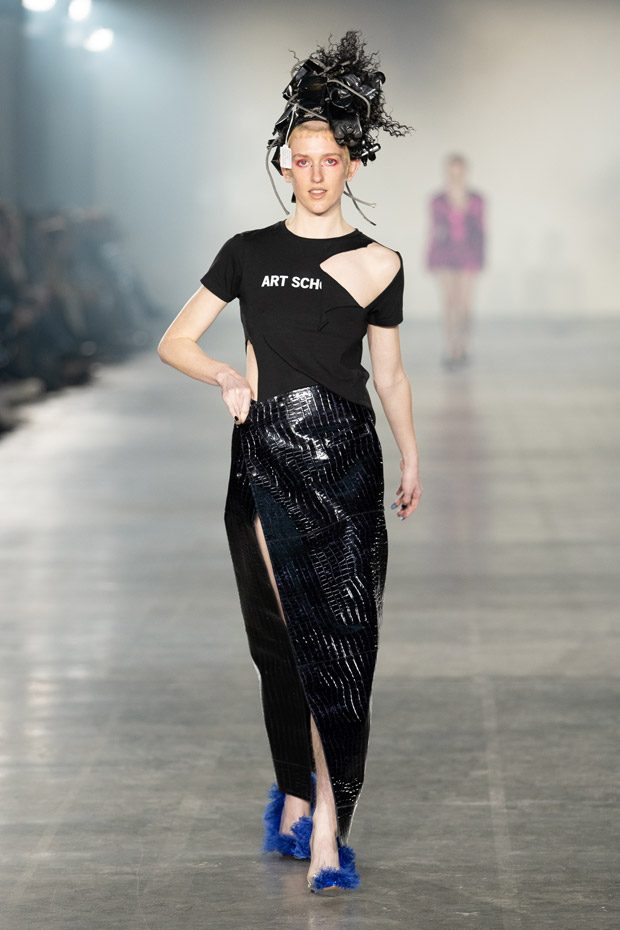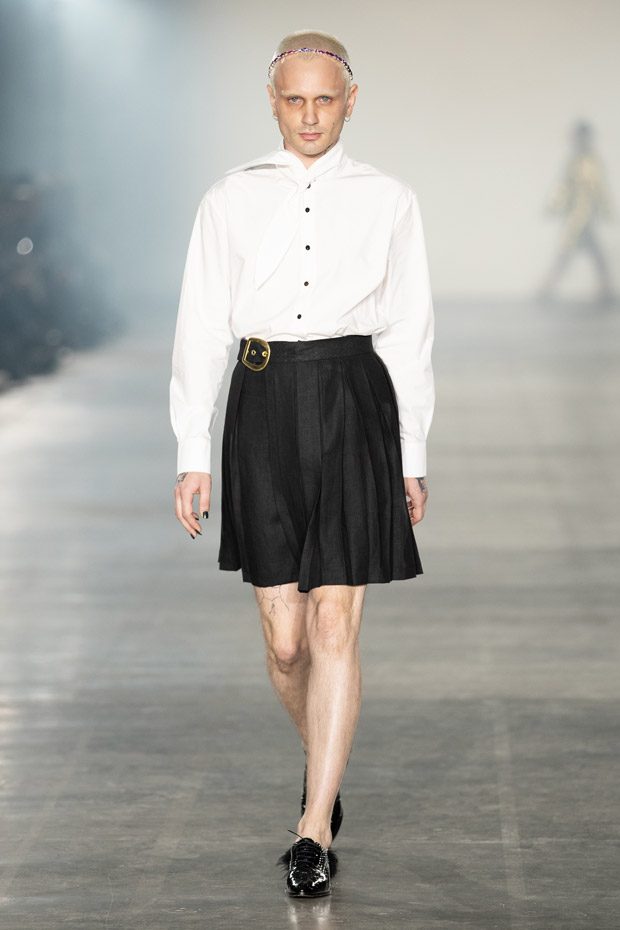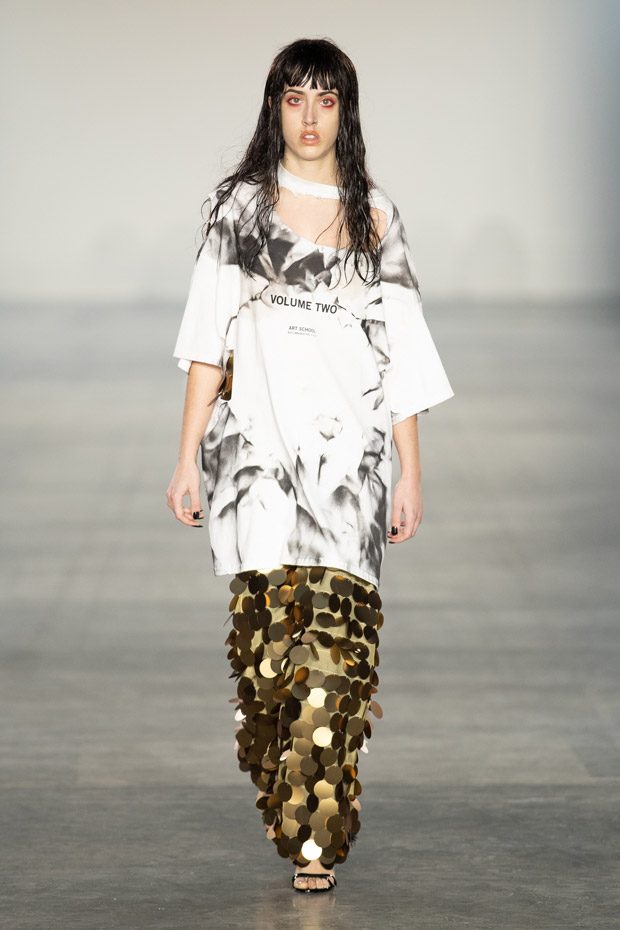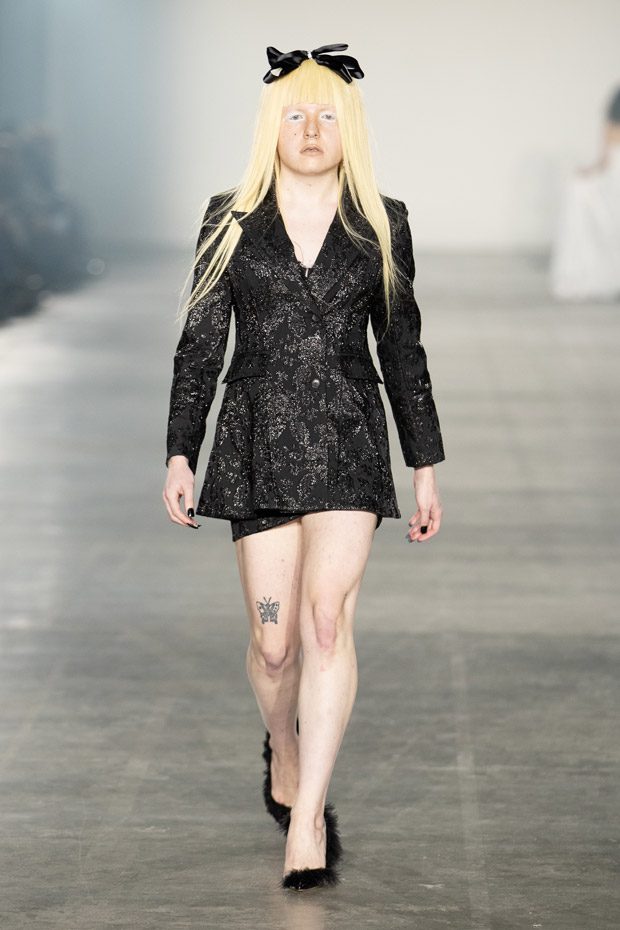 Designers: Eden Loweth & Tom Barratt
Consultant: Karen Binns
Choreography: Holly Blakey
Makep: Rebecca Wordingham at Saint Luke
Hair: Shiori Takahashi at Streeters
Colourist: Amy Fish at Saint Luke using Crazy Colour
Nails: Pebbles at The Wall Group using Elegant Touch
Shoes: Gina X Art School
Jewellery: Dominic Myatt X Art School
Production: Blonstein
Words: Lara Johnson-Wheeler
Photography: Chris Yates
With special thanks to: Lulu Kennedy, Natasha Booth, Raphaelle Moore, The MAN Panel, TOPMAN, M.A.C, SHOWstudio, Lara Johnson-Wheeler, Georgie Evans, Nick Knight, Mimma Viglezio, Grace Wales Bonner, Supriya LeLe, Sadie Williams, Marta Jakubowski, Ella Dror, Ash Smith, Paula Loweth, Rosemary Barratt, John Barratt, Anne Butters, SWAROVSKI, Myriam Coudoux, Peixi Lim, Tyrone Franklin-Grey, Elly Beckford, Jazz Grant, Laura Thomas, Jeniffer Droughet, Nathalie Khan, our models, and our incredible team and mentors.
We love hearing from you, connect with us on Twitter, Instagram and Facebook.