Fashion designer Edward Crutchley presented his Fall Winter 2019.20 Collection, that explores formalwear / businesswear, on January 5th 2019, during the ongoing London Fashion Week Men's.
"The attitude is one of dressing for the occasion. Saving that Lurex fil coupé chiffon open collar shirt for the office outing.Dusting off a special Panné velvet suit to wear to dinner. A new deconstructed snakeskin print is a nod to power dressing, pomp and parties. White mink, grey swakara and silver metalised fox from Kopenhagen Fur are carefully pieced together to form the motif of a large secretarybird attacking a snake.
Traditional menswear is subverted in subdued hues rich to the touch. Oversized is an attitude more than a covering for the body. Autumn/winter 2019 is lean with printed silver foil coated Tyvek zip-up jackets, tailored coats in cashmere snakeskin jacquard, classic fit shirting in technical Crêpe de chine. Trousers have zips running down their front creases. A long-sleeved Cuban shirt is in printed velvet.
Crutchley has collaborated with a number of artisanal producers and designers. Merino wool and cashmere jacquard used for outerwear and blankets is from Johnstons of Elgin – makers of the softest cashmere garments in the world.Classic wool tailoring fabrics are from Yorkshire-based mill Bower Roebuck. Stephen Jones has designed a Balinese head wrap, a riff on a traditional Korean gat and a pillbox hat in soft swakara. Sunglasses are by sustainable eyewear brand Wires and high-shine loafers and black gloss stilettos are by Christian Louboutin."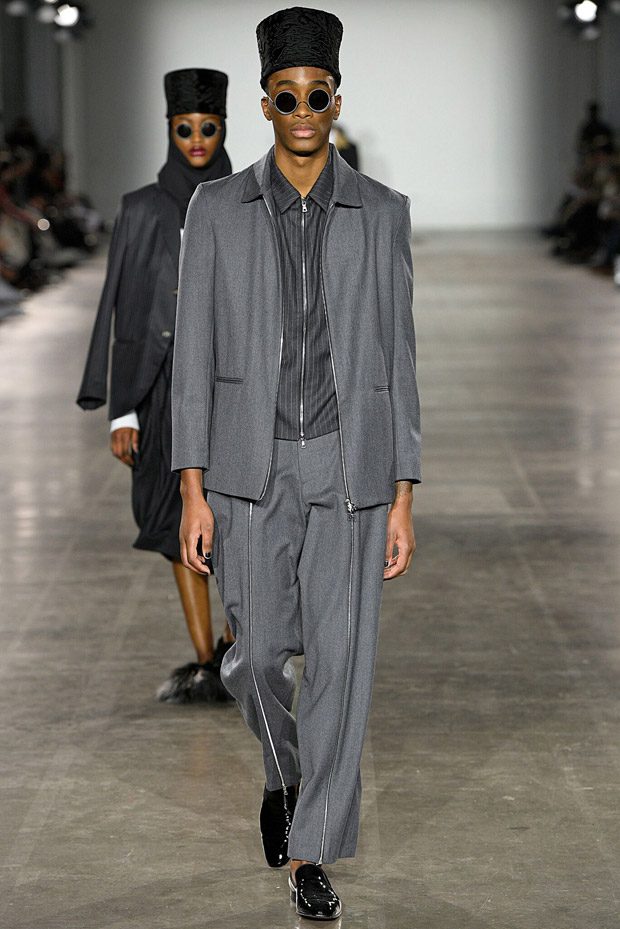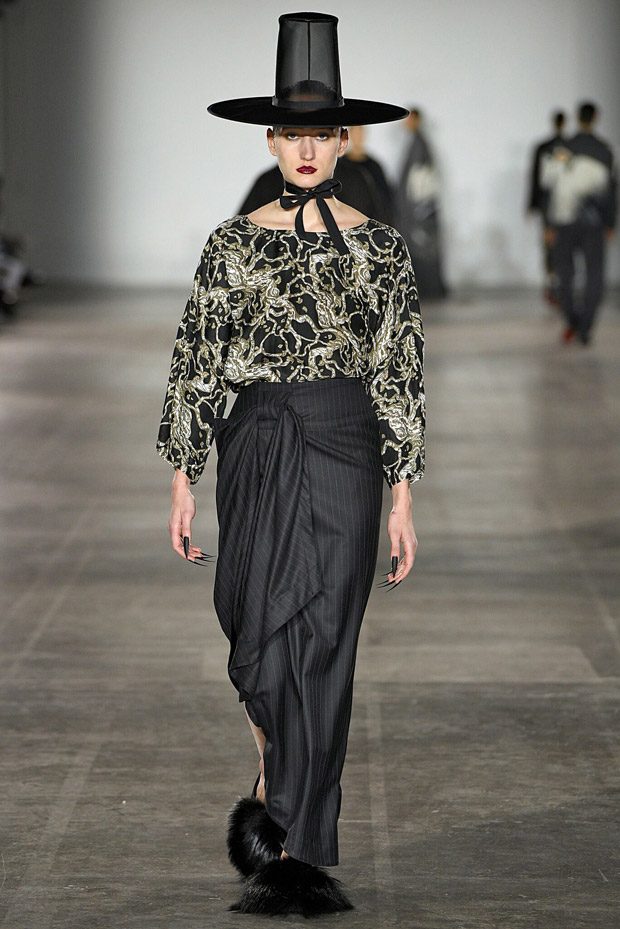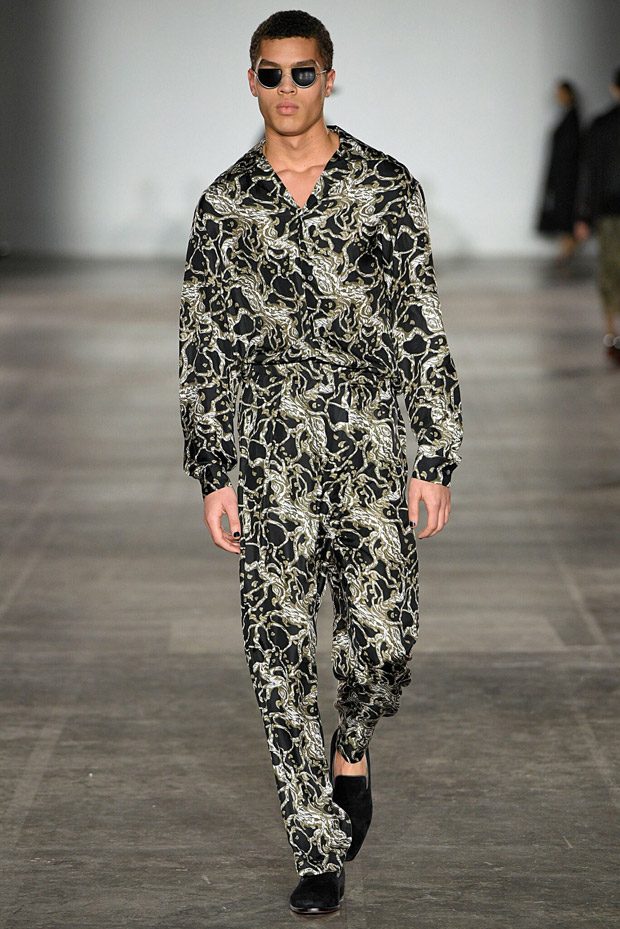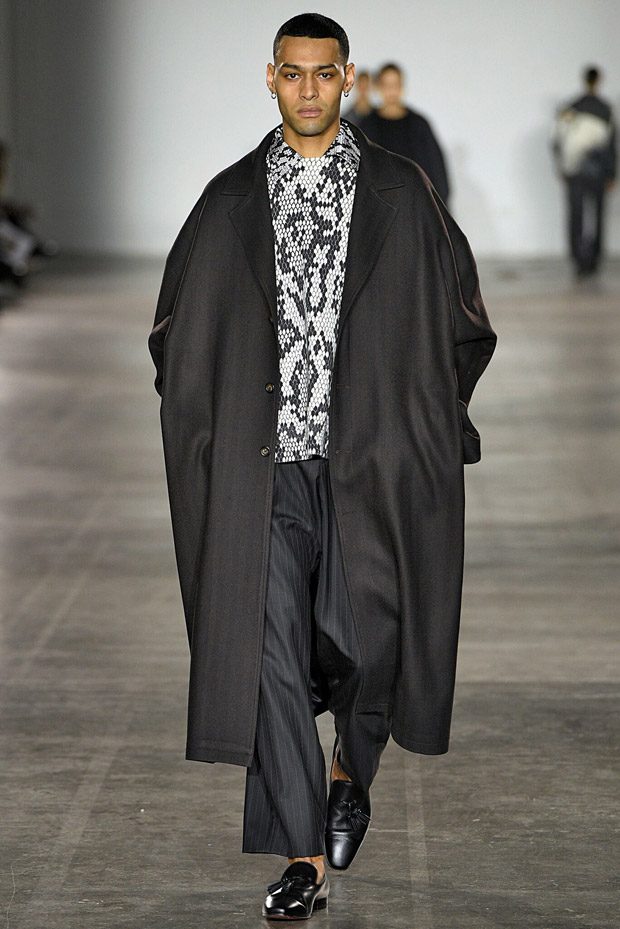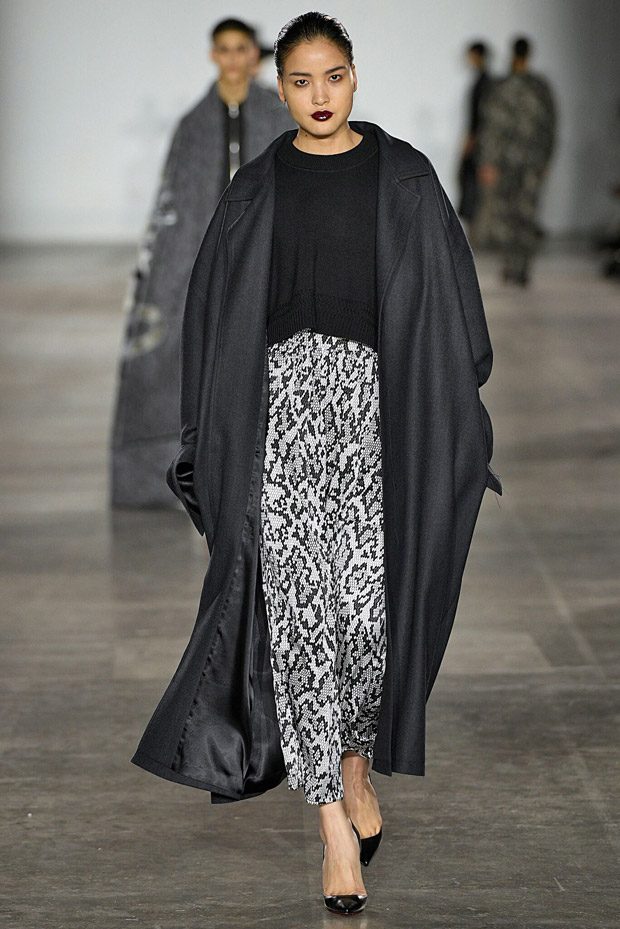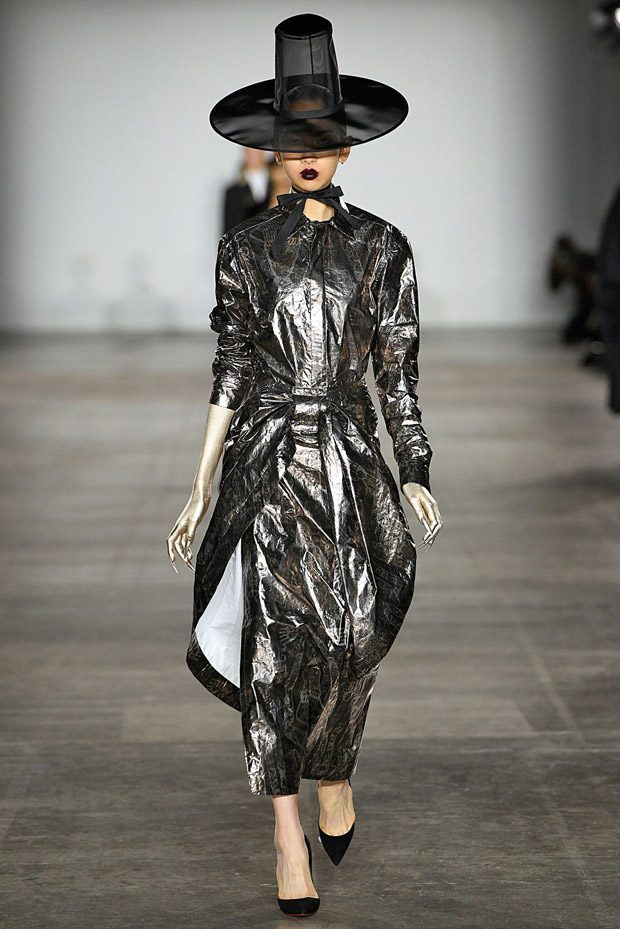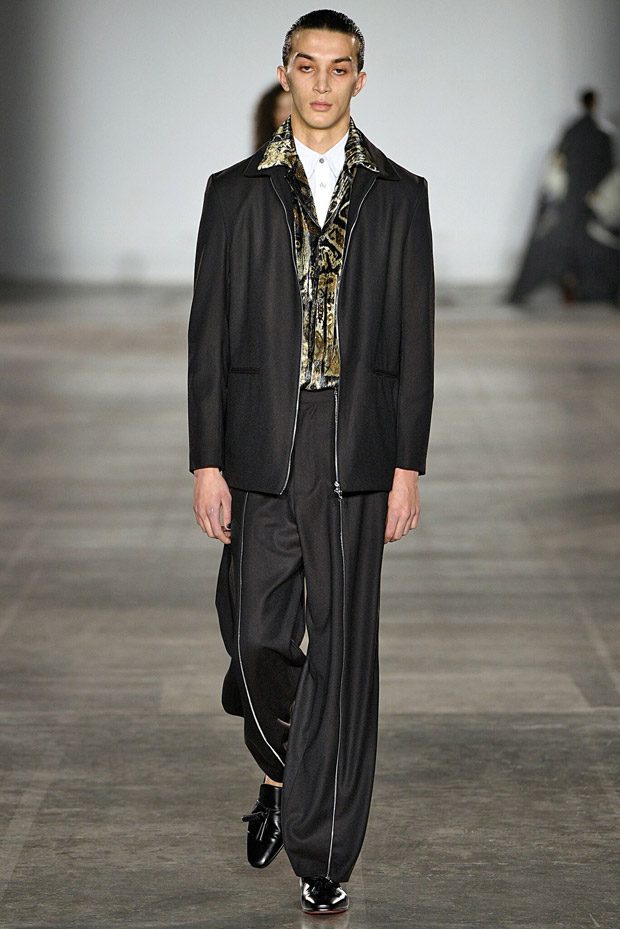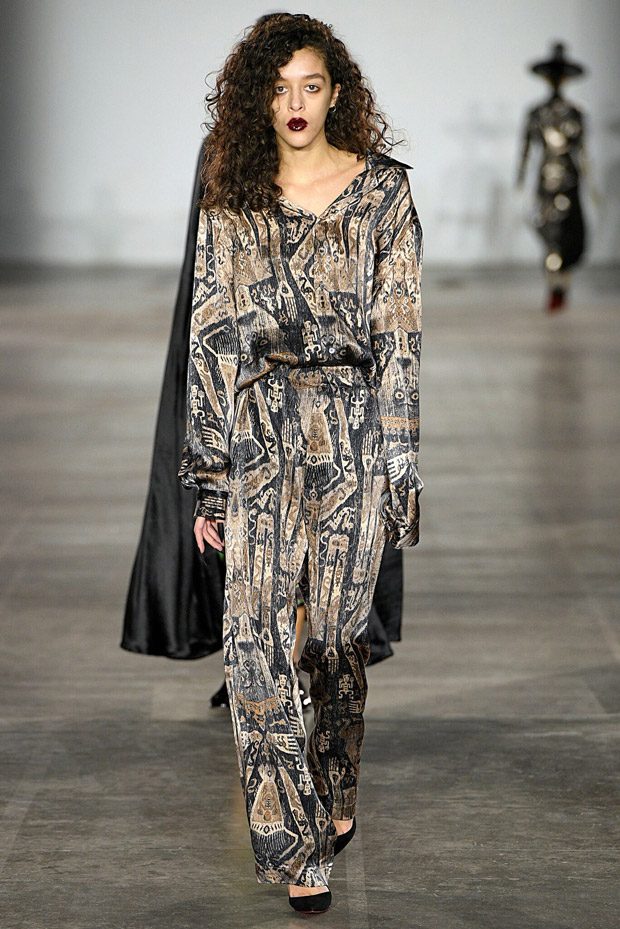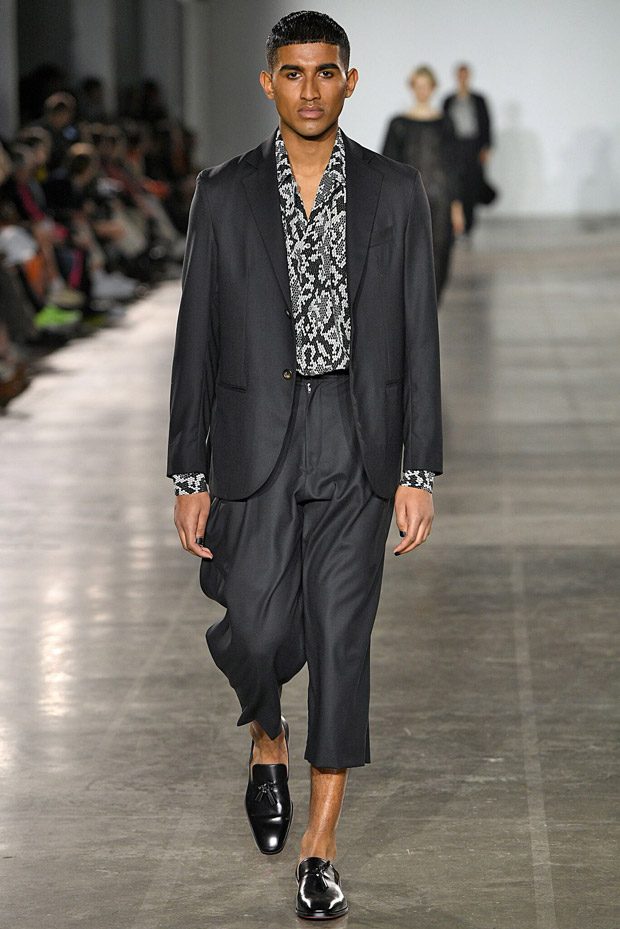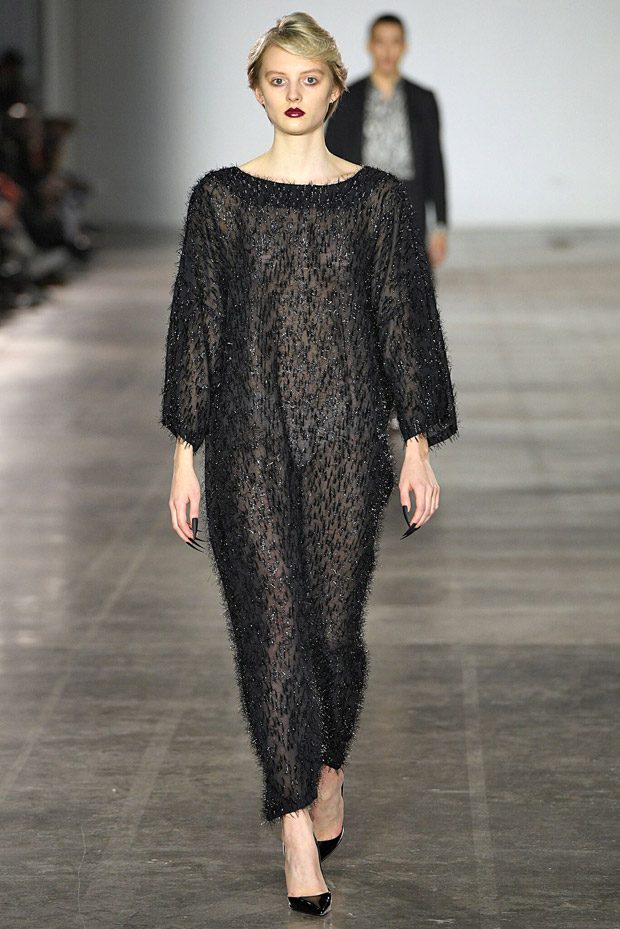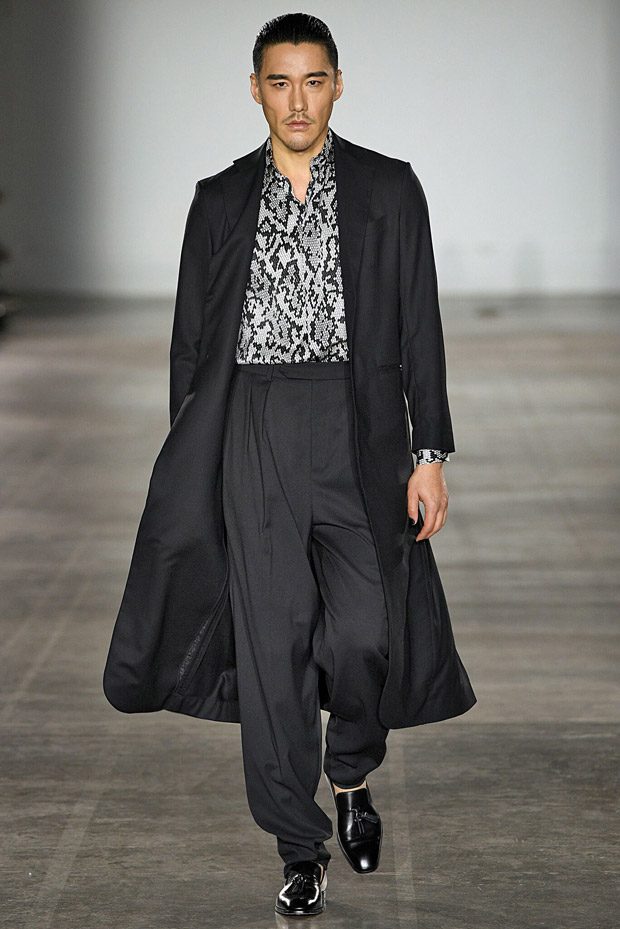 Photography by Helle Moos
Styling – Julian Ganio
Casting – Sophie Lynas at Leda Casting Music – Mickey Beans
Hair – Kota Suizu at Caren using TIGI Make Up – Michelle Dacillo using MV Skincare
Nails – Marie-Louise Coster at Caren using Elegant Touch and Louella Belle
Runway Photography – Helle Moos
Backstage Photography – Francisco Gomez De Villaboa Runway Videography – Joe Wilson
Show Production – Blonstein
Hats – Stephen Jones
Shoes – Christian Loboutin
Slippers – In collaboration with Kopenhagen Fur
Sunglasses – Wires Glasses
Jewellery – Gianluigi Zoccheddu and Victoria Rickard
Press Release – Dal Chodha
We love hearing from you, connect with us on Twitter, Instagram and Facebook.