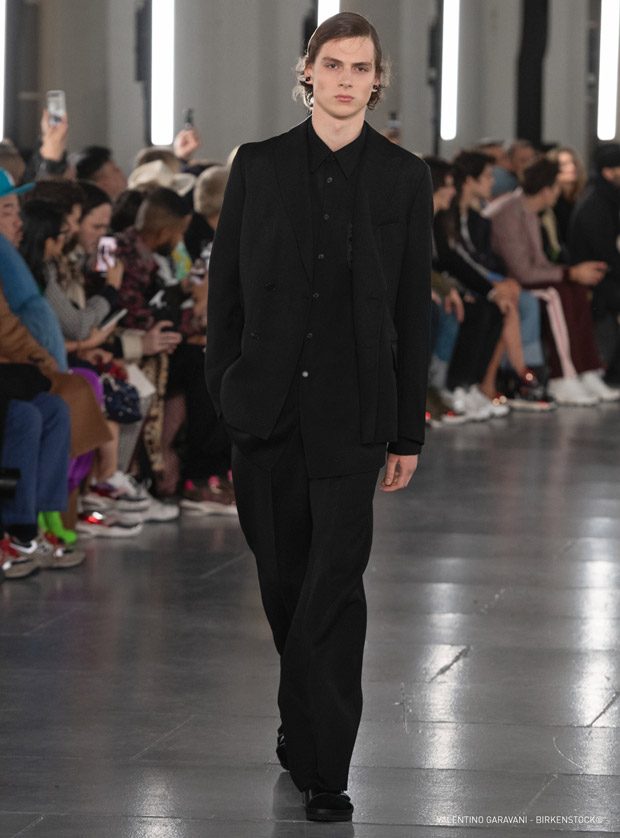 Fashion designer Pierpaolo Piccioli presented Valentino Men's Fall Winter 2019.20 collection, that explores fluidity, and an idea of a shape without formalisms, with more relaxed and effortless looks, on January 16th, during the ongoing Paris Fashion Week.
"Codes that belong to the common imaginary, that are seized of their common appearance. Dissolved, softened, liquefied. The individuality of the one that adopts and adapts that breaks the rules from the inside with an inevitable calm. Suits. Coats. Fluid volumes, impalpable constructions, blocks of monochrome. Grey, camel and black.
Bringing the street's attitude in the Atelier, enhancing the tension between opposites in order to find with ease a contemporary emblem. The language of Couture is stained to become more genuine, opening itself to alien but at the same time authentic elements. Valentino in collaboration with Birkenstock: a universal sign that has been universally adopted and included in the repertoire of the Maison. Valentino in collaboration with Undercover: a dialogue with Jun Takahashi and his off way of looking to the street through graphics that go through times and styles, that are then reread in a Valentino key, with intarsias, embroideries, jacquards and prints, that multiply with a rhythm, that broadened, that condense."
We love hearing from you, connect with us on Twitter, Instagram and Facebook.