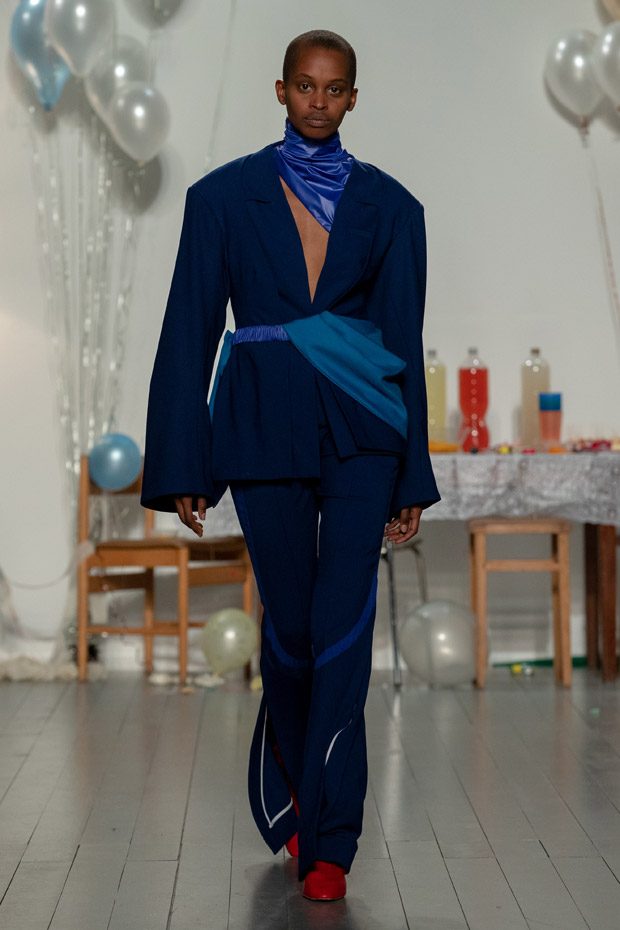 Irish designer Richard Malone presented his Fall Winter 2019.20 Collection, that explores duality and forced politeness, reflecting Brexit anxiety, on Monday February 18th, during the recently finished London Fashion Week.
"What is suitable for adults is considered. Malone speaks the language of bad taste, where words which would typically make the fashion-literate wince – 'fuzzy', 'cuddly' – are warmly embraced. Striped stoles rendered in 'fun fur' are made from repurposed dog beds, frock coats are fashioned from workwear twills typically found in school uniforms. Retro party plates inspired the prints seen across recycled, organic cotton jersey. Waste is limited – dresses are cut from precisely one metre of woven fabric and shaped through contouring by hand. Much of the colour palette takes cues from the tonal browns of 'bad, mum lipstick' and the optimistic brights of street party flags. Bra cups deliberately sit away from the body, artfully awkward.
Despite the omnipresence of a sense of humour, naivety is not a part of Malone's lexicon. These hand-woven fringed silks and brushed Scottish wools are for grown-ups – though, to quote the designer, perhaps those who "might have to take their kids to school with a raging hangover." Within many of his fabrics Malone explores techniques he feels speak to un-self-conscious childhood – "kind of the real meaning of punk, that sense of not giving a shit who's looking at you." Knits are laddered, silks frayed, mohair spontaneously hand- painted before being woven. Incredibly labour-intensive design and craft lies behind these clothes; each piece taking days at a time to be made by hand."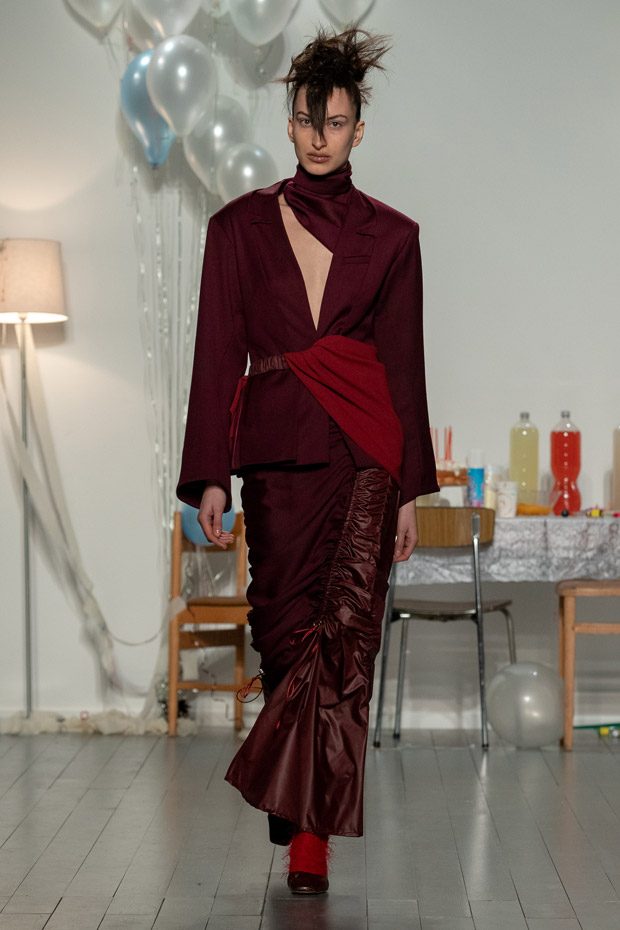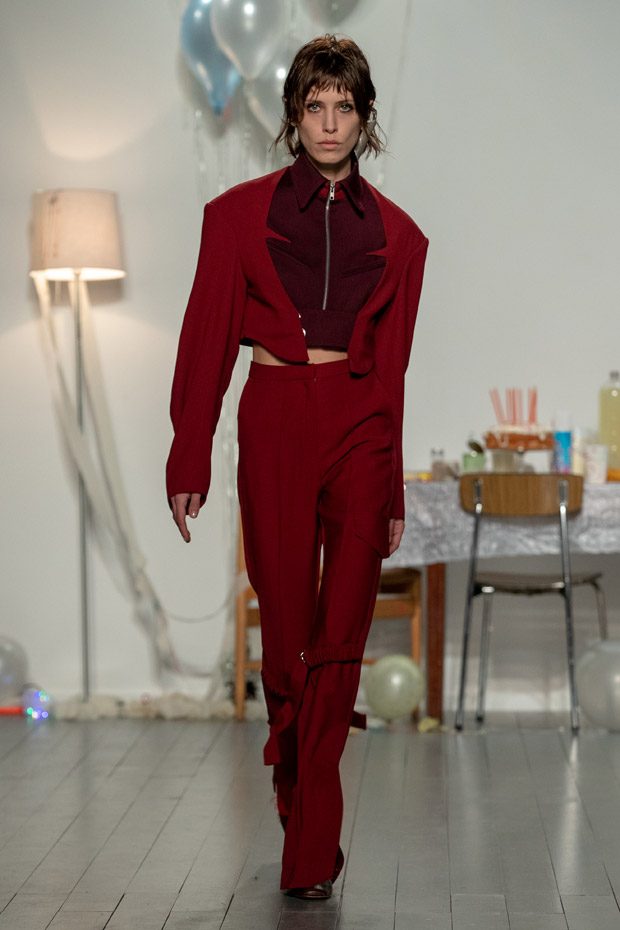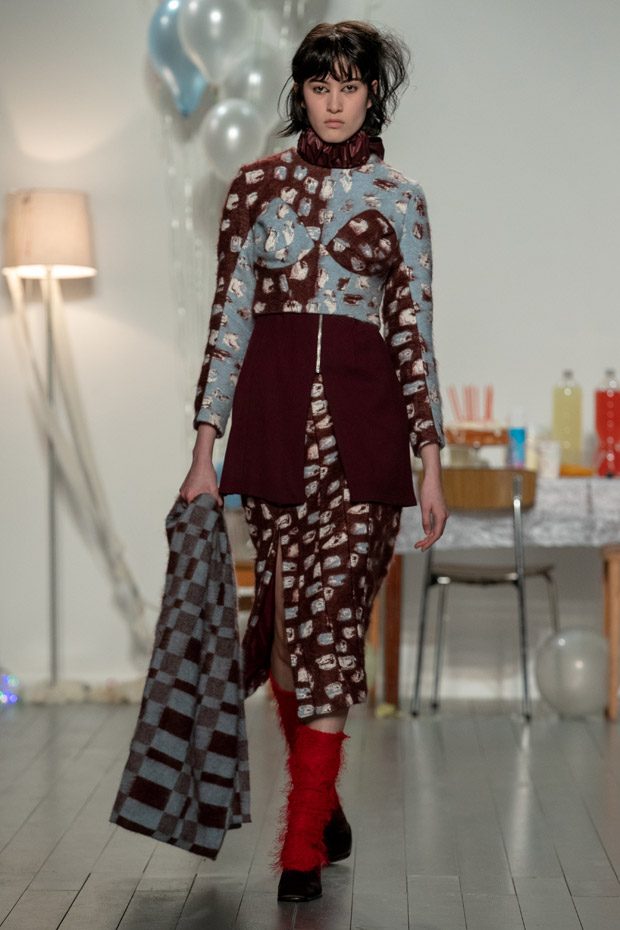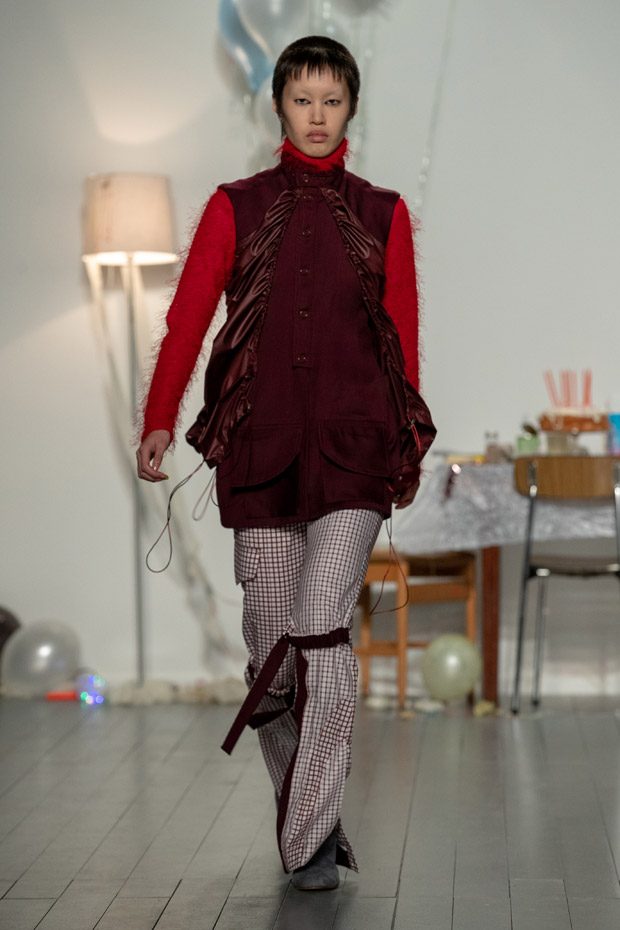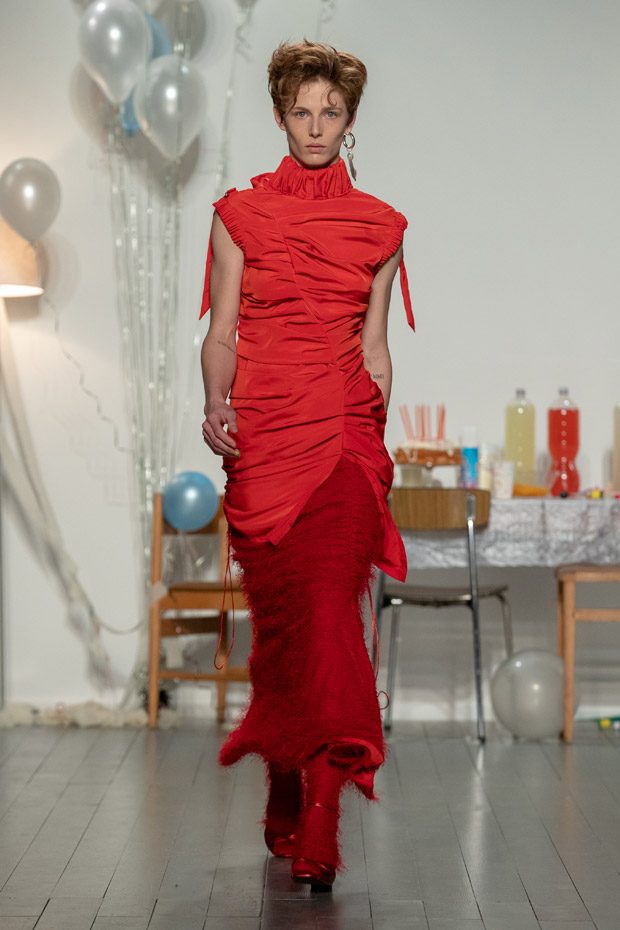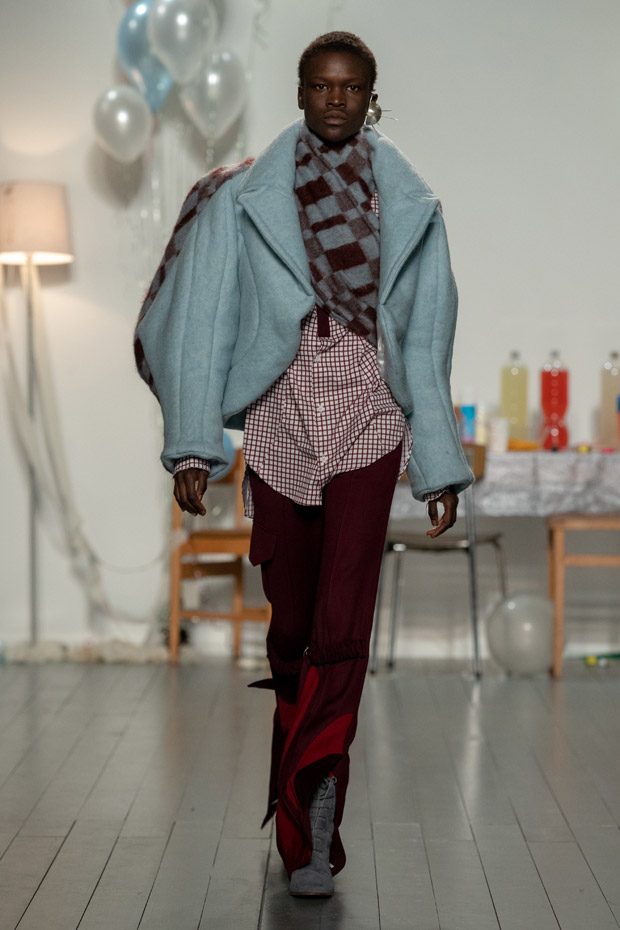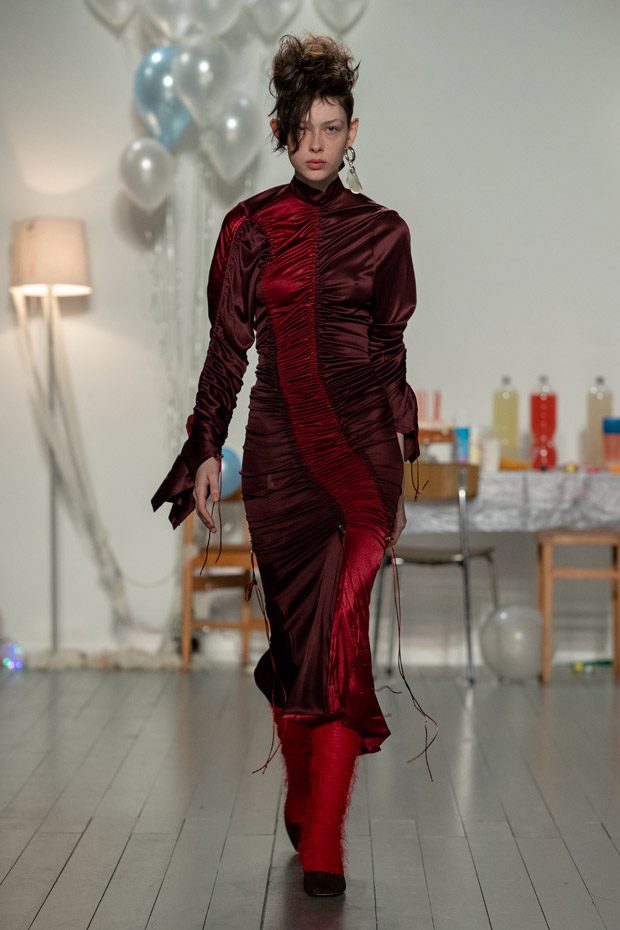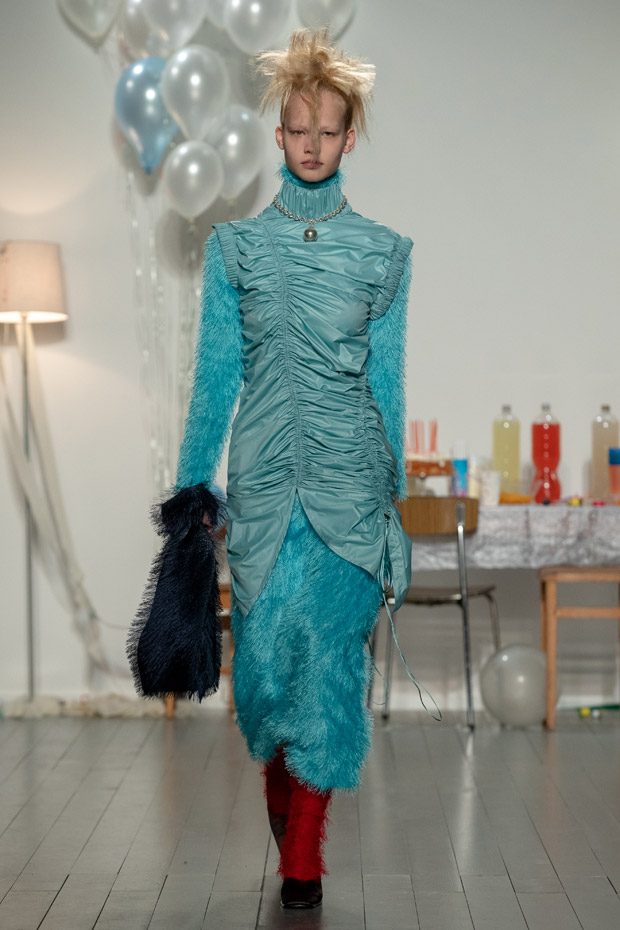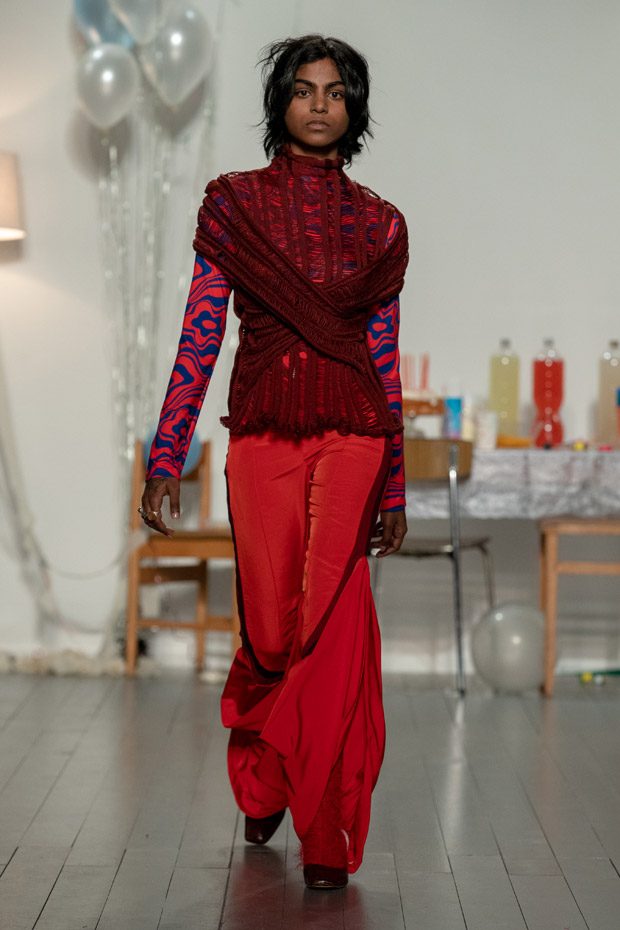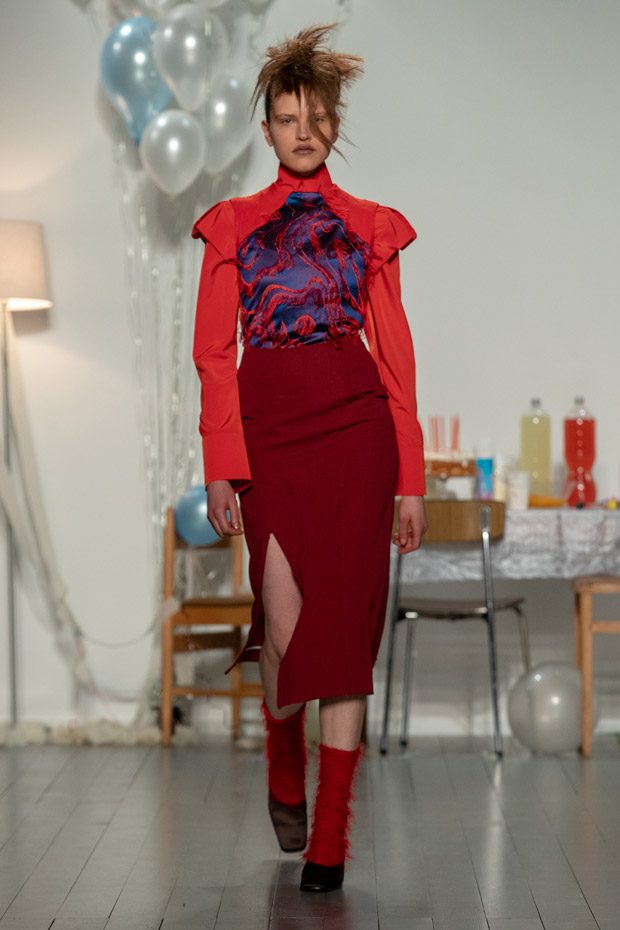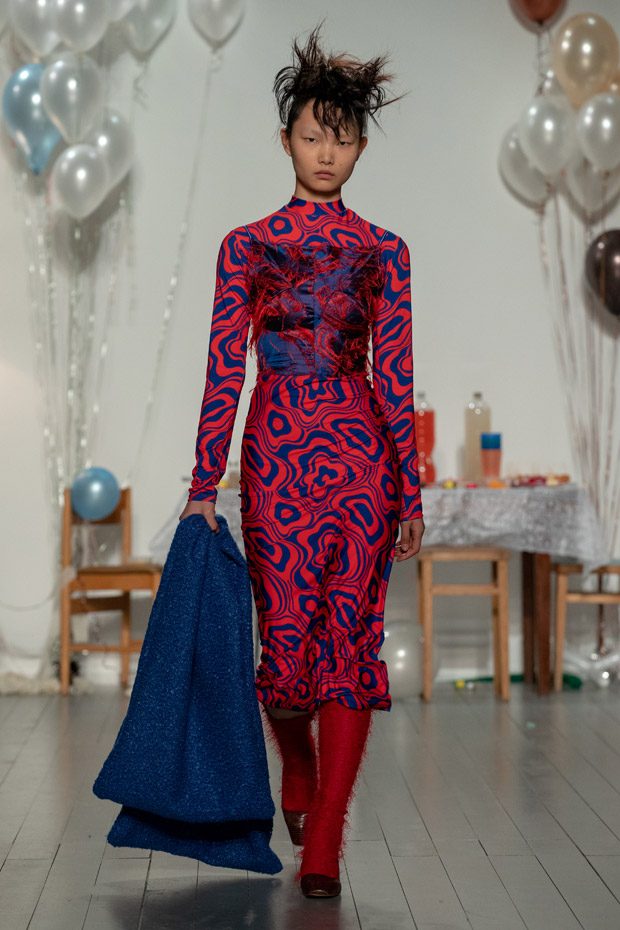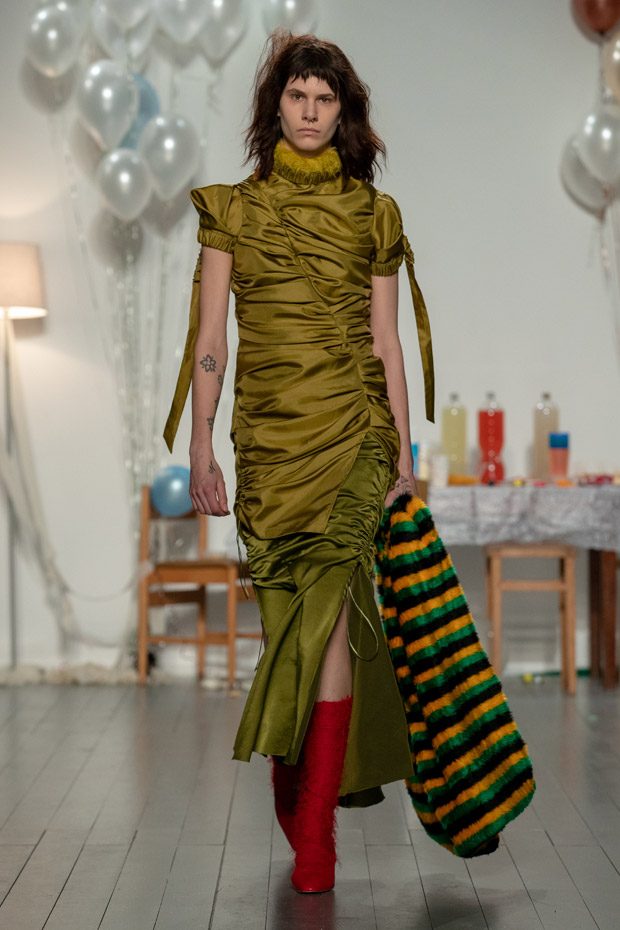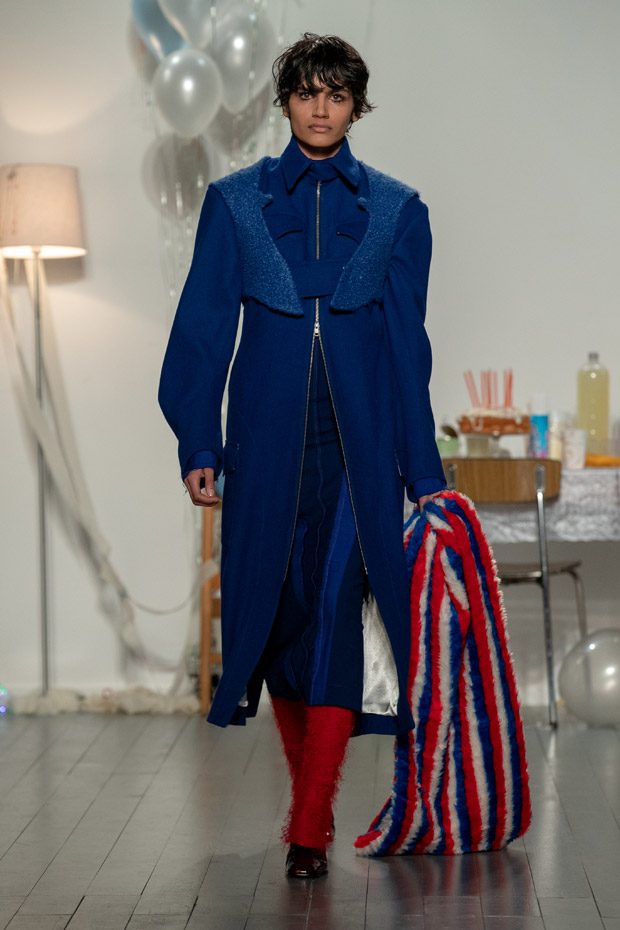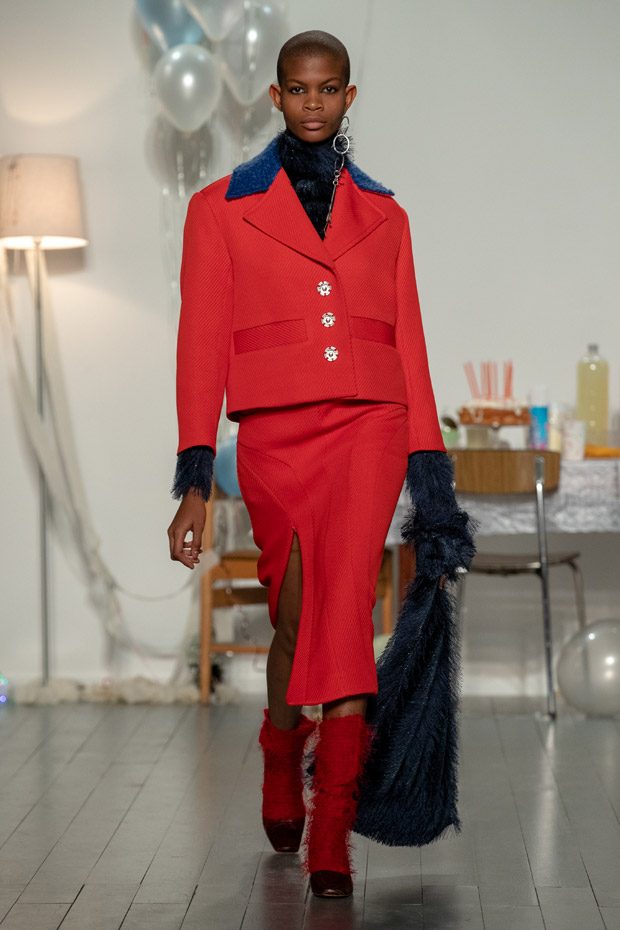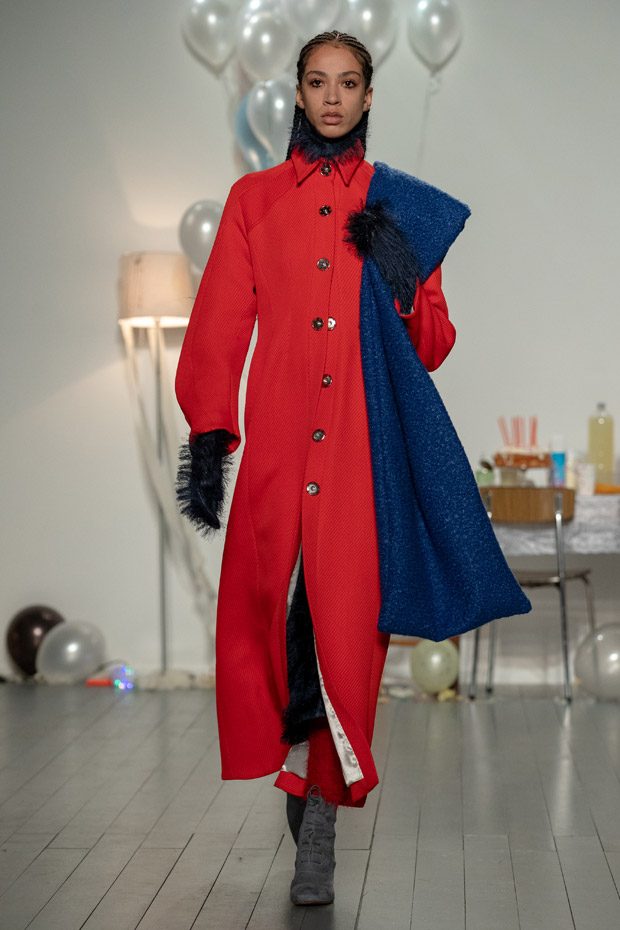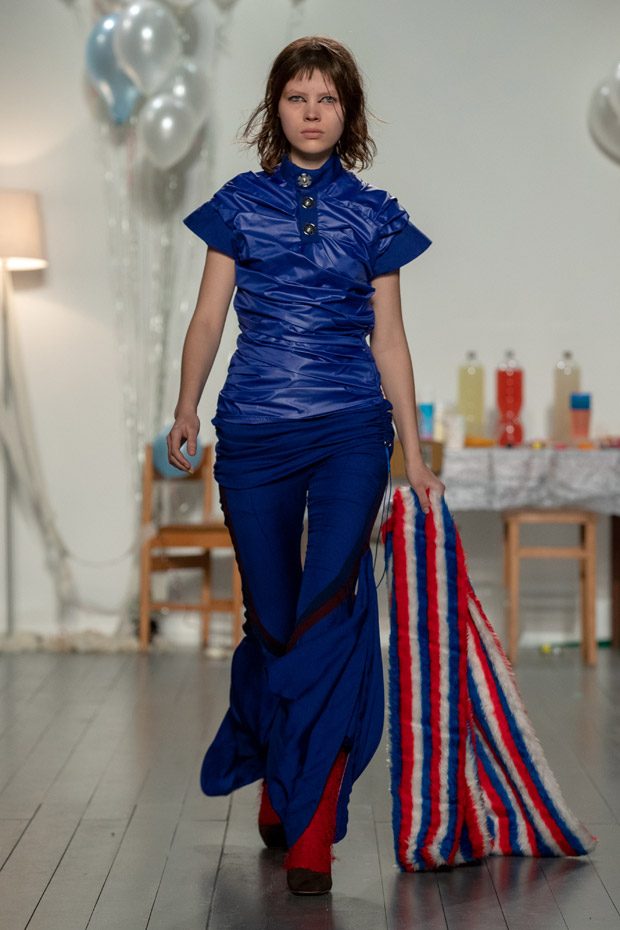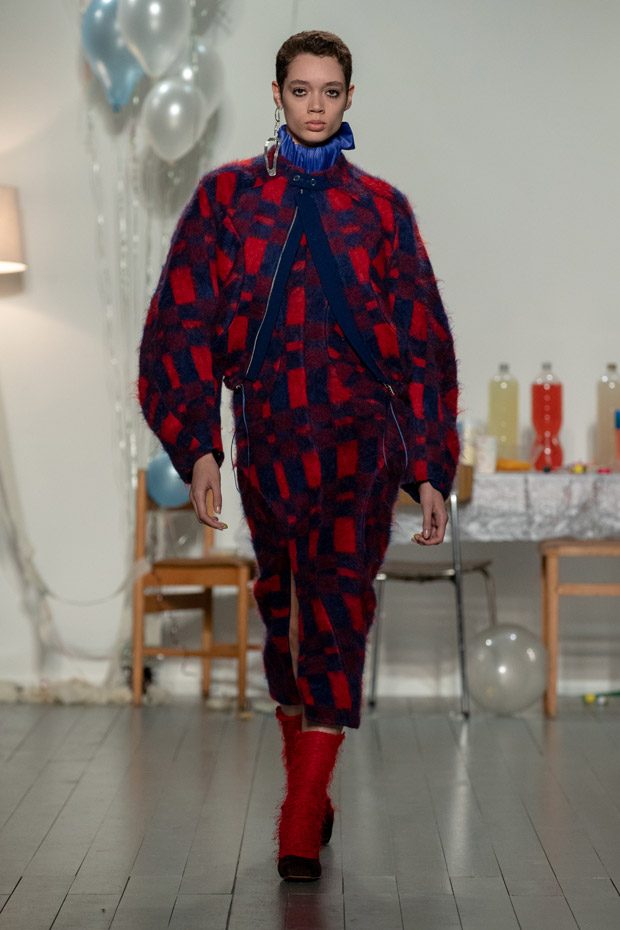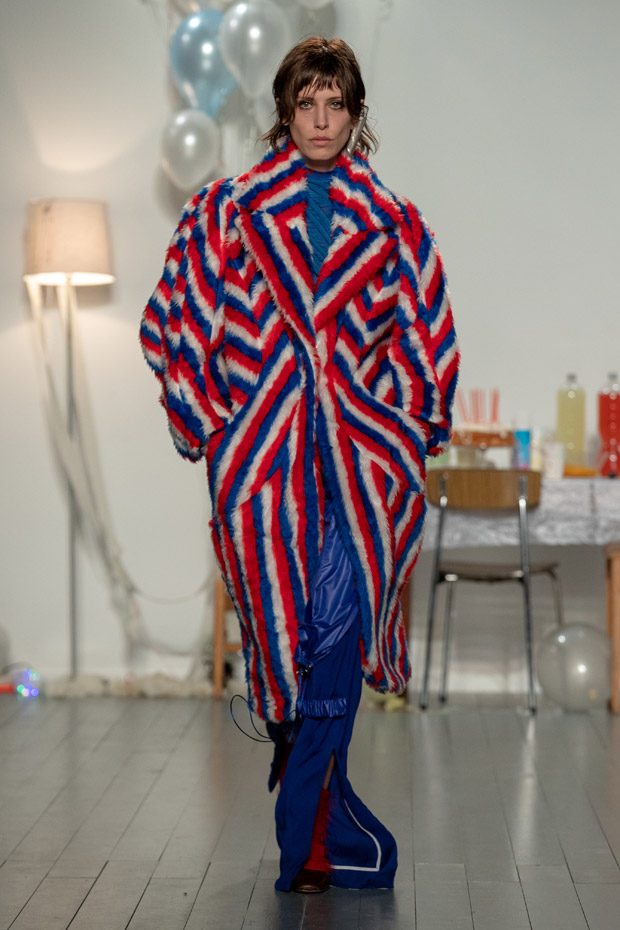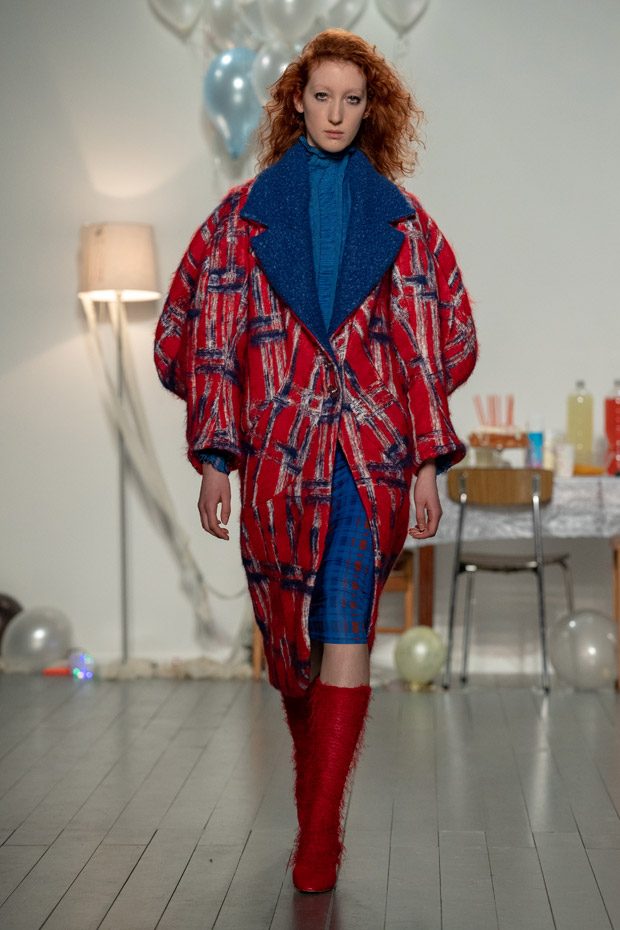 Styling: Nell Kalonji
Casting: Holly Cullen
Hair: Richard Phillipart with Babyliss Pro
Makeup: Pablo Rodriguez with Illamasqua
Nails: Roxanne Campbell
Soundtrack: God Colony
Set Design: Amy Stickland
Jewellery: Gala Colivet-Dennison
Production: Blonstein
Footwear: By Far
PR: Starworks Group
We love hearing from you, connect with us on Twitter, Instagram and Facebook.