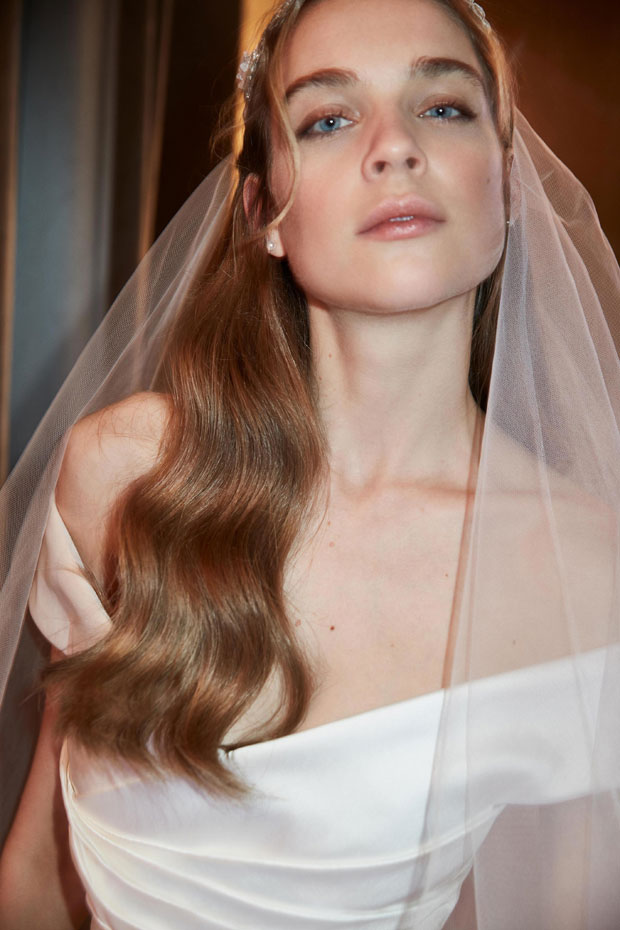 Elie Saab Spring 2019 Bridal Collection

There are very many details involved in planning for a dream wedding. From the venue to the wedding gown, the flowers, makeup and hair artists and most importantly, the wedding hairstyle, a bride is met with the option upon option when making plans for her big day. Once you have settled on the dress, selecting the perfect hairstyle to match your bridal gown is usually the next step to accomplishing that gorgeous wedding look you have always visualized.
Whether you opt for an elegant hairdo, classy curls, or loose waves ensure that you look and feel your best as you walk down the aisle. Here are some reasons why clip-in hair extensions will be a perfect accessory to wear on your wedding day to help you achieve your dream hair.
Read more after the jump: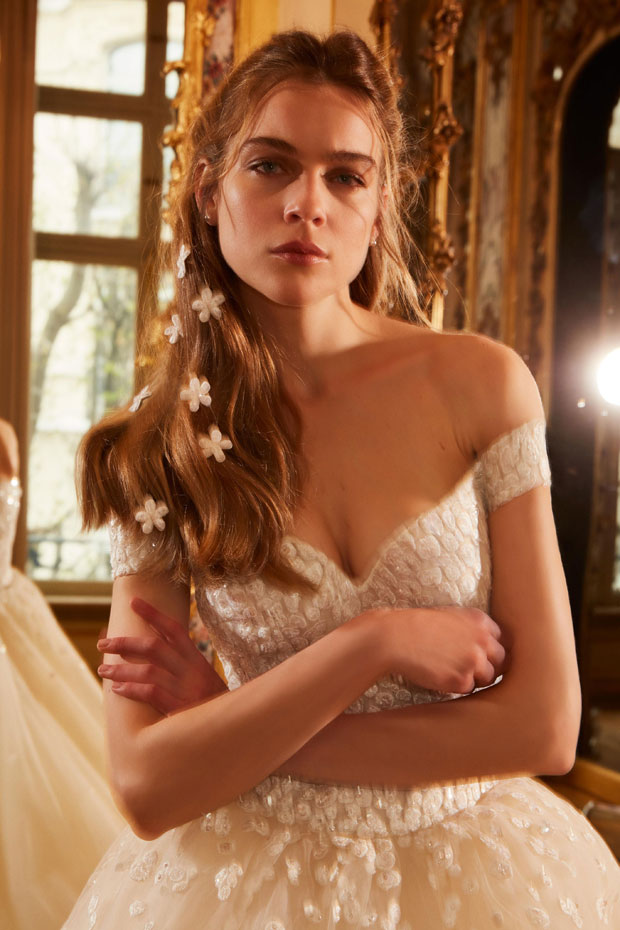 Elie Saab Spring 2019 Bridal Collection
They add length to your hair
Your dream wedding day is usually the best day to tap into your femininity, and there is just something amazing about having long hair that will do exactly that. The hair extensions will blend easily in your natural hair regardless of your current hair length so that you can get the hairstyle of your dreams on your special day. You can achieve that beautiful hair length by clipping in your preferred hair extensions.
They add hair volume
If you already have nice and long hair and are thinking of leaving the hair down on your wedding day, you might discover that your hair ends are thinning out. That is entirely normal because the life cycle of every hair strand is completely different. When an old hair strand falls off, a new strand of hair will grow in its place, which will naturally lead to thicker hair that's close to the roots. Hair extensions can be an amazing tool to add some thickness and also infuse life in your real hair to produce full and thick locks that flow beautifully to your back and shoulders under your tiara or veil.
If you are planning to put your real hair in a bun or braid, but you are seeing as if these hairstyles might look relatively limp in your actual hair, adding some hair extensions will provide your hair with that additional boost of thickness you need to transform your bun or braid into a thick and full hairdo. While thick hair will look incredibly beautiful, it serves a more natural purpose for most brides, allowing the veil to rest firmly on the head.
They are affordable
On your dream day, you deserve to feel incredibly confident about how you look. However, if you have a pretty tight budget, you might have thought that hair extensions aren't for you due to the cost. Fortunately, there is a solution for you. Clip-in hair extensions are usually affordable, and you can use them multiple times, which means they are a budget-friendly alternative for people who want to have a different look without spending a lot of money.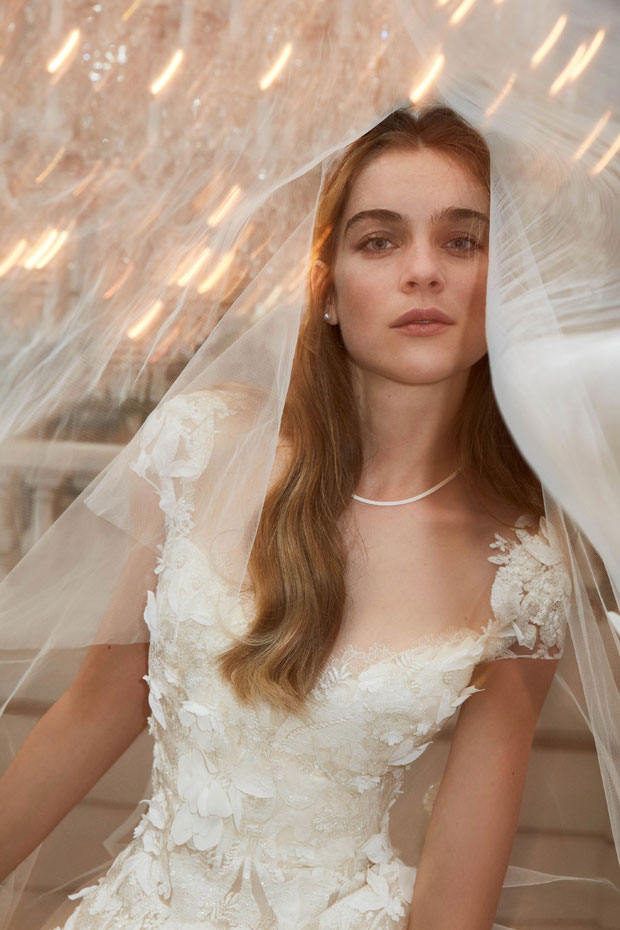 Elie Saab Spring 2019 Bridal Collection
They protect your real hair
Wedding hair artists and wedding makeup artists suggest that individuals with thin hair should consider getting hair extensions. Clip in hair extensions assists new brides in protecting their hair from possible damage because some brides with some textured hair, mostly prefer getting procedures such as relaxation done on their hair. In most cases, the chemicals utilized to preserve the results of these procedures might cause permanent damages to the texture and shine of your hair. It is better to get some hair extensions clipped for your dream day to be on the safe side.
They are comfortable
Putting a wig on your wedding day can get uncomfortable and itchy, and some hair extensions can also be painful to wear. That is not the case with hair extensions clipped into your hair; if you are already used to putting clips in your natural hair, you might not even notice any difference when you're wearing them. That means that you can look gorgeous without sacrificing your comfort.
They are a perfect bridal hairdo
All brides that go to a bridal make-up artist or bridal hair artist have an incredibly vivid picture in their mind when it comes to the way they would like to look on their big day. Some prefer cascading braids with floral setting and pearls, while others want to bead up-DOS. The main point here is that bridal hairdos are usually complex, intricate, and need voluminous and luscious thick hair. Although it might be true for some individuals who have good hair, in this time and age, it is difficult to come from individuals whose original hair is shiny and thick, and ultimately manageable. If you have light hair, then some hair extensions will assist you in adding volume to your hair and in desired places as well.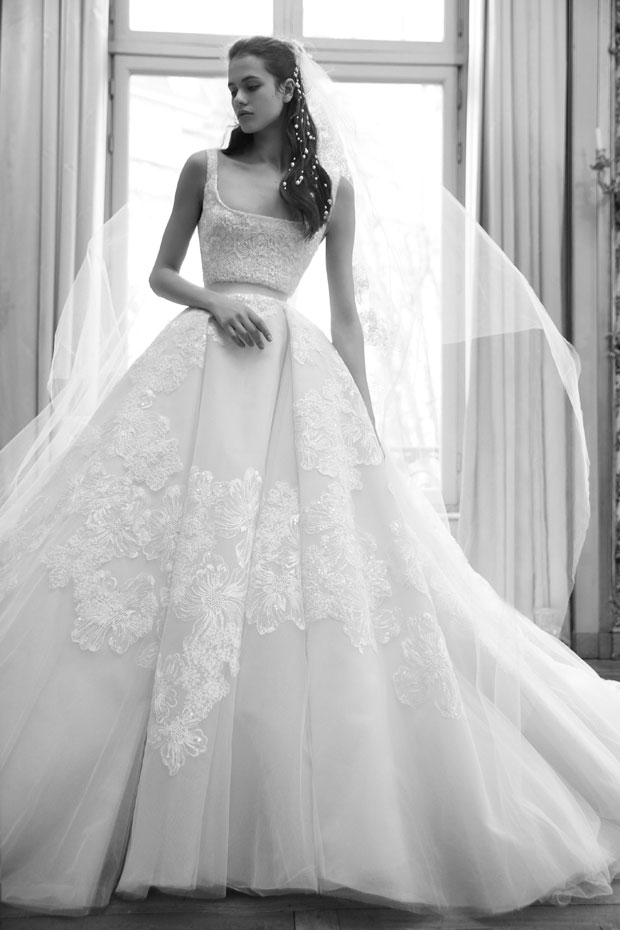 Elie Saab Spring 2019 Bridal Collection
They give you the freedom to change your style
Hair extensions provide you with the freedom to change your hair to suit your style. They allow you to dye and bleach them in any color you want, without damaging an inch of your hair. You can buy clip-in hair extensions that are straight, or curly or in-between. Nevertheless, if you decide to change your appearance, you can style your hair extensions to get the look you want.
They last for long
Most hair extensions can last between 3 to 6 months or even longer when used and maintained properly. You can go with your extensions to your honeymoon and also keep your beautiful locks flowing throughout your well-deserved vacation.
They are easy to maintain
Even though you may want to do what you can to improve the look of your hair on your wedding day, you might not be able or willing to invest a lot of effort and time into taking care of your natural hair. Fortunately, though, maintaining hair extensions is pretty easy; gently brush or comb them to get rid of any tangles, and ensure that you hang them when you are not wearing them.
The special event for celebrating the bond of matrimony demands for specific and refined preparations. From the décor of the event to the bride's dress, everything is carefully decided by the parties involved through mutual consensus. As you can see from the several reasons discussed above, there are many benefits that you can enjoy by wearing clip-hair extensions on your special day. If you are looking for a good way to switch your look, this is a perfect accessory that you should consider.