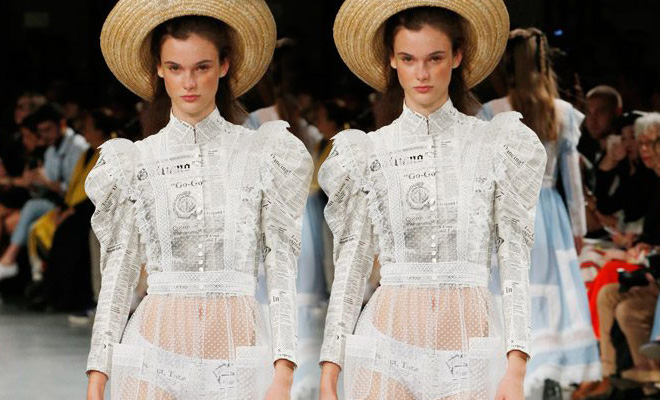 There has never been a better moment to shop for Summer 2019 collections than now, not only we are finally in the season your favourite designer brands are about to go on sale! Therefore, to help you prep for the summer, we we went through the top runway collection on the lookout for buying the best lace material dresses of the season! Simply said, singling out one lace dress of the Summer 2019 collections was impossible so we singled out a few.
Continue reading for DESIGN SCENE Magazine's favourite lace dresses of the Summer 2019. From the famed fashion maisons such as Chanel and Christian Dior to up and coming designers to watch.
Summer 2019 womenswear collections gave lace the spotlight it deserves:
Paris based fashion house Faith Connexion is known for it's long time collaborations strategy, this time the collaboration was created by none other than Grammy Award winning producer Swizz Beatz who in the fashion world is also known as an avid art collector. To crate this women's and men's collection he has worked with Italian collective NVDS and NTMB but also Marvel on a few of the pieces in the collection.
Standing out for the summer is a white lace dress, while no doubt it can be an attire for a cool bride this summer, it also takes the spotlight as a perfect youthful summer dress – discover the full collection.
For the Spice Girl turned designer Victoria Beckham part of finding success was ultimately staying on a pulse of the latest trends and then mixing the same with her signature dose of minimal. Beckham uses lace in a few key pieces of her Summer 2019 collection, however it is not dominant instead it shows as intricate detailing. Reminiscent of the lingerie trend, it gives that charming peak-a-boo moment for some of the best dresses in this collection. In addition this lace dress is worn over a pair of oversized trousers and pointy lacquered high heels – plus the total black makes it a power grabbing office outfit fit for a CEO. Girl power!
Fashion designer Kunihiko Morinaga for her Spring Summer 2019 collection of her label Anrealage (loosely translating into real and unreal), remains true to the meaning of her brand's name. Morinaga while inspired by lace has recreated the effect of the same by using a photochromic material that darkens when exposed to UV rays. Basically, in daylight the dresses go from black to the nuances of dark blue to even completely white. Future is indeed here!
Spring Summer 2019 collection by Gucci and it's fashion director Alessandro Michele was definitely not about the future. His inspiration with the 80s takes grew into a 100+ look collection sent down the runway in Paris. Michele no doubt creates the ultimate lace dress, fit for an 80s obsessed bride or just somebody on the lookout for a head turning outfit! Lace actually took a back sit for Michele and Gucci this season, yet this miracles dress made it to our list! Are you daring enough to wear it?
One of the last collections by the legendary designer Karl Lagerfeld is the Spring Summer 2019 Chanel collection. Lagerfeld brought to the catwalk our very own beautiful memories of a summer holiday, as imagined by Karl a massive serene beach was recreated for the Chanel Summer 2019 fashion show at the Grand Palais in Paris. While models walked barefoot there was not a single person left in the audience not longing for a summer getaway. Lace takes quite a few looks for Chanel this season, yet this elegant pale blue dress, worn over a pair of trousers while seaside ready is also a masterful protection from the sun!
Lace, tulle and mesh take the spotlight with Christian Dior spring summer 2019 womenswear collection designed by the maison's Maria Grazia Chiuri who shares: "I had an idea that I would like to make a collection about dance and about freedom". Standing out for us is a simple yet elegant floor length gown from Chiuri's summer outing made entirely out of send toned lace.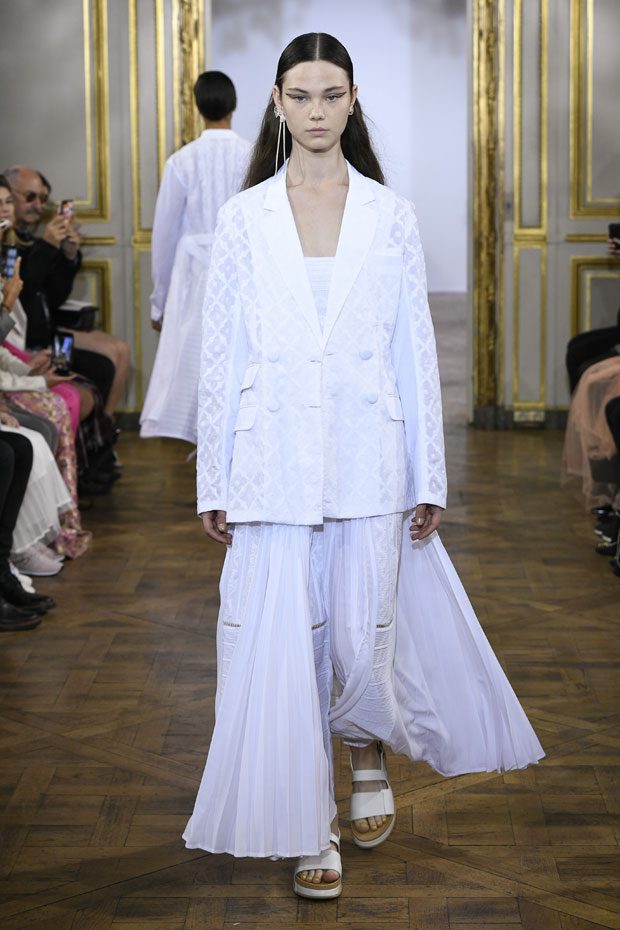 Fashion designer Rahul Mishra has without any trace of doubt sent down the runway one of the most stunning displays of lace this season. White is Mishra's predominant colour and we have singled out this head turning gown mixed in with a lace suit on top of it as one of the most elegant summer outfits – discover a lot more of lace in the Rahul Mishra spring summer 2019 collection.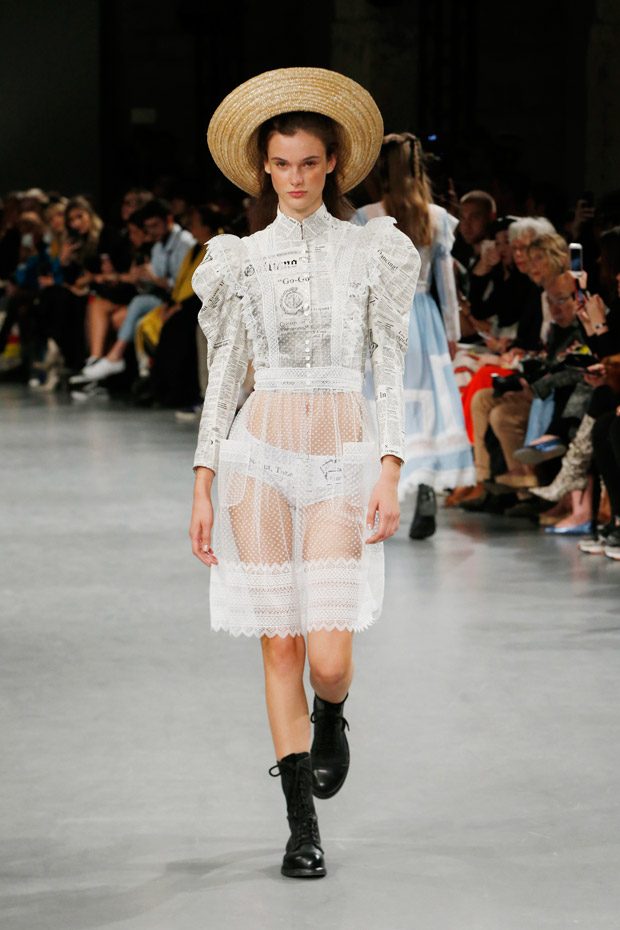 Some of our favourite summer lace dresses and garments came with the John Galliano's 2019 collection prepared for the season. For this masterful take on Victorian summer head designer Bill Gaytten has mixed the label's signature punk rock attitude with a flare for chic. The designer also called upon Mr Galliano's long time collaborator milliner Stephen Jones. The lace used in Galliano's collection as well as our favourite look does not leave much to the imagination, yet it is to be paired with a swimsuit or striking lingerie! Revealing yet daring! If you ask us we saved the best for the last.