Designer Virginie Viard presented CHANEL's 2019.20 Métiers d'art collection, that reinterprets brand's codes, made by both Gabrielle Chanel and Karl Lagerfeld, for today's modern woman, on Wednesday December 4th, at Grand Palais, Paris. For the fashion show French fashion house recreated the entire atmosphere of Coco Chanel's apartment at 31 rue Cambon.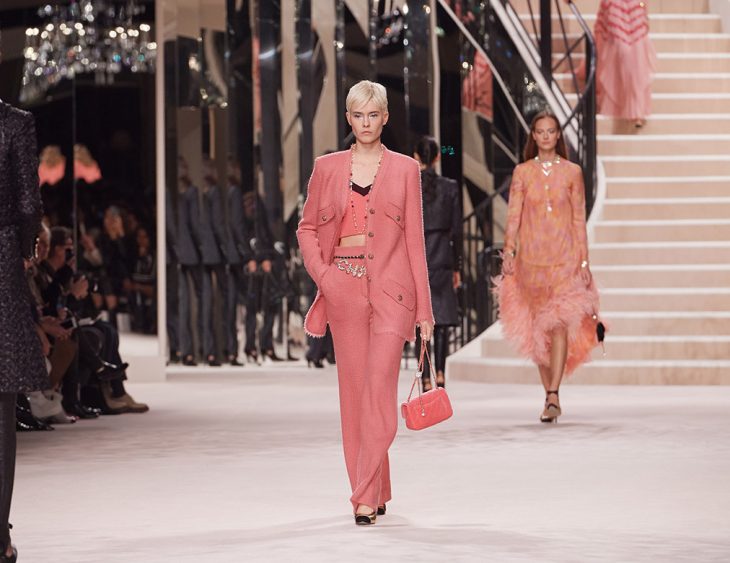 "This very contemporary collection of an iconic elegance comes as jumpsuits made of tweed so fine it is as supple as knitwear, and as short suit jackets with rounded edges, worn with low waisted skirts, slit at the front to liberate legs in motion; and on the ribbon of bare skin between the two, a fine belt in chains and pearls.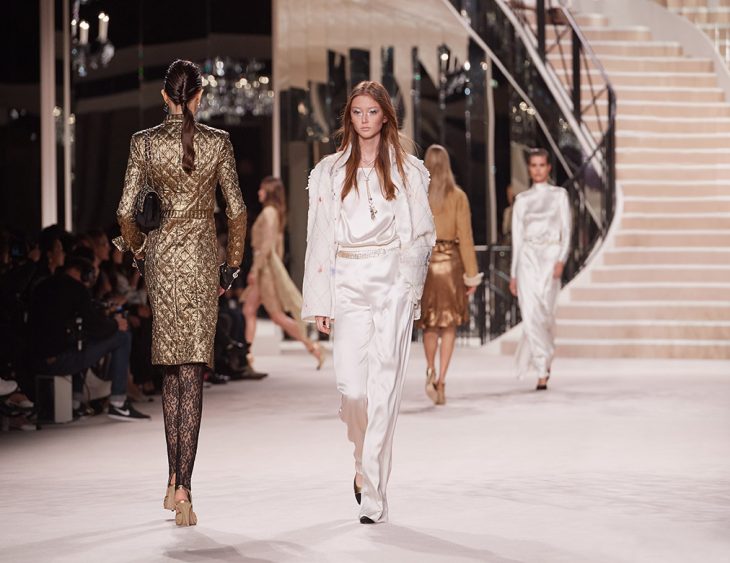 A little black jacket buttons up the side, a suit becomes a dress with an asymmetric décolletage and a long pointed train attached to one shoulder, flowing down the back. Inspired by a pink tweed suit created by Gabrielle Chanel in 1960, whose lining was tie-dyed in black, blue, pink and mauve, here the tie-dye is on the outside of the tweed of several suits, and all over the chiffon of a long dress cut into a pointe, trimmed with ethereal feathers, as well as on the braids and on the iconic bags of the House, the 11.12 and the 2.55. Finally, the BOY CHANEL and CHANEL's GABRIELLE become miniature bags which are worn as jewellery.
Emotion vibrates in the air as the models descend the white-trimmed beige steps of the grand staircase and walk through the salon. Straight, double-breasted coats in black fine bouclé cashmere with belts in long chiffon ribbons embroidered with wheat, ribbons and chains in sequins and beads, appear in succession.
Behind this collection is the constant creative dialogue between Virginie Viard and the Métiers d'art that has lasted three decades. A vision of pure magic that, on December 4th 2019 at the Grand Palais, within a showcase of Gabrielle Chanel's talismans, transcended the very notion of fashion to achieve a timeless elegance, allure and beauty according to CHANEL."
Courtesy of © CHANEL