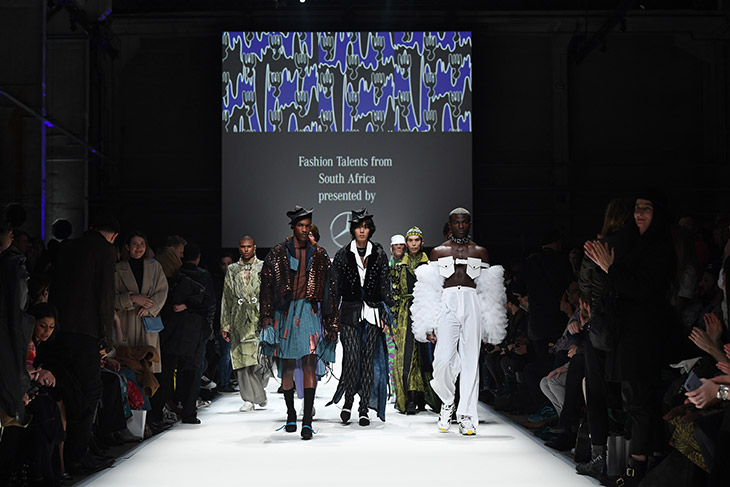 As kick off of Mercedes-Benz Fashion Week Berlin Autumn Winter 2020, Mercedes-Benz invited four fashion designers from South Africa to present their new collections in Berlin: Clive Rundle, Floyd Avenue, Rich Mnisi and Viviers. Worth of mentioning is the fact Mercedes- Benz celebrated its 25th anniversary of its global fashion engagement this season in Berlin.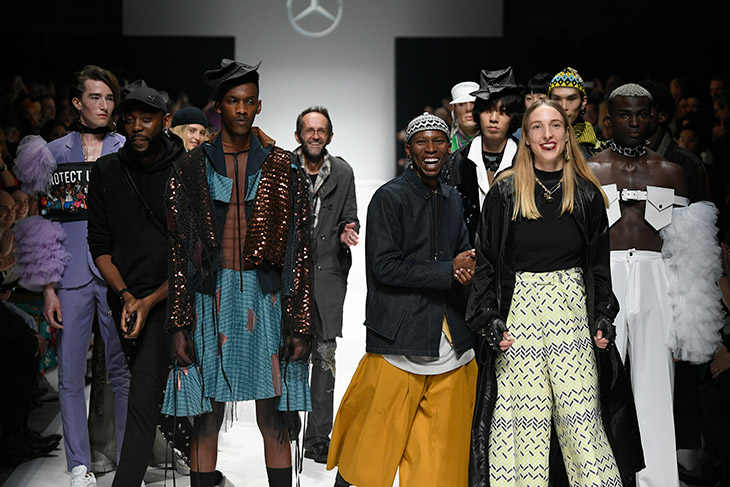 On top of that, Mercedes-Benz had a very special surprise for all the supermodel fans among you: South African supermodel Candice Swanepoel, who is estimated to be one of the best- earning models worldwide and has gained large popularity by working as a Victoria's Secret Angel for more than ten years, attended the show. Thus, she showed her support to her homecounty and its rising fashion talents. Considering the fact her list of references is sheer endless and simply fantastic, we were more than excited to welcome her in Berlin.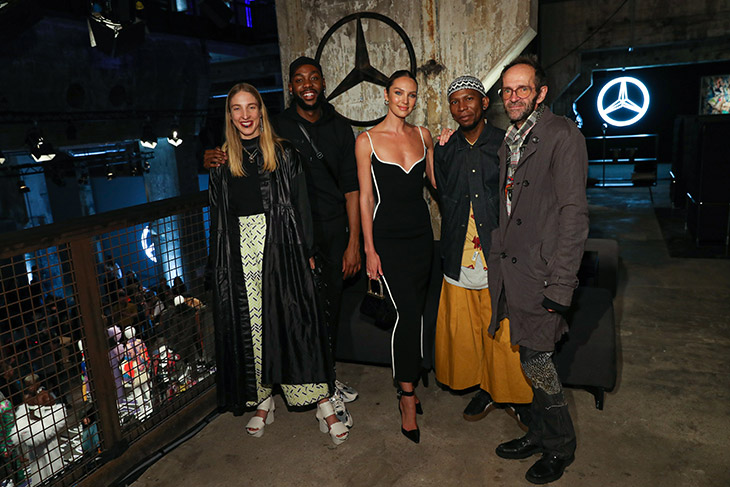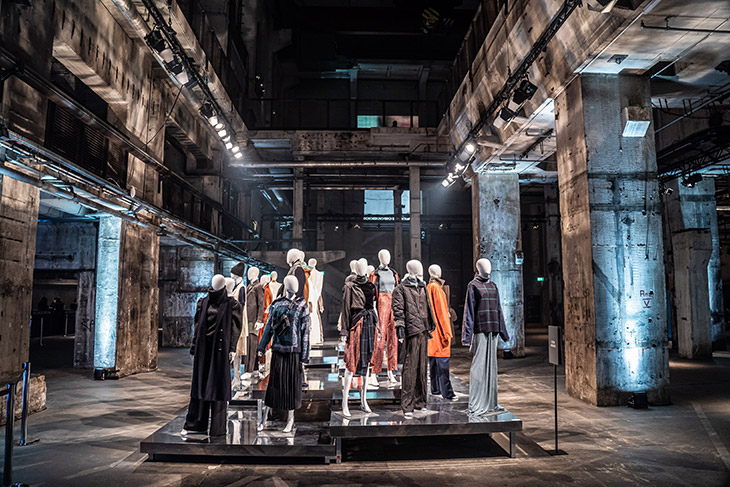 The South African fashion market is, by the way, certainly worth watching and one to rise. With their group show, the four upcoming talents used the chance to introduce the large variety of South African design, art, craftmanship and tradition to a wider public. At the same time they interpreted these inspiring influences in an incredibly innovative way. You may even say the circle closes as the whole design talent promotion programme started in South Africa in 2009. Furthermore Mercedes- Benz underlined its dedication to the international fashion scene anew, but also to the promotion of upcoming design talents.
But now let us have a closer look at the four South African designers and what they presented in Berlin:
Clive Rundle
As one of the most renowned fashion designers in South Africa, Clive Rundle is creating womenswear with a rather avantgardistic approach. The ten complex looks he introduced in Berlin depicted figures that described the German capital city of his visions. Creative layering played a central role. Silhouettes were extremely flattering the female silhouette, some of the cuts were kept rather loose and therefore the feelgood factor of these creations was simply amazing. Gender lines were creatively blurred, for instance a male model was wearing a pleated A- line skirt with golden ornaments on it: Why not? If we don't start being courageous in the golden '20s, when will we start it? Various nuances were vividly mixed and matched together. However, you can always mix and match all pieces of these line together. Quite a clever idea, don't you think so? Fabric remnants and vintage textiles, one of his preferred materials, were used in this collection as well. They were collected for many years in his shop in Johannesburg- some of them getting ready for the big stage in Berlin…
Floyd Avenue
Menswear designer Floyd Avenue presented eight looks of his Autumn/ Winter 2020 collection "Within Your Ken". This range focused on precisely cut jackets and coats, but also utility trousers in navy blue and olive green. Therefore this line is the perfect addition for your everyday adventures. The rather restrained, timeless color palette contributed to the very wearable character of these compelling outfits. Worth of mentioning was also the very special detail- awareness of this collection: eye- catching zippers, buttons or orange cords underlined the very unique approach of these creations. The whole collection was, by the way, mainly made of cotton. The outfits appeared in a rather robustly way and are therefore the perfect addition for wearing them in Europe.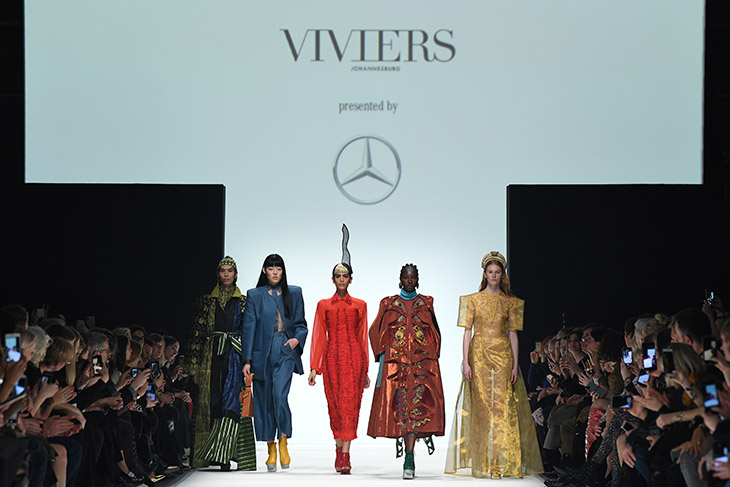 Lezanne Viviers
Lezanne Viviers showed with her label Viviers her latest line titled "OR/ BITING AURABOROS". The use of contrary materials played a central role: for example silk, viscose, cotton, nylon and industrial fibres in rich colours were used in a bunch of different ways. Exclusively in Berlin, Viviers introduced some special creations, such as the so-called "Orbiting dress". This creation symbolized the infinite connection with the precious metal gold. Being significant for this line was the use of remnants. That way you can avoid waste product and care for the environment. Simply smooth!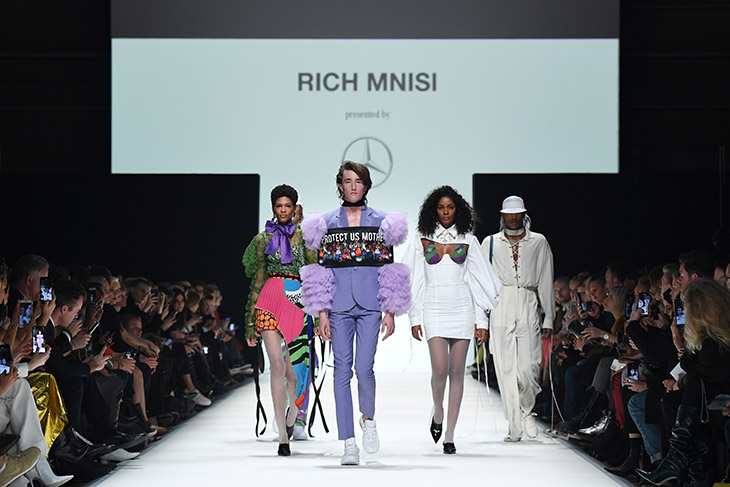 Rich Mnisi
Rich Mnisi presented his collection "Alkebulan" and with this line, some looks he created exclusively for the audience in Berlin. In this line, influences from Africa clearly shone through: the beauty and diverse tradition of Africa was depicted in bold, vibrant, eye- popping colours. They were, on top of that, vividly mixed and matched together. Menswear suits were kept in bright nuances and provided with eye- catching pattern. Interesting fact: the outfits were produced by a group of local tailors, remnants were often used. Incredibly inspiring!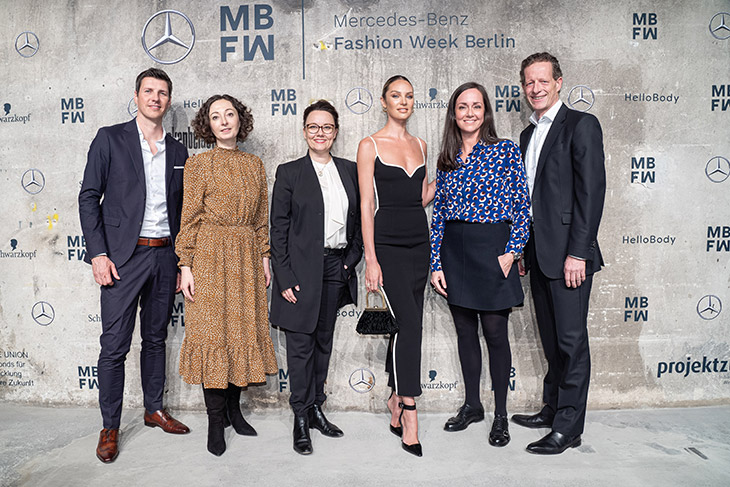 We like the fact every line of these four upcoming design talents had its very own character. It was certainly an enrichment for Berlin to have them here and we will keep an eye on their development.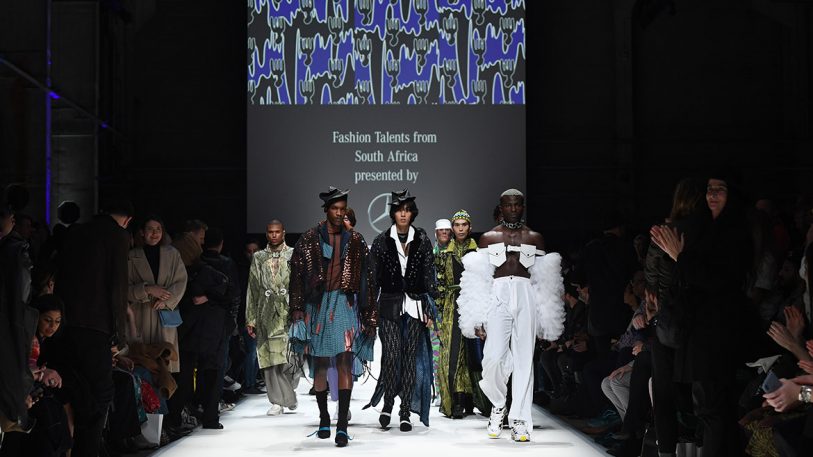 Review by Sussan Zeck for D'SCENE Magazine