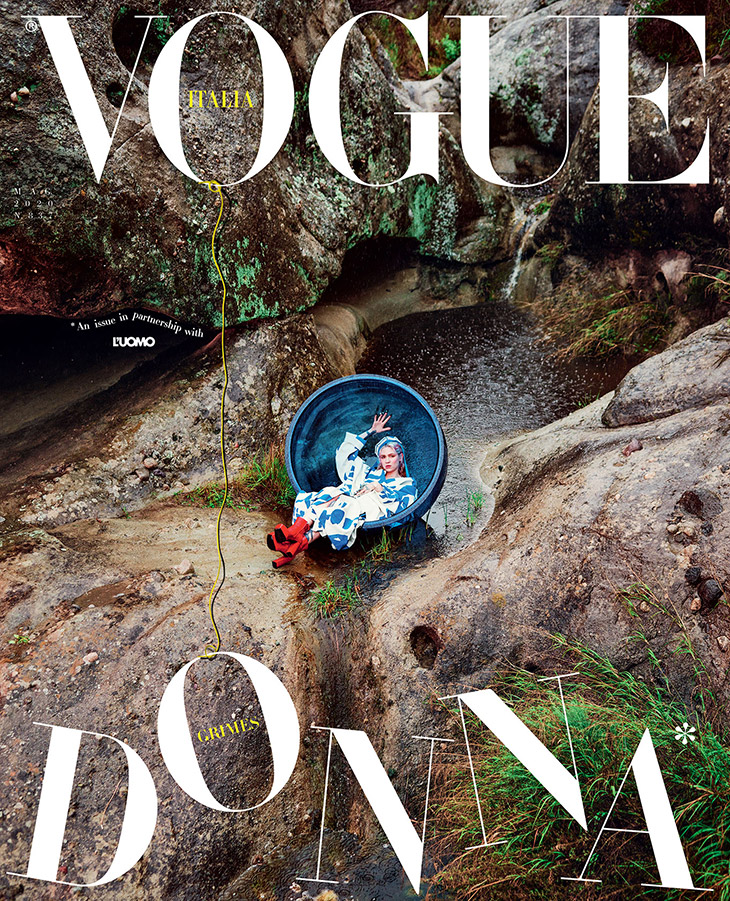 Musician Grimes takes the cover story of Vogue Italia's May 2020 edition captured by fashion photographer Ryan McGinley. In charge of styling was Patti Wilson, with set design from Peter Klein, and casting direction by Piergiorgio Del Moro and Samuel Ellis at DM Fashion Studio. Beauty is work of hair stylist Chanel Croker, and makeup artist Natasha Severino.
It's definitely very challenging to be pregnant in the middle of a pandemic. It's tough not being able to see friends and family. A friend of mine unfortunately passed away recently, and it was a nightmare not being able to be there for her loved ones. It won't be easy to be in hospital… I won't go into detail, but I feel very empathetic for anyone who is going through this same phase. And I trust what the maternity wards are doing to manage the situation, I have a great deal of respect for the work that doctors do – Grimes
For the cover story Grimes posed in the ninth month of her pregnancy, she and her partner Elon Musk, welcomed their first child on May 4th. The couple named their son X IJ A-12.
Fashion has been generous with me. It's allowed me to promote my work. Fashion is one of the ways the human body can be transformed into a work of art, so I take it very seriously. I'm really passionate about digital fashion in video games, and prefer the ones which offer plenty of clothing options, or where buying virtual clothes is actually an integral part of the game. I think that it's a mark of cultural progress, and it's definitely more sustainable than creating and consuming real clothes – Grimes
This is an opportunity to have a good, long think about how we're living, even if it's an uncomfortable truth! Human beings are incredible. Even in our darkest hour, we're surrounded by wonder. – Grimes
For more visit Vogue Italia's official page: www.vogue.it