For season three Jodie Comer's Villanelle in the much talked about Killing Eve is looking quite different from her glossy assassin in the previous two seasons. Nevertheless she is still in a role which we grew to love and hate.
Costume designer Sam Perry follows the evolution of Villanelle through her even more distinguished and extravagant fashion taste. Villanelle just as before experiments with fashion however she's more daring than ever and just as before unafraid of standing out.
In her latest interview for the New York Times, Jodie shared how she was passing her time in lock-down, and it mostly consisted of Pilates, making sure not to drink wine in the sun, and making sure to keep up with her much improved skincare routine.
"The film I was doing went on hiatus. When I came back home to Liverpool, I cleaned all of my makeup brushes. I'm waiting for the day when we can all go out and party together again. The brushes, they are ready to go!" she shares with the New York Times.
Yet for a lot of us online shopping or browsing for the same is the favourite knockdown pastime. While we are getting ready to step outside this Summer Vilanelle's outfits from season 3 have become some of the most coveted pieces to shop online.
DESIGN SCENE magazine's Fashion Director Katarina Djoric selects her favourite outfits from the latest Killing Eve episodes along with finding the best place for you to shop online for the same: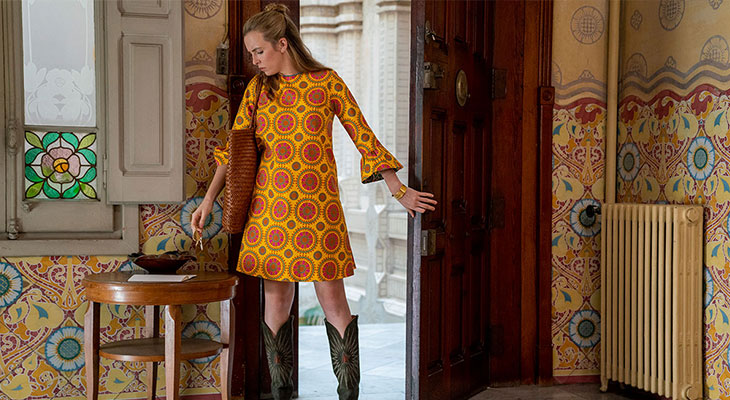 Villanelle obviously enjoys high-end fashion. Her sense of style will always be there, even if she doesn't have the funds. – said costume designer Sam Perry for Vogue. There wasn't an intention to give season three a '70s feel in particular, but I think maybe a vintage-inspired vibe crept in there. Some of the outfits have a '60s, '70s and '80s edge to them. – she added.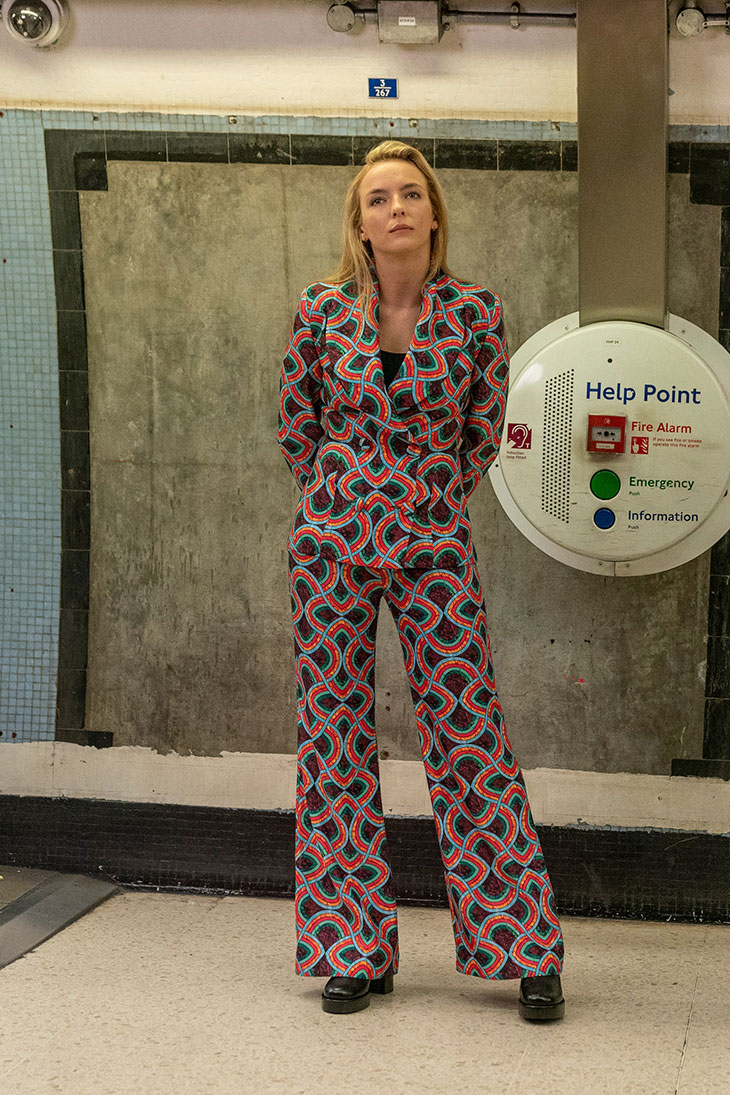 Villanelle in a Halpern SS20 suit that epitomises the 1970s and 1980s inspiration, with a vibrant palette and exaggerated features and a platform boots by Simon Miller. The Halpern psychedelic suit definitely had a nod to swinging London. – said Perry for Vogue.
SHOP THE LOOK: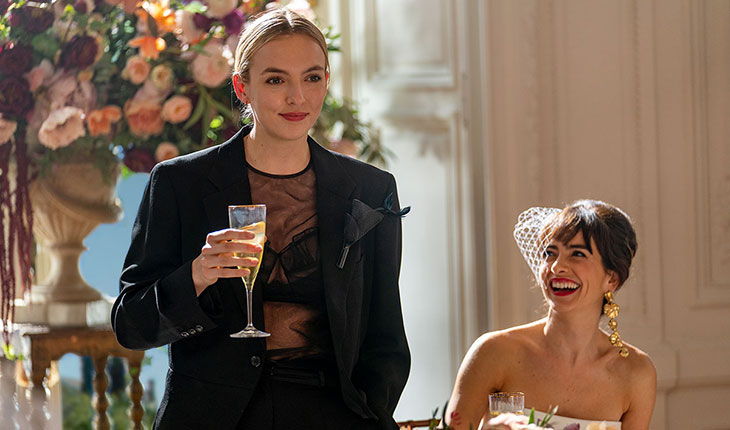 In the opening scene of season 3, Villanelle is attending a wedding wearing a black wool tailcoat by Comme Des Garçons, with a ruffled bustier tulle top by Simone Rocha, accessorised with a flowery broach by Loewe. Related: Killing Eve Star Jodie Comer Models Loewe SS20
SHOP THE LOOK: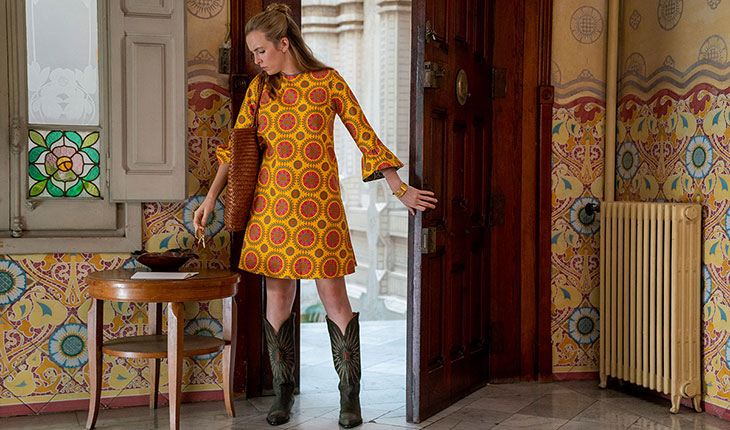 Villanelle in this yellow Swing dress from La Doublej – that's all. Paired with Green leather Wish star boots from Golden Goose and brown leather Tatia woven tote bag from Loeffler Randall, this look is meant to take you from Sunday breakfast to a snappy desk job and all the way through cocktails. The yellow Swing dress features a round neck, short sleeves and a classic T-shirt silhouette. The print hails from the archives of the Zurich-based Abraham silk, the manufacturers behind the florals in Dior's New Look collection that flooded Europe with colour after WWII.
SHOP THE LOOK:
Villanelle is proving her love of tailoring in this Dice Kayek virgin wool structured blazer and high waist slim leg trousers combining traditional Ottoman craftsmanship techniques with Parisian tailoring. Paired with a Simone Rocha gold shoes, this metallic look is completed by hair and makeup by Juliette Tomes. Collaboration is really important. We talk through all the costume choices with the directors and producers. I work closely with Juliette Tomes, the hair and makeup designer, to make sure the costume and hair and makeup work together for a complete look. – said costume designer Sam Perry for AMC.
SHOP THE LOOK: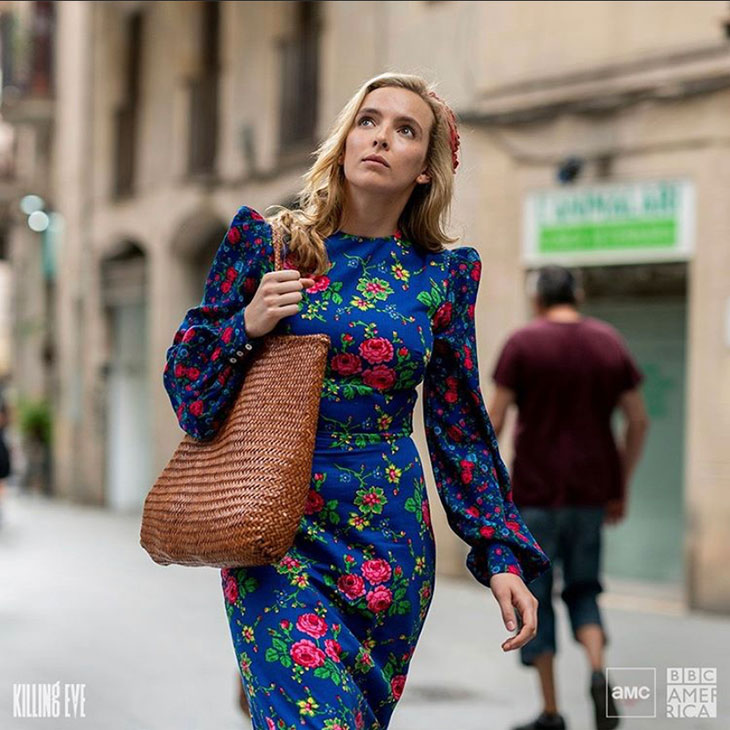 In episode 2, Villanelle's already feeling at home in Barcelona, wearing this bold, ruffled dress from The Vampire's Wife (which is already sold out, but don't worry, we found you the alternative). Designer Susie Cave calls her signature full-length gowns 'street-sweepers' as their ruffle hems graze the ground. These unapologetically feminine designs combine vintage silhouettes with gothic glamour, in silk, velvet and lace, combined with a romantic prints. Complete the look with a brown tote and floral headband.
SHOP THE LOOK: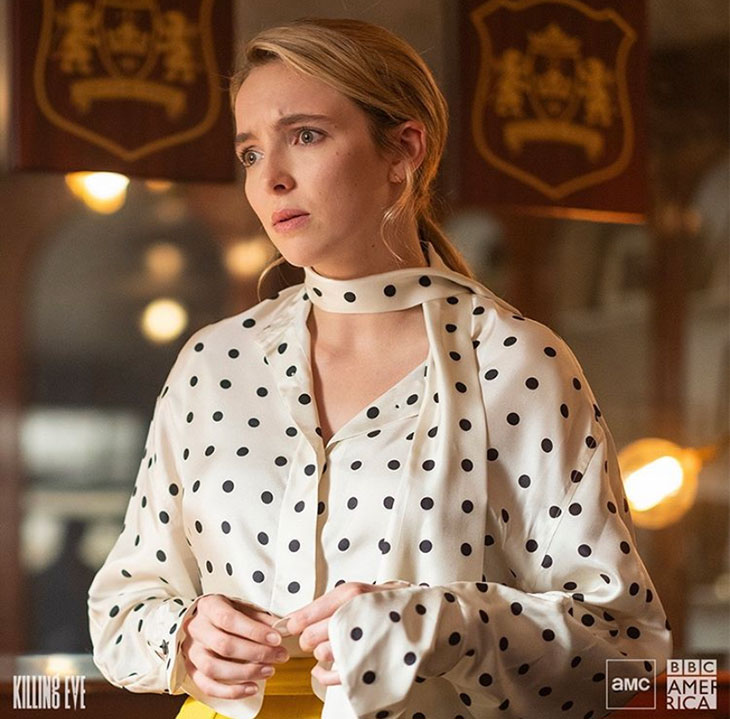 Polka Dots are back in a big way! There's plenty of dotted pieces in designer collections this season, so you must give it a try. Who better to provide you the polka dot outfit inspiration than Villanelle. She nailed a polka dot look, wearing a blouse by Petar Petrov paired with yellow pleat trousers by Maison Rabih Kayrouz.
SHOP THE LOOK: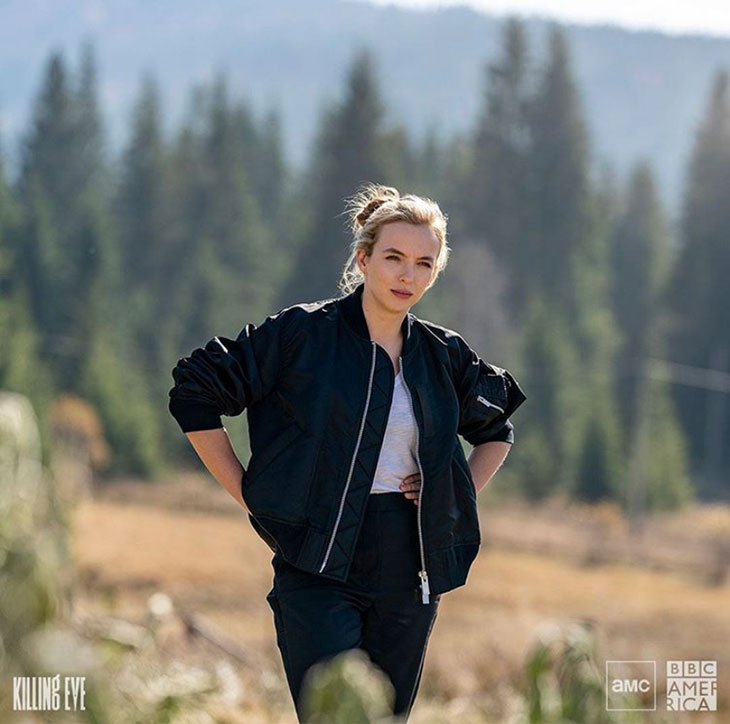 Sporty and sexy at the same time, bomber jackets are a great way to dress down and give your outfit a bit of an edge. In this episode Villanelle is wearing a black oversized bomber jacket from Sacai with a ribbed collar and dropped shoulders, paired with a simple white tee and sporty trousers.
SHOP THE LOOK: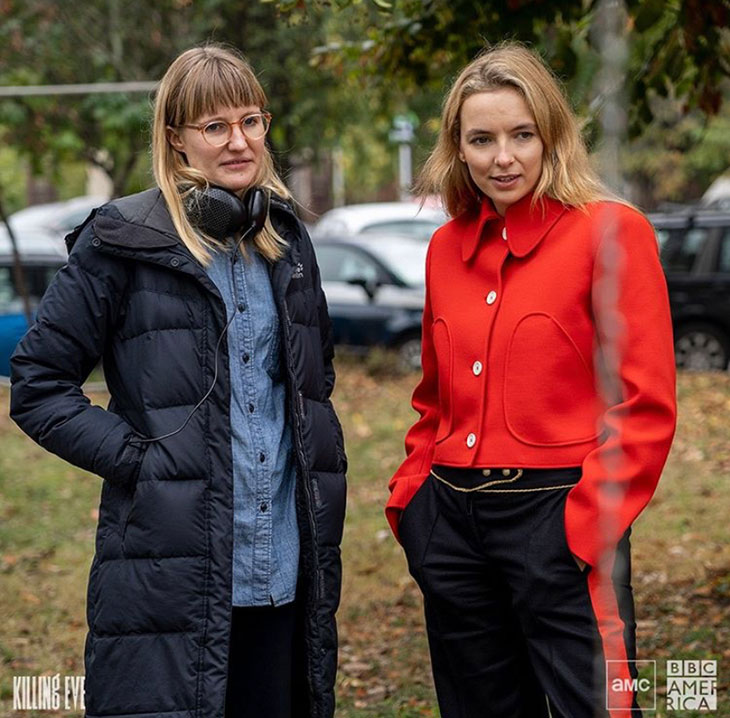 You can't go unnoticed in Courrèges' innovative silhouettes and striking outlines in bright tones and pop art shades. Villanelle is wearing textured virgin wool jacket from Courrèges featuring an oversized collar, with a front button fastening, paired with Paco Rabanne contrast stripe tailored trousers and Reikenen woven ankle boots in white.
SHOP THE LOOK: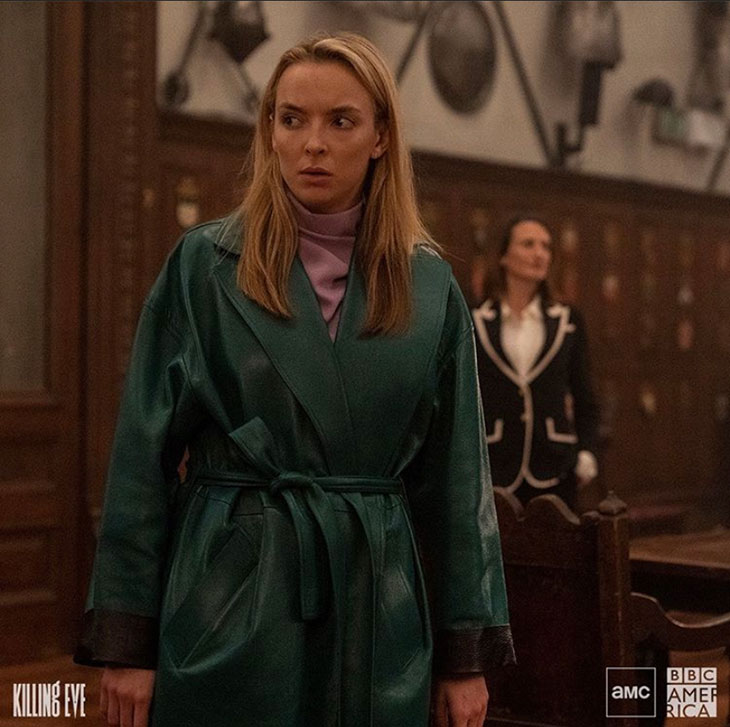 Inès & Maréchal has been creating outerwear of the most elevated quality for twenty years and this green Gustave coat, seen on the SS20 lookbook, is an unstudied example. It's made in France from locally sourced lambskin with a light, soft and supple texture that is contrasted with a suede reverse, which can be appreciated from the impeccable interior. Wear it throughout the year with casual and formal edits alike.
SHOP THE LOOK:
Merging elements of deconstructivism, minimalism, and utilitarianism, this Charlotte Knowles coat traverse the boundaries between tradition and the avant-garde. Paired with these green Gucci trousers, the look proves Villanelle's status as the world's most stylish assassin.
SHOP CHARLOTTE KNOWLES: