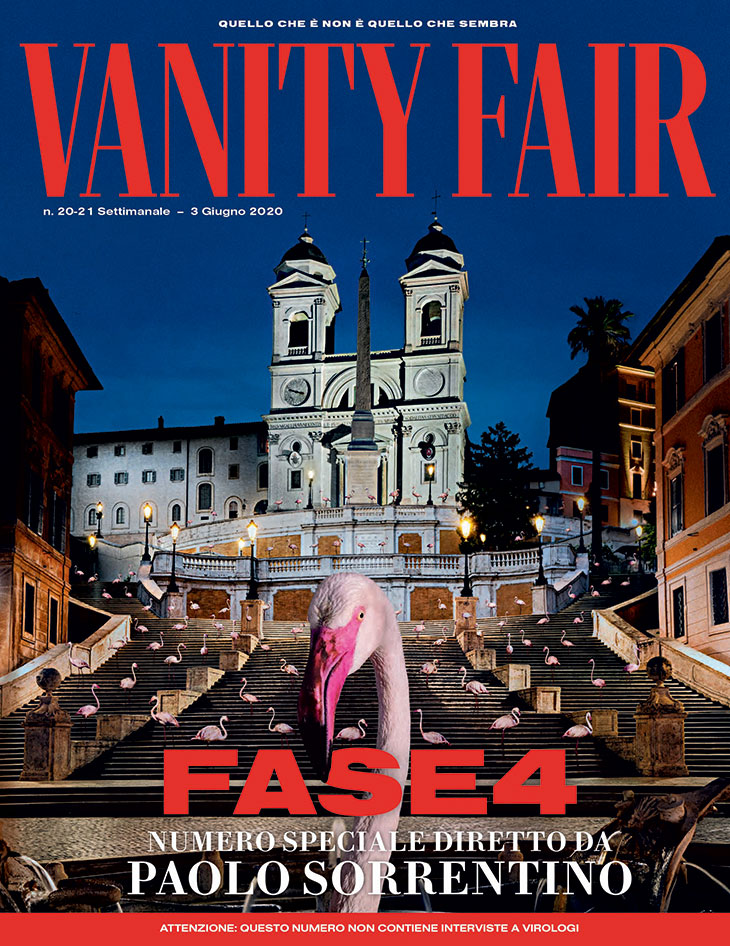 Oscar-winning director Paolo Sorrentino is the artistic director of the latest issue of Vanity Fair Italia, a innovative multimedia project entitled Phase 4.  The cover of the magazine features a flock of pink flamingos photographed at night on the Spanish Steps in Rome by Alex Majoli and Paolo Sorrentino.
In his hands, the magazine becomes a screenplay, a film in which a star-studded cast of actors, artists and celebrities are enlisted as writers. The project is inspired by The Great Beauty, the masterpiece that won the director an Academy Award in 2014, and it plays out in a brand-new multi-media enterprise halfway between film and publishing.
The issue includes contributions written by leading international stars who describe personal experiences, suggestions and memories linked to Italian beauty: Sharon Stone, Jennifer Lawrence, Willem Dafoe, Christoph Waltz, Jude Law, Wes Anderson, Jane Fonda, John Malkovich, Rachel Weisz and Woody Harrelson.
Italian fashion also plays a leading role: the designer Alessandro Michele contributes with a conversation with rapper Achille Lauro about the power of beauty in today's culture.
Contemporary art is represented by Marina Abramović, who created an exclusive work in response to Sorrentino's invitation.
Each contributor is invited to imagine their own Phase 4, a momentous moment to consider the post-lockdown future and the first tentative steps towards recovery.
Anyone can send in their vision of the future using the hashtag #phase4 and including a photograph to illustrate their dreams for tomorrow.