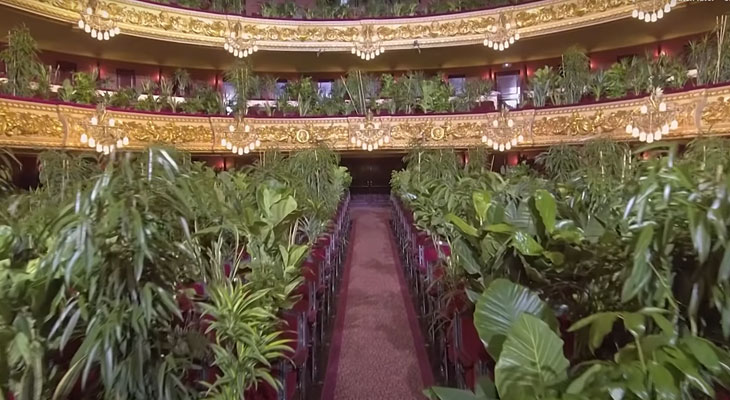 Barcelona's legendary opera house El Liceu reopened this Monday with a concert to an audience of 2,292 potted plants. The Concert For The Biocene came the day after Spain finally ended three-month state of emergency.
The project was born from a collaborative initiative between El Liceu opera house together with Max Estrella gallery and curator Blanca de la Torre. The concert was performed by UceLi string quartet who performed Puccini's Crisantemi.
RELATED: MUSIC
Spanish conceptual artist Eugenio Ampudia was inspired by the connection he built with nature during the pandemic. I watched what was going on with nature during all this time. I heard many more birds singing. And the plants in my garden and outside growing faster. And, without a doubt, I thought that maybe I could now relate in a much more intimate way with people and nature. – he said.
All the plants were donated to 2,292 health professionals from the Clínic de Barcelona hospital, accompanied by a certificate from the artist.
Musicians UCELI QUARTET – Yana Tsanova, violin; Oleg Shport, violin; Claire Bobij, viola; Guillaume Terrail, cello
Production Gran Teatre del Liceu de Barcelona
Artistic Director Víctor García de Gomar
Sound Designer Juan Manuel Artero
Camera and Picture Pedro Albornoz
Editon and Postproduction Julia Latasa
Graphic Designer Andrés Mengs
Coordination María Platero
With the support of Flores Navarro
Executive production Galería Max Estrella, Gran Teatre del Liceu i Eugenio Ampudia
Visit www.liceubarcelona.cat for more info.