Italian fashion brand Versace presented Resort 2021 Flash Collection that was inspired by the attitude of young musicians, who are pursuing their goals and disrupting the status quo, while exploring different styles. The collection will launch in two distinct drops: Flash Teaser – August 2020 – that features selection of summer statement pieces, and Flash Main – November 2020 – that will contain a full offering of transeasonal ready-to-wear and accessories for all genders.
Donatella Versace also presented Flash collection with a live broadcast from Milan, that featured performance by AJ Tracey, on Thursday July 16th, as part of Milano Digital Fashion Week. Models Cheikh Dia, Fien Kloos, Nabou Thiam, and Stas Zienkiewicz are the stars of the lookbook. In charge of styling was Jacob K, with casting direction from Piergiorgio Del Moro.
"A new print, Medusa Amplified, references vinyl records with its rotating gorgon heads. Leopard and python patterns are doused in rock-n-roll colorways and placed on unexpected fabrics. Black designs add mystique to lineup. Moody, dark, immersive and seductive. They bring confidence to the day and elegance to the night.
Who do you ask if you want to know what's desirable in 2020? The paparazzi. Jewelry-like rings adorn ready-to-wear styles, revealing flashes of bare skin or base layers beneath. Inspired by the circular shape of long-lens cameras, they symbolize a photographer's ability to zoom in on the most coveted aspects of pop culture. The theme travels to accessories, with the introduction of Medusa Aeternitas, a new bag style suspended from a circular bangle. Future-looking Jerseys and sweaters are made from sustainable fibers and dyes as part of our commitment to taking greener steps as a brand."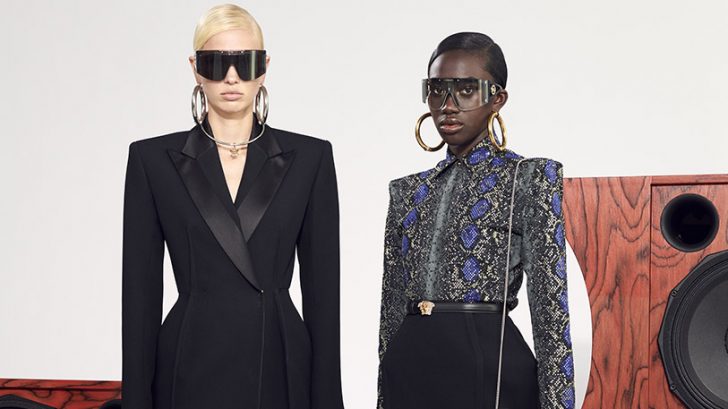 Courtesy of © VERSACE