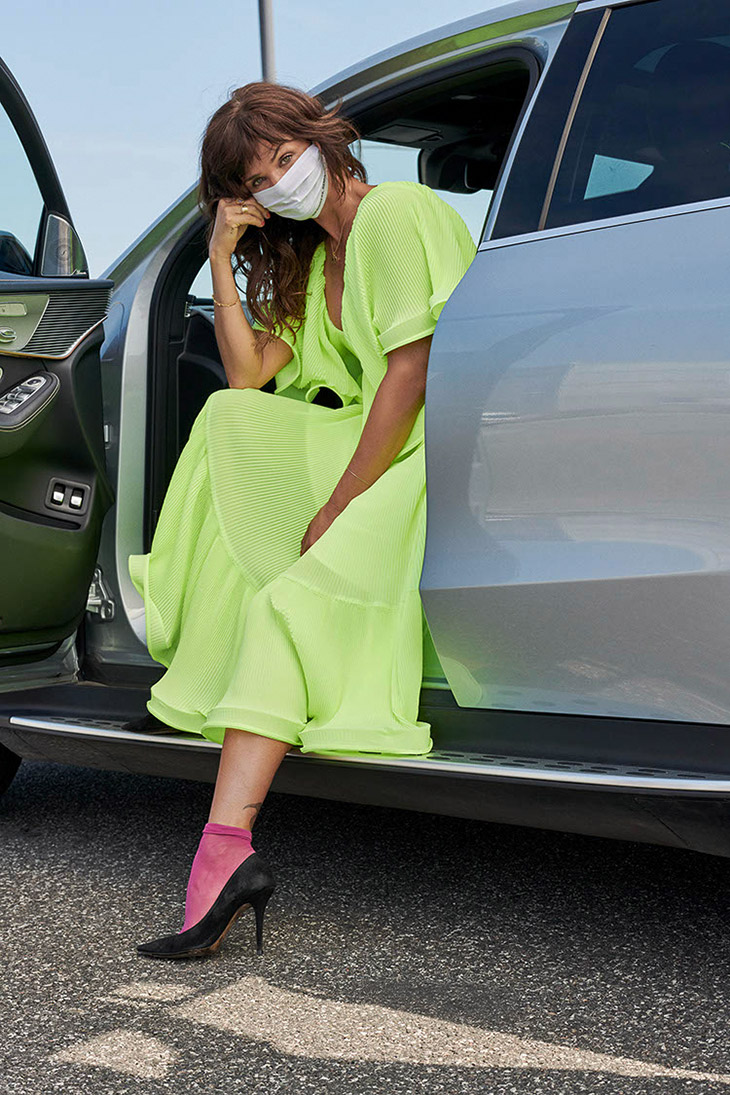 At Copenhagen Fashion Week Spring Summer 2021, Mercedes-Benz teams up with supermodel Helena Christensen to underline the importance of wearing mouth-nose-masks to contain the Covid-19 pandemic. During the fashion event from August 09-12, Helena Christensen was photographed infront of the most famous landmarks of the Danish capital city. The striking outfits she was wearing were created by five Danish designers that contained face masks they had either created or customized.
I am honoured to be working with Mercedes-Benz to raise awareness for such an important issue. We have a responsibility as individuals, and to others, to wear a mask to minimise risks at this time – explained Helena Christensen.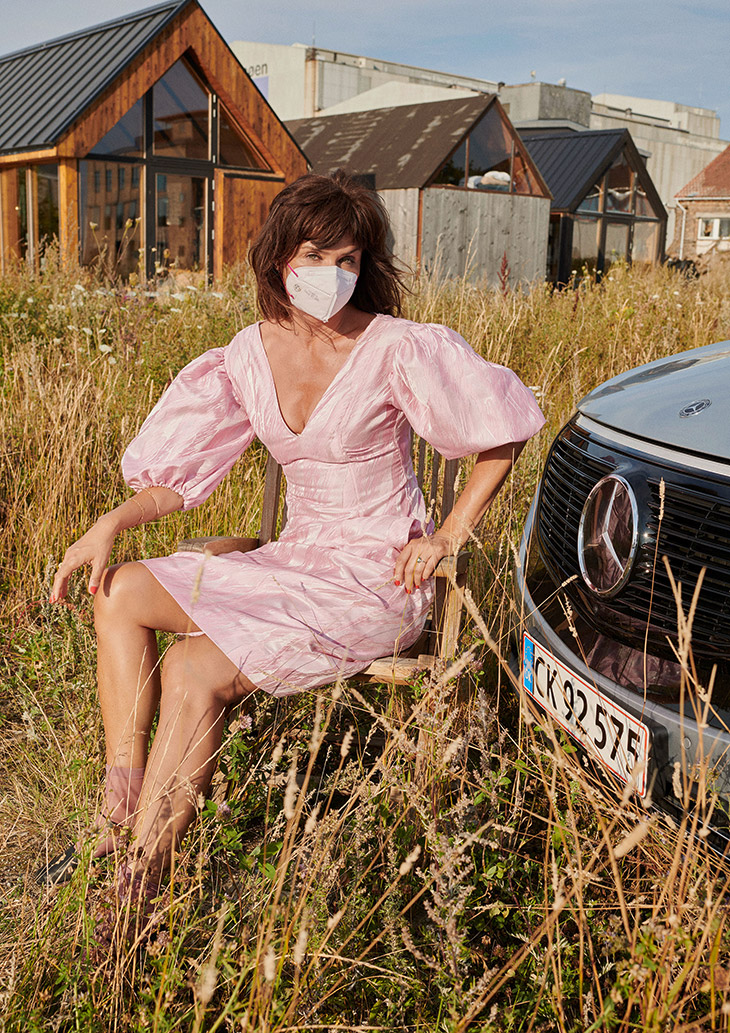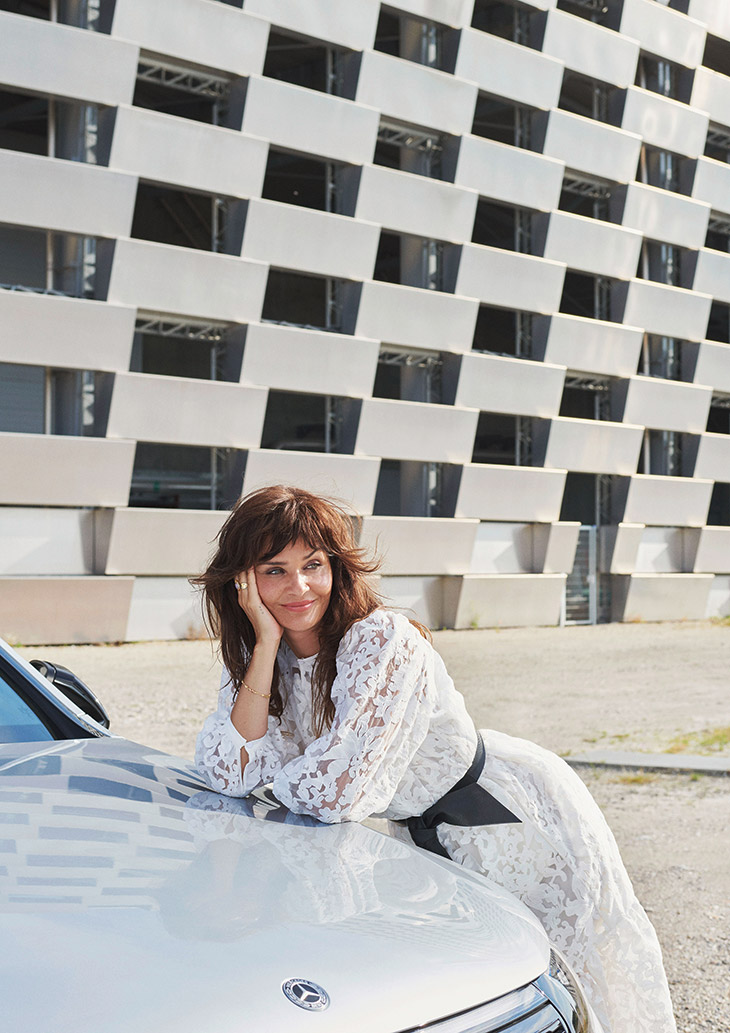 Helena Christensen is a renowned face of the luxury industry for over three decades. As one of the original supermodels of the 1990s, she was one of the most well-known names of this time. A muse to the late Gianni Versace, she participated in campaigns and runway shows for the biggest names in fashion industry, such as Chanel, Hermés, Prada and Valentino. She was on the most sought-after covers, such as W, Harper's Bazaar and Vogue – for numerous occasions. Due to her appearance in the Herb Ritts shot music video for Chris Isaak's "Wicked Game" in 1989, she made herself a name as one of the iconic supermodels of the '90s. Behind the lense, she is a highly talented photographer and has shot editorials for titles including Vogue, Elle, DSCENE and others. In addition to that, she uses her status to raise awareness for climate change and various humanitarian causes.
Thus, she perfectly embodies the social responsibility of Mercedes-Benz by demonstrating the importance of wearing a face mask at the Copenhagen Fashion Week SS21. Furthermore this protection can be even elevated to a piece of iconic design and make your outfit even more unique. With that collaboration, both parties want to raise awareness on the importance of wearing a face mask and to do that in a suitably creative way.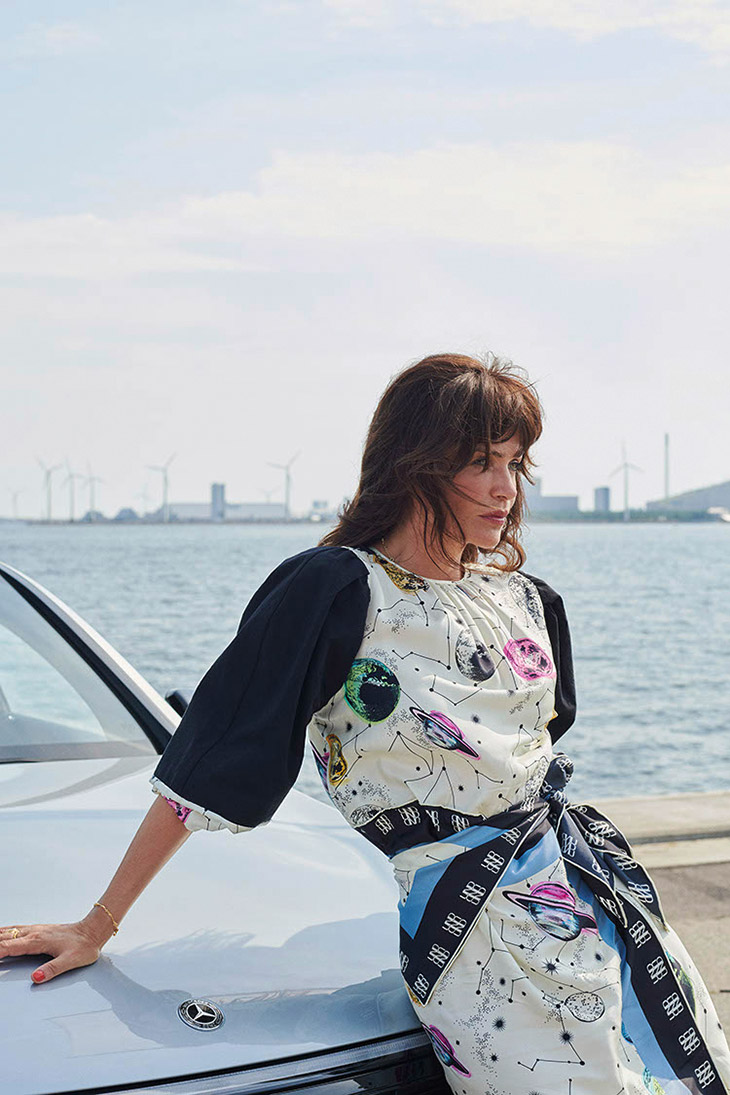 We at Mercedes-Benz are very aware of our social responsibility to show attitude and act as role model especially in difficult times. As a leading luxury brand we are delighted to implement this in partnership with Helena- one of the most iconic faces in fashion – declared Bettina Haussmann, Head of Mercedes-Benz Brand Entertainment.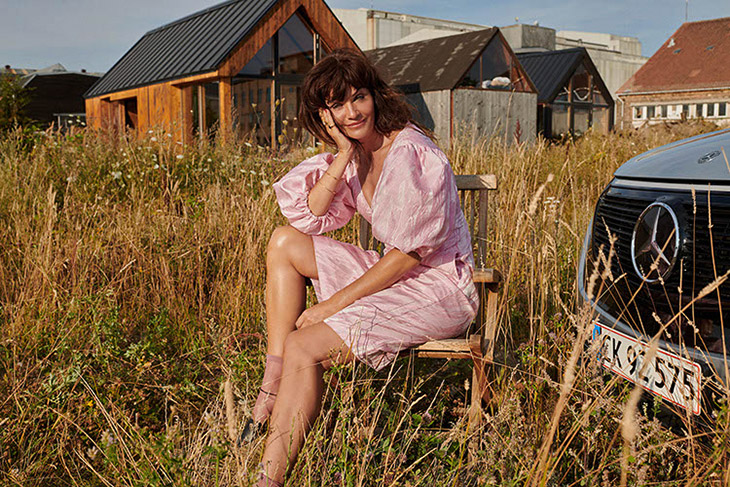 Being a familiar name during Copenhagen Fashion Week, Mercedes Benz Denmark's long standing relationship can be traced back to 2009. At that time, Mercedes-Benz started to make shared fashion show locations for several designers each season possible. Since then, Mercedes-Benz supported the Fashion Week of the Danish capital city which is, without any doubt, always one to watch. Lately, Mercedes-Benz is collaborating with one designer closely, often to create engaging social media content and impactful visuals around their fashion show or event. One of the designers that had to honor to work with Mercedes-Benz in a more depth capacity is Danish Designer Soeren Le Schmidt. Moreover on the 10th August 2020, Mercedes-Benz supported GANNI in the opening reception of its exhibition, which united clothing, art, discussion and performance for a comprehensive and collaborative brand experience. However also sustainability played a major role in the famous automobile manufacturers' fashion engagement: The VIP guests were transported with electric and hybrid vehicles between events. Furthermore the GANNI opening reception was supported by a shuttle service.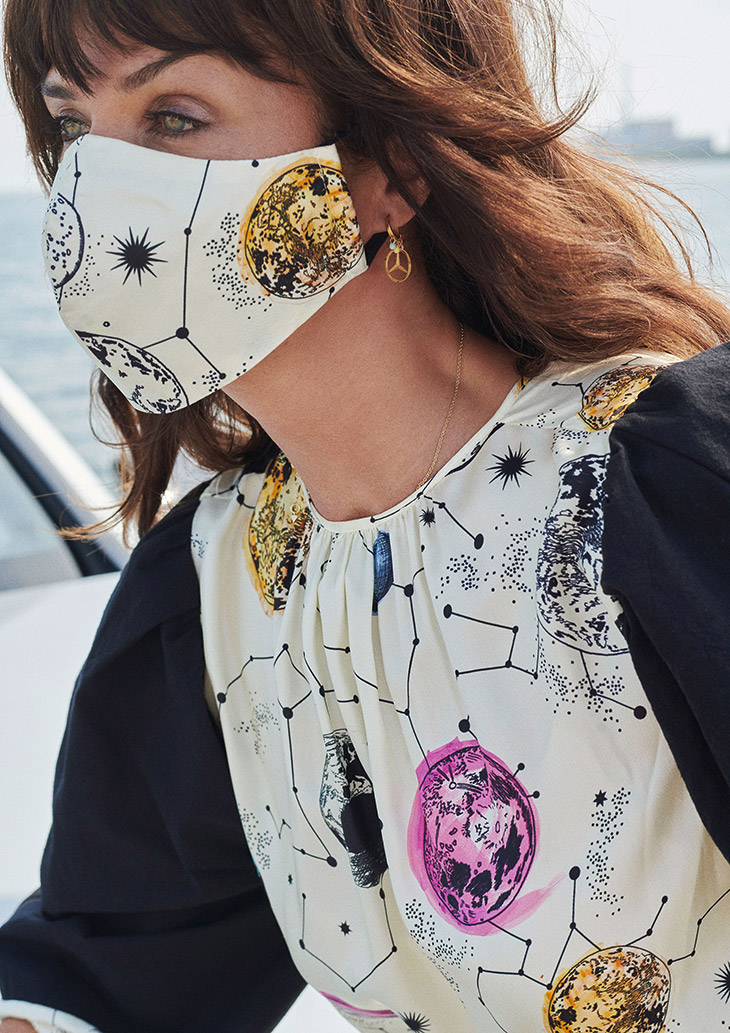 Over the last 25 years, Mercedes-Benz has been very active by promoting 140 designers in over 30 platforms worldwide. The carmakers built authentic relationships within the fashion community through its commitment to emerging designer initiatives, fashion week partnerships and live events. It is supporting many key locations around the world, such as the Mercedes-Benz Fashion Weeks Australia, Mexico, Madrid, Tbilisi, Berlin and the International Festival of Fashion, Photography and Accessories in Hyéres.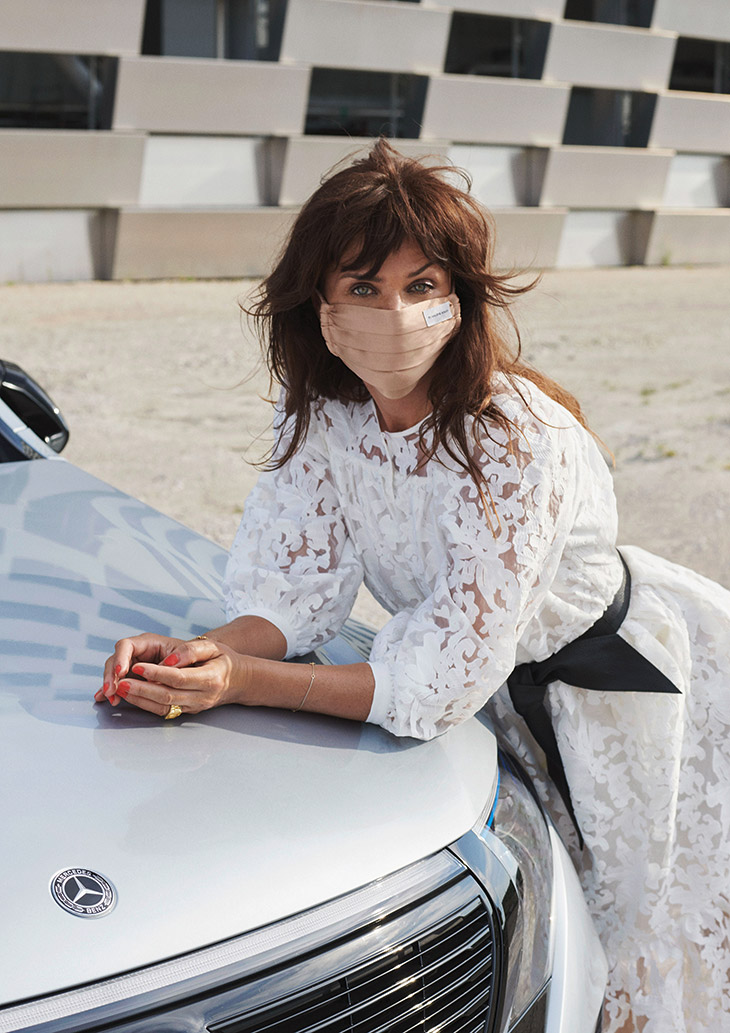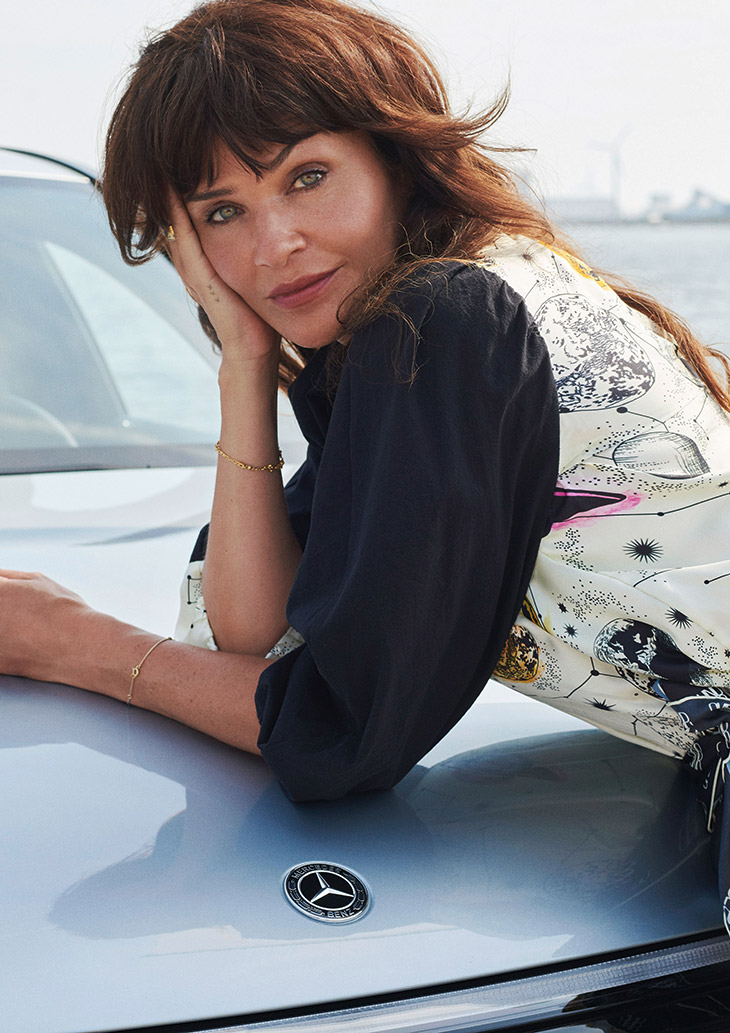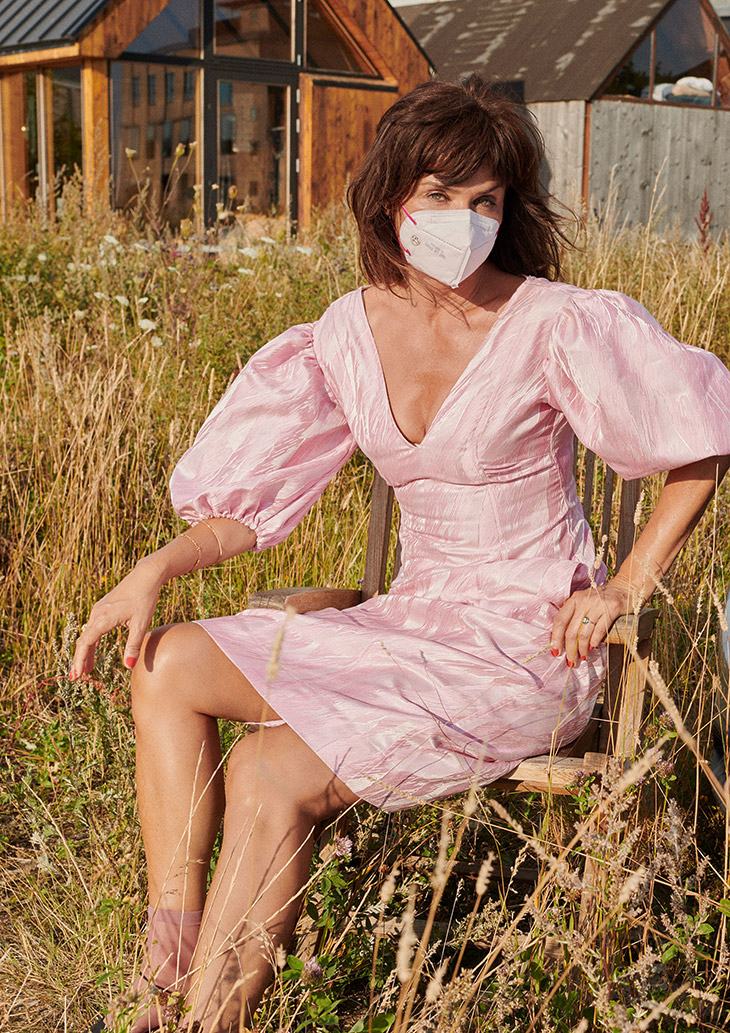 Review by Sussan Zeck for D'SCENE Magazine.