During Milan Fashion Week in February Editor ZARKO DAVINIC had a chance to sit down for an exclusive conversation with Valextra CEO SARA FERRERO. The interview followed the presentation of Valextra's Fall Winter 20.21 collection featuring EXTRAMILANO a collaborative effort with six names to watch. Design duo forming SUNNEI (Simone Rizzo and Loris Messina), Carolina Castiglioni's PLAN C, Arthur Arbesser, JJ Martin's LaDouble J, and Massimo Alba all mixed in their world with the sentiment of Valextra.
Sara talked to our editor about Valextra's impressive collaborative project, Valextra business model and future of the workplace.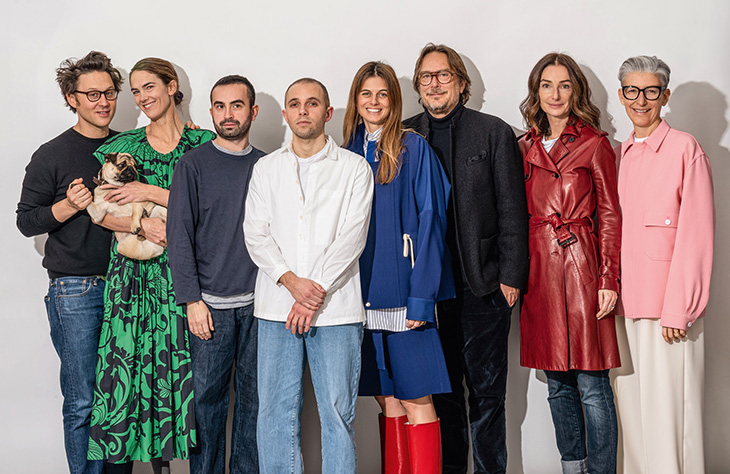 How did it come to a collaboration with five artists for the Valextra collection?

The idea was to do more, to do a collaborative project instead of a collaboration. So we are putting together 6 friends [one of them Valextra] that are respectful to all independent thinkers but can also explain what Milan is. Why Milan is so resilient and so successful, and why even by Forbes it's considered as one of the best places to live. This is also important because when we talk about Valextra we are very well known for being part of the world inspired by design and architecture. But we are also a very Milanese brand and for many people they don't understand what that means.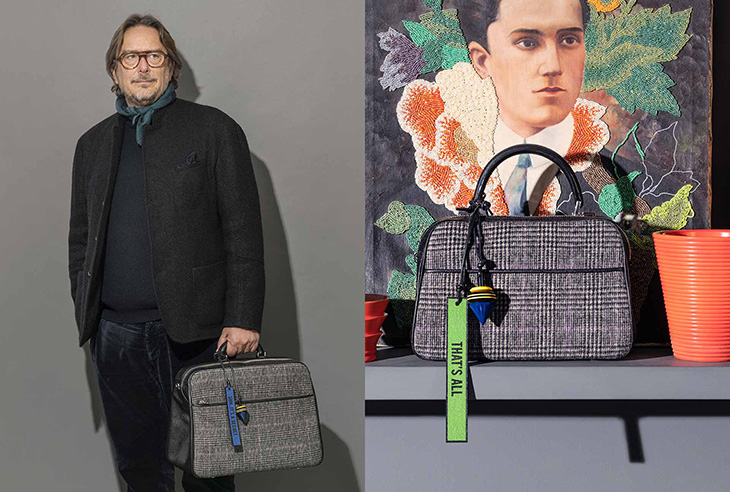 There is a strong mix of design and a spirit of Milan itself when you think of Valextra.

That is how it started. I wanted to explain what Milan is and I wanted to do it with my friends. I asked Sunnei, JJ, Carolina, Arthur, and Massimo "Why don't you explain it?" Why don't you do something together. Where we can have one message but also everyone could come and explore. So when you get Valextra you get a bit of their world. Just like with Arthur you get Milan but you also get a bit of Berlin. Carolina Castiglioni brings her ability and the ability of her family to again restart and recreate with a language that is truly Milanese. Carolina put in her bags the drawings of her daughter. And after you see JJ and you enter her world and it's all colourful and geometric. Sunnei designers Simone Rizzo and Loris Messina also made an art installation to go along with their design.
SHOP VALEXTRA:
[show_shopthepost_widget id="4108609″]
There's a true art note to the whole collection, even today's presentation looks like a buzzing gallery opening. 
As you can see this is real, this is Milan, and it's a family throughout collaboration. We are putting together strengths. It is interesting that they could have done everything they wanted. But there are three things that each and every one done, 1st is use of colour, 2nd is their focus on craftsmanship and the 3rd is geometry. Carolina triangle, JJ is a circle and Sunnei is a rectangle…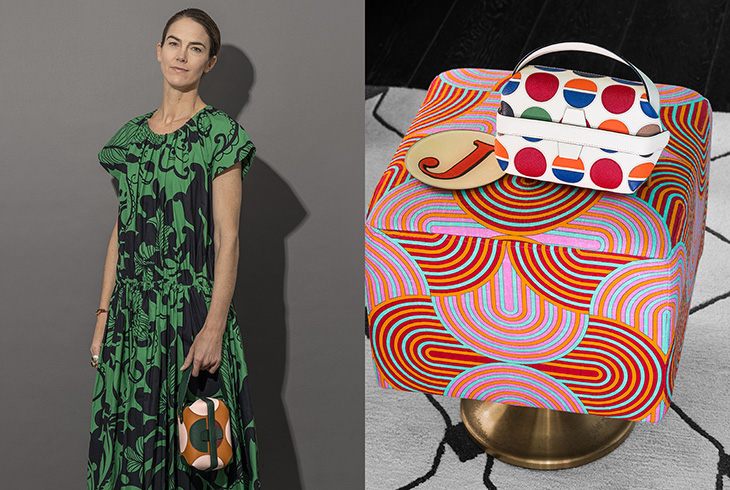 For the coming collections do you plan more collaborations?
If I would tell you then I would have to kill you. [laughs] That is my dark humour from years living in London! We have more ideas, but at the moment we are trying to enjoy this line and focus on it. It's not about today. Everything we do is not a seasonal project. It's what we call collectables. We are talking about a super exclusive presentation with limited pieces, it's really about more showing a message representing us.
Today there is an effort for fashion brands to show traceability for every single design and product. You are producing in Lombardia with a very locally oriented production process from what I know?
Our producers have been with us for eight years, to some over twenty. It is really a partnership.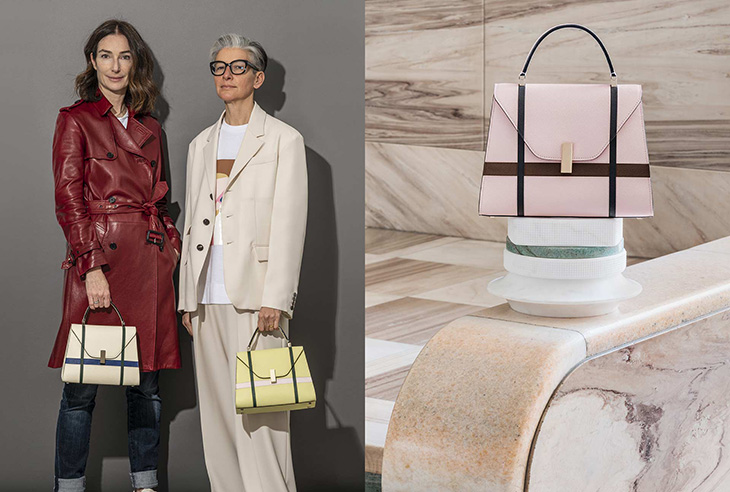 Is showing complete traceability of a production from start to end something Valextra is open to?
We have no problem with that because that is what we do every day. It's a problem when you do not have that traceability. We should probably emphasise it much more. We have seven suppliers working with us for years. It's incredible because everyone has a perception of Valextra to be far bigger than we are. We are very small and if you step into our offices that is the whole team, and people are always asking where the rest is. But that is all of us. We trace our whole design and production process and our factory is just outside Milan. It's a family. The bad thing about being small is that you are obviously much more vulnerable when bad things happen. The good thing is a certain sense of ownership for every single person.
When it comes to this idea of creating a work family, how important do you think such a sentiment is for brands to lead with this sense of empathy in today's business?
I suppose when you are in the beginning of a different stage and you are working with a small group you are very linked with them, that is very true when you are not in a big organisation.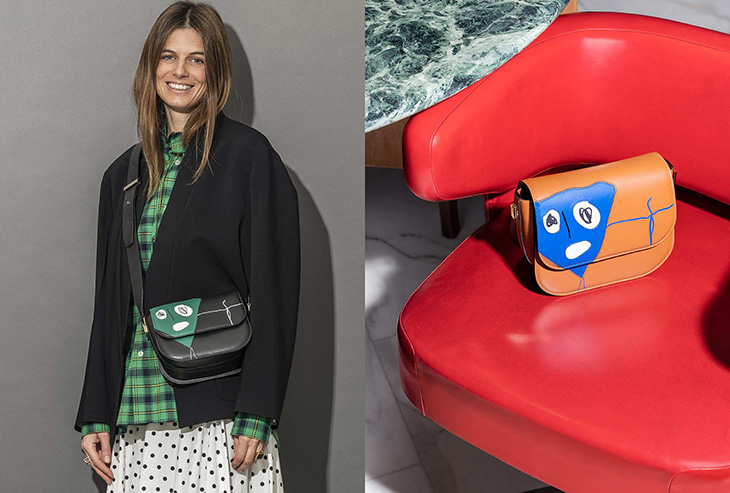 Do you think a woman in charge actually makes a difference to that dynamique?
Woman or man I don't think that is really the point, it's about what are your values and what is important for you. We all know that eventually to be able to move on and make further steps, scale matters. The ability of growing without losing your real values and what is your message I think is the most difficult part. Remaining still is basically impossible in today's fashion industry. So the benefit that people that work with us today have is they really feel that there is this inclusiveness, and this strong possibility to post your piece of yourself inside.
SHOP VALEXTRA:
[show_shopthepost_widget id="4108612″]
When you go online and google CEO in image search you would find only men. 
That I think comes with a lack of visibility for women in general. I think it's a pity. I am not pro women or pro men, I am definitely pro diversity. It's been proven in the stock market that companies performing better are those that have a better proportion of representing diversity. I think everything is a question of balance.
Definitely what I try to take to the company and with what we do is a message that is relevant for me. I started in investment banking and ran my first company when I was 32 years old. This I didn't do only thanks to me, but thanks to the people who believed in me.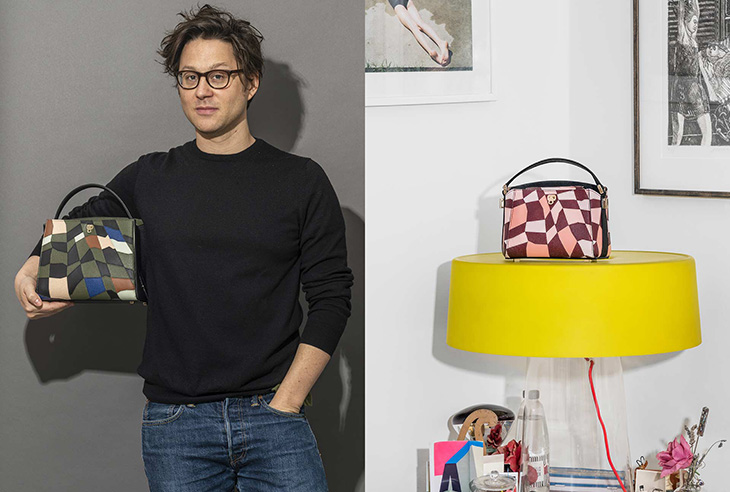 With your experience from investing banking to fashion, how do you see the dominance of alpha culture in a workplace? 
The problem is every company is not democracy, and if you try to pretend so it's impossible. What is true when you run a company in the end there has to be someone that calls the shots. Calling the shots, you usually call them in difficult moments. When there is a divergence that you have to deal with. The other thing is that you have to be able to be connected. Connected with your team. Connected with the world. Connected to what is important. But at the same time maintain your message and your language, If not, you just dilute, and you don't know anymore where you are. There is a humbleness in all this, but I think it's also the strength. I think in a moment I feel that I am not learning anymore, it's probably the time I'll be really obsolete.
This is a great opportunity, I work with great people and I learn a lot. I hope we created a great platform where people can express themselves and there is an overall message. It is about women, men, young, old….Milanese, not Milanese. Let's get together, because here the world is giving us some really strong signals that something is very, very wrong. And if we don't want to see this I think we are really going to leave an inheritance to our children that we will be embarrassed about. Not about money and success. It's the environment, it's people, it's caring about others, gentleness, you know it's caring. And I hope you are seeing beautiful products but also this beautiful collaborative effort with everything we do at Valextra.
The interview originally published in Summer 2020 issue of DSCENE Magazine available in print and digital in our shop.