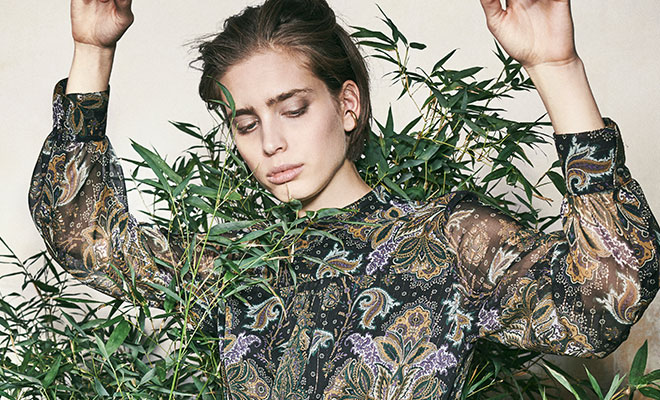 For Fall/ Winter 2020/21, German premium label Luisa Cerano introduces five casual, cozy and stylish lines that all stand out by their very own, individual approach: "Ecco Greens", "Chocolate Baby", "Urban Codes", "New Graphics" and "Arty Nature". Due to the play of materials and nuances, contrasting styles and incredibly interesting new interpretations of trendy outfits are presented. Understatement is used as a key element- exquisite, quiet colour worlds appear in graphic prints, or in endlessly elegant, plain colours. However also elements of folk, bohemian and neo-tradition must not be missing in these collections. They captivate us because of their feminine, stylish and ready-to-wear approach.
Read more after the jump: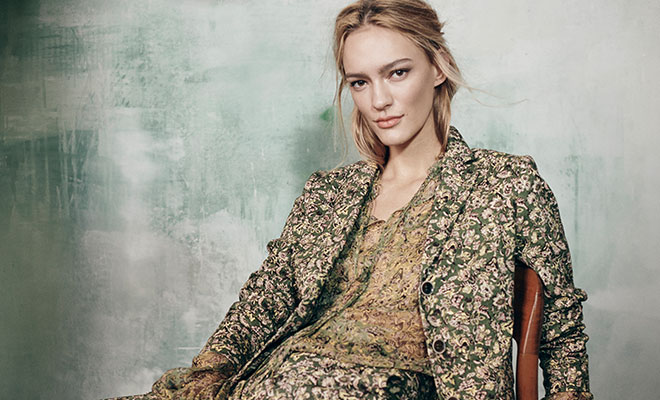 Ecco Greens
As you may assume by the title, this collection takes its inspiration from nature. Thus, natural hues in their original colourfulness play a major role. In this context a palette of green and khaki tones is introduced as new ecco greens. Furthermore a lot of tones the beauty of nature has to offer are applied, such as moss, olive, lime, shamrock, berry, chestnut, coconut, ivory, silver and black. White shading plays a key role and is used in an incredibly interesting way. The fabrics are based on the ready-to-wear idea and are repeatedly contrasted with cool statement knitwear. Many outfits are focused on the waist. Therefore the female silhouette is underlined and celebrated. A statement suit in ecco green hues is the perfect addition for your office wardrobe, whereas other pieces are perfectly suitable for your leisure time hours. Most designs are emphasized with utility elements in the details. The pairing of urban- chic influences with comfortable ones makes this line so highly desirable. However some pieces for glamorous hours must not be missing, such as a pleated skirt that is provided with sequins. Sensual. Sophisticated. Strong.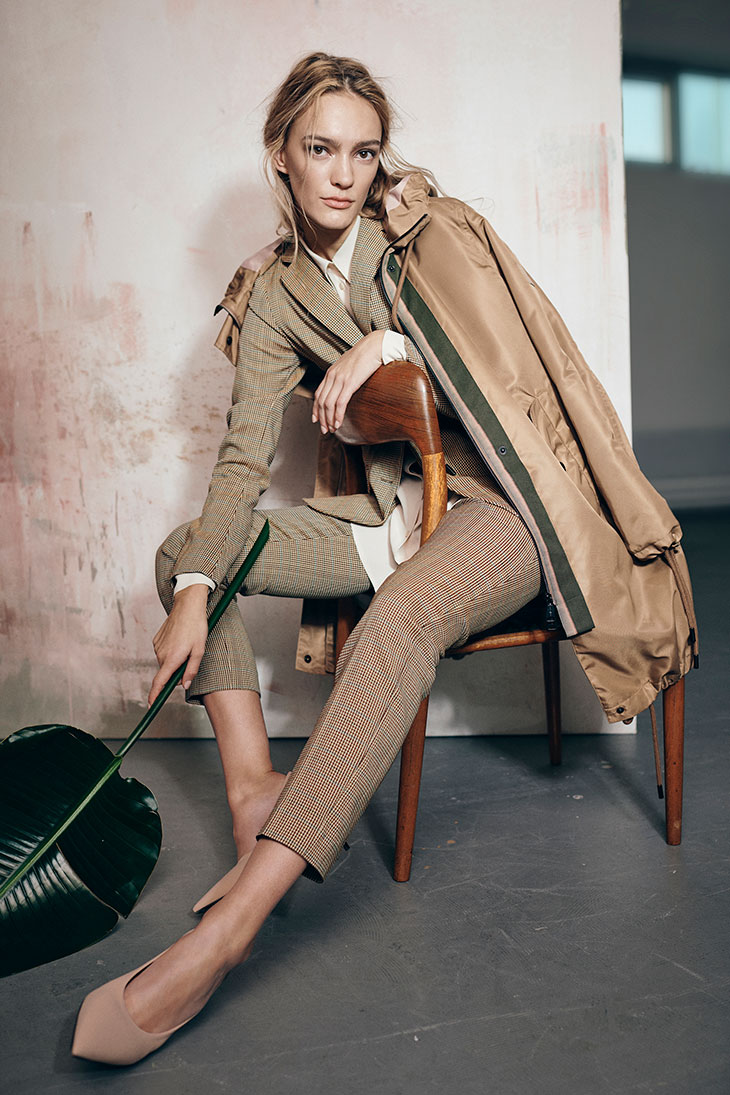 Chocolate Baby
This collection makes your soul shine on gray autumn days. The colour choice is so delicate as the mood it radiates: it creatively plays with the yearning for aesthetics and harmony. Furthermore it often uses unexpected breaks. The creations appear sometimes soft and cozy, sometimes crisp with flow, however always endlessly elegant and feminine, and always with surprising pattern styling. It is a pure pleasure to observe the warm colour palette of monochrome or shaded hues, for instance cinnamon, coffee and gingerbread up to soft rose, cream, cherry, mustard, porcelain and blush. The coats of this range are preferably worn over- sized, casual yet cool, with just the right amount of each. Our favourite look of this line is a cream- coloured suit with a matching blouse- can it get any more elegant? When observing the sophisticated suits of this line you won't deny you can't wait for autumn days to come to inject these compelling creations into your wardrobe for next season.
Urban Vibes
The friends and fans of classy dressing among you will be delighted when viewing this line: a new masterfulness and inspiration gives these outfits a luxurious approach. The looks always stay elegant and appear in a casual, very wearable way. Bourgeoisie Therapy is the stylistic theme that is, in a very creative way, translated into 70s mood. The pattern choice which is ranging from animal to glencheck pattern, is underlining this influence. In addition to that, the silhouettes are kept in a rather bohemian way. The preferred colour choice consists of neutral basics such as dark blue and a few bright tones, such as berry pink and cardamom. You can perfectly mix and match the urban- chic pieces of this line among each other.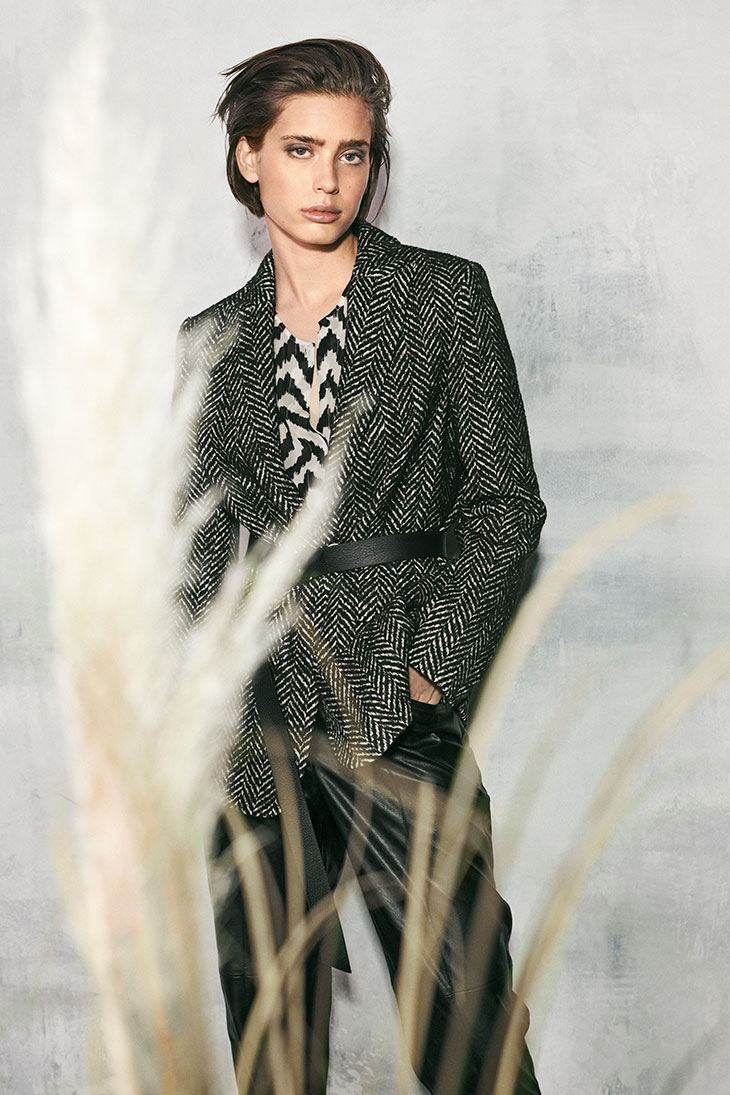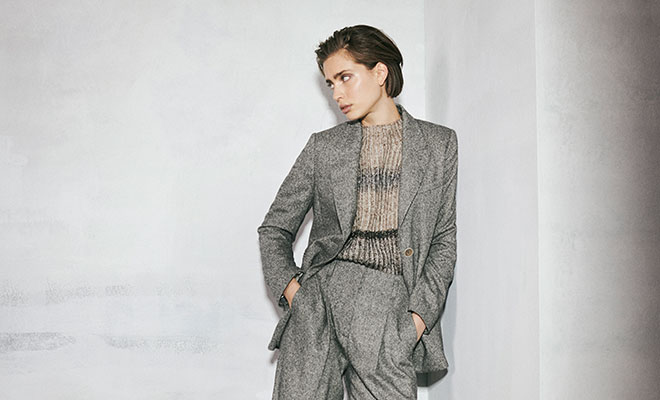 New Graphics
The fourth collection appears in a very minimalistic and clear way. Classics, like in the 90s, are the main theme of this range. For those of you who prefer timeless and understated pieces, this collection is your pick! The understatement of this line is even lifted to a new level: it is depicted as a stylistic feature, an own attitude. As a consequence, the colour palette comprises rather restrained tones, such as deep black, chocolate and ivory. These hues appear in graphic prints or noble plain colours. Metallic highlights add a touch of glamour. Worth of mentioning is also the fact these outfits always stay classy and are never too loud.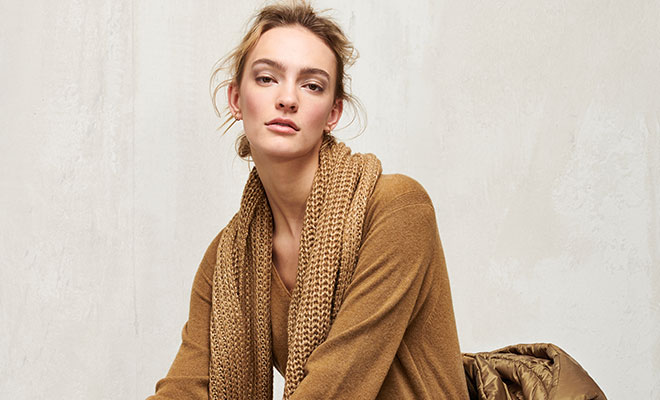 Arty Nature
When your next visit at an art gallery is around the corner, you will find the perfect pieces in this line! Folk influences, neo-traditions and a bohemian spirit create innovative, playful connections and create highly unique looks. It is all about improvisation and collage is the style of choice! Rich neutrals, such as hazelnut, charcoal, warm beige and ivory create undertones. They team up with refreshing, bright new elements such as lime and purple. Metallics are applied in an extremely interesting, subtle way and appear various times. You can add these metallic pieces for any glamorous gallery evening. Some outfits that are kept in warm autumn nuances radiate the peace and harmony of an autumn sunset.