Dressing up for work, especially if you work in a corporation, means putting your best foot forward for a look that exudes confidence. By now, you may have nailed the flawless office look, but every now and then, you may be required to pack up your style and travel for work. Travel meetings are often hectic and could either be a short bus ride away or stretch over long hauls where you might be expected to hop around different cities. Whatever the plan may be, one way to bring your A-game is by rocking an effortlessly chic travel wardrobe.
Having the right clothing items packed is crucial for a comfortable and successful work trip. You need to have everything in your arsenal that will make you look professional from the minute you sit on a plane until you enter the meeting room. The perfect wardrobe should include fashionable items that are easy to carry and wrinkle-free so that you look presentable and put together. Remember the memo: always dress to impress!
Are you ready to fly off to your next business trip? Do you need help putting together a fashionable yet functional travel wardrobe? If so, we are here for you. Read this article for our expert advice on how to perfect business chic.
Start By Packing For The Plane
When putting together a work trip wardrobe, one aspect we may often forget is packing a comfortable outfit for the plane. Since you will be pulling in the long hours and working hard from the time you land, you need to make sure you stay comfortable and rested whenever you can, especially if you are taking long flights. If you are taking a short flight that will directly take you into an important meeting, put on your best pantsuit but make sure you choose one made from a wrinkle-free material. After all, you would not want to look ruffled and unkempt. You can wear comfortable shoes for the flight and keep a pair of smart heels handy that can be quickly swapped as you land. For extra comfort, be sure to carry a pair of compression socks for flying, especially if you have a long flight ahead of you. By improving your blood circulation, they will help prevent swelling and keep your feet happy and ready to take on the work you have set out to do.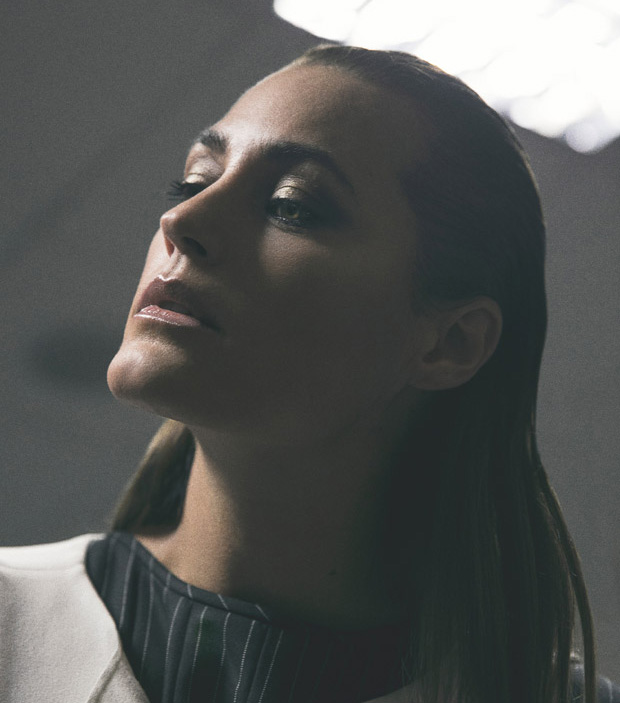 Go for A Neutral Color Palette
While work outfits usually follow a neutral color palette, the same theme should be applied to your work travel wardrobe as well. Go for pieces that follow a neutral base like black, grey, beige and white for a minimalistic yet stylish look. If you want to add a pop of color you can introduce it in small doses through the accessories you wear or the handbag you decide to carry. Even if you are going for an overall neutral look, you can throw in a bright-colored blazer or a blouse over solid-colored pants. It can even be introduced through your heels but just remember that less is more.
Select The Right Tops
With so many stylish options to choose from, selecting the best tops for a business trip becomes confusing. You need to keep items that can be easily mixed and matched in multiple ways so that you pack light but right. A classic button-down is your best bet for business trips. We recommend you go for prints and colors like royal blues that don't require too much cleaning. While a white button-down is perfect for the office, one tiny stain will have you worrying, so it's best to go for colors that can conceal minor stains. Choose fabrics that don't require too much ironing to stay hassle-free. Keep a formal blouse and business casual option, along with some breathable T-shirts that can be dressed up or down according to the occasion. If you're headed to a cold climate, you can keep a chic cardigan or a blazer to complete the look.
Rock The Perfect Bottoms
The right pair of bottoms is a wardrobe staple for any business trip and should be carefully selected for the perfect look. Go for light-weight fabrics, but you can definitely switch it up according to the season and what is trending. Go for solid colors that can be played around with by incorporating patterned and vibrant tops. A pair of classic black trousers fit perfectly into this category and can never go wrong. You can even opt for chinos and corduroy pants to switch things around. While pants are essentials, jeans should not be skipped for after-work meetings or a night around town. They can be styled up using glam pieces like heels, a blazer, and some statement jewelry. Lastly, be sure to keep a well-tailored skirt that isn't too high above the knees for a sharp yet professional look.
Complete The Look With Sophisticated Accessories
While clothes are the center stage of a perfect travel outfit, the right accessories will help bring everything together. Keep a sleek work handbag that is the right size to fit all your work-related items, even your laptop. You can keep an extra purse for evening drinks or a backpack as you go about town as well. When it comes to jewelry, go for elegant, understated pieces that don't scream for attention but are a beautiful addition to your look. Pearls are the perfect sophisticated choice and can be worn as studs or as a simple string around your neck. Another versatile item that can be worn with different looks is a silk scarf that can be tied and styled differently for a day and night look.
Parting Thoughts
Putting together the perfect business travel wardrobe sounds like a task, but it does not have to be. We always recommend that when selecting items from the categories we have just laid out, always be on the safe side and pick modest pieces that will be appropriate for different settings and cultures. You can even research the office dress code and etiquette when visiting new clients so that you remain respectful and professional throughout. With some trial and error, you will collect the perfect collection that you can pack and play around with each time you have to travel for a hassle-free yet fashionable business trip.
Did our business travel guide inspire you to begin building your collection? What is your favorite item that you cannot make a work trip without? We would love to hear from you in the comment section below.
Images from After Hours with Supermodel Yasmin Le Bon for D'SCENE Magazine – See the full story here